The people who use our boards.

272 interviews

 

since 2018
Tara Ashley
Network Security Engineer
Who are you, and what do you do? What do you like to do outside of work?
I'm Tara, an Appalachian hillbilly and network security engineer for a Fortune 500 company. I've been working in the IT sector since I was seventeen as a tech control specialist in the Air National Guard. During my time as a weekend warrior, I also attended school and received an undergraduate degree in Sociology & Anthropology with an emphasis in Crime and Social Control. Briefly, after university, I worked as a child protective services investigator before switching to government contracting as a data floor technician and technical writer.
While in government contracting, I grew into the security side of the industry with a focus on network monitoring and access control. I passed the CISSP exam in 2013 and switched to the private sector. Since then I've worked on various technologies, including different vendor firewalls, routers, switches, and VPNs. A couple of years later, I started my Master's degree in Criminal Justice, continuing my undergraduate interests but with a more cyber-focus. To marry the two fields, I focused on classes around cybercrimes, emergency & disaster preparedness, and other topics that I felt enabled my IT security side. I successfully completed the program and graduated in October of 2021.
In addition to being a bit of an IT nerd, I am also a tea aficionado, book addict, gamer, traveler, and musician. Those who know me via Discord, or Twitch, know me as Fae, author of the (mostly still new) Faerly Mad website and sporadic streamer. I really want to emphasize that sporadic part. Sometimes I'll stream for charity, as was the case for this past year's Extra Life run. With international support, I was able to raise $2,500 for my children's hospital.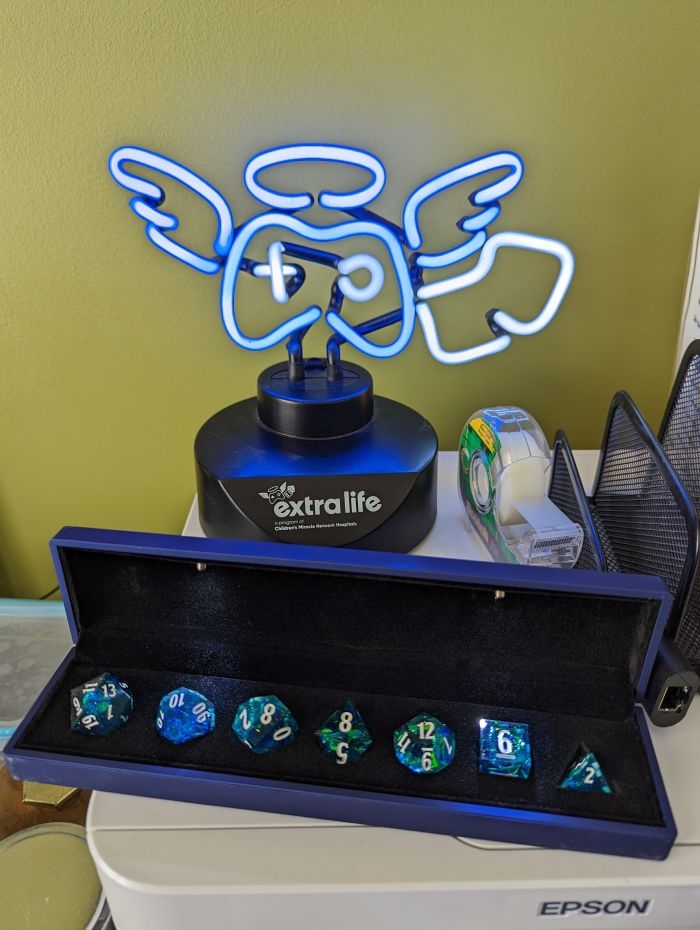 I consider myself a semi-new digital gamer, having gotten into video games only in the past decade or so. Prior to video games, you could find me at the local game store throwing down duels in Magic: The Gathering, political maneuvering in the World of Darkness, or vying for domination in board games. I've also been known to volunteer at board game conventions, teaching and demoing various games. My game hoard is about two hundred games strong. For a while I had a bit of a Kickstarter "problem," which is partially how I ended up with so many games, but I've got some classics, too, like the original and reprinted Titan game.
One might argue that tea isn't a hobby, but I'm fairly (or even Faerly) confident that the other users on the subreddit r/Tea would agree that it entirely is. I could wax on about the complexity and richness of the tea world until blue in the face and my audience's eyes are glazed over. But, suffice to say, I love tea. During the pandemic, I was on the hunt to try something new in the tea scene, having mostly been exposed to the typical commercial Western tea experience. What does that mean? Think blends. English breakfast is a perfect example. It is usually combination of a couple of Indian tea types, Ceylon and Assam. But my favorite tea has always been lapsang souchong (zhèngshān xiǎozhǒng), a smoked black tea that can give off a campfire aroma and taste.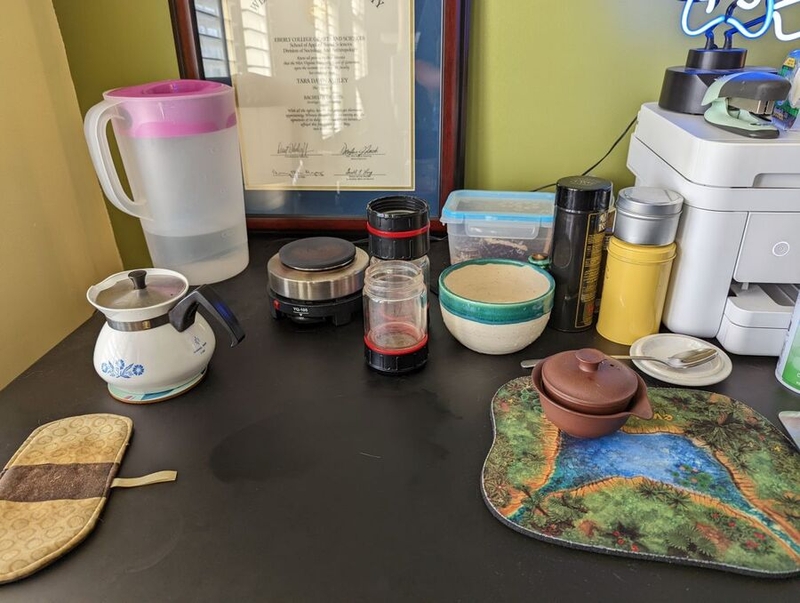 I found a vendor on the r/Tea list and decided to give them a try. This spurred an adventure in learning more about tea origins, cultivation, and, perhaps most importantly, gongfu cha brewing. One of the biggest differences between what I'll colloquially call East and West teas is preparation. Tea ceremony is a cultural and historical phenomenon that is well worth reading about, but even stripped down to the basics, gongfu brewing is flash-brewing a tea repeatedly. Learning about this method of brewing completely changed tea consumption for me. No longer am I brewing tea by the pot, but rather a cup at a time with all sorts of variety. I have a dedicated tea space in my office.
In 2021, I read about two hundred books. This is probably where the majority of my free time goes. Books were my first hobby. I started reading avidly around fourth grade, and have never stopped. I enjoy the debate between people who e-read and the paper-only bibliophiles; admittedly, I made the switch to e-reading. My bookshelves couldn't handle the volumes. I've really enjoyed the Patrick Rothfuss books, but since that trilogy isn't finished, it can be a bit divisive amongst the readers. All the Pretty Monsters by Kristy Cunning is probably one of my all-time favorite series as well. Thanks to some Discord-based book clubs, I'm currently rereading the old Ray Bradbury classic Fahrenheit 451 in addition to The Broken Earth Trilogy by N.K. Jemisin.
Since I've been crushing my reading goals, and finished school, I've got a new agenda. This year, it's learning guitar. Growing up, I played in various school bands on a few instruments—primarily alto sax. In the years since leaving university, I've found myself missing playing. I come from a musical family, and not having it around the house was something I wanted to change. Guitar seemed like a neat challenge, plus it let me do something horns didn't—play and sing at the simultaneously. I've found my music reading to be a bit rusty at first, and reading chords is a level of music theory application I've not had to do. I bought a Takamine GN93CE used and hope to be jamming by the end of summer.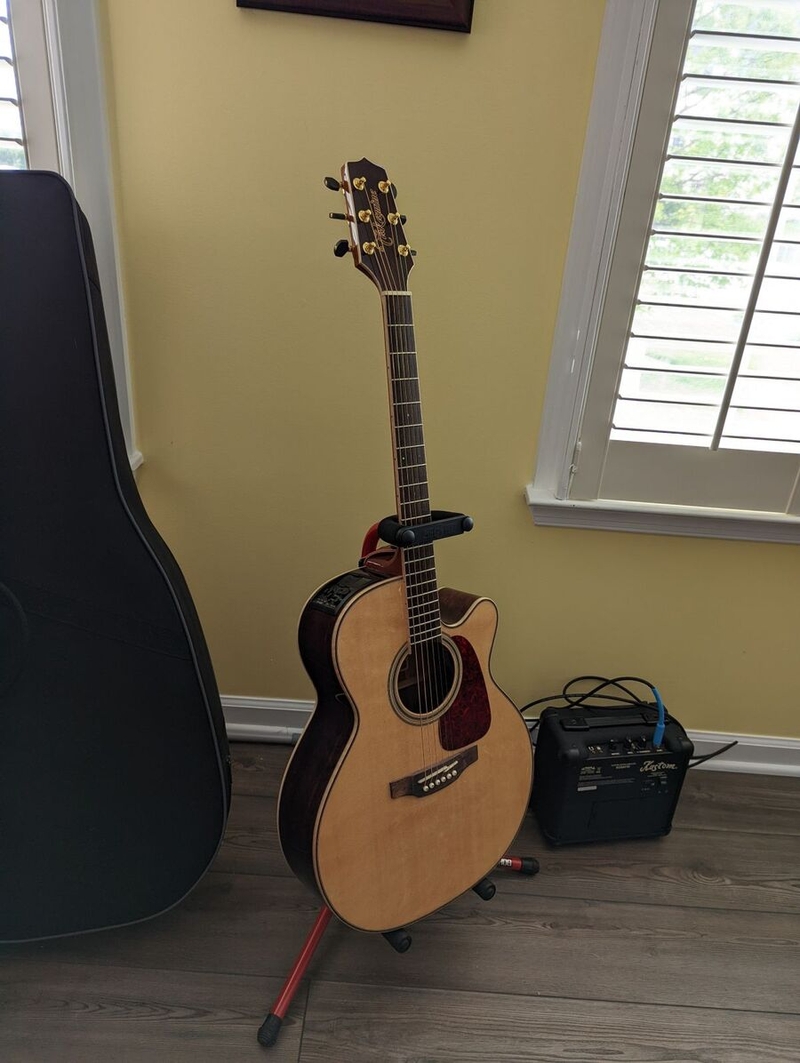 What hardware do you use?
I've been working from home since 2014 and slowly transforming my home office into what my significant other refers to as "the dorm room." I wanted to focus my space on being comfortable for the long hours of troubleshooting and gaming while still being able to use the space to relax for video games, TV, or reading. I started with my desk setup and bought a 72"- (1.8M)-long standing desk from Uplift with a matching side desk and roller cabinet that doubles as a chair.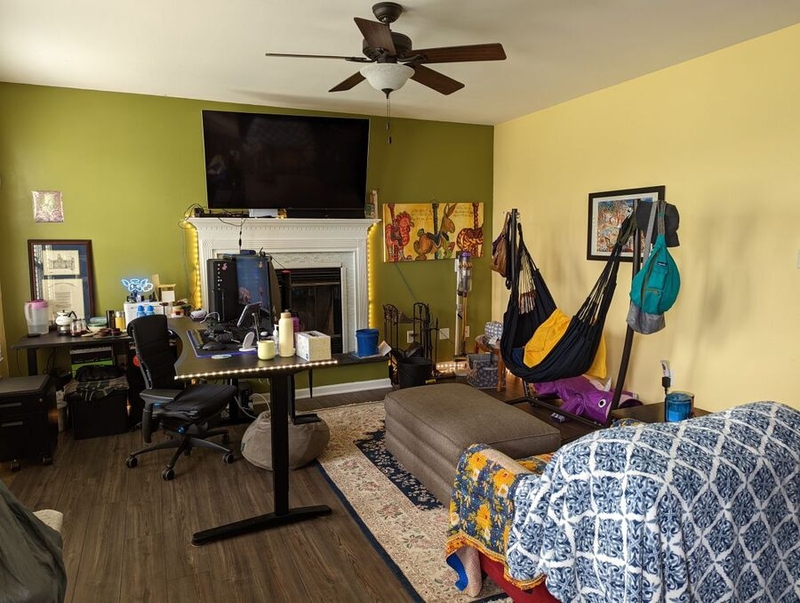 Equally important to long-term comfort, I invested in a good chair and bought a Herman Miller gaming chair for the extra padding and ergonomic comfort. The combination of a comfy chair and standing desk helped a lot with overall body comfort, but I noticed I was still having some elbow pain on especially long days. That's when I started looking into a more ergonomic keyboard option. I went with the ErgoDox EZ Glow. This keyboard has been great, since it allowed me to widen my typing stance, opening up my chest—and my elbow pain disappeared, seemingly overnight.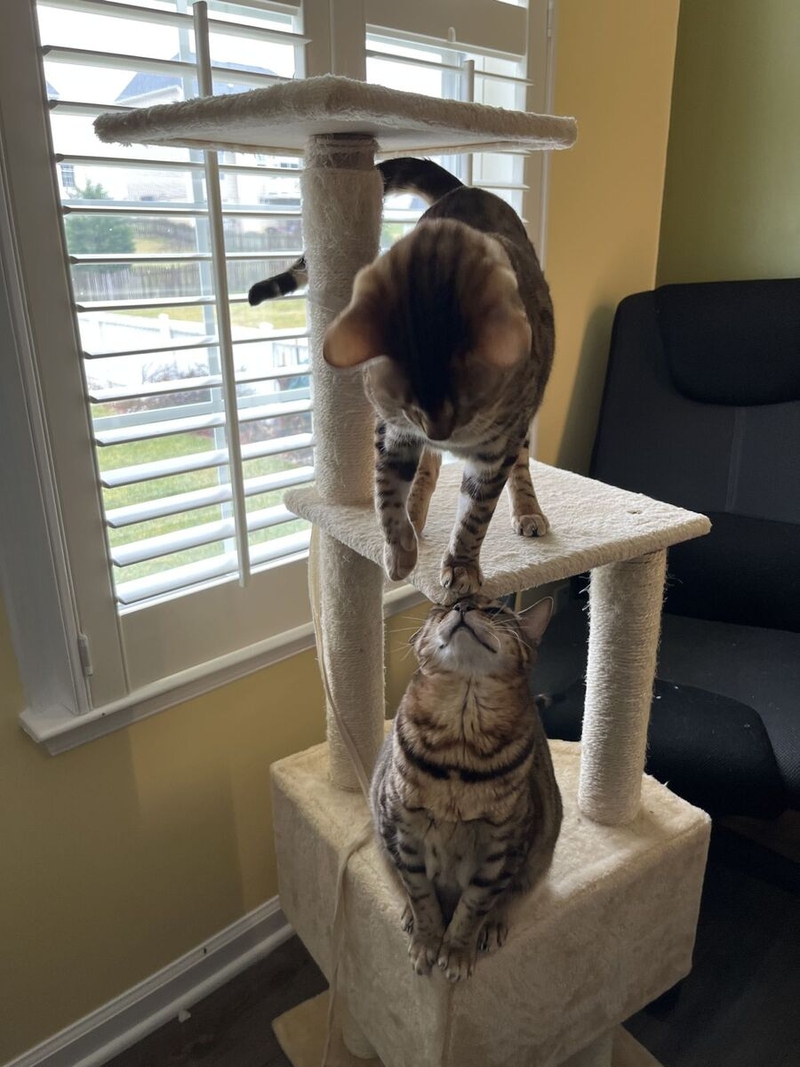 I started running Cherry MX Browns on my last mechanical keyboard because they seemed like a nice middle ground for wanting to be able to game and type. While I was working on my Master's and turning out pages of writing each week, I wanted to ensure my keyboard felt fluid. When I bought the ErgoDox keyboard, it was an easy choice to continue with the Browns.
My primary computing device is a zombie server using a Z10PA-D8 Asus motherboard, two Xeon 2640 v4 processors, 128G of RAM, and a GeForce RTX 2060. I also have an MSI Stealth 666 gaming laptop that I'm working towards modifying into a custom case. It runs an RTX 2080Q. Ironically, I use most of the gaming capability for Magic: The Gathering Arena. Since Microsoft has bought Activision-Blizzard and made some changes, I've also returned to dabbling in World of Warcraft retail and classic.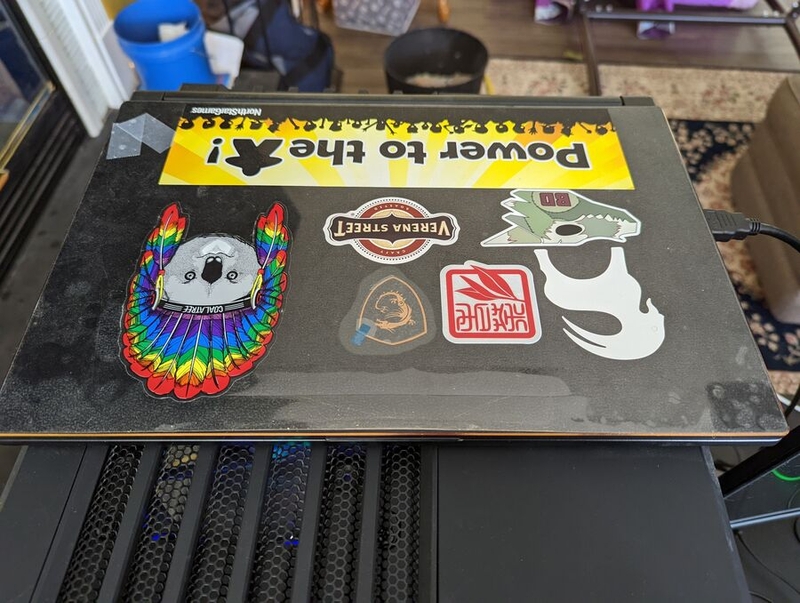 I also run a Raspberry Pi 3+ for my network Pi-hole, a couple of simple switches, and a network firewall to round out the home lab. I am modifying an old Kindle to run a Home Assistant module and turn it into a touchscreen dashboard. The bulk of the processing and memory resources on my server are for running several Virtual Machines.
I recently thought I might be able to make the switch from Android to Apple and bought an iPhone and iPad mini. I gave up on the iPhone after a few months, but I love the mini. I mostly use it for reading books and calling my father on Facetime—which is really handy for me helping him work through setting up his Pi-hole.
For gaming, I run a set of Corsair Virtuoso headphones (which have a nice audio quality to plug into my mini amplifier), a PlayStation 5 with a guitar chord hookup so I can practice on Rocksmith, and a Logitech F710 for when I want to pretend like a controller will help me to suck less. My webcam is a Logitech C920. My TV hardware is a 65" Sony X90CH with a Polk soundbar. Finishing out the room is a custom-ordered down-stuffed chair for reading, a hammock swing chair, and my hand-knotted rug.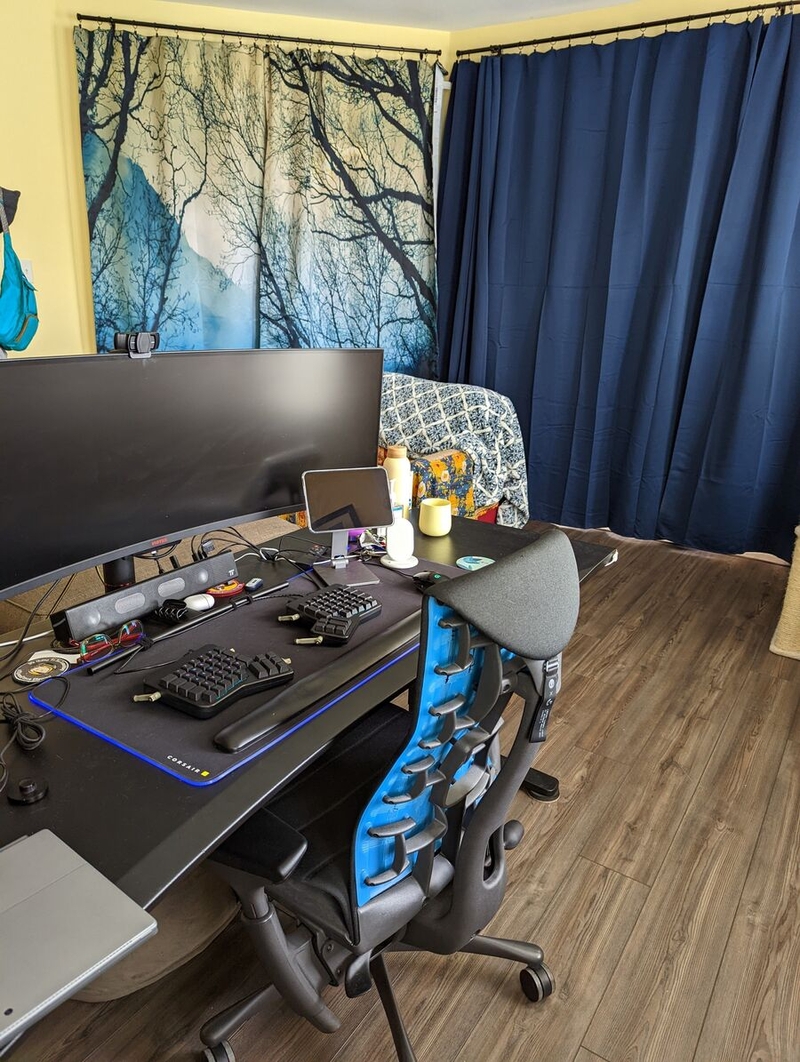 And what software?
Speaking of virtual machines, I use VMWare Workstation (the free edition) to launch multiple platforms.
Eve-NG allows me to build out a virtual network lab with every kind of device image support I could need, including multiple Cisco platforms, Arista, Juniper, FortiGate, Linux, Windows, and so many other things. It's free to use, but they have a license for some extra features. I've used this in the past to help me lab out network configurations and test how things like EVPN perform.
Linux Cinnamon is kind of my putzing-around VM. I like to keep all my browsing, emails, and generic computing to this VM so that it's all sandboxed.
Linux Artix is my Linux training box where I practice running various tools for security practice and familiarization.
Windows 11. I may get some eye rolls on this overcomplicated setup, but I call this my work VM. I remote into work through a virtual machine on this device and do any more Windows-based things (like typing out this interview response on LibreWriter). It's basically VMception.
Home Assistant OS
What's your keyboard setup like? Do you use a custom layout or custom keycaps?
I use the ErgoDox-glow setup and haven't changed many of the keys around. I have considered investing in opaque keys that would glow nicely with the LEDs, but for right now it's a low priority. I mapped out the keys to function in a way that allows me fluidity in typing (like that Backspace key) but also some quick things that are useful, like the Pipe key.
What would be your dream setup?
To be honest, I'm pretty close to my dream setup. My office is filled with color, my two cats, and comfort. The only thing that would really round it out is moving to the woods in Maine. That's my ten-year plan. In the meantime, I have curtains with a woodscape print to help me pretend.