The people who use our boards.

281 interviews

 

since 2018
JJ Sangvacharakul
DevOps Engineer
Who are you, and what do you do? What do you like to do outside of work?
My name is Jirapat Sangvacharakul, but to everyone and my mother, I'm just JJ. I'm a DevOps engineer at a software company called Informatica. I started just over a year ago after job-hopping around during the pandemic. Before this I had worked in a few different IT jobs, but never really touched cloud infrastructure. It was a bit of a leap, but after getting some serious training and mentorship, I'm starting to get the hang of things.
As of last October, I am officially a married man! I'm very lucky to have my partner, Nicki, who I met during my sophomore year of college through my coworker/her roommate at the time. We've been together for seven years now and currently live together in a small townhome in the Raleigh, NC area with our two dogs, Bean and Honey (who is a new addition to our family). Nicki works as an elementary school counselor and holds a master's degree in School Counseling. My family supported our relationship a lot over the years, and she gets along great with my siblings, a brother and two sisters. They did a lot to make her feel like she was a part of the family, and I'm very thankful for them.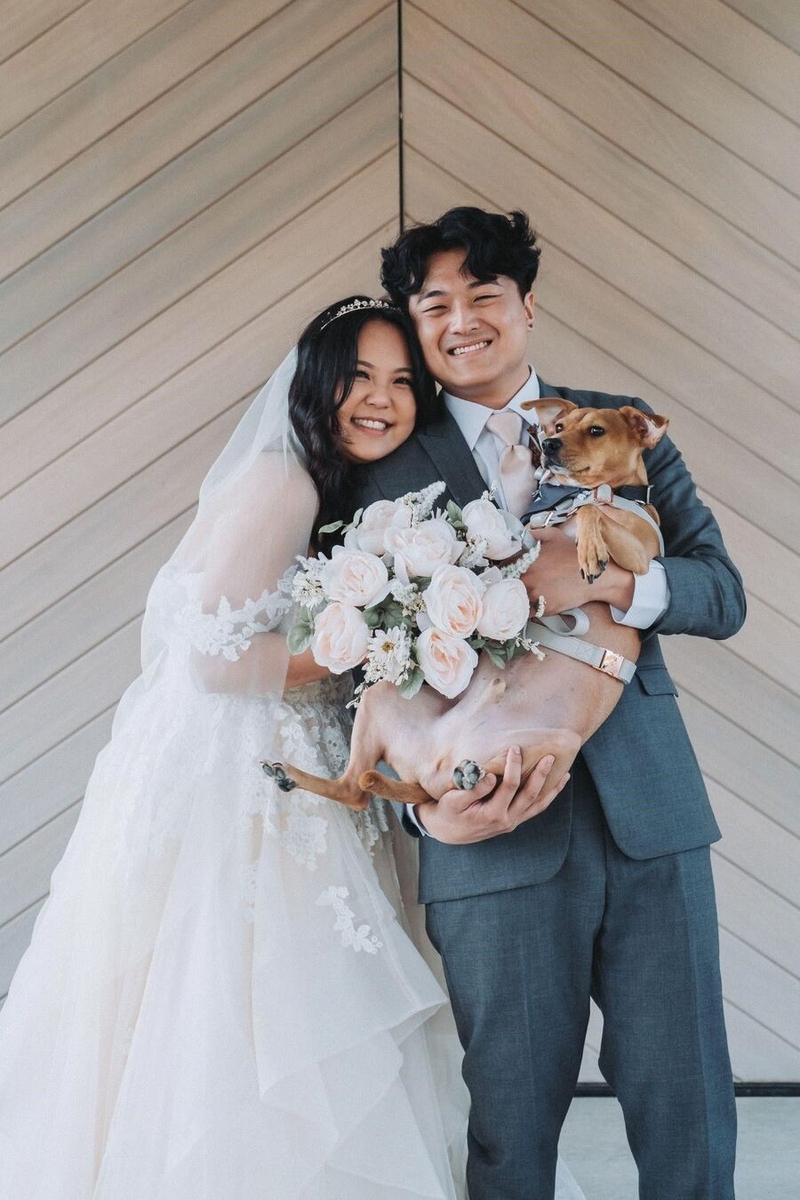 Outside of my main job, I worked quite a bit doing photography and videography under the name 2J Films. Although the pandemic brought that to a halt, I still do occasional pickup jobs and weddings for friends. I started back in 2015 after picking up a DSLR and some Adobe tools. I spent countless hours editing videos and photos, watching tutorials, and making content. I did weddings, graduations, music videos, YouTube videos, you name it. I even tried streaming on Twitch for a year while I was between jobs. I had a lot of drive then and really pushed myself to my limits. Working a part-time job twenty-five hours a week, taking classes full time to earn my degree, and then shooting and editing photos on the weekend. Thinking back to that time, I'm surprised I was able to keep up a social life on the side. Nowadays I don't do as much work here as I used to, but one day I hope to come back to it because of how much I enjoyed the creative process. I post all my work on my online portfolio.
If I were to name one hobby that I love the most, it would hands down go to gaming. Video games, board games, card games, and pretty much everything in between. I own a Switch, a PS5, a custom-built gaming PC, and a very full library of board games between myself and my circle of nerd friends. Most afternoons I'm playing League of Legends, my longest-standing addiction, and on the weekends I have DnD and regular board game sessions with friends. My favorite type of games are typically roguelites, with a recent favorite being Rogue Legacy 2, which has had me hooked since its full release. I like to think my fascination with games started when I was younger, when my brother and I would spend countless hours playing Super Smash Bros on the Gamecube or trading Pokémon between our Gameboys. I appreciate how games allow you to connect and play with others in so many different ways no matter what distance apart you are.
What hardware do you use?
I believe all good setups should start with the desk, as anything you do or buy needs to fit on it. The only requirements I had when picking one out was that it needed to be large and it needed to have standing capabilities. The top is part of a desk that I received from a good friend of mine and measures a solid 60"x30." As much as I would've liked an L-shape, it wouldn't work with the second piece of the puzzle, the legs. The Mount-It! sit/stand dual-motor desk frame supports the top and everything on it while still being able to rise to a comfortable standing height. Built-in presets and a timer make it simple to operate and adjust when needed. It also comes with an under-desk cable nook, which is great if you want clean cable management…but moving on.
I have two chairs that I swap between for when I'm sitting or standing. The first is the Embody Herman Miller Chair, which I use primarily when sitting. For standing, I swap to my Vari Active Seat, which helps a ton when my legs start to ache but I want to stay up.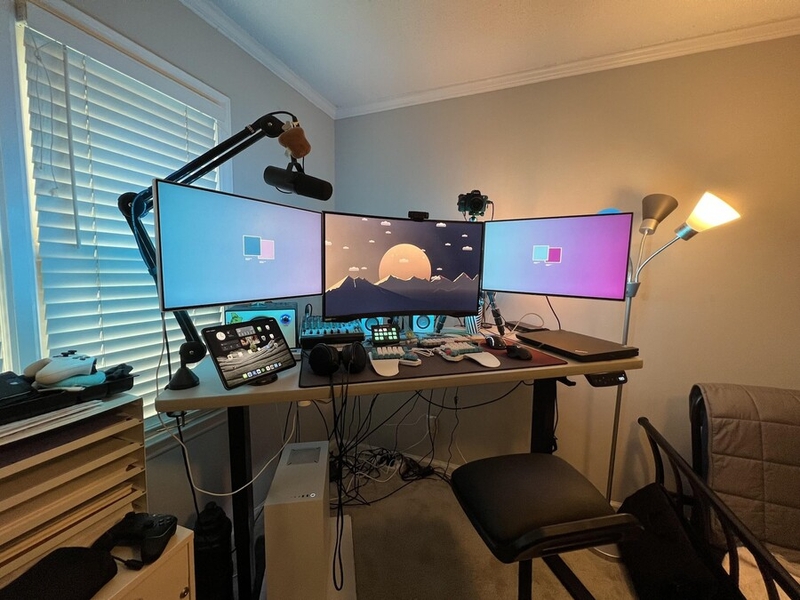 PC setup is pretty simple and hasn't had many upgrades lately. The NZXT H500i ATX Mid Tower Case is large enough for my specs and looks spectacular in all white. Inside I've got an Asus PRIME Z390-A motherboard supporting a MSI GeForce RTX 2080 SUPER and two sticks of Corsair Vengeance 8GB DDR4 memory, which runs about as well as I need it to. The brains is the Intel Core i7-8700K 3.7 GHz, which is cooled by a NZXT Kraken X62 Rev 2 liquid CPU cooler. Everything from games to video rendering does pretty well on this machine, and I'm quite proud of it.
On to peripherals, which probably amount to a close second in terms of overall cost. I run sound through some HiVi M10 multimedia speakers that have been a part of my setup since 2016 and haven't failed me yet. When I'm on a call or need some headphones, I've got a comfy pair of Sennheiser HD 6XX (Drop's version of the 650s). All my audio is run through a Behringer Xenyx 1204USB mixer that I originally bought for my streaming setup. A bit overkill for what I use it for now, but I plan to lean back into music production at some point.
When I made this setup back in 2016, I purchased three LG 24-inch full HD IPS LED Neo Blade III monitors. Each was supported by a floating arm (Vivo Deluxe Monitor Gas Spring Desk Mount) so I could adjust them as needed. About a year ago, one of the monitors started showing dead pixels, so I decided it was time to upgrade. I went with the Samsung 32-inch Odyssey G7 QHD for the solid 240hz refresh rate and 1ms response time. Although it takes up 30% of my desk space and requires an upgraded monitor arm to support, it's probably my favorite addition to date.
The Elgato Stream Deck has also made its way onto my desk and is a welcome addition. With easy-to-customize buttons and functions it has proven its use beyond just streaming. The camera I use for streaming and content is my trusty Sony Alpha a7S II with the Sony FE 2/28mm lens for that top-notch picture quality. For the mic, I've got a Shure SM7B on the RØDE PSA1 boom arm. The lighting setup I'm working with is four Philips Hue White and Color Ambiance Bulbs that I control through the previously mentioned Stream Deck. Along the back of the monitors is also a basic LED light strip with controls I mounted underneath the desk.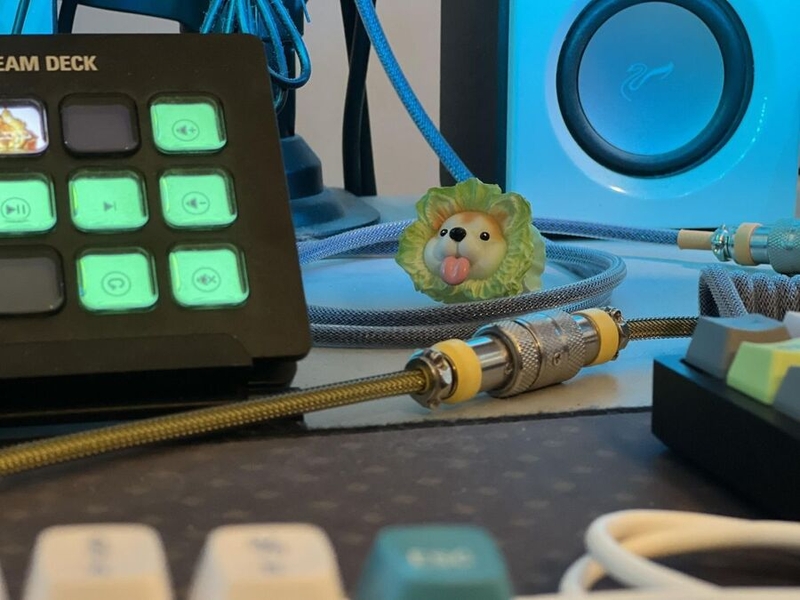 Finally we arrive at the keyboard and mouse. Currently in use is the Glorious Gaming Mouse Model D that I am test-driving to see if I'd upgrade from my secondary mouse, the Logitech G502 Lightspeed (currently my work mouse). As for keyboards, I'm using the phenomenal Moonlander Mark I with a set of Drop MT3 Camillo keycaps for the main keys and alts from Drop MT3 Dasher keycaps. The switches are Gateron Black Ink V2s, which are a subset of my favorite type of switch, the Cherry MX Blacks. My secondary keyboard for work is the OLKB Planck Mechanical Keyboard V6, which is the first kit I ever built back in 2018. To connect everything, I'm using custom detachable USB cables. This makes it really easy to swap between different keyboards for different machines. The cables are all from a good friend of mine who runs an online custom cable store called Onyx Cables.
And what software?
I've got a few different apps I keep around on PC and mobile for work, productivity, and leisure. For work I use Microsoft Teams, Outlook, and OneNote to stay organized and keep up with internal communications. LastPass is a godsend for keeping track of the dozens of different accounts I maintain both in and out of work. Visual Studio Code is my choice of IDE for work since it's got loads of extensions to simplify my work flow. I'm including Spotify here since I just can't work without background music and I've been a Spotify Premium user ever since I learned that LimeWire was illegal.
For general productivity, I stick with the fan favorite browser Chrome for all my web-surfing needs. I made attempts to switch to Opera GX for a few months, but found it couldn't keep up with my needs. When I'm on mobile, I use Spark to organize and send emails. It has an extremely simple UI with quick swipe functions you can customize to your liking. I especially enjoy its smart inbox feature, which shows you all the emails from all your accounts and organizes them by what's important.
When I'm brainstorming ideas for work or taking notes during a DnD session, I turn to GoodNotes—an awesome note-taking app, especially when used on the iPad with an Apple Pencil. The ability to create folders and even notebooks with customizable covers made it my top choice. I'm big on keeping my thoughts organized since there's always so much going on up there, and I'd be lost without some way of keeping each thought in place.
Finally, for the content side of things, Photoshop, Lightroom, and Premiere Pro are my tools of choice when it comes to content and editing. Despite the sucker punch of a price tag that hits me every year due to its subscription plan, I can't help but keep coming back to it. Maybe it's just because I've never used anything else, but the workflow in the Creative Suite is silky-smooth, and moving content from one app to another is effortless (in most cases).
When it comes to leisure, I have a few choice picks. Steam is always on and ready for me when I'm coming off of work after a long day with my favorite games all updated and ready to go. The Steam sales can feel pretty tempting at times, but I try to stick to the games I already own to keep my wallet safe. Discord is the best place to reach me most of the day and night. I check it religiously to keep up with friends on different servers, and it's typically the usual online hangout spot most afternoons and weekends.
What's your keyboard setup like? Do you use a custom layout or custom keycaps?
Although the two keyboards I mentioned earlier are my current favorite pair for daily use, I do switch out often with others in my collection. This includes the IDOBAO ID80 Crystal keyboard kit sporting the EPBT X BIIP Cool Kids keycaps set. Under the caps are Penguin tactile switches, which were painstakingly lubed but definitely worth the effort for how great they feel. The double-spacebar Spacey, designed by Vanilla, is one of the more unique builds I got from the P3D Store. Another build from OLKB, the Preonic Rev3, is fantastic when I'm needing the numrow and also the heaviest switches I've ever used, Kailh BOX Navy. The Matcha green board belongs to my wife, along with the "in-progress" Spacey up top. The additional split keyboard is the Lily58 Pro from KeyHive, which I am currently repairing for a friend.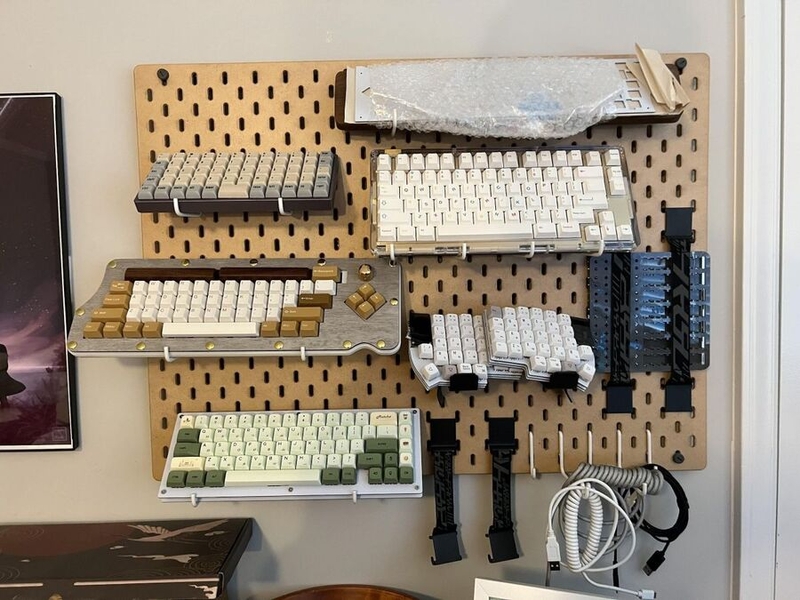 For switches, I tend to lean heavy and linear, but when I'm on something tactile or clicky, it has to be light. Not sure why exactly, but heavy linears have the most satisfying sounds, while lighter tactiles or clickys are the most fun to type on. I tend not to use rubber O-rings, as they mute the sound of the switch too much and feedback feels dull.
For keycaps, I really enjoy eye-catching colorful designs like the Cool Kids Set or the EnjoyPBT Sushi Japanese set. On the other end of the spectrum, if it looks and feels like the old IBM Model M keyboard, I'm all in. I don't know what it is about that faded gray-beige color, but I find it very classy. Which is exactly why I also own this replica New Model M keyboard by Unicomp. Buckling springs aren't for everybody, but they's certainly for me. If only it weren't so large, but I guess beggars can't be choosers.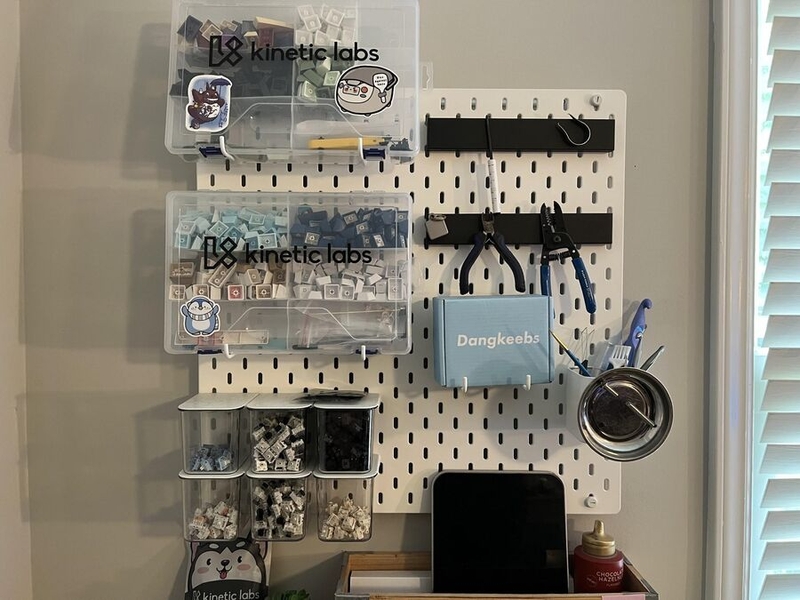 Most of my layouts are pretty basic, with only mild modifications when I'm working with layers. I like to keep brackets, hyphen, and underscore as close to my resting position since I feel like I tend to need those the most. A layer up and right on the home row gives me quick access when I need them. The Esc key I try to keep on the base layer when I can afford it. In this layout, I keep it near my left pointer, but not in a way that I would accidentally hit it. This is so I don't ghost the key while in game and open the menu. As for macros, I tend to avoid them since accidentally hitting one in any game can cause unintended effects if not properly set.
What would be your dream setup?
When it comes to upgrades, there's only a few things I think that would get me to my "dream setup." For the PC, I'd like to add just a bit more memory, since I tend to throttle with 16GB at times when I've got maybe a few more Chrome windows open than usual. If I could splurge, I'd also just upgrade the video card while I'm at it, but the 2080 has done me wonders, and I've had no complaints with it.
This is one of my top upgrades: a huge ultrawide monitor to go above my three main monitors would look amazing—and the more screen real estate, the better. Something like the Asus ROG Strix 49-inch or the Samsung Odyssey Neo G9 49-inch would definitely fit the bill. The only issue would be the need for an additional monitor arm that could support the weight at that height.
And last but not least, an additional desk to attach to my current one. As much space as I have on here, I'm slowly finding it more and more cramped as I add peripherals and other devices. I don't even have space for my PC, so it sits underneath on some cardboard panels to keep it from suffocating on the carpet. I've always wanted an L-shape desk, but it's difficult to find one that also has standing capabilities. The extra space though would give me a ton more room and could even look at setting up two separate stations for work and play.