The people who use our boards.

281 interviews

 

since 2018
Jiří Toman
Czech Translator
Who are you, and what do you do? What do you like to do outside of work?
I'm Jiří , the only Czech freelance translator making his living in Luxembourg, a small country many people haven't even heard about. Contrary to popular belief, it's not a tax haven at all (I have tax returns to prove this 😊) nor a city state. There's also a lot of beautiful countryside.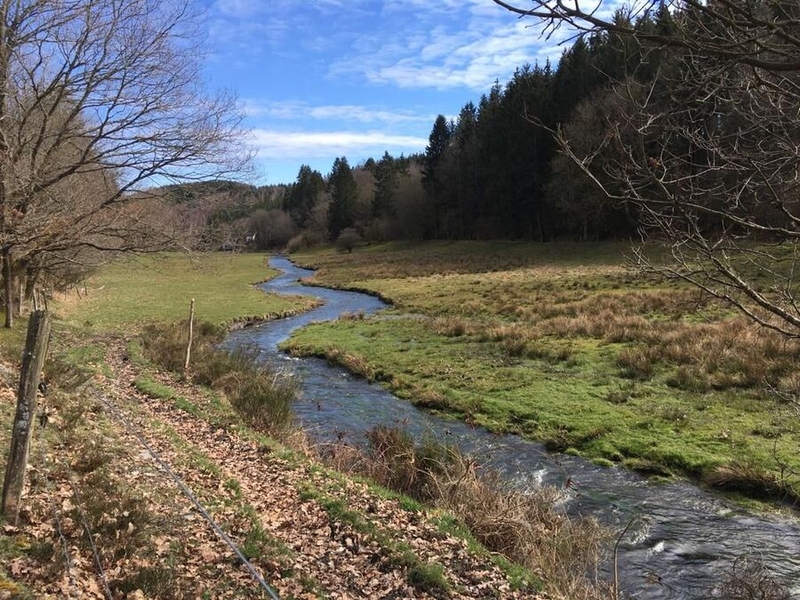 Do you wonder what made a Czech like me come to Luxembourg? It's too long a story to tell here, so let me just say that it involves a translation internship at the European Parliament and French girl I literally met on a climbing wall.
Back to the point, though. I run a one-man translation business called The Cycling Translator and translate from English and French into Czech for a wide variety of clients all over the world: predominantly bicycle manufacturers, sport fashion brands, e-commerce companies, software providers, and app creators. The core of my translation work consists of translating product descriptions, web & app content, consumer-facing marketing e-mails and brochures, internal training materials, and owner's manuals, as well as subtitling videos.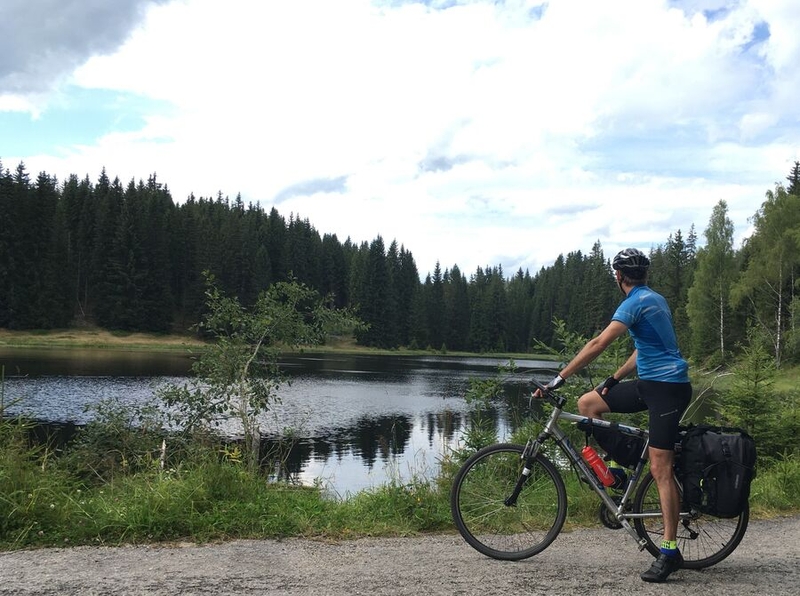 Apart from that I also work as a kayaking and team-building guide, especially during summer, to compensate for the hours I spend sitting (and standing) at my desk. My free time usually involves lots of ice cream and goodies, and any kind of sport (climbing, cycling, orienteering, MTB orienteering, slacklining, trail running, football, volleyball and cross-country skiing to name just a few).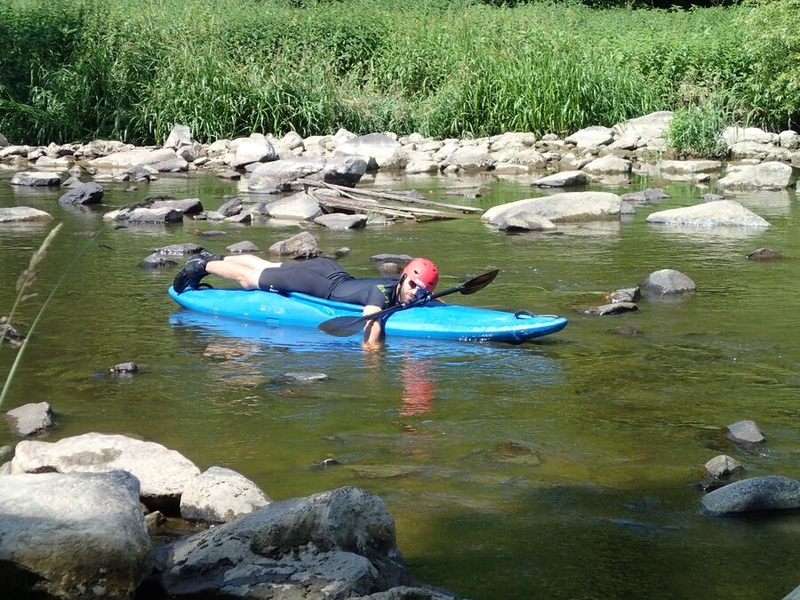 When I'm not translating or doing sports, you can find me singing or playing the guitar. I used to play in a band back in the Czech Republic (you're welcome to listen to our recordings to get a taste of Czech folk & country music). I'm also a big fan of Asterix and Obelix (I wrote my master's thesis in French on this topic), a big supporter of green mobility & zero waste, a lazytarian (my partner is vegetarian and I find it too much effort to prepare dishes with meat just for myself), and an avid gamer (board games included, such as my all-time favourites Carcassonne, Bang! and Lord of the Rings: The Card Game).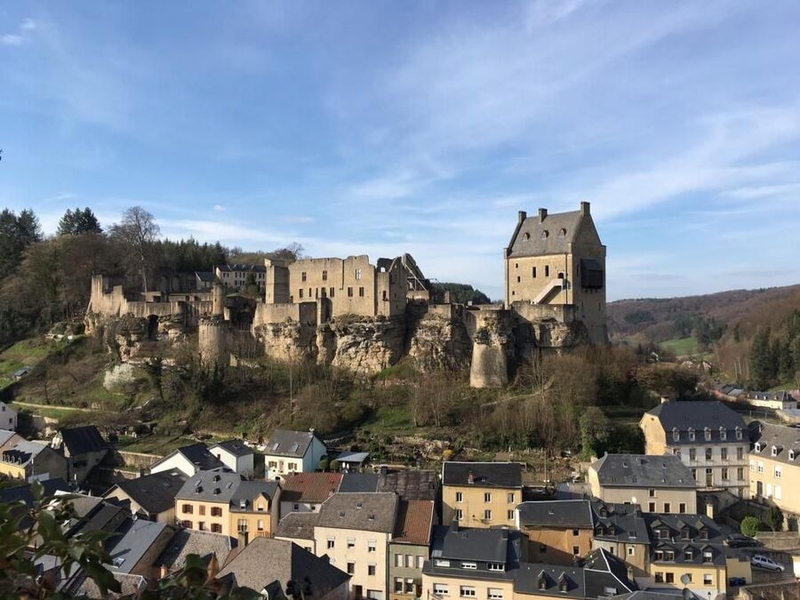 What hardware do you use?
I consider myself an ergonomics geek, so the core of my workplace is a height-adjustable desk from Grüttner Systems and a Czech Therapia Body XL chair (sometimes I have a hard time changing to a standing position, as my chair is just so comfortable).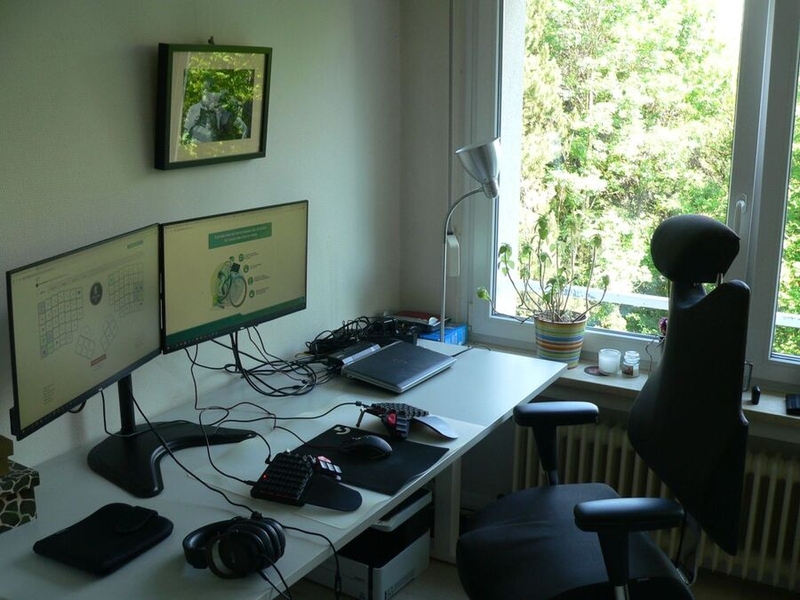 I recently upgraded my faithful Dell Latitude E6430s laptop with 16GB memory to keep up with minimum requirements of the translation tools I use. Then there's the Dell PR03x docking station, two Dell UltraSharp U2419H 24" screens in an ErgoArm D40B screen holder, Trust GXT 105 Izza mouse (I used to have a Tracer Flipper vertical mouse, with which I was quite happy, until it broke), C-TECH Archon headset, Epson ET-M2170 printer, Synology DS218J NAS backup solution with Seagate IronWolf 2TB, and then a separate Seagate BarraCuda 2TB for backing up my backup, and, last but by no means least, my beloved Moonlander MK1 with Cherry MX Brown switches.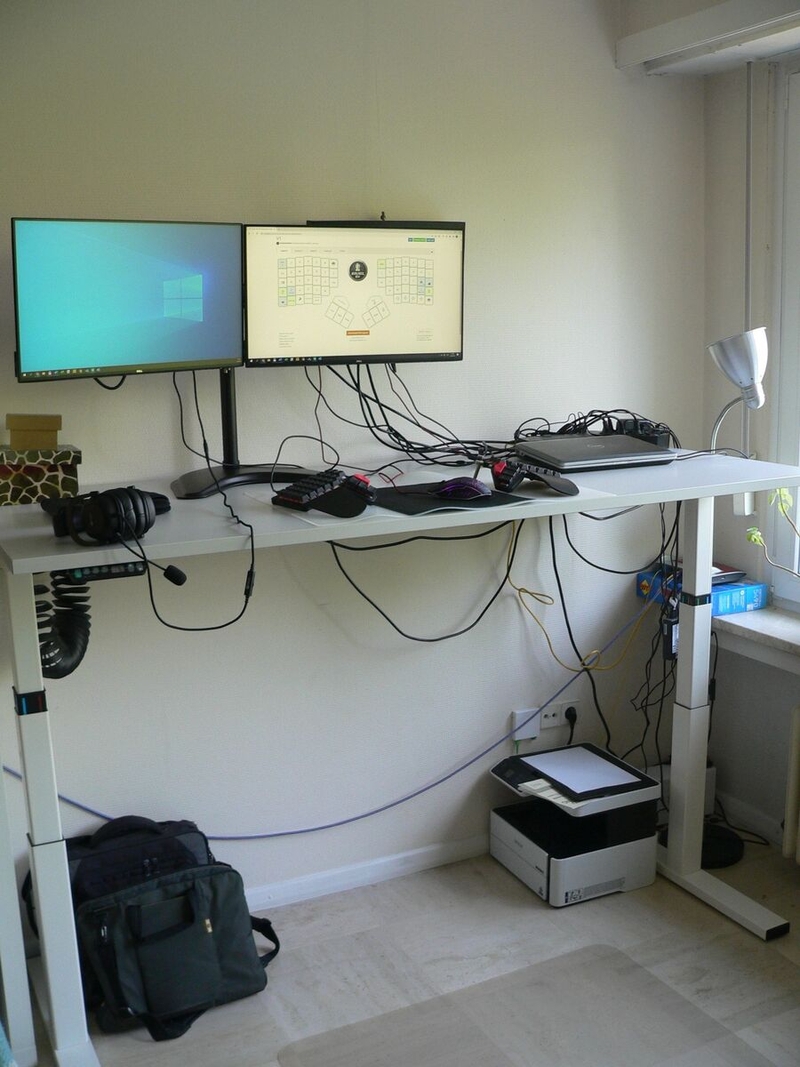 And what software?
Ever wondered why the vast majority of professional translators always speak about their CATs? Well, we like them a lot. But while I'm much more of a dog person, I can't live without a wide variety of CATs (Computer-Assisted Translation tools), such as Trados Studio, memoQ, Memsource, XTM, and Lingotek. Many of them are now (un)fortunately cloud-based (no wonder I have my head in the clouds all the time). And that's basically all I need, really: I keep it quite simple. My other best friends are Microsoft Office suite, PDF-XChange Viewer, LightShot for taking screenshots, Lingea Lexicon 7 dictionaries, and Google Search.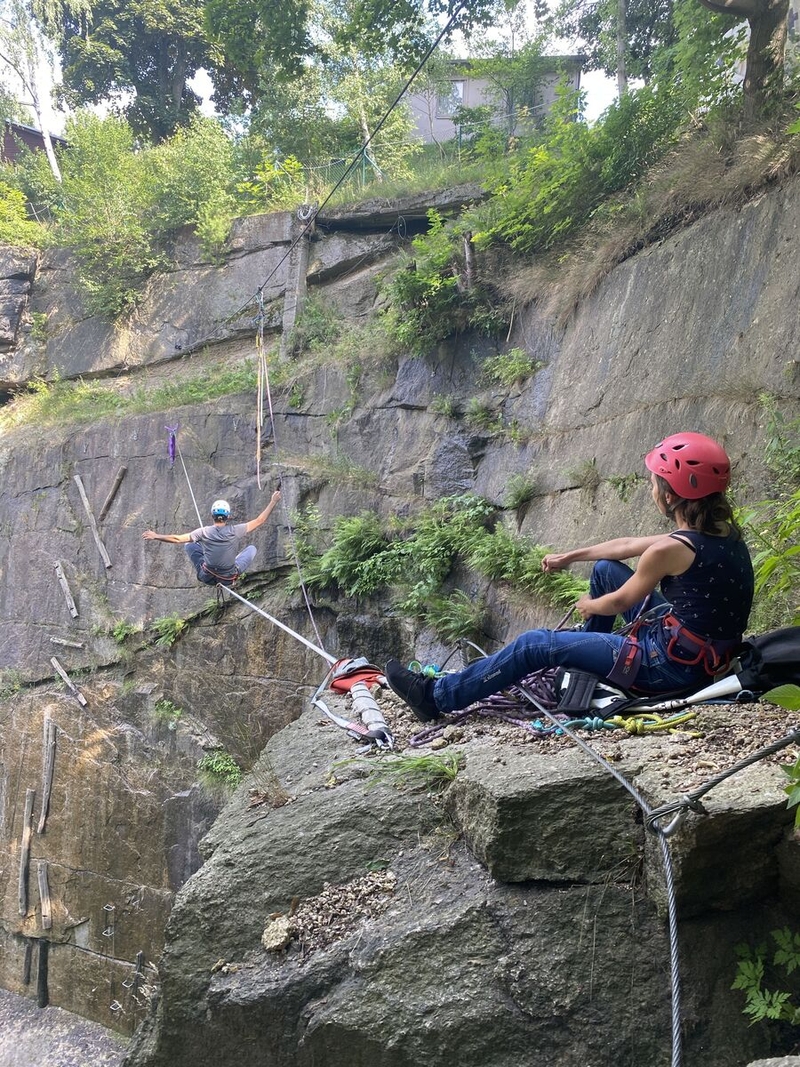 What's your keyboard setup like? Do you use a custom layout or custom keycaps?
Since I'm still relatively new to Moonlander and the world of programmable keyboards, I am tweaking my setup basically every month. It has been trial and error right from the outset. But I think I've already found a core setup. I write a lot and I wanted to keep the layout as close as possible to a regular keyboard because I could already touch type quite quickly and didn't want to relearn too much. I struggled a bit at the beginning to find the perfect spots for some of the special characters we use in Czech, but I did resolve this issue after a while.
I have a basic layer for writing, a second layer with numpad I use mainly for typing numbers and inserting some special characters and symbols, a third layer for using the mouse (sometimes it's just faster to scroll with the keyboard than to move your hand to the mouse and back: I know, it only saves a few seconds, but that accumulates to a few minutes, meaning a few hours a month—and being more efficient at work really counts for a freelancer).
The fourth layer is for gaming. I love the fact that I can put the right half away and have the left half and my mouse at shoulder-width to be comfortable while playing Company of Heroes 2 or a Czech game, Kingdom Come: Deliverance. And the last layer I have is for cloud-based CAT tool XTM (it's basically same as the first layer, only the red buttons are different because this tool has different keyboard shortcuts for translation, which I couldn't organise to my liking in the settings).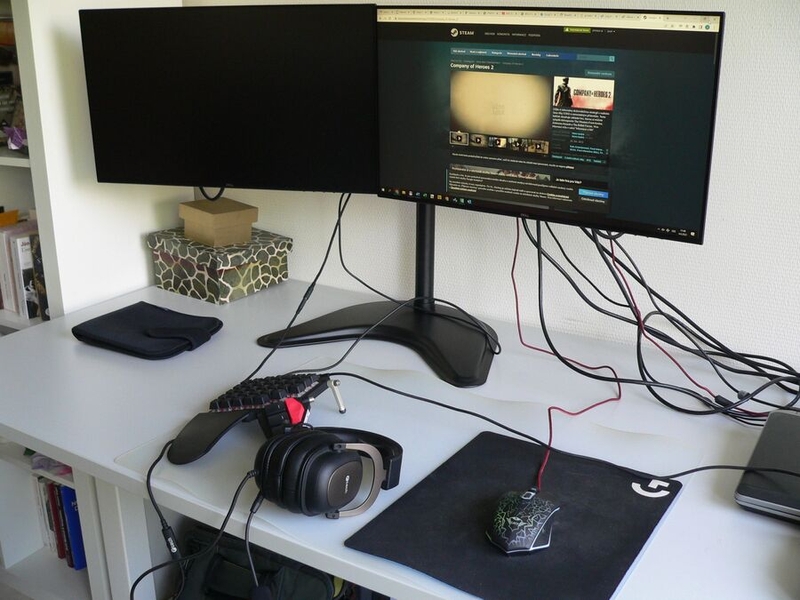 Overall, what I like the most about the Moonlander is that I can have the two halves at shoulder width to reduce tension in my back. The full tilt does me good as well, and I'm looking for options to actually increase it! Another advantage of the split setup is that I can put my mouse in the middle and use it alternately with my left and right hand (I spent more or less a month and a half learning left-handed mousing, but you can't do anything better to compensate for the one-sided strain—this does pay off in the long run).
And I just love the thumb cluster! The best idea ever. Using thumbs for more than just the spacebar provides you with a vast number of possibilities and saves time. Programming some of the most common CAT tool shortcuts to one key was a piece of cake, and I'm particularly happy with my hard-space key sitting just next to the spacebar (Ctrl+Shift+Space in one simple stroke, super convenient for writing in Czech). I use my thumb to stroke it even if it's not on the thumb cluster.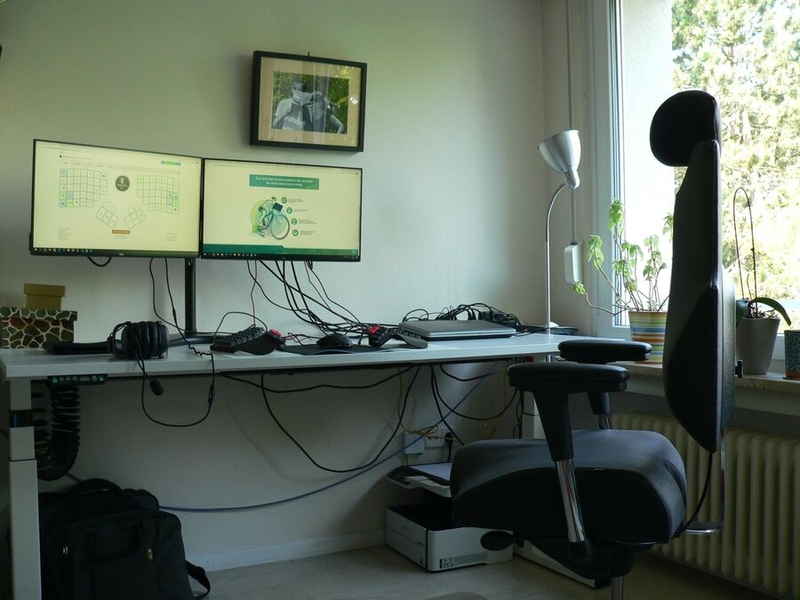 What I find really amusing is that people are actually afraid to type on my Moonlander 😊 The futuristic look of split keyboards is a bit off-putting; it would be great if people started using them as standard keyboards.
What would be your dream setup?
My dream setup would certainly not include a mouse. I'm aiming at eliminating it altogether to increase my translation speed (you lose time when moving your hand to and from the mouse back to the keyboard and readjusting its position). I think Moonlander can help me achieve this, maybe in conjunction with some voice commands in the future? Who knows?
I'm also contemplating buying keycaps with different textures to make touch typing even easier and considering printing a Tilt Kit or a Thumb Cluster Leg from the Community Creation page. I'd love to try more tilt to have the wrists in the most natural position when typing. Keeping the tilt while putting the thumb cluster in the middle position would probably do the trick. The keys on the thumb cluster are a tiny bit too far for my thumbs when the keyboard is fully tilted with the thumb clusters touching the desk.