The people who use our boards.
Ben Vallack
Senior Developer and Creator of SetSeed CMS
Who are you, and what do you do? What do you like to do outside of work?
I'm Ben Vallack. I work with a small team in New Zealand (remotely from the UK) and have spent the last 10 years working on a content management system platform for web design professionals called SetSeed CMS. Outside of work I enjoy making family videos and have recently started a small YouTube channel looking at design, usability, and workflow.
What hardware do you use?
I enjoy pursuing the ultimate format in all areas of my life. By that I mean finding the right product for the right job and using it in the best workflow possible. So the kit I use usually evolves somewhat as I find better solutions.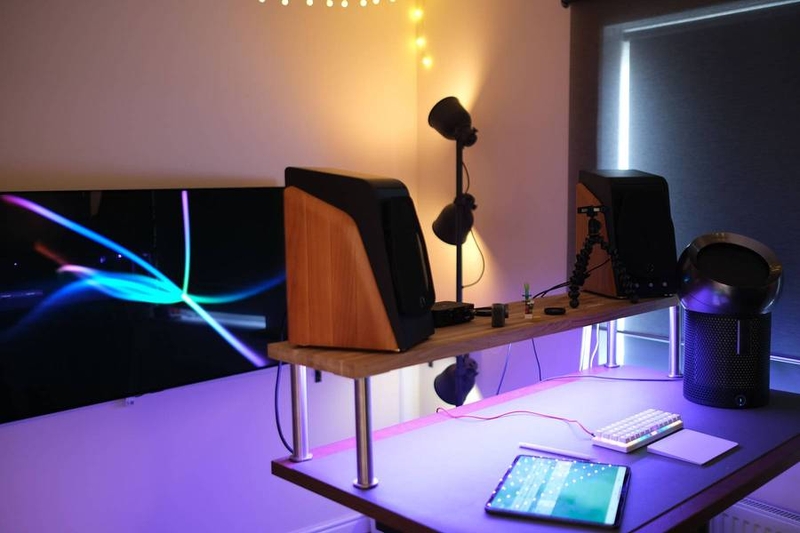 For software development, I have created a device-agnostic development environment using Vim. This means I can connect to any of my servers from anywhere on any device and carry on working at full productivity. This works especially well hopping between my 12.9" iPad Pro and my 15" MacBook Pro. The key to making this work, of course, is the Planck EZ, as it lets me share exactly the same keyboard experience on all devices.
My main computer display is a 55" OLED 4K TV that I view across the room about six feet away. This is about as good an approach I can think of for helping my eyes stay near to the resting point of accommodation, and it seems to be doing a reasonable job of reducing eyestrain.
I use an Ikea sit/stand desk and frequently switch it through the day to avoid being in one position for too long.
For intense coding sessions I enjoy listening to music; for that I use the Swans M200 MKIII speakers. Ugly as anything, but wonderful sound for their price.
I have a nice little smart home setup in my home office, which is quite literally the kind of thing I dreamt of as a kid. I have IKEA smart bulbs that I use with HomeKit scenes to create scenes that have different colour temperatures for different times of day. There's a Soma Smart Shades unit controlling the blackout blind, and I use the Tado° smart thermostat to keep me warm in winter! A bit of an indulgence is the Dyson Pure Cool Me, which ensures I keep a cool head during bug fix sessions. I geeked out and set up a Raspberry Pi to control an IR blaster to allow me to control the fan with Siri.
For family videos, I made the leap away from just using iPhones for photo and video and jumped up to mirrorless cameras. I started with the Sony A6500 and then changed to the Fuji X-T3 for its 4K60 capability. The compromise was going from amazing image stabilisation to none (with Fuji prime lenses) at all and in a good bit bigger camera, and worse autofocus. I'm still not sure if I made the right choice! I use the DJI Ronin-SC gimbal to get some really lovely video of our weekend family outings. I've experimented a lot with the best way of carrying this around and currently use the Peak Design 6L Sling with the Capture Clip. There is a lot of versatility in this setup, as I can do things like carry the gimbal in the bag while clipping the camera onto the outside.
I also use this camera for my YouTube videos with the Rode NTG2 mic going through the Rode A1E into my Mac. I have a Neewer SL-60W with honeycomb softbox, which is a really nice way of using one light for a quick YouTube setup.
And what software?
I'm all about Vim for coding. I use Apple Photos on all devices for organising my photos. I shoot stills on the Fuji using RAW + JPG and Apple Photos with RAW Power on the iPad to process the images that merit the attention. I use Final Cut Pro for video editing.
On the iPad I use Blink to connect to servers using Mosh, which makes the coding-with-Vim-on-an-iPad thing actually possible.
I really enjoy using Moleskine Flow on the iPad with the Apple Pencil for handwriting notes, YouTube outlines, and daily to-do lists. There's something very rewarding about handwriting, and using the Apple Pencil is super fun.
What's your keyboard setup like? Do you use a custom layout or custom keycaps?
I'm currently using what to me feels like a truly awesome setup: I use Return and Esc at the bottom corners so I can hit them with my palms. This makes space for a right Shift key, and then I also manage both sets of Mac modifiers on each side, which lets me get all the Mac keyboard shortcuts without turning my hands into contortionists. I have used the uniform keycap profile to enjoy changing from Qwerty to Workman. It's tough relearning it, but the potential for reduced effort is huge.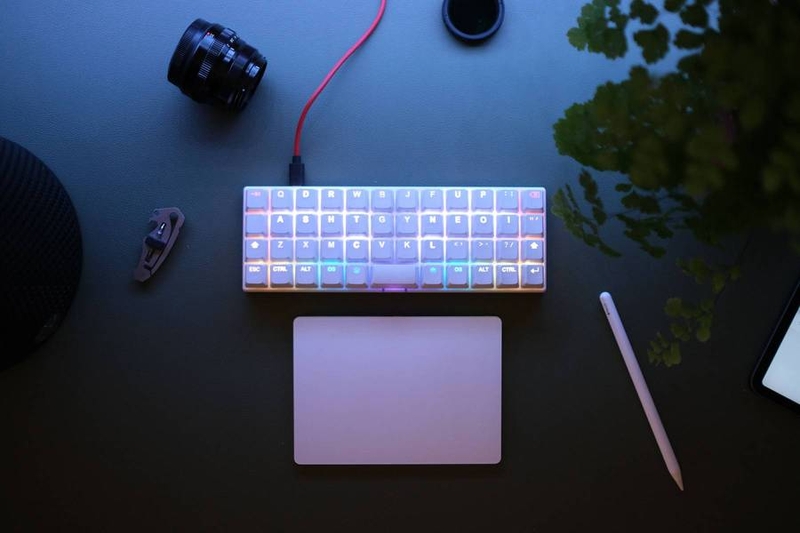 Because I have added in keys that aren't included in the normal package, I ordered another set of keycaps from ZSA, so I now have my double set of modifiers looking nice. The only one that isn't quite perfect is that I'm using the blank spare for the backtick key.
Editor's note: Ben has made several videos about his experiences with the Planck EZ and gathered them into a YouTube playlist.
What would be your dream setup?
I think a nice raw-edged wood desk top for my standing desk would be nice. And a room large enough to get good acoustics for listening to music in and so I'm not working with my back against a wall!