The people who use our boards.
Samer Farag
Writer/Designer
Who are you, and what do you do? What do you like to do outside of work?
I'm Samer! I'm a writer, designer, and overall creative! I do a lot of writing for a living, from technical documentation to blogging, and freelance as a UI/UX and graphic designer.
When I'm not working, I like to play video games, make music, and find new places to eat in my home base, Colorado.
What hardware do you use?
I've spent the past two years perfecting my setup at home, since that's where I do most of my work now. I recently grabbed an M1 Mac mini, which was a great purchase—it can handle everything I throw at it, no problem. It's attached to my crown jewel, a Samsung CHG90 QLED monitor. It's advertised as a gaming monitor, but it's a beast for productivity as well. After getting 49" of screen real estate, it's hard to go back to anything else.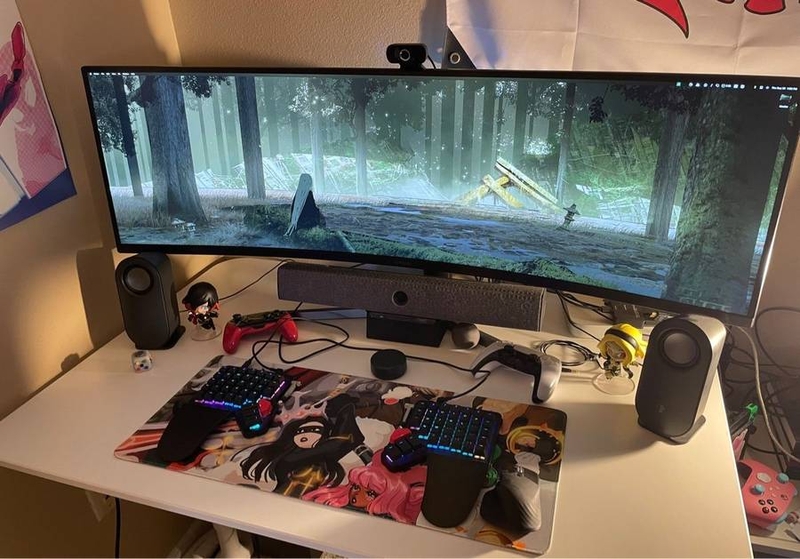 I love to listen to music while I work, so I have Logitech Z407 speakers to accompany me. Logitech is also the supplier of my ergonomic mouse, the Logitech MX Master 3—it's fantastic because it allows you to have specific shortcuts depending on what app you're currently using. My mouse sensitivity might give some people motion sickness, but it lets me put a minimal amount of pressure on my wrist by letting me move it as infrequently as possible. When I don't want to bother anyone at home, or need to cancel out other noises, I use my cumbersomely named but very high-quality Sony WH-1000XM4s.
I keep a Fidget Cube around to tinker with when I need to brainstorm or focus on a particular problem that needs solving. And last, I have a black ZSA Moonlander with Cherry MX Brown Switches.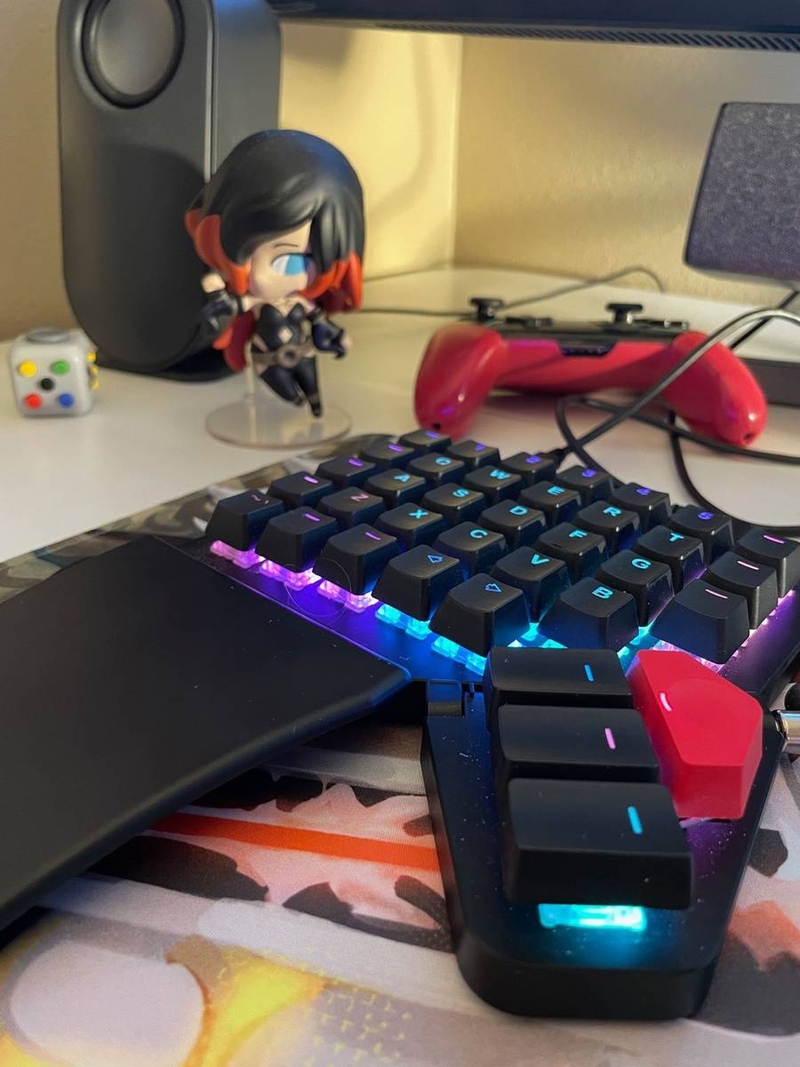 I use a Bekant desk from IKEA—it isn't standing, but is gigantic and gives me a lot of room to work on things. For my chair, I have a Secretlab Omega. This is also marketed as a gaming chair, but it's a fantastic choice for anyone who's sitting in front of a desk for long hours, and supports your back like a dream.
For music making, I have a Novation Launchkey Mini.
And what software?
My main driver for writing is Mem. It's effectively my second brain, and handles my process from draft to final piece for writing, as well as maintaining the notes that I take for my various other projects.
I use ClickUp for project management. It's a fantastic tool that lets me separate my tasks into projects, each with their to-do lists that can be handled in various views, like timelines, in a calendar, etc. Spark is my email app of choice, particularly for the Snooze feature, for when I want to get back to an email but can't do it right away. Other communication apps I use are dependent on client or purpose, including Slack, Zoom, Discord, and Guilded. Fantastical is where I manage all my day-to-day events and time-blocking.
I use Opera GX as my main browser. I picked it for the high level of customization, and the fact that I can create tab groupings for different aspects of my web browsing, from fun to UI/UX work to other projects.
For tunes, I like to use Endel when I want to really focus, and Apple Music for all other music. I think Apple Music is the best streaming app simply because I can add my own personal library along with the songs I add from the Apple library.
My design software runs the gamut, including Figma, Sketch, and the entire Affinity suite. I use Timing to keep track of my work and freelance hours. For my beatmaking, I prefer to use Logic Pro X.

What's your keyboard setup like? Do you use a custom layout or custom keycaps?
It took me a few days to find my custom layout with my Moonlander, but it works really well for me! Most of the setup is the same as the default, but with a few adjustments. I have my Space and Enter keys close to my thumbs, since I use them quite often. Command, Delete, and the Period key are all on the same row as well, to accommodate for quick edits. The other side of the board has Shift, as well as a button that activates CleanShot X for screenshots. Then there's my Esc shortcut, which when held opens Force Quit for emergencies, and double tap leads to Command+Q.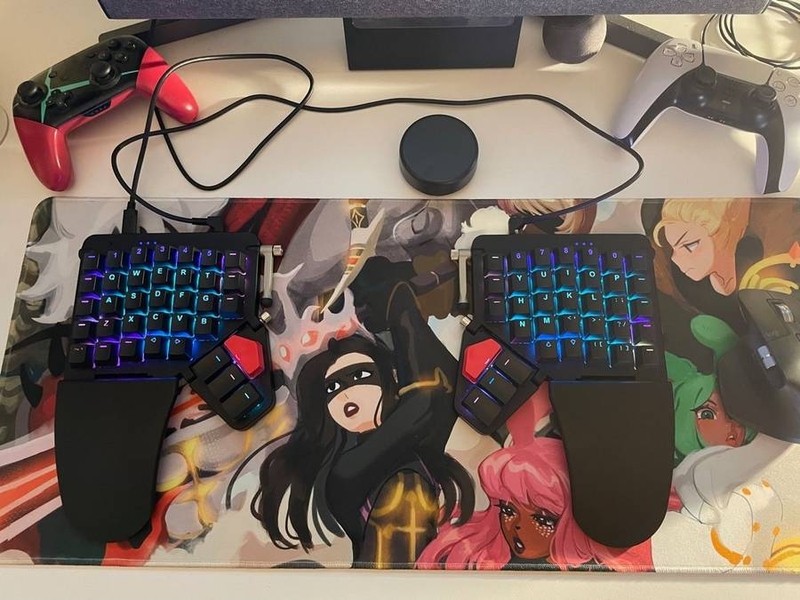 I added a volume key that changes based on the type of key press as well, and a start/stop media play button. I have an emoji button, because I always forget the shortcut on the Mac 😔. And last, I have a button that activates the Mem Spotlight shortcut, to let me quickly refer to Mems that I need access to or add notes to my timeline.
What would be your dream setup?
Honestly, I'm pretty content with what I have! The only thing that I think might be nice to have is a creative console from Monogram. I've also been interested in getting a pair of AirPods Max for their compatibility with the rest of my Mac ecosystem, but I'm not sure if I should. If you have an opinion, hit me up at @DesignerFarag!