The people who use our boards.

281 interviews

 

since 2018
Sarah Reichelt
Developer and Mac App Evangelist
Who are you, and what do you do? What do you like to do outside of work?
My name is Sarah Reichelt, but on Twitter I'm known as @trozware. I'm an app and web developer and I love blogging and teaching about app development with emphasis on the underrepresented area of native Mac app development.
My blog is at troz.net, and I wrote a book for raywenderlich.com (now Kodeco) called macOS by Tutorials. This is aimed at iOS developers who want to get into macOS development.
My day job is at a biotechnology firm where I operate bacterial fermenters and work on control systems: hardware and software. We grow yoghurt-type bacteria for use in cattle feed.
As well as that, I do contract programming, which is mainly web-based.
Outside of work I love reading, mainly sci-fi and fantasy but with a good few murder mysteries in the mix. Recently, I have really enjoyed reading the Ghost Mountain series by Audrey Faye. Right now, I'm reading a series of cozy murder mysteries by Steve Higgs.
I play puzzle games and enjoy cryptic crosswords. I play some video games, mostly World of Warcraft. My main is Axelady on Khaz'goroth, if anyone wants to say hi.
I love bird photography. Check out my Instagram to see some of my pictures of Australian birds.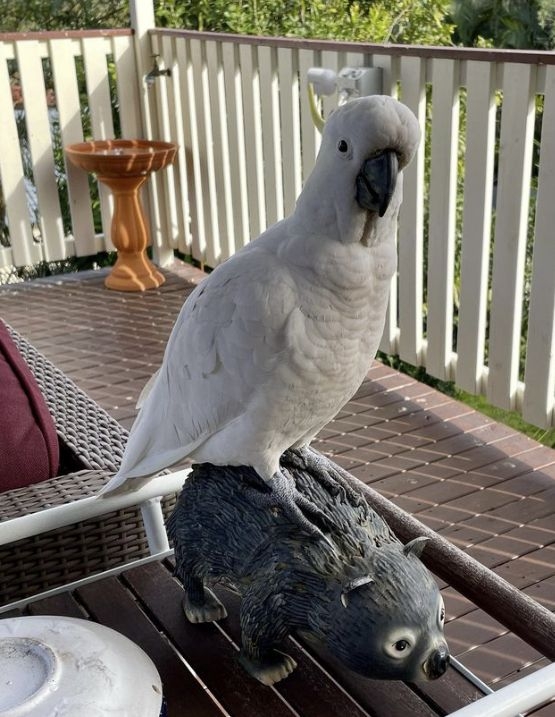 What hardware do you use?
I'm an Apple person all the way. My desktop computer is a bright yellow iMac—24 inch, M1 processor. With that, I have a secondary Samsung 24-inch curved monitor, which has far worse resolution than the iMac screen, but is good enough for my purposes.
My keyboard of choice, and the first mechanical keyboard I've used, is the ZSA Moonlander. I love the way I can configure this just how I want it for different uses. Every word of my book was written using this.
For pointing, I have a Logitech MX Vertical Ergonomic mouse. This is very comfortable to use, which I mainly notice if I go back to a trackpad or other mouse and my wrist starts aching.
Added to this, I have an M1 MacBook Pro (currently my beta machine), an 11-inch iPad Pro with Pencil, and an iPhone 12 mini. And I keep my Apple keyboard handy for TouchID.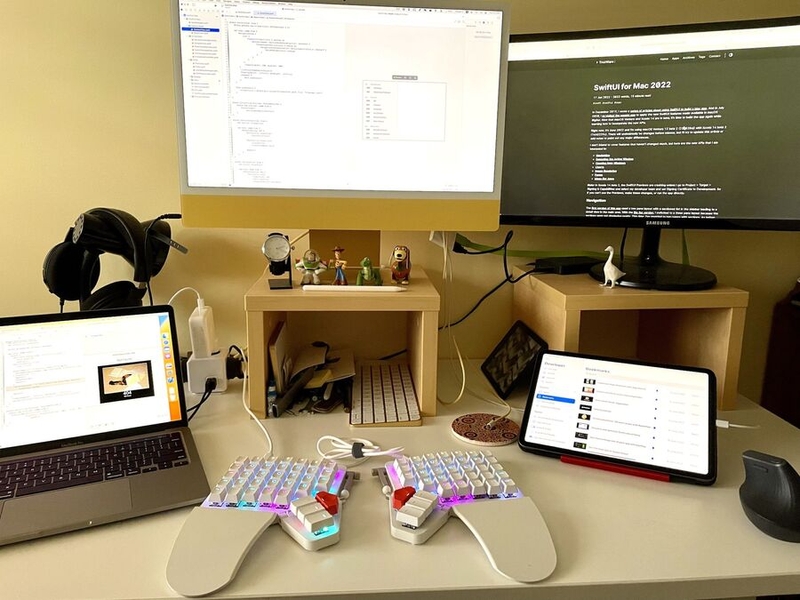 And what software?
My main apps are Xcode for app development and Visual Studio Code for web development. FoldingText is my current Markdown editor. That's the format I use for all my writing.
I'm always searching for the perfect email client. Right now I'm using Spark, but I tend to swap around a lot.
My essential system utilities are:
I get a lot of apps through Setapp, which is a great app subscription service for Mac users.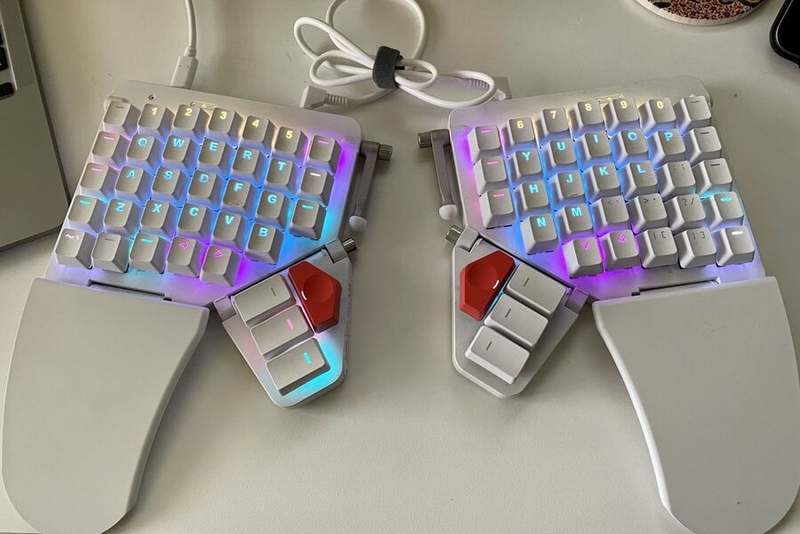 What's your keyboard setup like? Do you use a custom layout or custom keycaps?
My keyboard is the white Moonlander with Kailh Silver switches. I wanted the switches with the lowest travel and least actuation force, and not too clicky. I have my own custom layout, which includes a lot of colour coding to help me group switches. Auto Shift is wonderful—so much so that I have great trouble typing uppercase letters or symbols on any other keyboard.
I have a separate layer for gaming that highlights important keys and has a toggle to turn off Auto Shift, since I need to be able to hold down a button and have it repeat.
What would be your dream setup?
For me, the iMac is a perfect computer, with enough power to do what I need but not so expensive that I feel bad about upgrading it every few years. But I would love an external monitor with the same form factor and resolution.
As regards software, I would really love Apple to open up Xcode so we could get a large ecosystem of extensions like for Visual Studio Code.