The people who use our boards.

256 interviews

 

since 2018
Esther Weidauer
Writer, Musician, Artist
Who are you, and what do you do? What do you like to do outside of work?
My name is Esther. I'm from Germany and I have been living in Berlin since 2010.
I used to work as an engineering manager, and as a software developer before that. I left the tech industry in 2022 after fifteen years to take some much-needed time off and then go back to university and get a psychology degree. My goal is to work as a therapist in a couple of years.
During my tech career I mostly dealt with web stuff, what you would call "full stack" today—but back when I started, that term didn't exist. I was just a developer, so naturally I did all the things from setting up databases and firewall rules, to writing backend applications, all the way to front-end widgets and a bit of UI and visual design. I never really specialized, and I still like being able to make a working piece of software all by myself if I have to and to have the ability to maintain and fix every aspect of it.
I don't have any formal degree (yet), but I did study chemistry at university for two years before dropping out and starting a job as a software developer.
Outside of work, I ride my Brompton a lot, I make electronic music and digital art, I write both fiction and nonfiction occasionally, and I love to cook, improvising new things rather than sticking to recipes.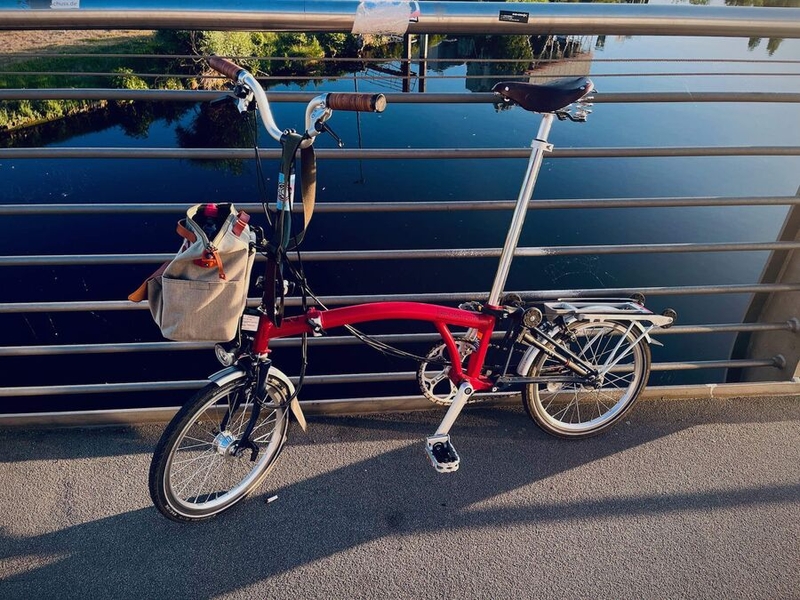 I sometimes get sucked deep into a video game (on PlayStation mostly). My favourite game of all time is Dark Souls 3. Other notable games are: Journey, Dear Esther, Final Fantasy VIII, Destiny, Hades, Horizon Zero Dawn, and Mass Effect.
I volunteer as a bike mechanic for a local organisation that maintains a fleet of free-to-use cargo bikes in Berlin.
I also probably spend way too much time on Twitter.
What hardware do you use?
My main computer is currently an M1 Mac mini hooked up to an HP Z27 monitor. I tried the laptop lifestyle for a while with a MacBook Pro, but at heart I'm a desktop person. I also use an iPad Pro for drawing and writing. For my writing setup, I put the iPad into a small tripod in portrait orientation. On the go, I use an iPhone 13 mini (red).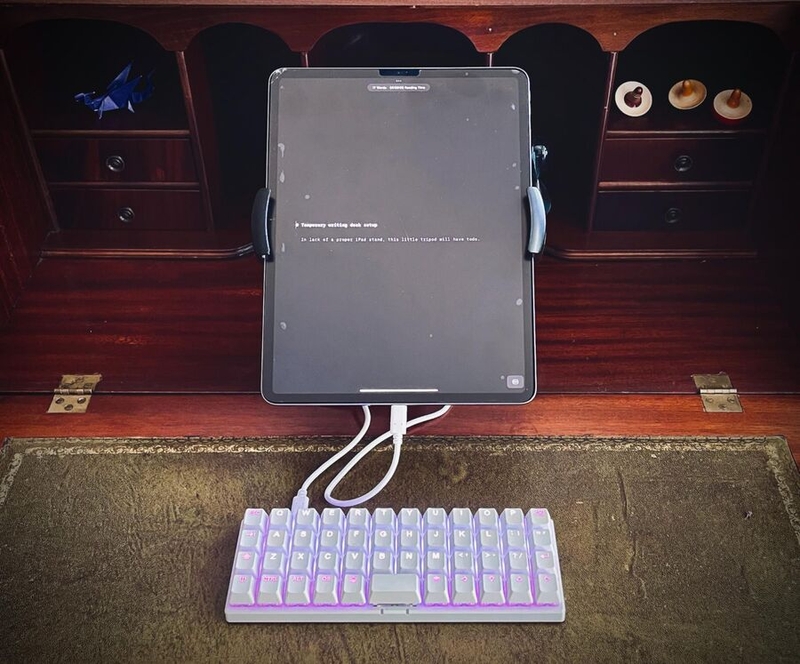 For music production, I use a Eurorack modular synthesizer, a Moog Slim Phatty analog synth, a Lyra-8 drone synth, and a Yamaha CP88 stage piano along with some other gear, like the M8 tracker and Polyend Seq sequencer.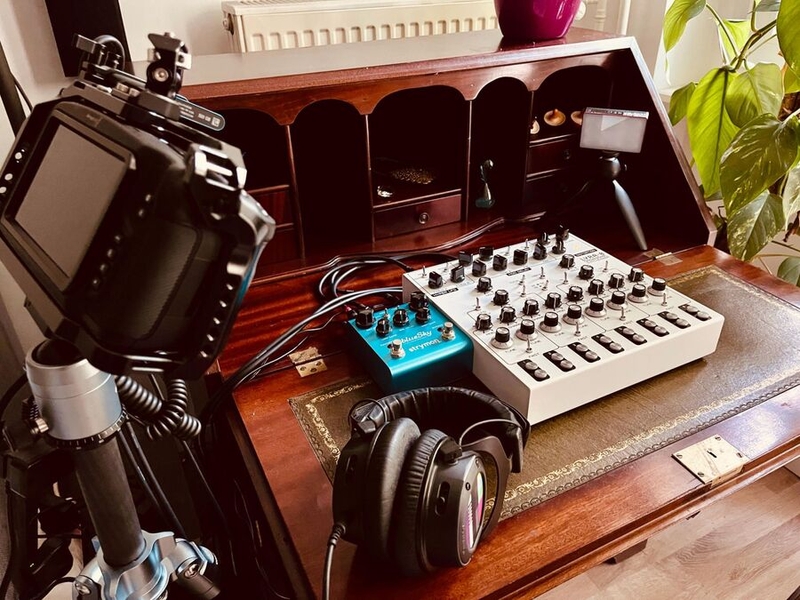 I shoot video on a Blackmagic Pocket Cinema Camera 4K, and for still photography I use an Olympus OM-D E-M10 Mark III. They use the same lens mount, so that's convenient. I can use my 17, 25, and 45mm primes on both cameras. Outdoors I sometimes bring a GoPro Hero9 with the media mod.
And what software?
For a couple years now, Visual Studio Code has been my main editor. Before I used Vim and then Emacs for a while. On my iPad, I use iA Writer.
Music production happens in Logic Pro, graphics and photo editing in Affinity Photo/Designer, and video work in DaVinci Resolve.
At the moment, my programming languages of choice are Ruby and Rust. When doing web frontend work, I prefer vanilla JavaScript.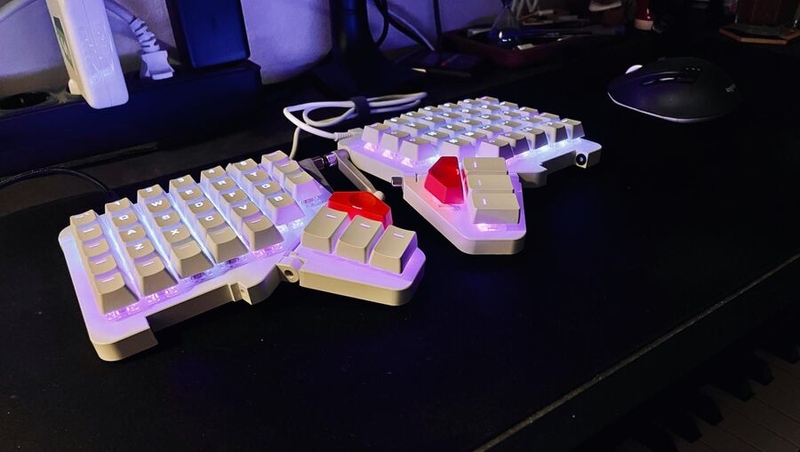 What's your keyboard setup like? Do you use a custom layout or custom keycaps?
I use a Moonlander on my desktop with Cherry MX brown switches at the moment, but I might change it back to MX Blues now that I no longer have coworkers who complain about the noise during calls.
For writing and when I'm travelling, I use a Planck EZ with Cherry MX Brown switches on my iPad Pro.
My keycaps are all the default ones for now. Both keyboards have purple/white LED lighting on their default layer. I try to keep their layouts somewhat similar as far as that's possible so I can easily switch. I use extra layers on both to have easy access to German special characters and a few macros for text shortcuts that I have set up in macOS, e.g. a macro on [layer 3] + [7] that fires off /swt results in a 😅.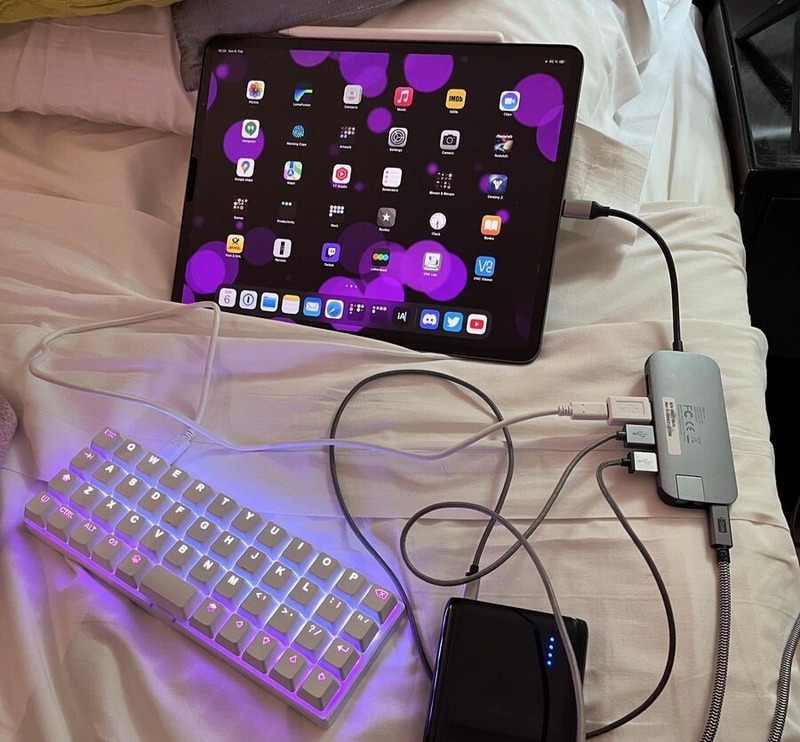 What would be your dream setup?
I really want an old brass or wooden bookstand for my iPad writing setup so I don't need the little tripod for that anymore, which is a bit of a hack. But I haven't found one that I'm really happy with. Otherwise, I'm very happy with things the way they are.