The people who use our boards.

281 interviews

 

since 2018
Rachael Renschler
Foot & Ankle Surgeon
Who are you, and what do you do? What do you like to do outside of work?
I'm Rachael Renschler, a mom, sci-fi/fantasy bookworm, and foot & ankle surgeon/podiatrist working in Jamestown, ND. When I started my residency, electronic medical records had just been instituted the year before I got there, so I've known only a world of computerized record keeping for medicine. I was able to type about as fast as I could talk, and it allowed me the opportunity to make immediate corrections, as opposed to dictation, which requires review after a transcriptionist has typed it up. As I typed more and more of my records including operative notes, I essentially abandoned dictation altogether.
During my residency, I spent some time as a physician superuser for Epic "go-live" events around the Midwest and gained a little more comfort with the software that I have been fortunate to work with my entire medical career. I have a passion for process improvement, which has pushed me to understand more of the IT side of our specialty clinic; I'm routinely the go-to person around the office for simple computer/software issues. At home, I've taken on a similar role in being the person who selects, sets up, and troubleshoots our computers, tablets, routers, and NAS.
Outside of work, I'm pretty busy with my family. I have a four-year-old daughter, six-year-old son, and sixteen-year-old stepdaughter. Between sports and other extracurricular activities, we are pretty busy every day. We spend a lot of time trying to enjoy every minute of summer in our pool, since the warm days are in short supply in North Dakota. My drive to work is long, so I plow through a lot of audiobooks and then squeeze in some actual books before I go to bed.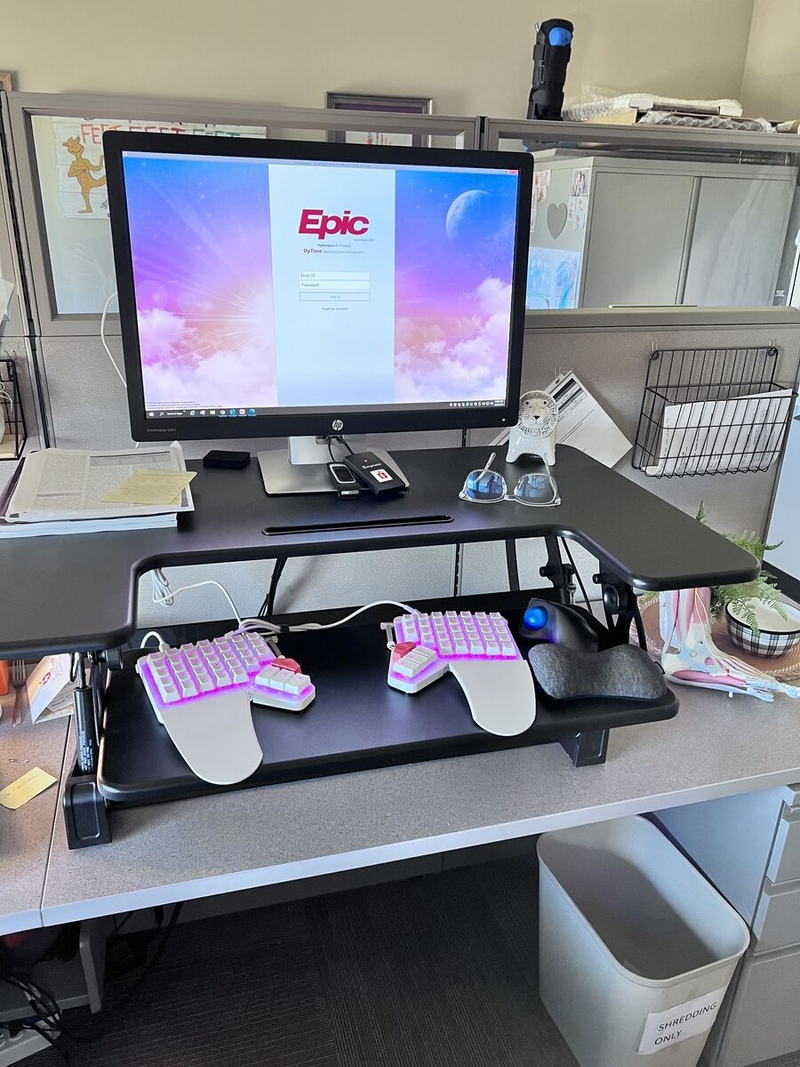 What hardware do you use?
I use the HP laptop provided by my employer :) It has an Intel(R) Core(TM) i5-8365U CPU @ 1.60GHz 1.90 GHz.
And what software?
I use Windows 10, plus EPIC for my electronic medical records.
What's your keyboard setup like? Do you use a custom layout or custom keycaps?
I have customized some of the keys and moved other ones around to limit how much reaching I'm doing during the day. F2 is a command within Epic that brings you to the next field requiring completion, so I have that right next to my G key. The other keys are just set up to where I most commonly use them, but I haven't really expanded on creating specific commands with the keyboard.
I stuck with the Cherry Brown keyswitches for a good tactile feel and clicky sound. I also wanted a keyboard that could help me with my posture and wrist position by allowing my hands to sit shoulder-width apart. I've had a tremendous decrease in neck and wrist pain since switching to this keyboard (the colors are great too)!
What would be your dream setup?
I don't really have a dream setup. I keep things simple and just try to make my workspace work better/smarter.