The people who use our boards.

272 interviews

 

since 2018
Léopold Carron
Senior Data Scientist
Who are you, and what do you do? What do you like to do outside of work?
I am Léopold, senior data scientist for L'Oréal working for toxicologists. Previously I was a PhD, then postdoc, student in bioinformatics at Sorbonne University (Julien Mozziconacci and Alessandra Carbone were my mentors). I specialized in chromatin organization in 3D in the nucleus. Today I use all of my scientific knowledge to help toxicologists in their evaluation of risk when they evaluate a formula or a molecule. I am active in martial arts (Katori Shinto Ryu and Aikibudo from Alain Floquet), a country music fan, and a happy father of a two-year-old wave of energy!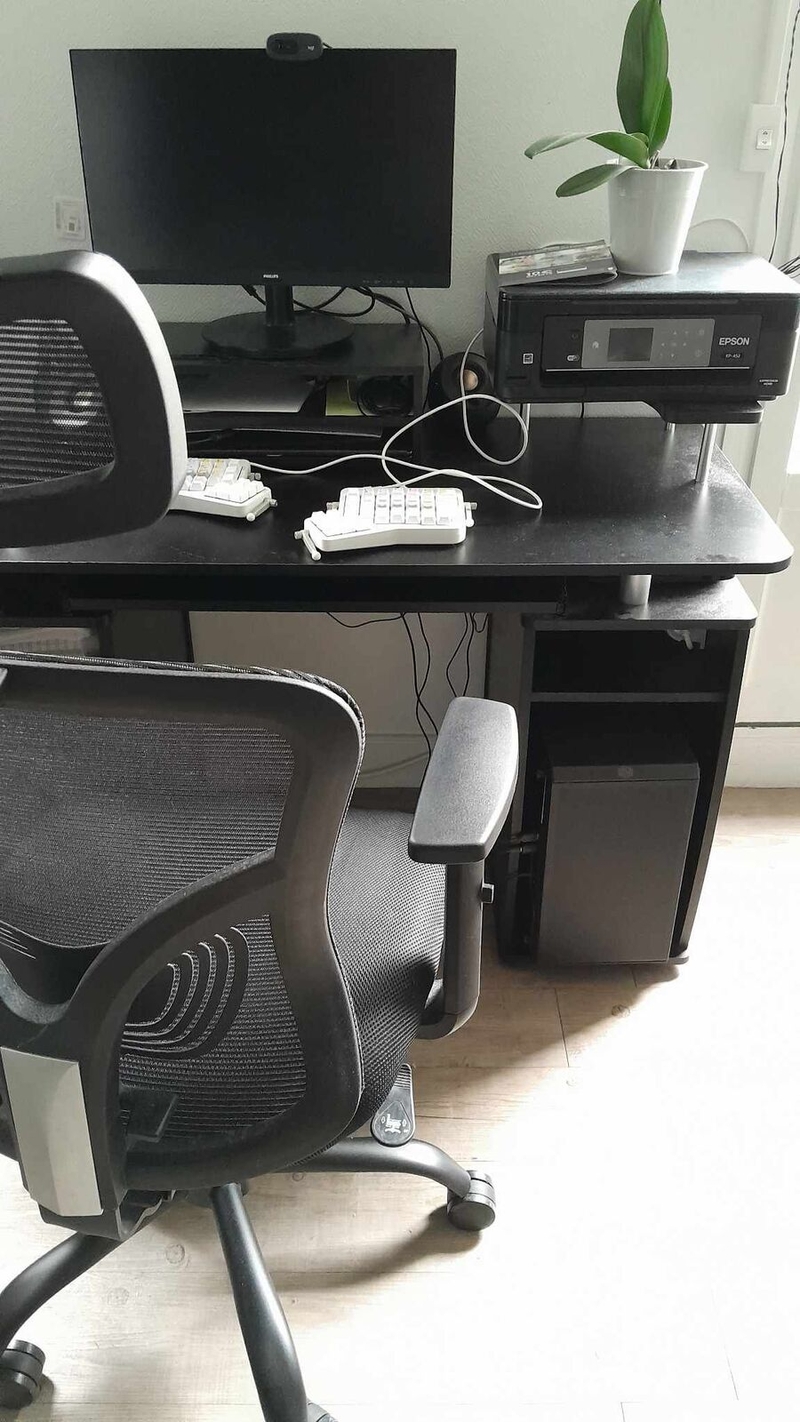 What hardware do you use?
One HP EliteBook for work. At home I have a classic computer with AMD Ryzen 5 that I bought during COVID time (for working of course, hmm…and a little bit of playing!). I use two keyboards, the ErgoDox when I work and a basic AZERTY keyboard for video games and just when other people (my wife, for example!) want to use my computer. When you have to share a computer with a person not familiar with that kind of keyboard, no way they will use it, so it's a question of compromise every day.
At work, I mark the position of my keyboard when I finish, because in open space it gets moved every day, and the exact position is important for me. I have a handicap—my right arm is shorter than my left arm—and that was why I was looking for that kind of keyboard. I never had any expectation, I was just looking for any separated keyboard in order to feel better in my usage, and one day I found the ErgoDox page with the help of some geek friends. They all have TypeMatrix and stuff like that, so when I explained my problem they said, "Look at this." It was a huge revelation for my everyday comfort.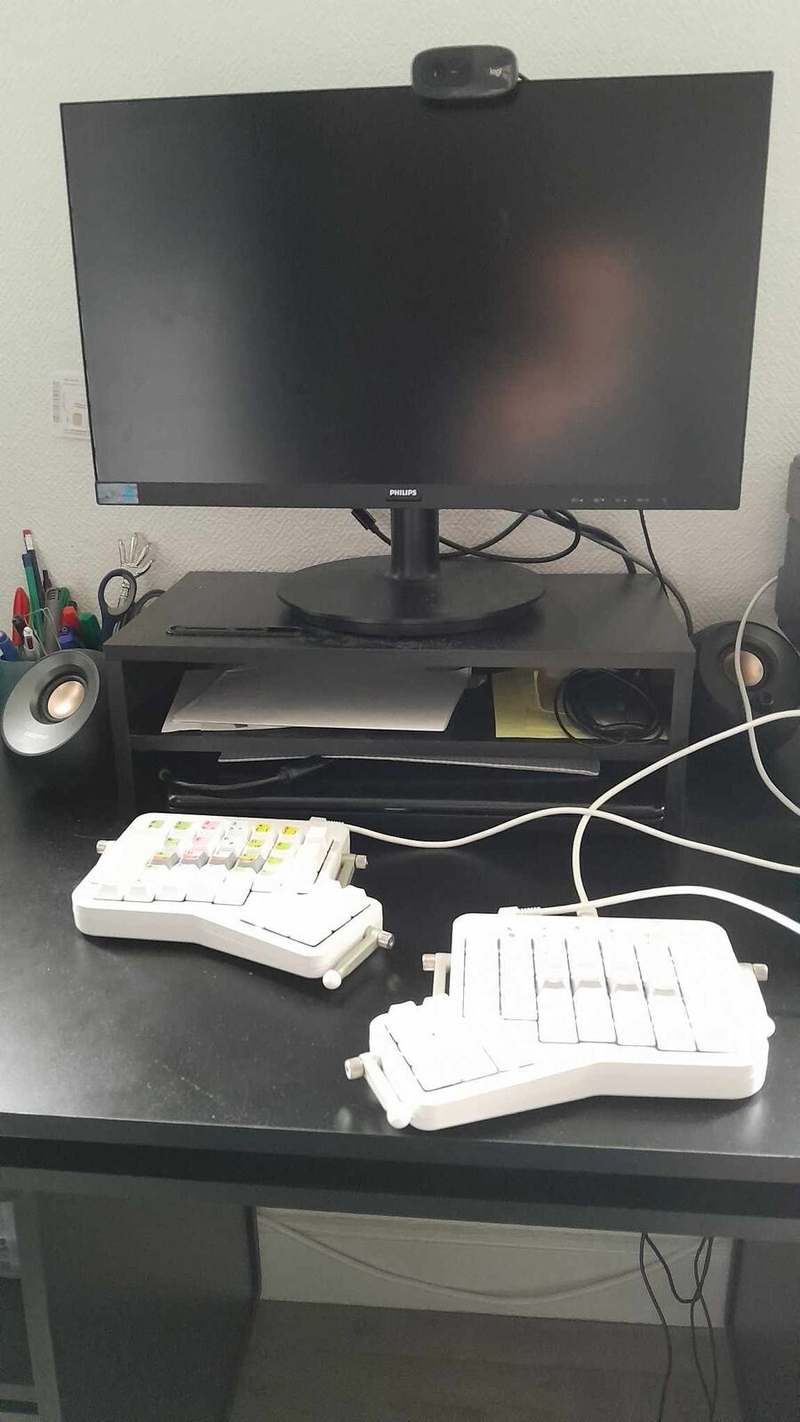 After I really optimized the keyboard, it took me one month to be fully operational with it (Switching from AZERTY to BÉPO was a huge transition! I was like a six-year-old kid with a keyboard, come on!). The first coding session was really slow, but step by step, I came to prefer the ErgoDox 😊. It is fun to see that somehow now, I am familiar with both options and I can write really fast with both of them.
And what software?
Like all data scientists, I spend my life on Python notebooks for GCP/AWS, and Outlook is always open in order to write a lot of email!
What's your keyboard setup like? Do you use a custom layout or custom keycaps?
I use blank keycaps with stickers I bought for the BÉPO layout. On my first keyboard I used Cherry Brown keyswitches, but in order to be more appreciated by my colleagues, I switched to Cherry Silent Red—and in fact, I prefer them in use, so I'm kind of happy with them!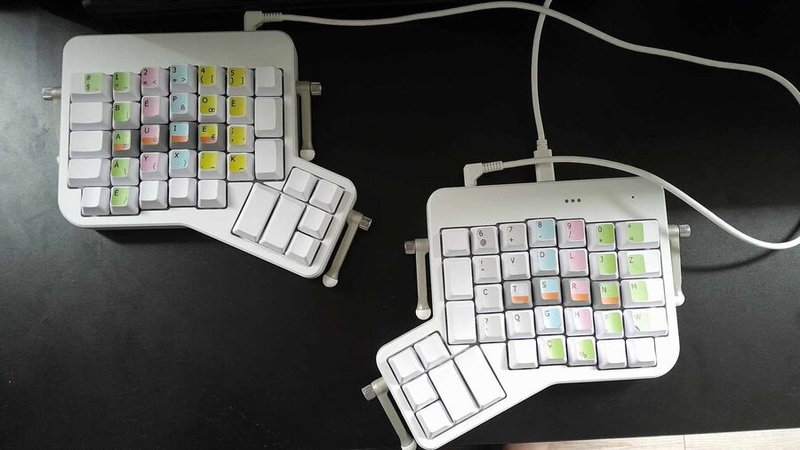 I tried to optimize my previous layout that I found at Azure DevOps in order to correspond more to my usage. There are many variations, but I just use the main layout most of the time.
I really enjoy Oryx and Wally. I started to dream of this keyboard during my first year of my PhD. I got it in the period when all the tools you've developed didn't exist yet, so I spent quite some time to understand how to program the keyboard on C++ (I have never been so close to hardware programing as that) and finally found one repository that did the job. All the questions that I still had were answered by one of my students—who had the same problem as me—and your email support!
What would be your dream setup?
I was thinking of switching to a Moonlander, but in fact I was too familiar with the ErgoDox, so I didn't want to change again (and optimize a new layout). Because I am in a lot of open space, the keyboard is always in my bag while I am moving from home to workplace.