The people who use our boards.

272 interviews

 

since 2018
Jessika Herrera
Document Control
Who are you, and what do you do? What do you like to do outside of work?
My name is Jessika Herrera. I work as Document Control for Harman International, one of the top audio products producers. Their brands are Harman Kardon, JBL, AKG, AMX, and Soundcraft, among others. At Harman, Document Control reviews and manages changes made to any of the parts used to make products. We ensure the latest drawing is being used, and that manufacturing has the latest information.
I love to go plant shopping, love nurseries. I have a collection of about 50 plants inside and out, and my parents joke that if I ever move I'm going to need a moving truck just for my plants and books. I love to read, though in the summer time I'm about movies and shows on Netflix. I get too lazy in the Texas heat. I have a year-old Great Pyrenees/Catahoula mix, Snips, and I am enrolling her in different training classes, partially for training and just for something for us to do together.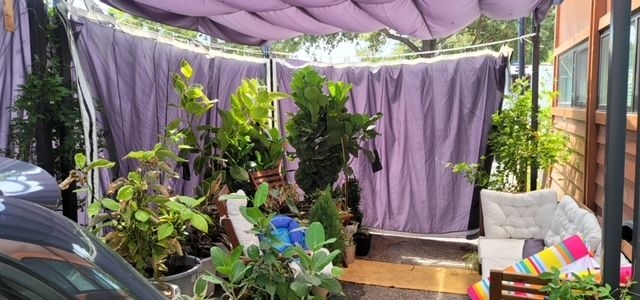 I have a tiny house on wheels. It has its advantages and disadvantages. Disadvantages are that the AC unit is too small to keep up with the Texas heat and it's hard to find a place to park it, even in Dallas. I love, love, the natural light, but at the same time I have to cover the windows in the summer 🙁. But at night I can see the moon from my bed—well, anywhere in the house—and she is gorgeous to look at.
I bought the tiny house because after two separate cancers and doing contract work, I needed the option to get up and move, and it allows me to do just that. I've lived in it since December 10, 2018. I recently had shoulder surgery and threw a bunch of things into the loft, and I'm slowly going through it, otherwise I'd have inside photos. Haha, the bottom portion of the house just had its quarterly let's fold-clothes-and-get-rid-of-what-we-haven't-used cleaning. It's amazing how much stuff adds up. I've learned what's important to keep and what can be donated for others to use. I do this about once a quarter. Now if I can stop bringing things in.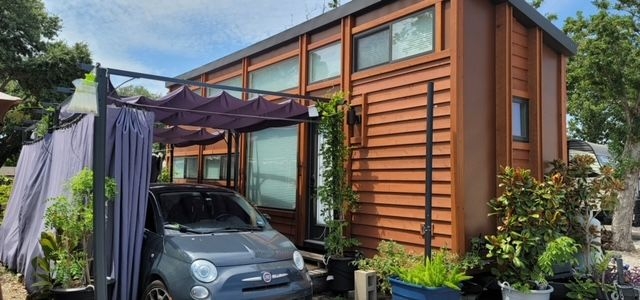 It's a cozy area, and I can't wait till it cools down so I can sit outside with Snips, friends, and family. In the winter the patio turns into my greenhouse, and I love it. I've gotten into the habit of using storage boxes and bins, as pots as they are cheaper. I don't know where I got my green thumb, but I'm glad I have it. Though not everything survives, a lot do.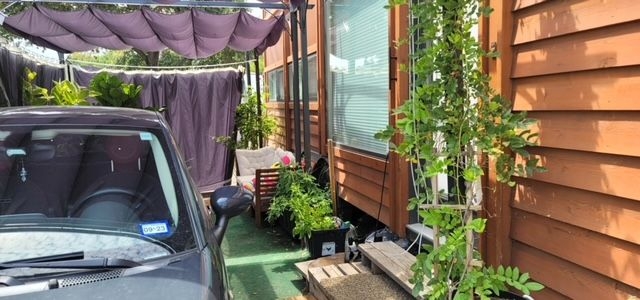 I like to swim and I hate to admit that this year swimming in a pool feels like swimming in a soup bowl, especially in the afternoons. Mornings aren't too bad, but I can only do that on the weekends.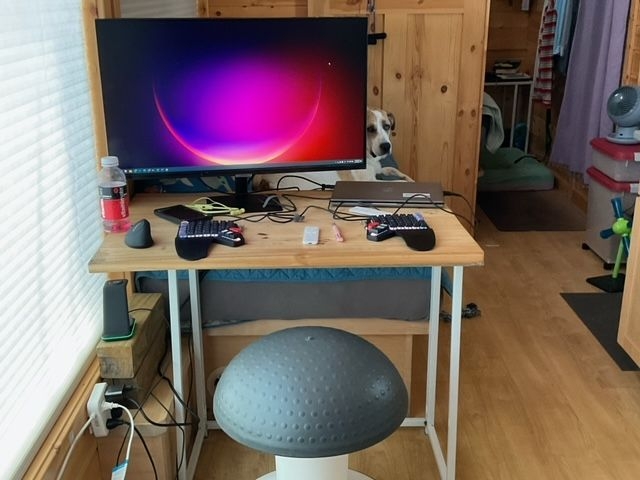 What hardware do you use?
I use a Dell Latitude 5420 for work and a MacBook Pro for personal use. My monitor is a Samsung 32" smart monitor, my mouse is a Perixx left-handed ergo mouse, and my keyboard is a Moonlander. I'm into ergonomic work stations, whether at home or in the office.
And what software?
The software I use most are Windchill procom, SAP, Microsoft 365, and Mac iWork.
What's your keyboard setup like? Do you use a custom layout or custom keycaps?
I feel this is very basic compared to others—however, I love the simplicity. I have only been really using it since April 2023 even though I have had it since 2022. I am working on customizing my keycaps, mostly working on making them on my own. Though I have one, a kitty paw, my son got me when I first got my Moonlander.
I initially got the Moonlander due to shoulder issues. But I worked for a public agency and was not allowed to use it on their computers 😔. I didn't feel that using it twice a week from home would benefit me to learn the keys. I had shoulder surgery this past April, though, and could no longer use a regular keyboard. The Moonlander has been a lifesaver, and it was a heck of a lot easier to pick up as long as I didn't stare at the keys. I had been using an ergonomic keyboard for years, but I needed and still need the separation. The Moonlander has helped me continuing working after shoulder surgery (triple tendon transfer) without pain. I cannot go back to a normal keyboard ever again.
What would be your dream setup?
A sit-stand desk that actually fits in my tiny home and doubles as a dinner table. With a compartment to hide my monitor. Working from home is great, but living in a tiny home makes it difficult to have a separate room for an office. I'd really like an office or separate room, nothing big. Definitely cord management with room for my sidekick, Snips. More plants, too—I'd have a jungle inside if I could.