The people who use our boards.

272 interviews

 

since 2018
Michael Beaty
Nonprofit Solutions Consultant
Who are you, and what do you do? What do you like to do outside of work?
Hello! My name is Michael, I live in Vancouver, Canada, and I am a Nonprofit Solutions Consultant. I work with nonprofits to implement Customer Relationship Management (CRM) solutions and enable them with integrated tools to help achieve their goals. I followed a pretty nontraditional career path, as I majored in Asian Studies at university, studying in Japan for a portion of my first and fourth years, with a focus in Japanese language, history, and culture. I then later found myself in the nonprofit technology world, which I am so glad I was introduced to.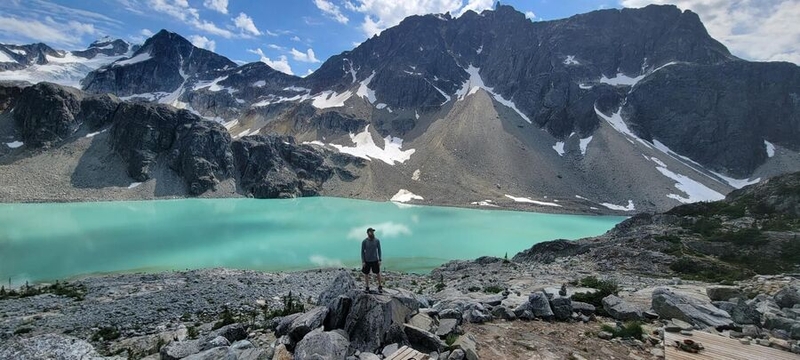 When I am not working, I am trying to get out into the wilderness to go hiking with my dog, game with friends, go bouldering, or trying something new (trying new hobbies can also be a hobby, right?). I enjoy building Lego, reading, staying active, solving puzzles, baking, tinkering with my 3D printer, and the list goes on.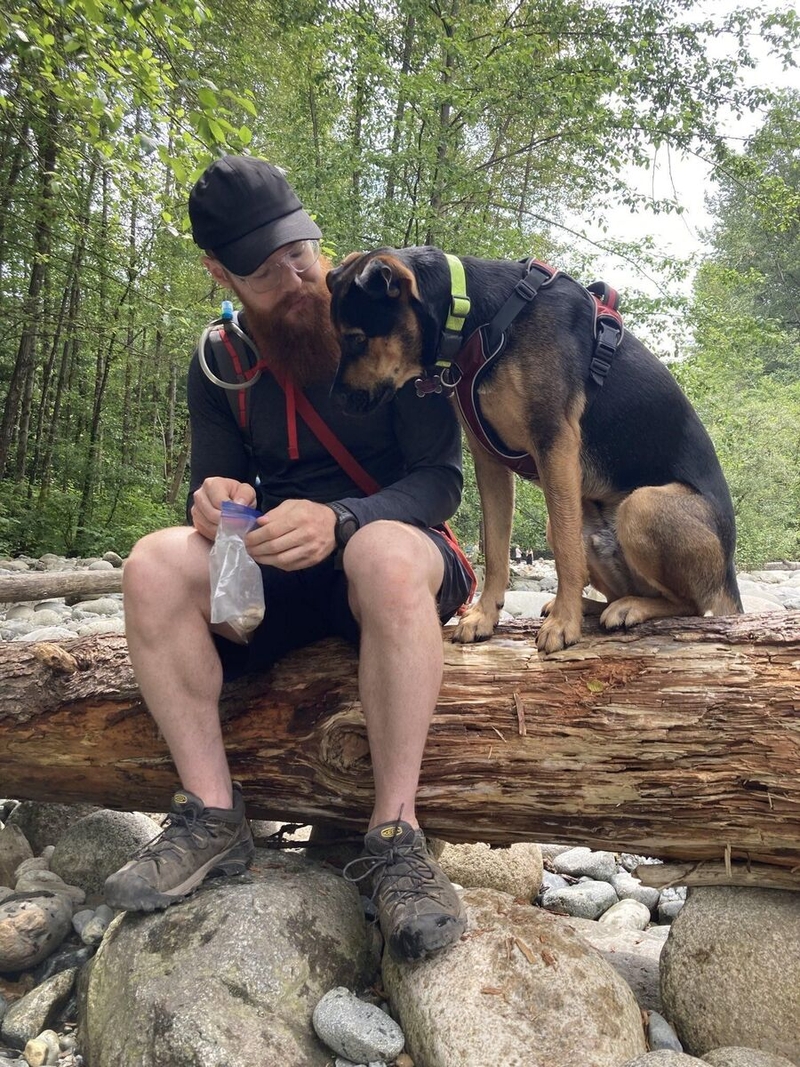 What hardware do you use?
For work I use an M1 MacBook Air, and for play I have a PC with an enormous now-discontinued case, the Cooler Master Trooper SE. The case is huge, but has a handle and plenty of space to work with. I also really like that it has an "X-Dock," which is a built-in hot-swap bay for a 2.5" SSD. The other parts: Intel i7-8700K CPU, NVIDIA GeForce RTX 3070, and 16GB of RAM. I have a KVM switch that lets me swap between monitors, ErgoDox EZ, and other peripherals for my work Mac and personal PC. I haven't gone 4k yet, so I have two 24-inch 1080p BenQ monitors and one 27-inch Alienware 1080p monitor.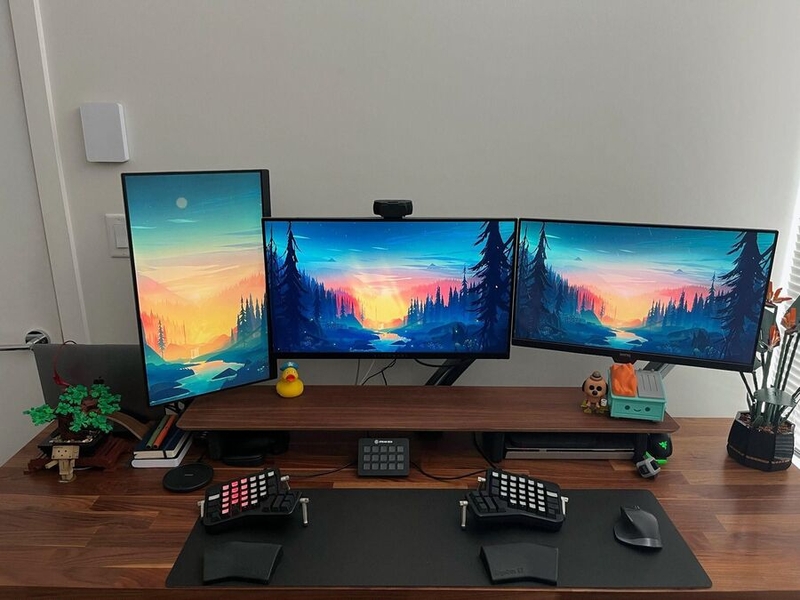 I have been able to piece together my desk setup over the past several years, including the monitors, so it has been a slow process, but I have got it to a place that I am pretty happy with. I have a standing desk that is a Fully Jarvis frame with a KARLBY Ikea countertop as the desktop. On top of the desk I have a medium Grovemade Matte Desk Pad and Grovemade Desk Shelf under which I have a Stream Deck MK.2, mainly for shortcuts and macros. Then there is my ErgoDox EZ and a Logitech MX Master 2S mouse. When I am gaming, I usually switch out to the Razer Basilisk wireless mouse and Razer Tartarus keypad.
I have a few less "functional" pieces of hardware on my desktop. There are a couple of Lego plants, the Bonsai Tree and the Bird of Paradise, as I don't get a lot of consistent direct sun to sustain real plants in my office. I have the pirate rubber duck that was given to me by a friend when I started consulting, to aid our team in "talking through our blockers and bugs" when we were stuck on something (which usually helps you realize it was something simple the whole time).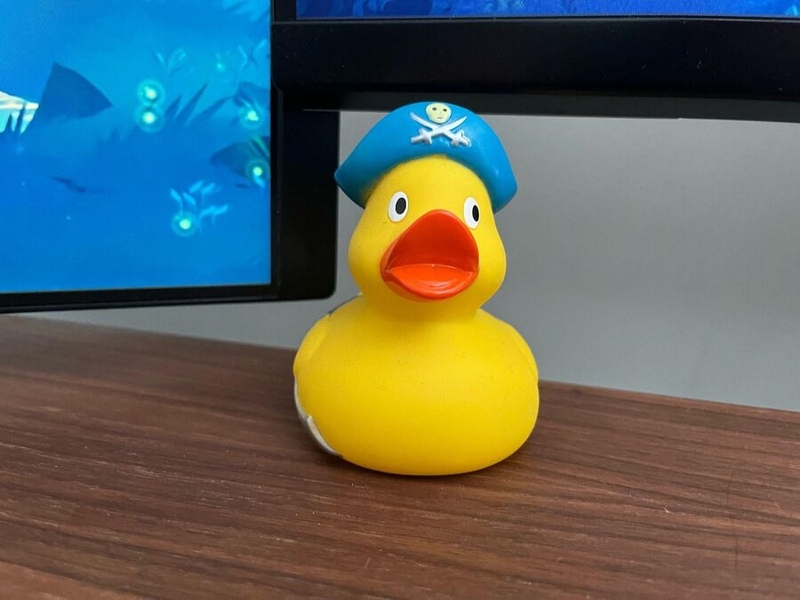 Then I also have the "This is Fine" and Dumpster Fire figures for those days when the rubber duck just isn't enough.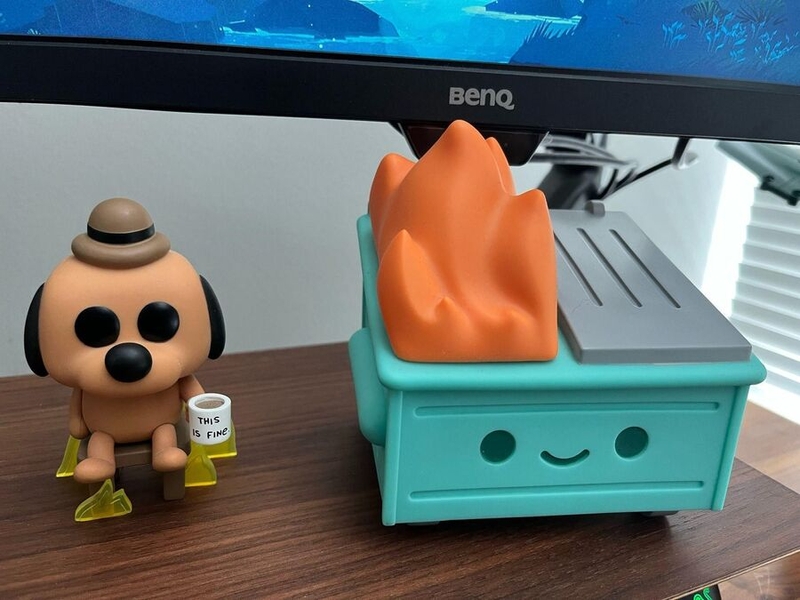 And what software?
I really enjoy finding new software and tools that can help productivity, so here are some of the ones that I use frequently on my Mac. With its hotkey window, iTerm is one of my main apps for working with some of my other tools. A friend introduced me to a great app called Espanso, which is an open-source text expander built on Rust; it allows you a lot of freedom to create shortcuts, execute code, output frequently used text or code snippets. I highly recommend it. With both these tools having hotkey mappings, the Meh and Hyper keys are perfect for these use cases. Some others that I use daily:
What's your keyboard setup like? Do you use a custom layout or custom keycaps?
I have a pretty standard layout, I think. I do take advantage of the different types of key presses and lighting to be more efficient. I also find that my keyboard layout is constantly evolving, which is why I have a layer that is dedicated to flashing my keyboard because: 1) when I want to flash my board to update it, I can never find a paper clip, 2) I don't want to hit reset accidentally. The live training heat-map function is something I have open frequently when I am working, to see if there are keys I don't use often that could be better swapped to something else. The ErgoDox EZ also introduced me to Shift being tapped for brackets, and I'll never be able to go back from that.
Having my keyboard halves shoulder-width apart, which seems to be farther apart than most, has been great at reducing the tightness of my shoulders, chest, and back. Additionally the space between the keyboard sides lets me have a space for writing notes… or to keep snacks.
I use these Translucent Shine-through keycaps that I got a few years ago that give a clearer visual on my different layers, and I use Gazzew Boba U4 Silent Tactile switches.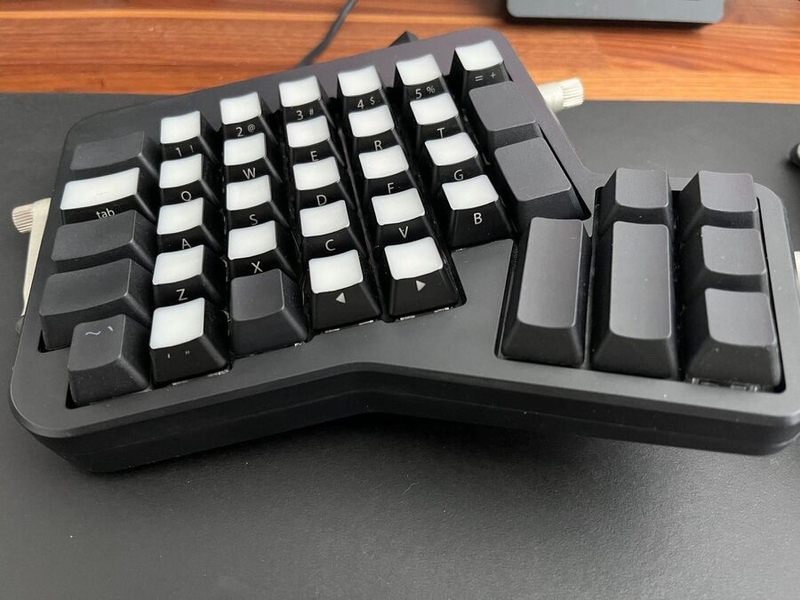 What would be your dream setup?
I would love to have some art or plants on the bare wall behind my computer, and more around the office. With the lack of direct light, I'd have to be more intentional about what low-light plants could survive. Other than that, I am pretty happy with the setup I have built slowly over these years. I'd potentially like to upgrade my chair, but currently I use a Staples Dexley, which has been great, but something with a slightly better build quality would be a nice addition.