The people who use our boards.

272 interviews

 

since 2018
Bentley Varghese
Data Engineer
Who are you, and what do you do? What do you like to do outside of work?
I'm Bentley Varghese, a data engineer based out of Arizona. I started my career as a software engineer and subsequently transitioned to the data world working a number of roles across the discipline. I've also been in the fortunate position of being able to travel all around the world for work and studies.
Outside of work, I like to watch movies or TV shows and spend time with my wife and my dog. I also like to listen to music and play my guitar. When I'm not trying to put a dent in my "To Watch" list across streaming platforms, I try to decompress by playing video games.
What hardware do you use?
I have a Dell XPS 17 as my primary personal machine. I also have an M2 Mac mini on the way to serve as an alternate personal machine. For work, I use a 14" MacBook Pro. The laptop rests on identical SOUNDANCE adjustable laptop stands, which I thought would aid in better air flow and thermals.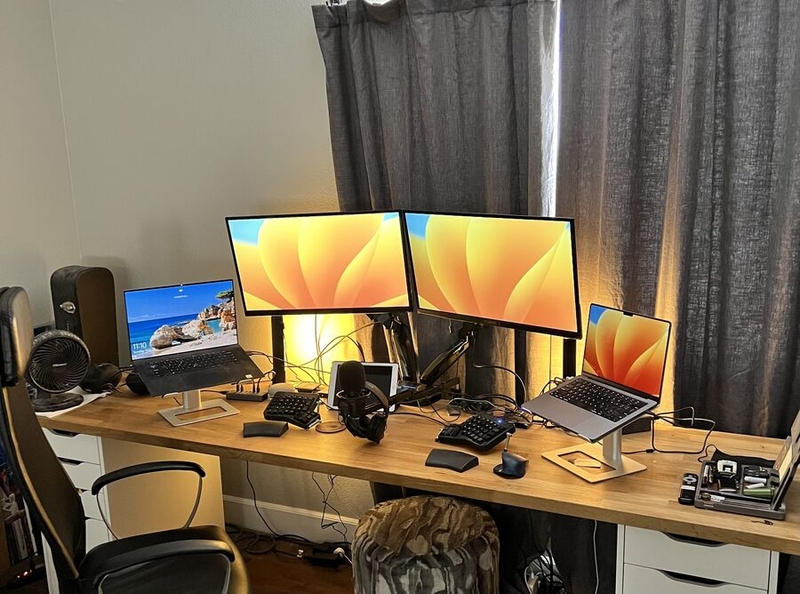 I have two 27" Acer monitors on Huanuo dual monitor stands. The displays can be used across all of the machines with the help of HDMI splitters. Peripherals are also shared between machines using a USB switch hub. I also use couple of extra USB hubs to allow for further peripheral expansions. I have a Logitech MX Master 2S as my mouse of choice. My trusty OG ErgoDox is my primary keyboard, and I also use the Planck EZ when I travel. As if that many screens were not enough, I also make use of an old iPad just for emails and Slacks when working.
And what software?
My setups are usually very similar across Windows and Mac. Windows Terminal using WSL and iTerm2—both with Oh My Zsh. My primary coding language is Python, so I use PyCharm as my go-to IDE. Working with a lot of databases, I rely on DataGrip as the IDE. I also tend to use DataSpell for Jupyter Notebook-type work. As you can probably tell, I'm a big fan of JetBrains products. My current favorite browser is Vivaldi (I love the new Workspaces feature update).
What's your keyboard setup like? Do you use a custom layout or custom keycaps?
It took me a long time (probably longer than most folks) to get used to my split keyboard setup. And finally one random day, after what felt like months and months of trying, my brain just accepted it. Now I can't imagine going back to traditional keyboards. It was, then, just a little bit less of a challenge to get used to the Planck.
With the ErgoDox, my setup is very clean and simple. I have it set up where I can use different layers for different operating systems—one layer for Windows and another for the Mac. This allows me to switch between systems with ease.
What would be your dream setup?
I think I'm pretty much there—at least the core of my setup is. I may add a stand so I can use my iPhone to record videos and/or maybe another monitor down the road? A 16:18 one this time? Sigh, there's always a couple more things, right? Okay, that's fair. I might have a slight problem here 😂