The people who use our boards.
Jillian Keenan
Software Engineer
Who are you, and what do you do? What do you like to do outside of work?
Hi, my name is Jillian Keenan, known online as @coderess. I'm a software engineer based in Belfast, Northern Ireland. When I'm not working you'll find me playing video games (usually horrors), watching anime, taking care of all my plants, and most of all being a great dog mum to my eleven-year-old Maltese named Benji.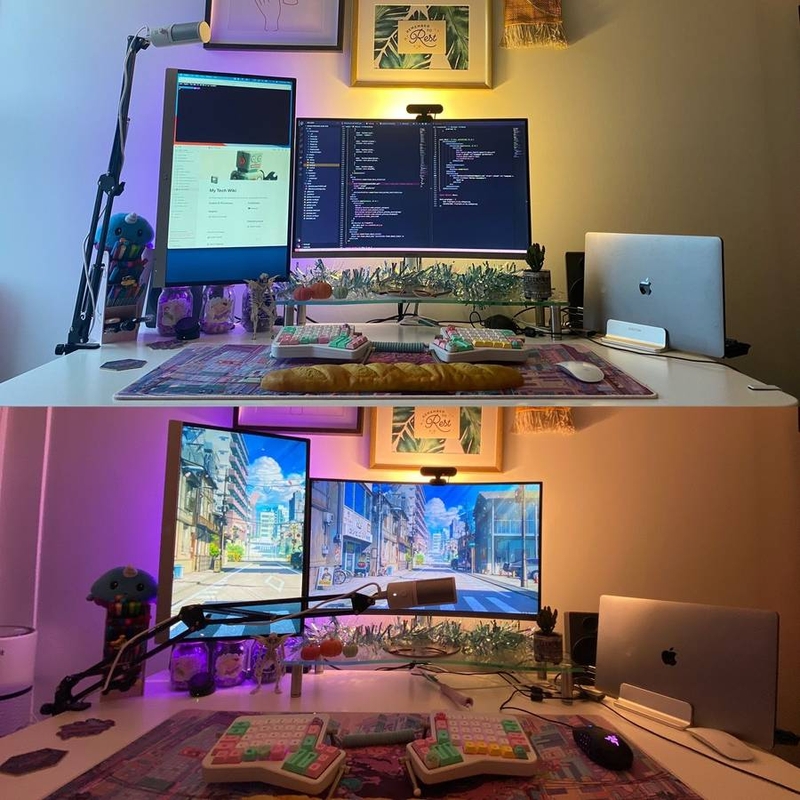 What hardware do you use?
So I have two setups/themes, one for my day job and one for nighttime gaming sessions.
For work I use a 2018 15-inch MacBook Pro. It's powered by a 2.9 GHz Intel Core i9 processor, 32GB of RAM, and 1TB of SSD space (for all my funny GIFs). My desk is the Autonomous AI home office standing desk, which I honestly could not live without, and for my work mouse I use the Apple Magic Mouse.
For gaming I use a custom-built PC, the specs of which can all be found here: My Magical Battlestation. It's all held together in my AeroCool P7C1 case, combined with a water-cooling setup. I hope to eventually downsize my PC case and switch to something more minimal and compact in the future.
For audio I use a Logitech Z333 for the main speakers of my PC and then I mostly use my SteelSeries headset for work calls and for gaming. I use the Razer Seirēn X for my main microphone when gaming and chatting with friends on Discord. The mouse I use for gaming is a Razer Naga Chroma. It has a twelve-button thumb grid, which was perfect for grinding on MMOs, particularly during my World of Warcraft days.
I have a dual screen setup. My portrait monitor is the AOC 23-inch monitor, which was a budget buy when I was in University and still holds up seven years later. My other monitor is a Samsung C27F398 27-Inch Curved, which I bought after I started my first job in tech.
My final piece of hardware that has to be mentioned is of course my split ErgoDox EZ keyboard, which I use for both gaming and working, but more to come on that later in the post!
And what software?
My IDE of choice is VSCode, complete with the Pink-Cat-Boo theme. My terminal is iTerm2 and with wild-cherry theme. Notion is my jam. I use it for taking notes in work and writing out anything I need to remember. Additionally, I also use it to remind me when to water my plants. I use Slack day-to-day at work to chat with colleagues and get stuff done. I use Discord to play games and chat with friends and engage in community channels after work.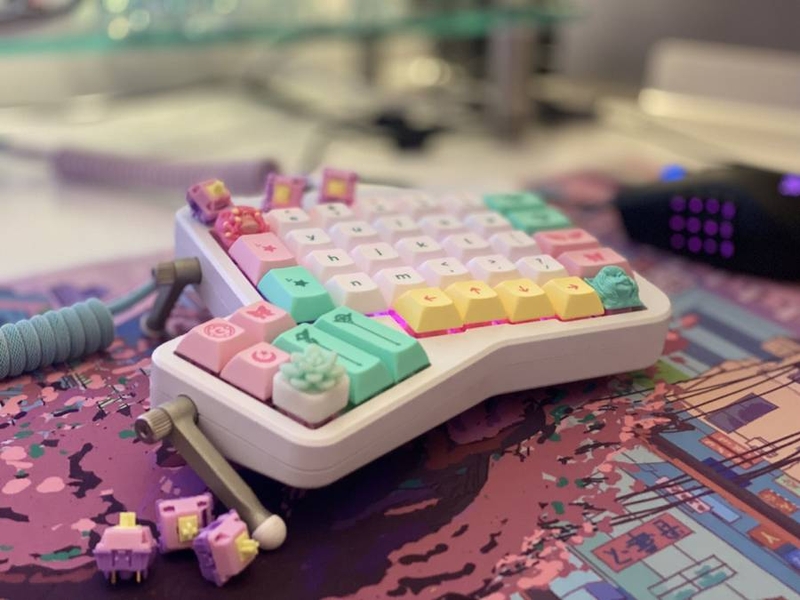 What's your keyboard setup like? Do you use a custom layout or custom keycaps?
So let's talk about my keeb, the ErgoDox EZ topped with the Magic Girl keycap set by Mintlodica. The connecting cables are also matching Magic Girl Cookie Cables. This keyboard is used for both work and play, as the configurable layer system makes it suitable for just about anything.
The Ergodox originally shipped with brown tactile switches, but I swapped them this year for a set of lubed & filmed Banana Splits. The tactile switches were good, but I prefer a more linear typing experience because I am a relatively light typist. I also won my first set of artisan keycaps during a raffle from Wildstory Caps, which can be seen in my setup. I also have the Capsmiths Rose keycap because of my love of plants.
What would be your dream setup?
One of the most important elements of my current office space is nature. My dream office would be a bright, airy one with floating shelves for all of my plants. For colours, pink and white tones on the desk setup contrasted against a mounted neon Sailor Moon Wand. As for the PC build, something minimal is the direction I'd like to go. I would love to try out a mini-ITX case like the Nouvolo Steck (with a GeForce RTX 3080 inside, of course.)