The people who use our boards.

281 interviews

 

since 2018
Aman Abdulalim
Full Stack Software Engineer
Who are you, and what do you do? What do you like to do outside of work?
I'm Aman, a full stack software engineer from Oakland, California. I'm currently working at an EdTech startup focused on student financial success. I also love working on personal software projects—some notables include an e-commerce product ranking engine, an artificial intelligence-assisted camera and photo editor, and a handful of augmented reality experiences.
I'm a creative person at heart, so I'm always creating outside of work. My biggest creative venture is music production, which I've been doing for seventeen years now. I started early in high school and have since worked with thousands of artists globally, including a freestyle world record holder and a multiplatinum award-winning production group. I've focused most of my music efforts around in-the-box production and audio engineering, but I'm currently venturing out the box to learn a few instruments. My current collection consists of an alto saxophone, piano, and electric and bass guitars.
Beyond making music, I'm in love with all sorts of multimedia and content creation. I dabble in photography and videography, enjoy writing, and am currently exploring animation and 3D modeling. I find lots of creative inspiration in simple day-to-day things, so you might catch me with my camera when I'm out and about.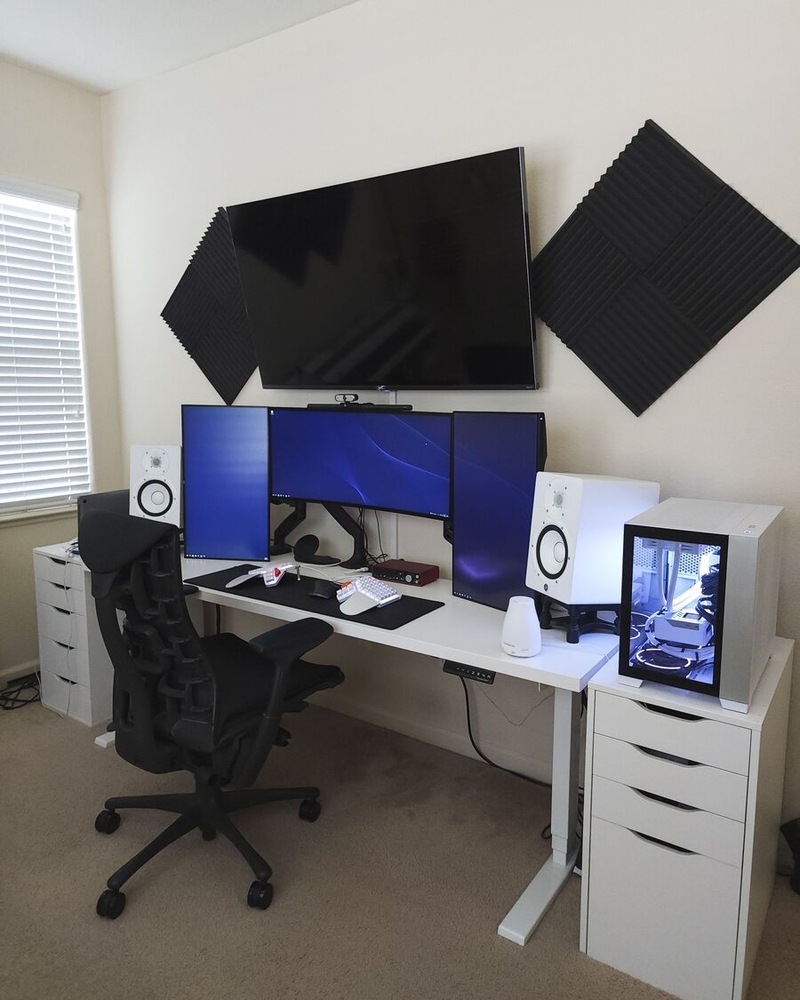 What hardware do you use?
For work, I use a 2019 MacBook Pro 16" configured with a six-core Intel i7 CPU and 32GB RAM. I typically keep it in its stand to connect with my triple monitors, keyboard, and mouse. These include an LG 35" UltraWide 1440p display, two portrait-oriented Dell 27" 1440p displays, the ZSA Moonlander keyboard in white, and a Logitech MX Master 3. They're all sitting on a 78" wide tabletop on a standing desk frame.
I also have my custom-built PC wired to the same monitors and peripherals. The PC contains an AMD Ryzen 9 5950x, a Gigabyte RTX 3090 Vision OC, and 64GB RAM. It powers music production, gaming, and personal software projects. This PC is also connected to a 55" TV above the triple monitors in case I need a fourth display. This TV is typically used for leisurely viewing from the back of the room.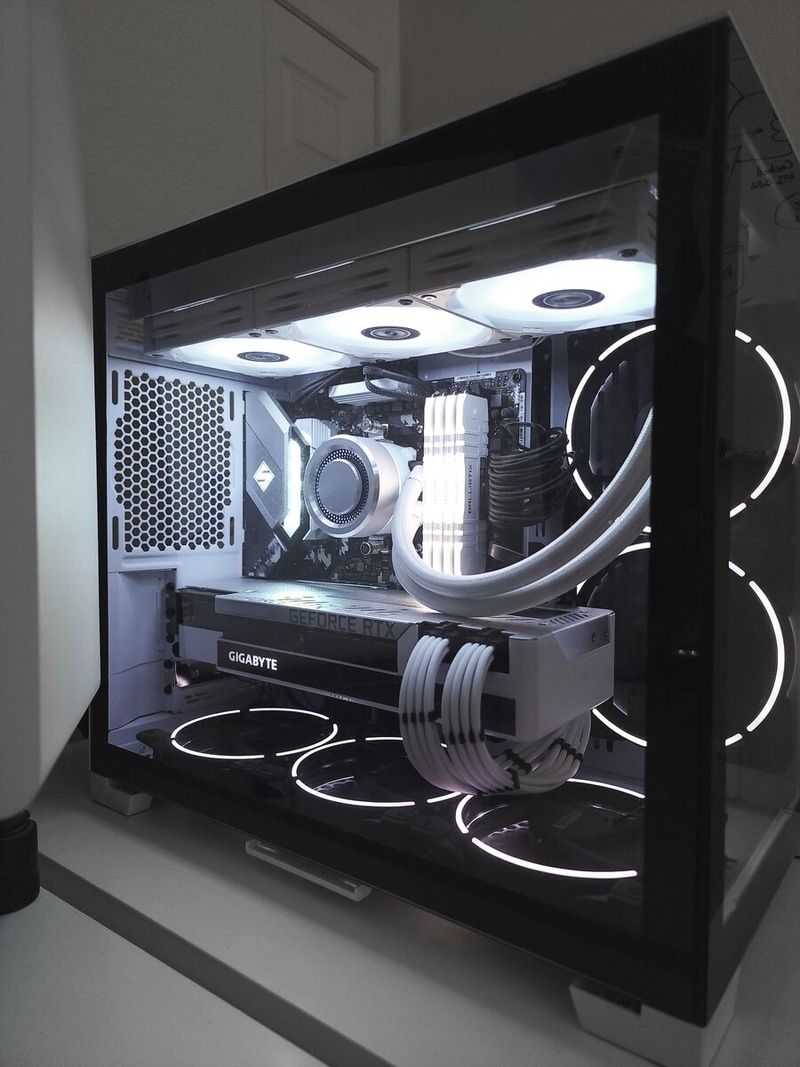 There are two Yamaha HS8 studio monitors next to each vertical display for critical music listening. I have these connected to a Focusrite Scarlett 2i4 audio interface that sits under the center display for easy access to volume controls. I sometimes use either a Maschine Mikro MK1 or a Nektar Impact LX25+ on my desk to control my DAW. Along the side wall are my stacked keyboards, an Arturia Keylab 88 Essential and a Studiologic SL88 Grand. Mounted on the wall is my Sire Marcus Miller V3 bass guitar, Ibanez AR93 guitar, and Yamaha YAS-280 alto saxophone. I love having these instruments out and ready to grab so I can quickly play when inspiration hits.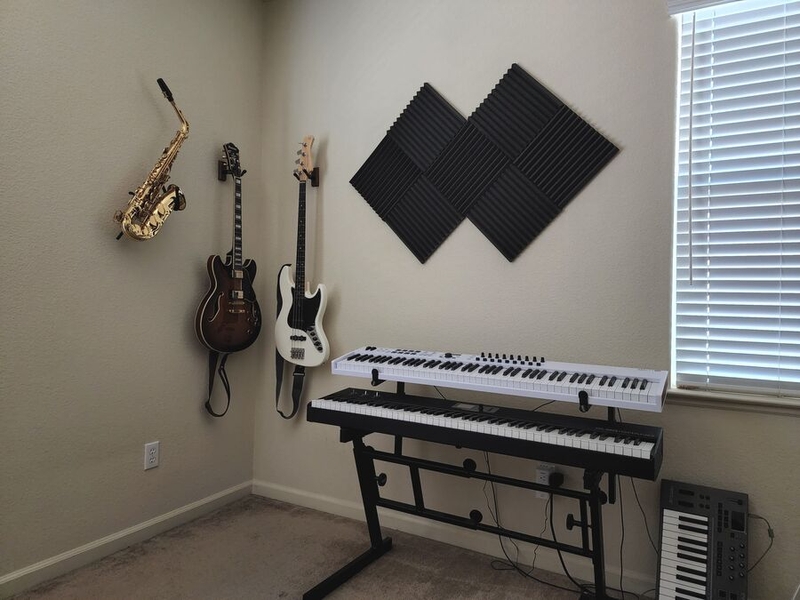 I have RGB strips along the back edge of my desktop, behind the center monitor and TV, and a couple of accent uplights powered by LIFX RGB light bulbs. These make for great vibes at the desk, especially at night.
And what software?
I spend a majority of my work hours in VS Code, although I've been trying out IntelliJ IDEA lately and occasionally use Xcode for iOS development. I usually have an instance of iTerm open for my command line work, Slack for my team communication, and a billion browser tabs for frontend work and documentation. I keep my IDE on my center ultrawide display, iTerm on one of the vertical monitors, and documentation and Slack on the other vertical monitor.
For music, I use FL Studio with an endless amount of virtual instruments and tools. To name a few, I use the Native Instruments Komplete suite, Waves mixing tools, Addictive Drums 2, Omnisphere 2, Arturia Analog Lab, and Serum. The integration with my MIDI keyboards is sometimes fluid enough that I can work for long stretches without touching my mouse. Fun stuff!
What's your keyboard setup like? Do you use a custom layout or custom keycaps?
My board has the standard keycaps with MX Cherry Brown switches. I'm new to columnar, split keyboards so I found the default layout sufficient while I'm getting past the learning curve. I recently progressed to tenting up the keyboard and I'm loving the feel.
Since I'm switching between Windows and MacOS often, I chose to use Microsoft PowerToys on Windows to swap the CTRL and Windows key at the OS level. This allows me to have a similar experience with certain shortcuts across each OS without having to change the keyboard layout each time.
There's so many customization possibilities, it's ridiculous! I'm still exploring and haven't settled on a layout beyond the default yet. I'm planning to explore key switches and see if I find something I like more than the MX Browns. My next mod will definitely be blank keycaps, since I love the minimalist look.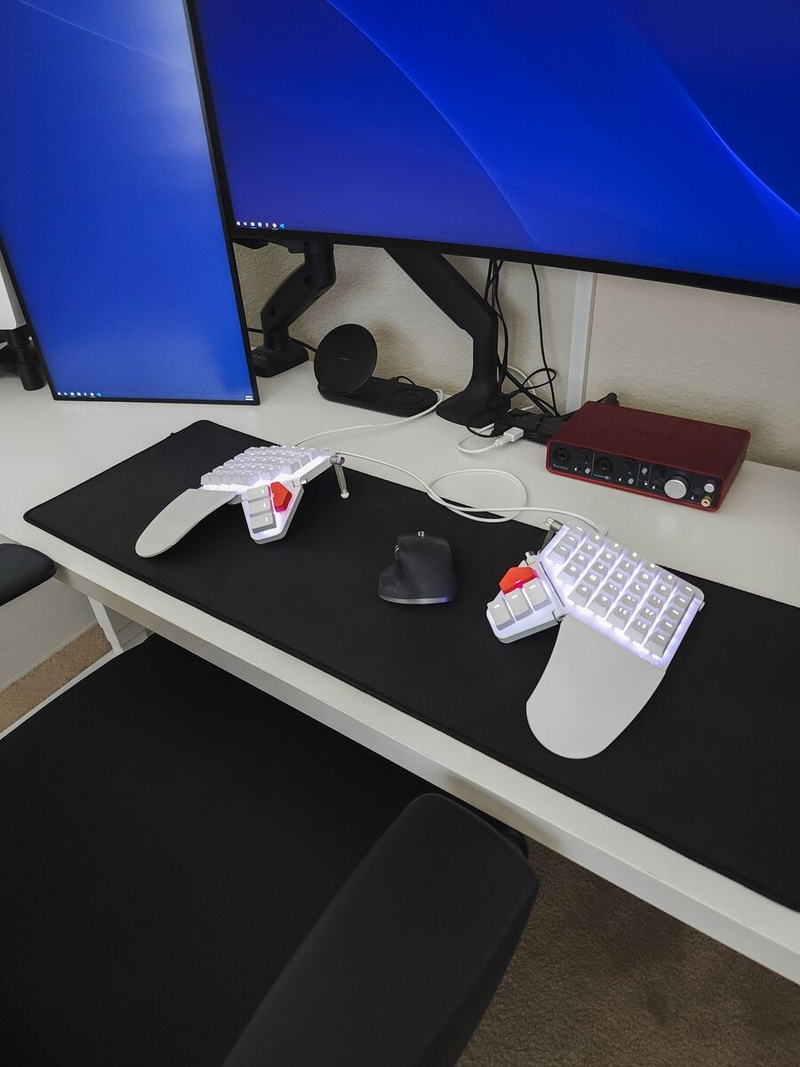 What would be your dream setup?
I'm happy to say I'm very close to my dream setup now. I recently built my current PC and finally feel like I'm not limited by a lack of computational power. I'm in love with my display arrangement, but I'll likely continue exploring different arrangements. There are a few minor upgrades that would be beneficial—higher resolution monitors, acoustic room treatment for my music work, extra seating in the back of the room, and possibly a deviation from my minimalist theme to more personalized aesthetics. Otherwise I'm very happy with my current setup!