The people who use our boards.
Karly Morrison
Entrepreneur, Photographer, Counselor, Tattoo Artist, Writer, Herbalist
Who are you, and what do you do? What do you like to do outside of work?
I am Karly Morrison, an entrepreneur, published writer, professional photographer, & adventurer living on an island in the Pacific Northwest of Canada.
I own & operate three businesses and am in the process of opening a fourth.
At The Bloodroot Gallery Art & Photography Inc., I am a professional photographer, digital gallerist, and art dealer.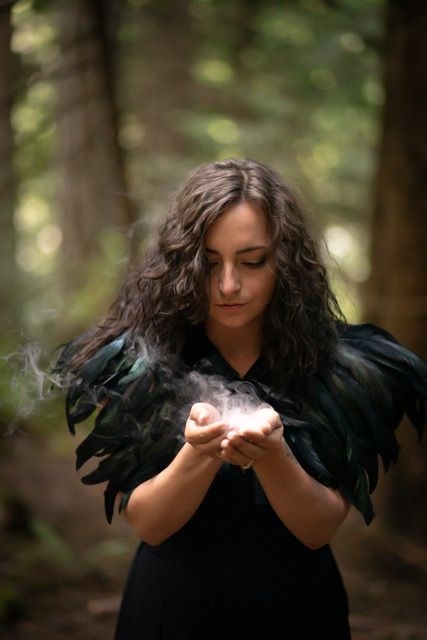 At Death Rituals Inc., I provide counselling and Community Death Care, End of Life Planning, and Palliative Services in my community.
At Talisman Tattoos, I create intentional hand-poked tattoos, pre-colonization style. I often experiment with ancient traditional tattoo materials such as bone, wood, stone, and ash.
I love what I do. Outside of work I travel, hike, and explore with my husband and our two dogs. I love road trips and warm beach locations. I am a skilled outdoors person and trap-shooter, and also enjoy acro-yoga, pole dancing, and attending concerts.
I am a Celtic herbalist, meaning I make different plant preparations such as salves, balms, and smoking blends—specifically in the field of Veneficium (the use of poison plants as medicine). I grow my own plants and herbs to use in this practice, and frequently have my writings & photography on that subject published in Witchology Magazine.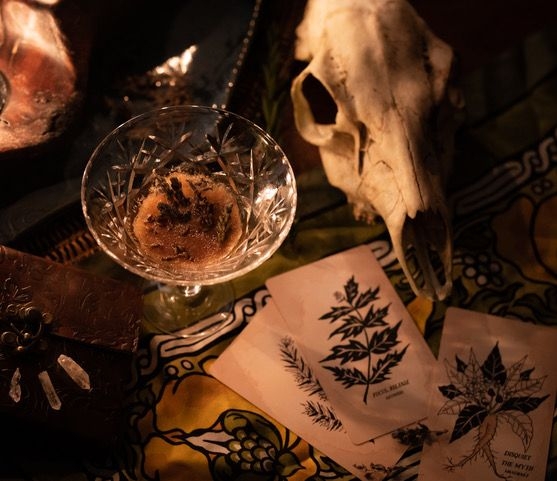 As a self-professed foodie, I also sample restaurants all over Canada, the USA, and Mexico frequently and I relish reviewing them for Google and Yelp.
I'm also a fountain pen enthusiast—extra-fine, extra-smooth gold nib snob.
What hardware do you use?
Custom rose gold MacBook Air
LG UltraFine 4k Display monitor
Sony A7IV Mirrorless Camera with an 85mm prime lens
Left-handed R-Go HE Sport Bluetooth Vertical Mouse
8TB stationary hard drive
2TB portable hard drive
White ErgoDox EZ Glow keyboard with deliciously clicky Cherry MX Brown keys & the Tilt/Tent kit to go along with it.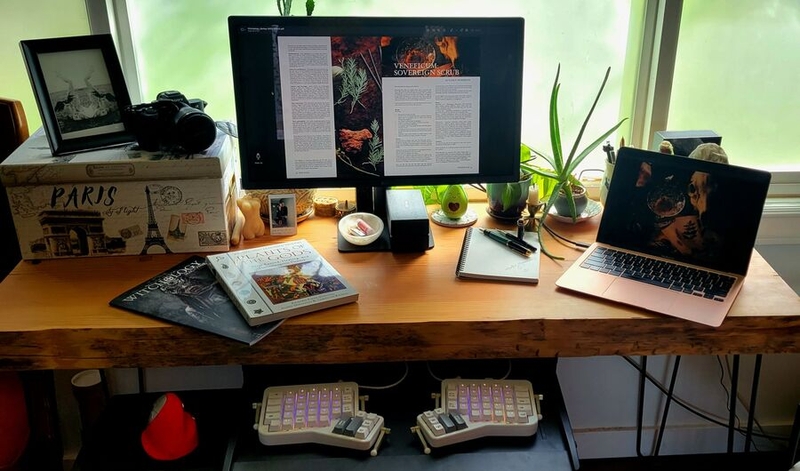 And what software?
My most frequently used software is Adobe Lightroom.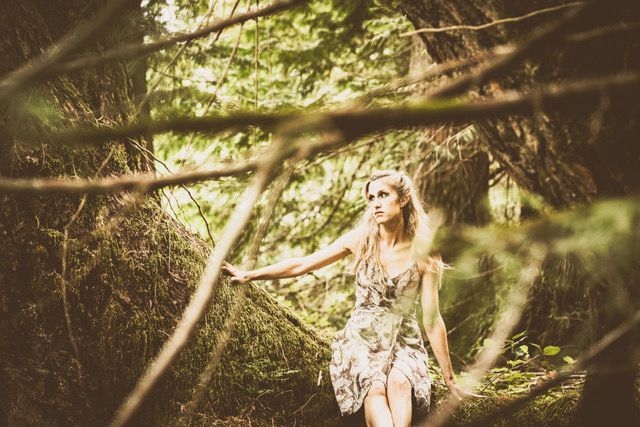 What's your keyboard setup like? Do you use a custom layout or custom keycaps?

My keyboard is set up on a keyboard drawer under my desk, tented at about a twenty-degree angle. As you may have noticed from my other responses, everything for me is custom. I am very particular about all of my hardware and software. I like things to work perfectly for me at all times. My keyboard layout is customized as well.
What would be your dream setup?
I already have my dream setup! All my hardware and software is exactly what I want and need. I also have a handmade live-edge desk courtesy of my talented husband, and a BeYou convertible chair to go with it. Plus several plants to keep my home office green!