The people who use our boards.
Melissa Lopez
Software Engineer
Who are you, and what do you do? What do you like to do outside of work?
Hi there! I'm Melissa. I'm a software engineer at Google working on Firebase Performance Monitoring, which is a real-time app performance monitoring tool. I specialize in frontend web technologies, and primarily work on the UI for our product in the Firebase Console. Some of the things I love about my job are the things I do beyond coding: the close collaboration I have with UX designers and product managers, and that I get to be part of community events to teach developers more about Firebase.
I joined Google in 2018 as a new grad and did a five-month rotation working on AR/VR projects before I joined Firebase. These days, my side gig at the company is working with the Computer Science Summer Institute. CSSI is a four-week introduction to computer science for rising first-year college students, especially for students from historically underrepresented backgrounds in technology. I've had the pleasure of getting to teach students, curriculum build, and train instructors with CSSI. Put simply, I love getting to do this work.
Outside of work I live a fairly code-free life. Last summer I picked up running, and have worked with Mindful Miles since then to get from a place where running = pain even on a good day, to a place where on the best days running is meditation. I also love baking (I'm most proud of making a great batch of Dominique Ansel's Kouign Amann), and I float between different arts and crafts depending on the season (e.g., gouache painting in the summer, embroidery/crochet/knitting in the winter).
What hardware do you use?
My home setup consists of one work-issued 24" ThinkVision monitor with a docked 16" Macbook Pro. My desk is a 60" V2-Commercial C-Frame Bamboo standing desk from Uplift, with an attached desk shelf from Fully. I sit on a Herman Miller Aeron chair; I opted for the mineral (gray) version, which is a bit less of an eyesore for my space than the classic black version.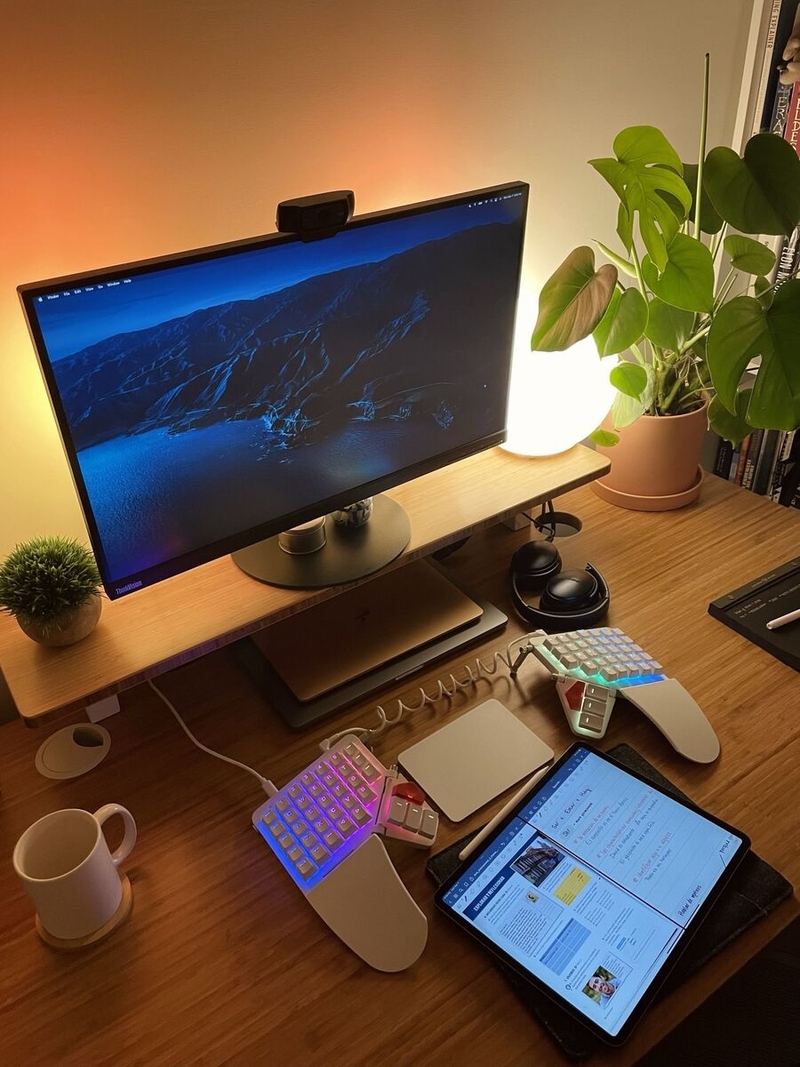 Accessories are always evolving around my desk. Hanging on the wall, I have two embroidery pieces that I made, one of which is from a pattern by Lark Rising Embroidery. I find desk lighting super fun, and I'm still tinkering around to get it right. Behind my monitor I have two mounted Govee Light Bars, with controls secured right next to my standing desk button pad for that nice integrated feel, and my lamp is the IKEA Fado.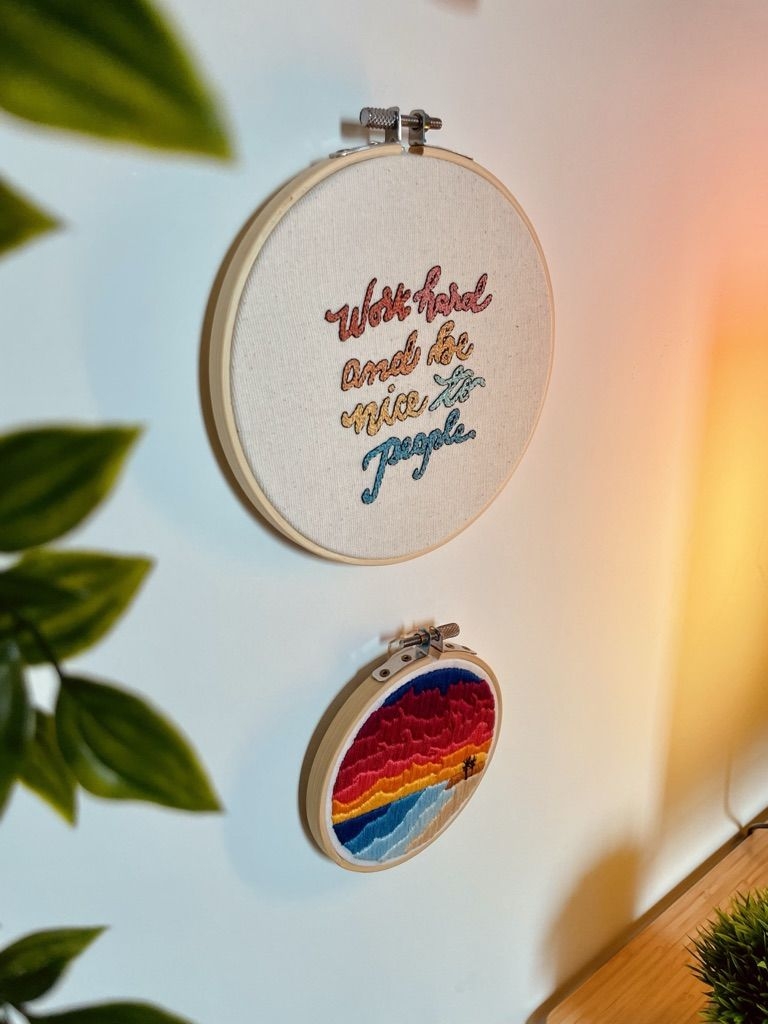 In video calls, I often find myself needing to fidget with something to stay focused. I like to keep putty and lots of good stationery and writing tools at my desk to give me easy tinker activities to fall back on. My favorite stationery item these days is my black Archer and Olive dot grid notepad, which I draw on with their Acrylograph pens. The bold colors and smooth ink flow are very satisfying.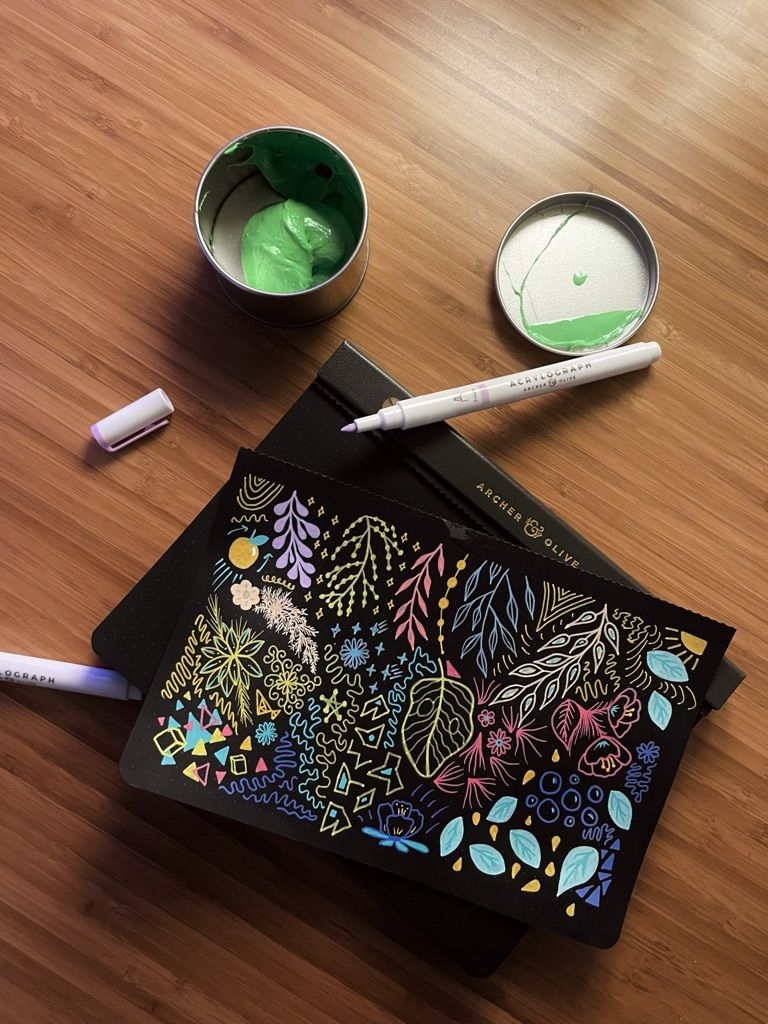 As for my inputs and outputs: I use Bose QuietComfort 35 II, but I keep a pair of good ol' wired earbuds near me in case my Bluetooth connection decides not to cooperate right before a meeting. For meetings, I have a Logitech 1080p webcam, and my orb lamp serves as decent meeting lighting. I wear an Apple Watch while I work, and I find the gentle haptic notifications are less distracting than notifications ringing in from my phone. And of course, at the center of this setup, I have my Moonlander with an Apple Magic Trackpad nestled in the middle. I began using the Moonlander when I started having finger/wrist/elbow/shoulder pain working at a conventional keyboard. Switching to a split, tented, ortholinear keyboard setup with a trackpad has helped immensely.
That's basically it for my work setup by day. At night, my setup changes slightly to adapt to my online Spanish classes. I switch to docking my 13" Macbook Air, slide my Moonlander forward on my desk, and take notes during class on my iPad. The desk shelf makes it really easy for me to tuck things away and create extra space on my desk.
And what software?
My core workflow is in a bash shell using tmux; tmux is a major time saver for me when I lose an SSH connection and would have otherwise also lost my working session. My preferred code editor these days is VS Code . Chrome is at the center of my workflow as a web developer.
On the personal side of things, my favorite software is Strava. As a newbie runner, it's been a super helpful way to analyze my progress and stay connected with my running friends! For notetaking on my iPad, I'm a big fan of GoodNotes.
What's your keyboard setup like? Do you use a custom layout or custom keycaps?
My keyboard setup is fairly simple. I use a custom layout; the top layer is the same as the default, but I configured some colors on the lower layers to make them easier to use. My favorite recent addition is a macro that lights up in green to do pane splitting in tmux. I'm still exploring new macros as I stumble upon needs for them!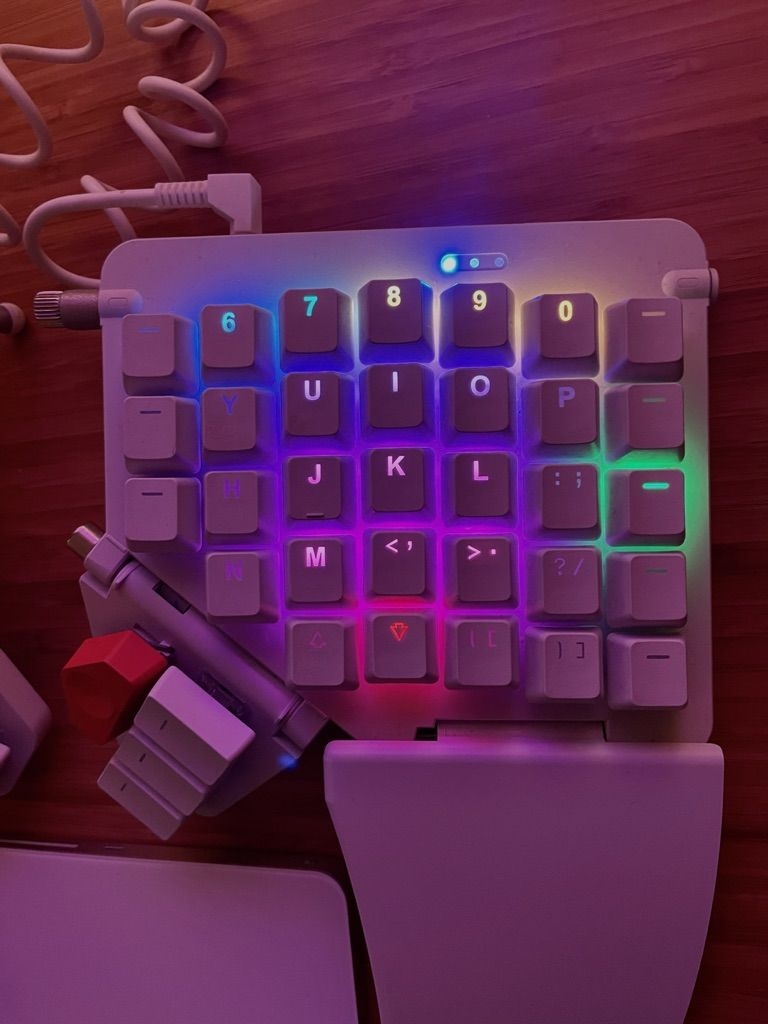 What would be your dream setup?
In my dream setup, I would definitely want to face or be next to a window; I have my back to one in my current setup! I also still have a mostly bare wall behind my desk that I haven't done anything with. I've thought about putting up additional lighting there, or even low profile shelves. I haven't explored the vast world of custom keycaps yet, but there's certainly a lot there that piques my interest. A bigger monitor would be nice—I'd maybe even try a curved monitor. But all that said, I'm pretty happy with what I've got!