The people who use our boards.

256 interviews

 

since 2018
Vicky Enalen
Senior Software Engineer
Who are you, and what do you do? What do you like to do outside of work?
Hi! I'm Vicky, a senior software engineer who hopped from Toronto, skipped from the Bay Area, jumped all over the US during a nomadic year, and finally landed in Seattle. What keeps me busy? Working with my amazing colleagues at Patch Technologies, where we're trying to make a livable future inevitable 🌎❤️. I've only recently joined Patch and have been having a blast learning about climate action and the impact that we need to have to better the environment. Prior to that I was at Clever, where I had the opportunity to shape the role of technology in education. Needless to say, I feel very grateful to be a part of these cohorts and to contribute to causes that I feel are incredibly important.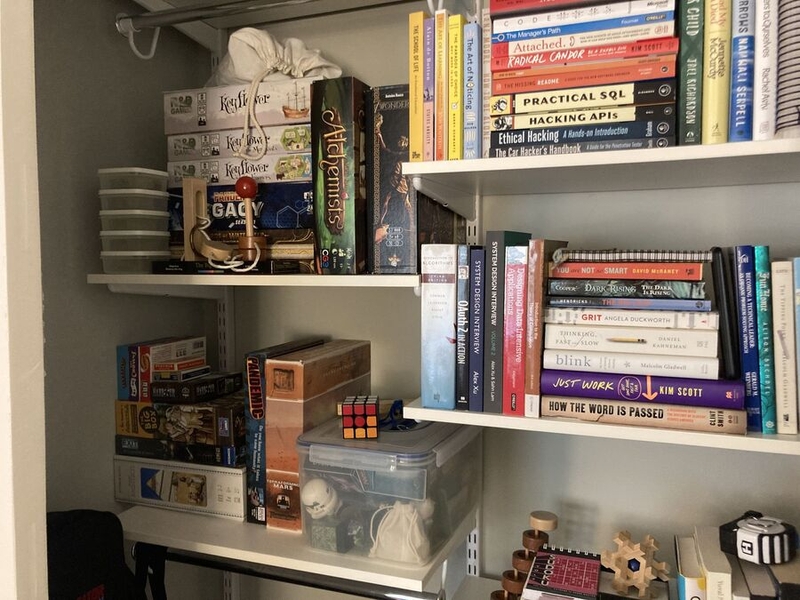 When I'm not working, I try my absolute best to tend to all of my hobbies. Video games have always been a staple (and with the Steam Deck, I have absolutely no excuse to not work through my backlog) and I love learning new board games. If I miraculously have extra hours in the day I'll find time to play some music, exercise, and try out some new recipes. Of course I would be remiss to not mention my MT-07: I rode a lot more while living in the Bay Area, but once winter works its way out I'll be on the road again!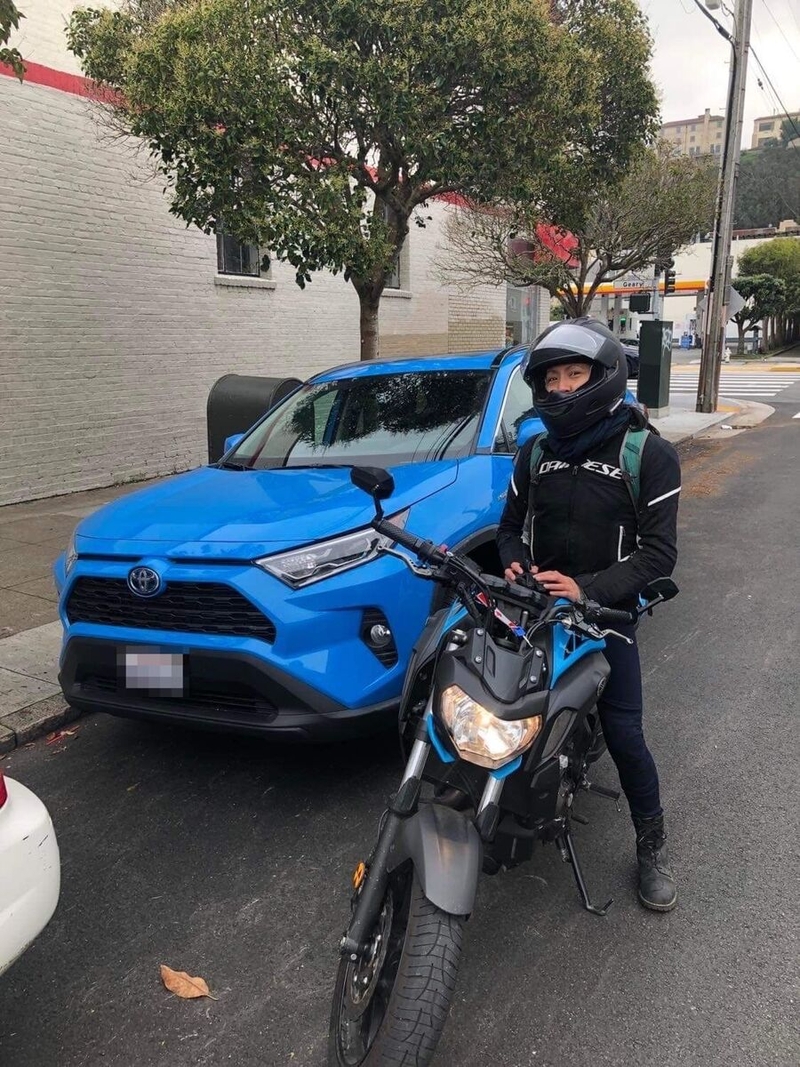 What hardware do you use?
For work I have my 14" M1 Macbook Pro and for play I have my PC (an ATX mid tower) which touts 16GB of DDR4 3200 RAM, an AMD Ryzen 5, and an EVGA GeForce RTX 2070. I know, I know, it's a little dated now, but back in 2020 I was super happy to have all of this 😍. Both machines have a KVM that can make use of the following: an LG 34" Ultragear on a Loctek VESA mount, a Sony STRDH190 receiver leading to two KEF Q150 bookshelf speakers, a Logitech webcam, and a Kensington Expert Mouse.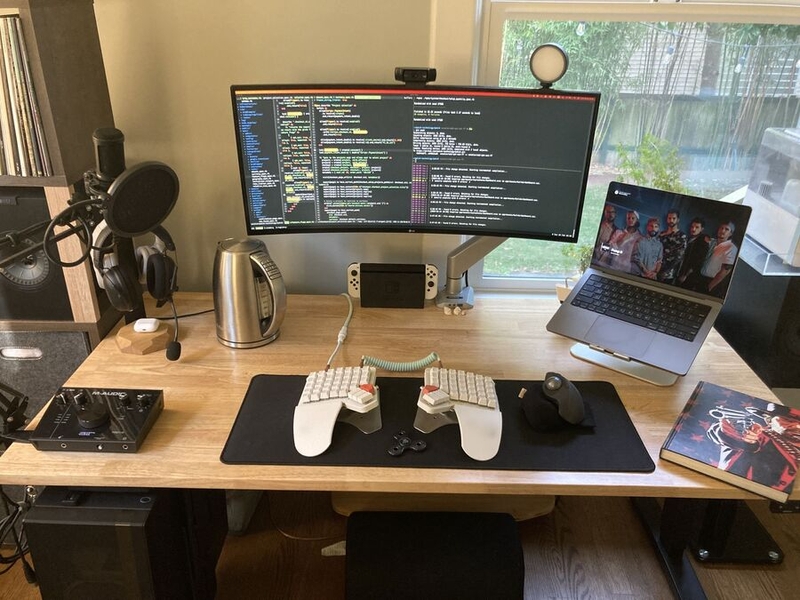 I have many other peripherals that make my work from home life a joy: a V2 Uplift standing desk complete with the CPU holder (and if you ever had any doubt about how secure it would be, it is MEGA secure), a Herman Miller Aeron chair, and a nice cushy standing mat. I mentioned my speakers up above, but for more isolation I go between my AirPods (for voice calls and for a more open soundscape), my Sony WH-1000XM4s (for noise cancellation), and my Razer BlackShark V2 Pro (mainly for Windows).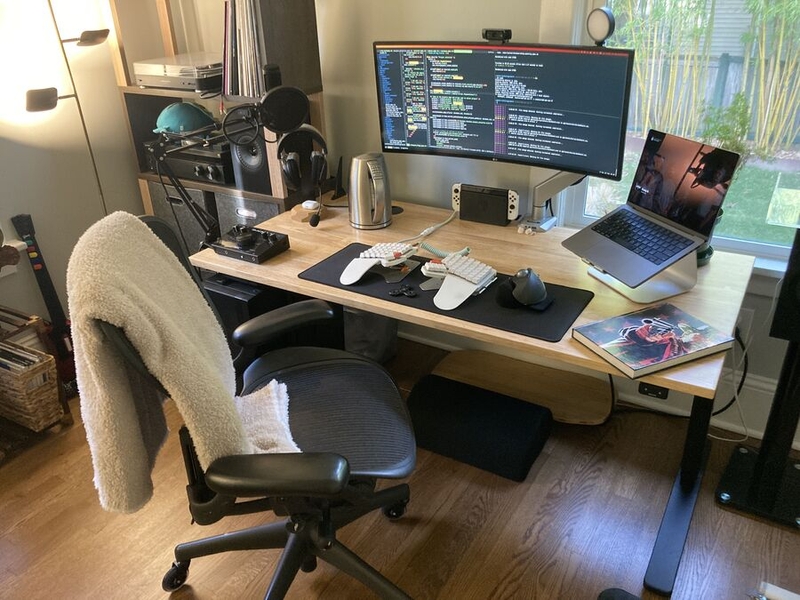 Veering away from the work side of things, I have some Lume Cube lights (VC-Lites and a Panel Pro), an AT2020 mic, an M-Audio Air interface, and an Elgato HD60 S+ for my budding music and/or streaming career cough nevergonnahappen cough.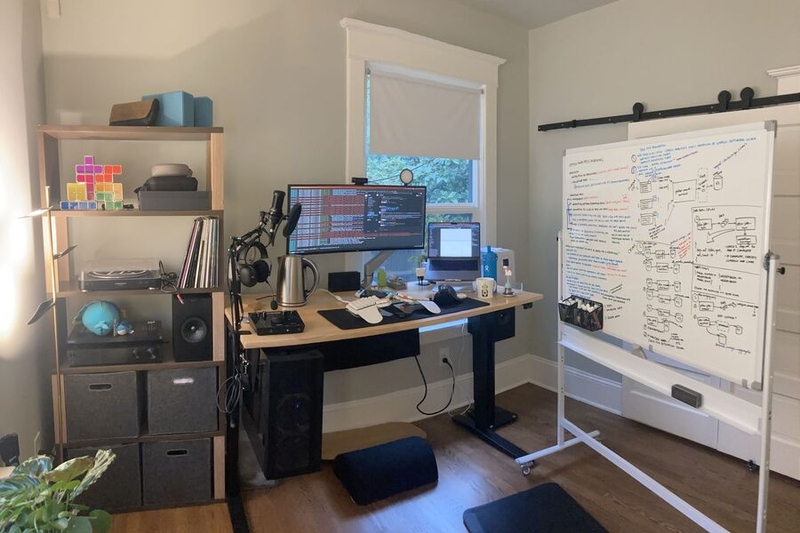 I feel like I forgot something… oh, my Moonlander! I have a Moonlander with custom cables from Mechcables (which I highly recommend for their quality and customer service!) and the platform. I used to work with an ErgoDox, but just had to nab a Moonlander once I saw the feature set. No regrets; this thing works like a dream.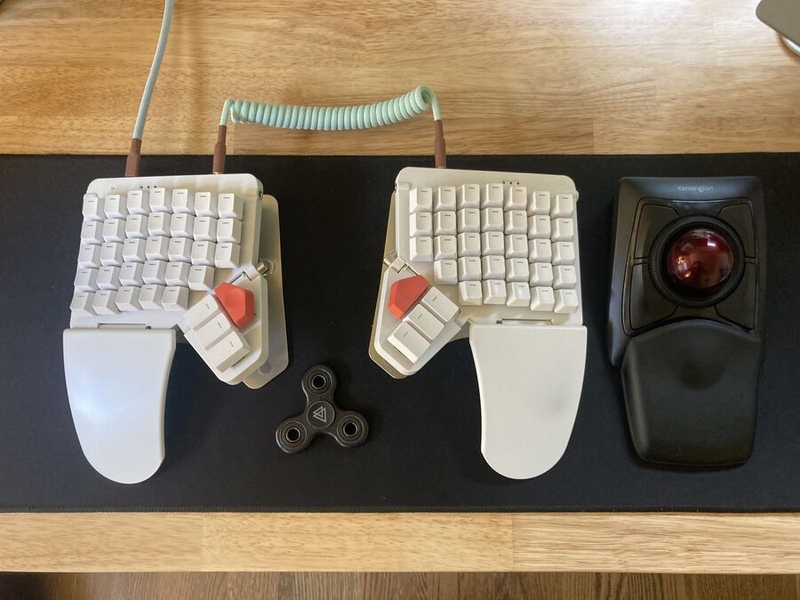 And what software?
Honestly, I'm pretty straightforward on the software side of things. For development, I've gotten away with using nvim and tmux on iTerm2, and aside from the logging and alert tools that are in my current company's stack, I don't need much else! For day-to-day use there are definitely a lot of nice-to-haves that I'll keep on my Mac machine:
What's your keyboard setup like? Do you use a custom layout or custom keycaps?
So once upon a time I typed in QWERTY, then I had the brilliant idea to learn Colemak. Now I won't say that I regret it, but I will say that it's probably not worth the effort to switch over (it's pretty arrogant of me to think that my typing speed was the bottleneck in my productivity…).
My keyboard layout is a pretty standard Colemak setup with an asymmetrical spacebar. I tried to make it as universal between Mac and Windows as I possibly could, but even still I had to make a QWERTY layer so that I could play games more easily. I don't have any custom caps on my Moonlander, but I'm really digging my custom cables! As for my ErgoDox, I spiffed it up with some keycaps from Pimp My Keyboard to make it more QWERTY-friendly.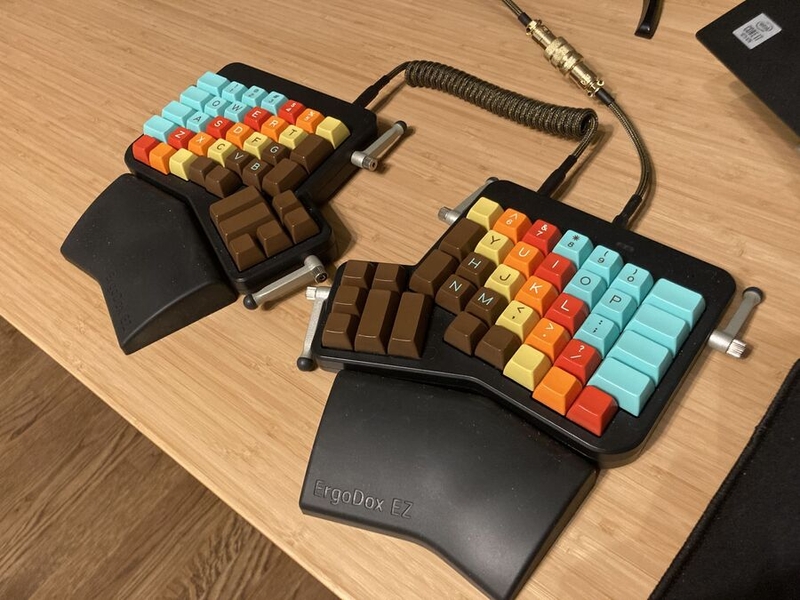 What would be your dream setup?
I would love to have a sit/stand desk that could accommodate my music keyboard (currently my beautiful Korg SV2) and some beefy monitors (for both screen monitors and sound monitors). The main goal is to have it always hooked up to my interface to prevent long, unsightly cables from running across the room. I'd also like an ergonomic chair that I could use at a standing height; this is very much a First World problem, but waiting the two seconds to go from sitting to standing simply does not fit in my schedule.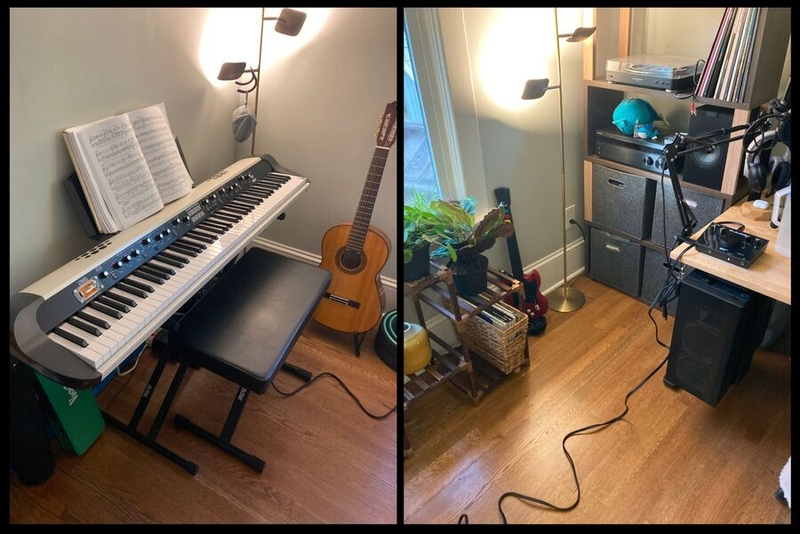 And of course on the hardware side, I'd love to upgrade everything! I'm not well-read on the latest and greatest, but a low-latency monitor, a nice 4000 series GPU and some pretty liquid cooling mechanisms would hit the spot. On the very rare occasion that I do any video or heavy audio editing, it'd be great to have the processing power (and of course to help whittle down that video game backlog).