The people who use our boards.

281 interviews

 

since 2018
Noy Carmel
Screenwriter and Documentary Creator
Who are you, and what do you do? What do you like to do outside of work?
I'm Noy. I'm a screenwriter, documentary creator, researcher, content editor, and occasional podcast host. I grew up in a family of theatre workers. I've spent half of my life—from youth to early adulthood—as an activist and educator, and then returned back to the creative world and found myself making YA series for the Israeli public channel and taking part in activist and historical documentaries. I have yet to become the actor I dreamed of being as a child.
As the son of a soundman, I'm an audiophile with a minimal budget to support this expensive hobby. Since TV, cinema, and storytelling are my passion, hobby, and work, I spend many hours in front of the computer. Besides projects already in production, which are already providing me income, I always work on at least three other projects in development.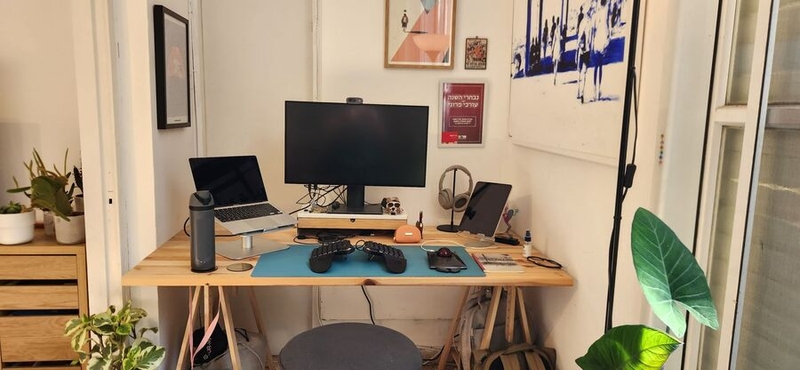 As a way to save my mind and body, I meditate, and I do a lot of sports, mainly acrobalance, yoga, and body-weight exercises. I also enjoy cycling as my main means of transportation in the city, but I tend to forget it's also a form of sport. I garden in and out of the house. I love music and try to watch at least one show a month, and thanks to my wonderful partner, I'm also lucky enough to spend more than a month a year traveling, especially to her home country, Argentina.
Due to the current political turmoil in my home country, Israel, I spend a significant amount of free time protesting.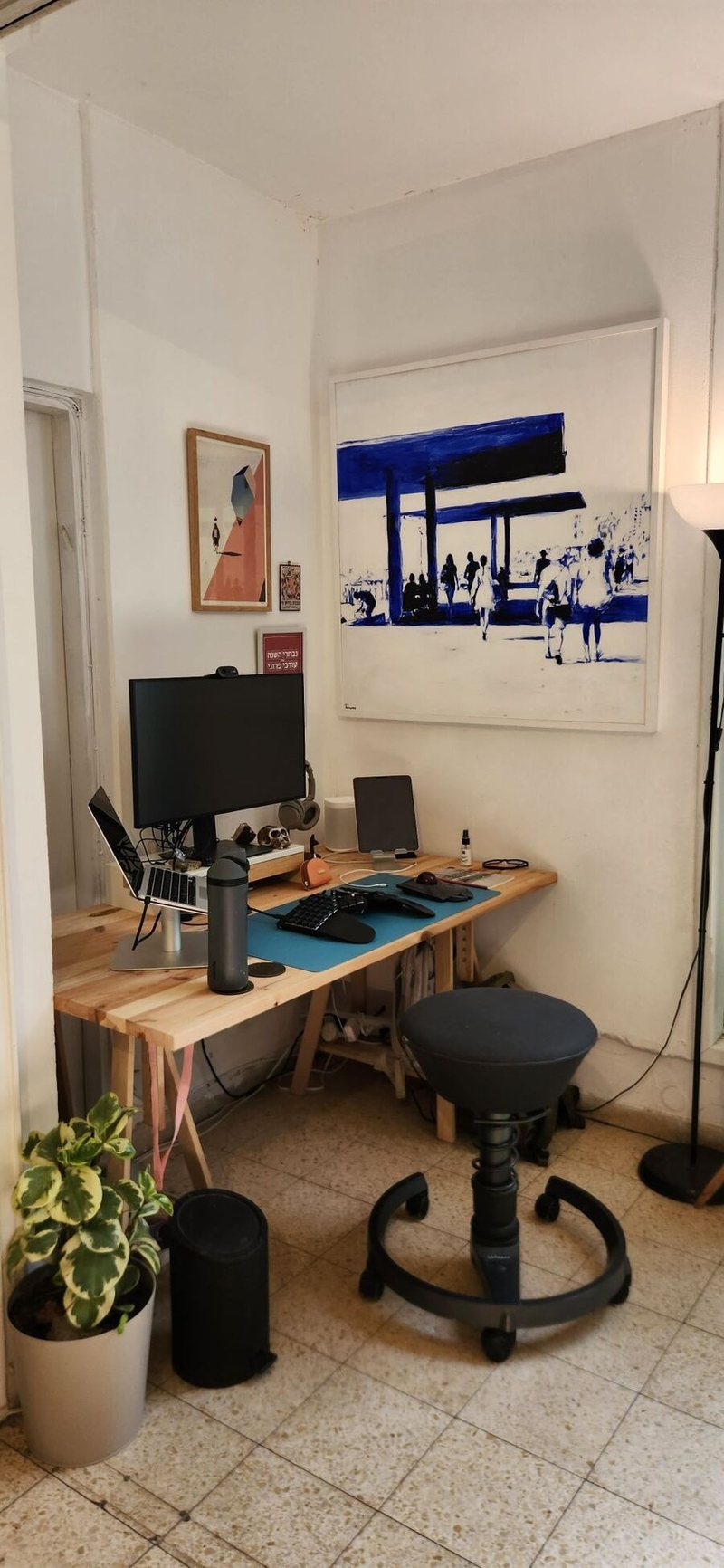 What hardware do you use?
I'm working on a 2020 M1 MacBook Air, connected to a Dell UltraSharp 27-inch 4k hub and monitor and to a ZSA Moonlander and Kensington SlimBlade Pro. I'd been a thumb trackball advocate for years until I started suffering carpal pain and shifted to the SlimBlade. Since then, I've been a middle-finger trackball believer. I always have my iPad Air (4th gen) beside me as an extra monitor, reading, and media tool.
At least half of the week, I'm working from home, and my workstation is in the living room, so I usually listen to music from our Sonos surround system, and I have an extra Sonos One speaker on my desk to complement it. But I also have a Campfire Dorado 2020 IEM connected to a Qudelix-5K DAC when I want to disconnect, when I'm out, and also as a headset for video calls. You can see on my desk a pair of Sony WH-1000M4s, but ever since I got my Dorado IEM, I've rarely used the Sony headset.
My desk is a simple wooden board from a local carpenter with two Ikea desk legs. For a few years now, I've been sitting on an Aeris Swopper. It keeps my back straight and helps me stay active in a very playful way while working, and I swear by it.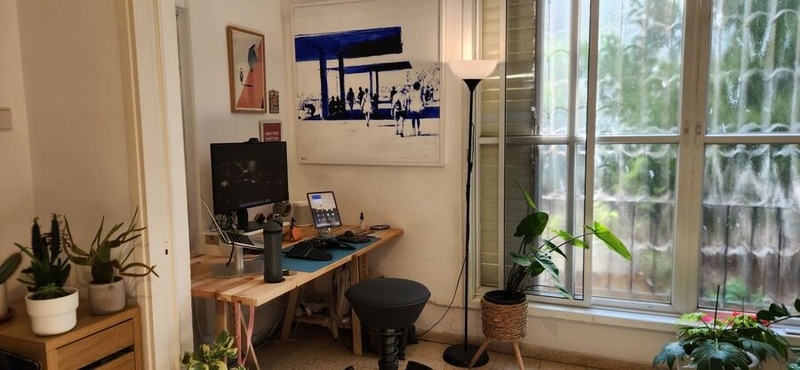 And what software?
My favorite app for writing is Scrivener by Literature and Latte. I'm writing this interview on it. I love how it allows me to manage projects and look at the text cleanly without the hassles of thinking on an A4 paper. Unfortunately, since I work mainly in Hebrew and the Israeli TV industry is mainly based on Microsoft Word and Google Suite, these are my two leading writing software.
My main browser is Arc. I've been a beta user of it for almost a year, and I cannot return to a traditional browser. I love the clean way it presents websites and web apps, how it allows me to organize workspaces, and how they rethought the search bar. I use Fantastical and Todoist to organize all my meetings and tasks and Spark mail to organize the clatter of my mailbox. Raycast is my upgraded Spotlight alternative.
Since I work with different teams on different projects, WhatsApp is always open on my Mac. I'm using FreeYourMusic to sync between my favorite Spotify playlists and Apple Music with its superior sound quality. I communicate a lot with people from abroad, and English is not my mother tongue, so I also have Grammarly and Mate translate always open. To manage the overwhelming amount of all of the above and other app icons in my menu bar, I have Bartender, which hides from me the icons of Dropover, Command X, AdGuard, various cloud services, the lifesaving 1Password, and more.
What's your keyboard setup like? Do you use a custom layout or custom keycaps?
I'm using the Moonlander. It took me a while to find the right tilting tool which would tilt the keyboard in the right angle for me and would also be light and durable enough to take with me for my working days out. I ended up attaching to the two different parts of my Moonlander two packs of these simple legs, which they market on Amazon as laptop stands. I prefer low-profile keyboards with linear key switches, so I got the Granvela OUTEMU Medium-Low Profile Red Switches with some low-profile keycaps I found on Amazon.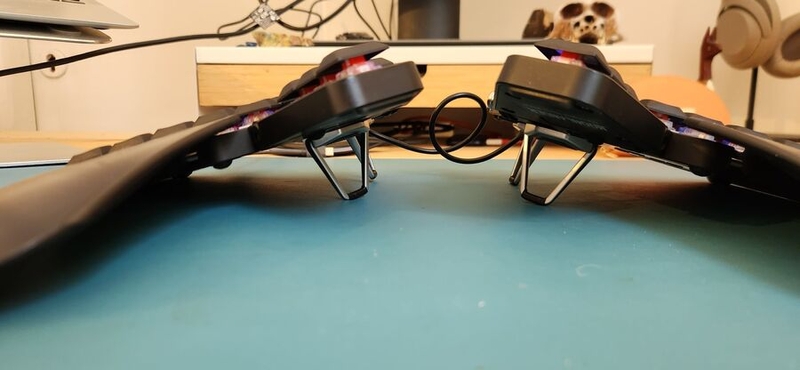 Since I got my Moonlander, I've been constantly refining my layout, which was meant to allow me to move my fingers and wrists as little as possible and make using shortcuts and switching between Hebrew and English easy. Many of the keys in this layout have double uses, and I don't even remember some of the original Mac shortcuts. Now I'm in love with my keyboard and its layout, but my main problem with it is that it made using a common QWERTY keyboard a nightmare.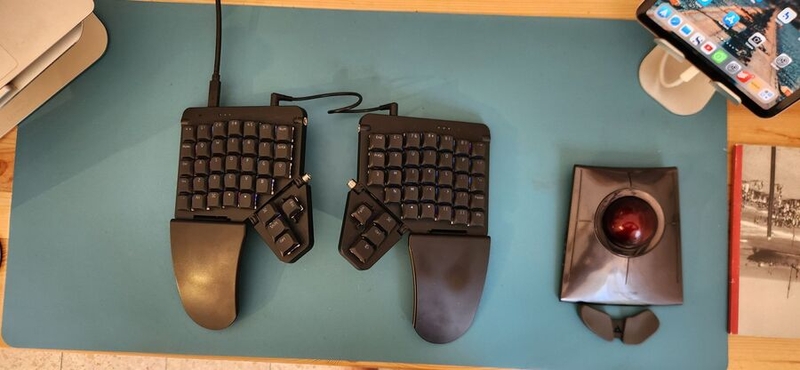 What would be your dream setup?
There are a billion headphones and IEMs I would love to try and own if I had the budget for it. I should also finally get a Sonos subwoofer for my system. In my dream setup, I would switch to a 15" MacBook Air for that extra screen real estate on the go. I would love to have a genuine shrunk low-profile Moonlander, without the upper and lower key rows and with the thumb module much smaller and closer to the rest of the keys, since this Moonlander version will have an alternative simple and light tilting mechanism, so the thumb module wouldn't need to support it.