The people who use our boards.

256 interviews

 

since 2018
Mark Teekman
Senior Frontend Developer with a Love for Web Accessibility
Who are you, and what do you do? What do you like to do outside of work?
I'm Mark Teekman, a senior frontend developer with a ❤ for web accessibility and father of two. I started my career as an entrepreneur, building WordPress websites for startups and new businesses under the name "IT Starts With Coffee." For the first two years, I did the job freelance. For the next five years, I partnered up with a good friend of mine, and we eventually had a small team of about seven people (me and my partner included) and two great office spaces. As our time was mostly spent on sales and management by that time, we eventually sold our company to get back to the roots of development.
Since then, I've been working as a frontend developer with the advantage of having the extra knowledge of how to run a company; manage a team as an employer; and do other things, such as sales, account management, and project management. I've done a lot with the Web Content Accessibility Guidelines (WCAG) over the last few years, and I love to build inclusive and beautiful frontends. I've mastered the foundational skills—HTML, CSS, and JavaScript—and I'm proficient in frameworks such as Vue.js and Astro.js. I like doing frontend challenges on the Frontend Mentor platform to further enhance my skills, and just for pure fun, really. I started a new job in 2023 as a senior frontend developer at Acato, building accessible WordPress and Vue websites.
Besides doing Frontend Mentor challenges in my free time, I love to work on my own Open Source projects where web accessibility is a key factor. This is my way of building a more accessible web and making accessibility, well, more accessible to developers. Some of these projects are the Accessible Astro Starter, the Accessible Astro Components and their Vue counterparts (Accessible Vue Starter/Accessible Vue Components), to name a few.
Outside of coding, I've got a lot of other hobbies, such as doing calisthenics, meal prepping, playing video games on my Nintendo Switch or my game PC, caring for my two children, having date nights with my wife, seeing friends, playing board games, going for walks, and doing some work in the garden!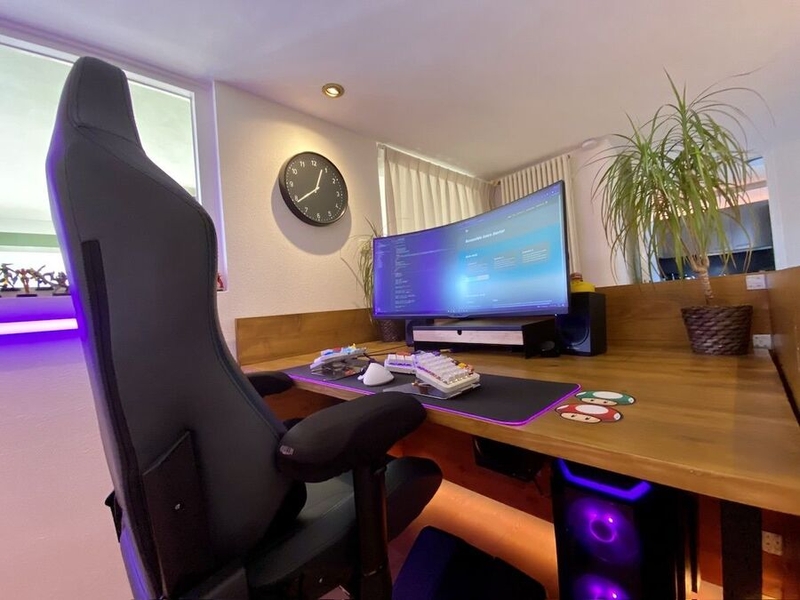 What hardware do you use?
I've got a nice little corner of the house to be my game/work-from-home room. My setup has been through a lot of changes over the last few years. I'll take you through its current state: I've got a sit/stand desk with a custom desktop and frame around the desk. My wife and I built the desktop and frame ourselves to make a perfect fit. It even has a little door I can close to let the family know that Daddy is working. I did a lot of cable management around the setup to make it look as clean and tidy as possible.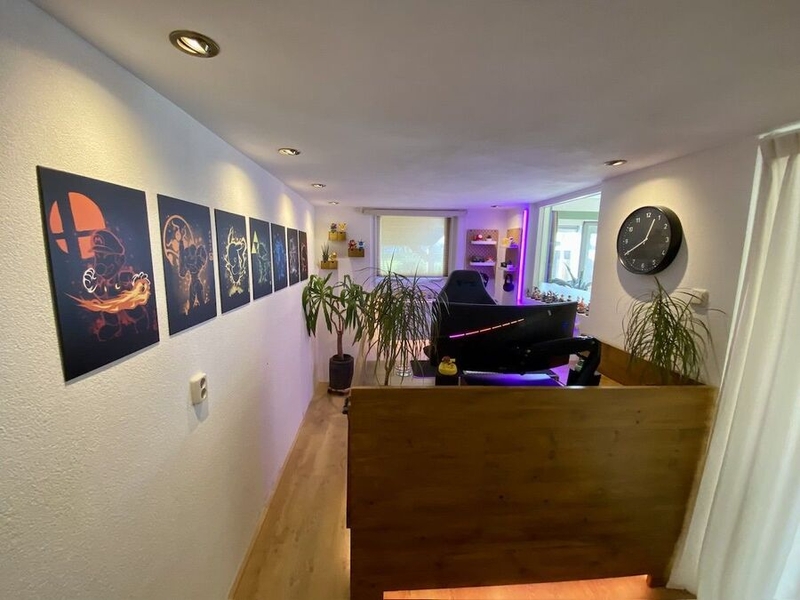 For work, I use a MacBook Pro, which I connect to a USB-C power/display cable to my MSI MPG ARTYMIS 343CQR curved ultrawide display, which is supported by an Invision monitor arm. Below that is an Elloven monitor stand from IKEA, and in front of all that is the Razer Goliathus Extended Chroma mouse mat with the Moonlander equipped with the platform (for my work-from-home setup) and the Planck EZ (which I take with me to the office) on top of it. There are some basic Logitech speakers to make it all complete.
For gaming, I use either my Razer Basilisk Ultimate mouse or my Nintendo Switch Pro Controller and my SteelSeries Arctis 7 headset. For work, I use my Sony WH-1000XM3 noise-cancelling headphones for extra focus and concentration and my Logitech M575 (with a custom trackball color) for optimal ergonomics. My chair is less ergonomic, but adds to the aesthetic of the room: a Secretlab Omega gaming chair, with a custom gas spring to fit to the minimum height of the sit/stand desk. Around my desk I've set up some RGB lighting, Govee Glide LED Bars, Super Smash Displates, Amiibos, and Funko Pops (I've been a huge Nintendo fan ever since my childhood, all starting with the SNES and the Game Boy).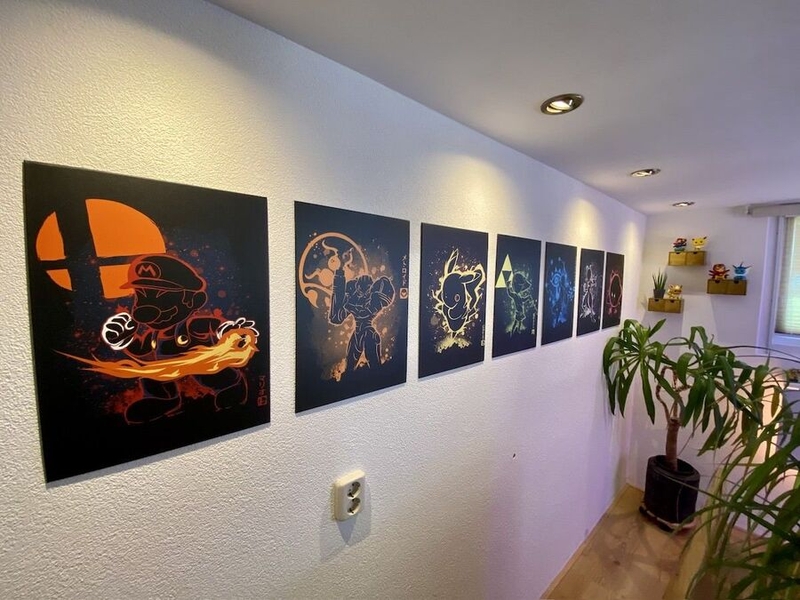 And what software?
As a frontend developer with a keen eye for slick UIs, I love shiny and new things. I've got my trusty toolset, with Visual Studio Code, WebStorm, and PhpStorm as my IDEs of choice. In 2020, I started using Vim in these editors, while it was a steep learning curve, nowadays I can't go back. I mostly use the integrated terminals along with Oh My Zsh, but will also go to the Warp terminal from time to time. I like to document the things I learn using the Obsidian markdown editor and a GitHub repo that's connected to it. On my MacBook, I have Stretchly and Amethyst installed to help me get up every once in a while and to (auto)manage my windows, respectively. I use GitHub and GitHub Desktop to work on my personal projects.
My Game PC also has Visual Studio Code and GitHub Desktop on it; besides that, I use Discord and Steam for gaming by myself or with friends. My favorite browser is Firefox, especially the Developer Edition. I think it has some of the best features for inspecting your code, also accessibility-wise. I'm also fond of the Brave browser due to its privacy settings. On both my MacBook and my Game PC, I've got Figma installed to get the specs of a design or to make some small assets of my own.
What's your keyboard setup like? Do you use a custom layout or custom keycaps?
I've got my Moonlander with the Platform as my work-from-home setup and the Planck EZ to take with me to the office. Since I added the Planck to my collection, I've changed my layouts to be mostly identical (Moonlander vs Planck), so that switching between the two boards is as seamless as possible. The base layer contains a couple of extra handy keys, such as Caps WORD and dedicated keys for Mac's Spotlight, Voice Over, and screen captures. I use Auto Shift, which I absolutely love and saves me the extra keystrokes. On another layer, I have a lot of common programming symbols on the left side and the numbers on the right side. In favor of the smaller form factor of the Planck, I've also decided not to use the top row on the Moonlander but instead use the separate layer for the numbers. It took some time getting used to that, but as with everything, practice makes (almost) perfect. On a different layer, I've got my mouse, arrow keys, and media controls. There's also a Macro and a Reset button there. I still want to add some dedicated Vim keystrokes to the layout, and I think the new Combos feature ZSA released might be perfect for just that.
The Moonlander has a custom TRRS cable and an accompanying USB-B to USB-C cable, which I got from kriscables. To add some extra personal flavor to the boards, I got myself a couple of Nintendo/Pokemon/gaming-themed keycaps, which I absolutely adore! Both the Moonlander and the Planck have the Kailh Speed Coppers in them. I like the tactile feel and the slightly shorter actuation these switches have compared to Cherry MX Browns.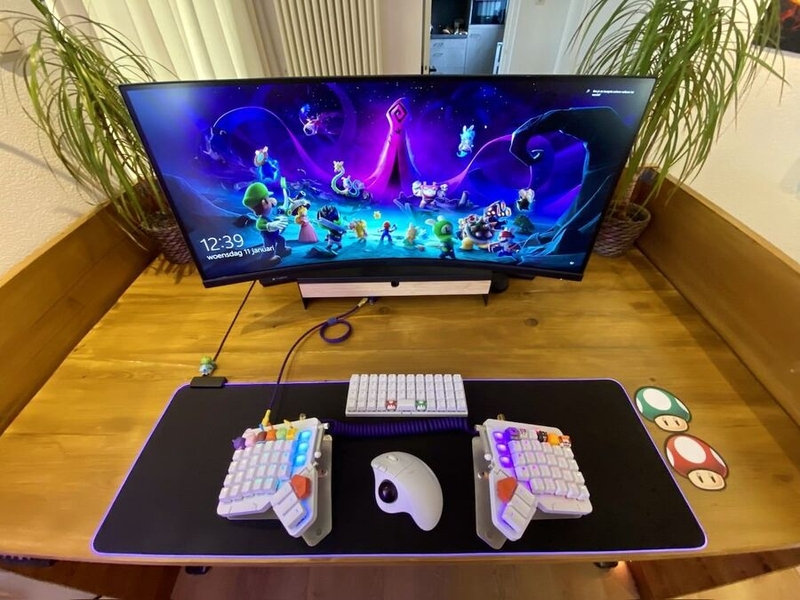 What would be your dream setup?
My setup has improved much over the last years, from a better monitor to a sitstand desk and the Moonlander and Planck keyboards. Although it's never finished, I think my dream setup would have the even bigger Samsung G9 Ultrawide, a Balolo Setup Cockpit with accessories, and a new custom-built game PC like the ones you see on r/battlestations. And although I like the aesthetics of my Secret Lab Omega chair, I would for ergonomic reasons rather have a Herman Miller Embody or the Haworth Fern. As an addition to my work setup I would see something like a separate mic for meetings, just because it looks cool.