The people who use our boards.

256 interviews

 

since 2018
Adam Rennie
Law Student, USMC Veteran
Who are you, and what do you do? What do you like to do outside of work?
Hello! I'm Adam Rennie. After doing ten years of active service in the United States Marine Corps, I decided to pivot by going into reserve service and return to university. I'm a recent graduate from Georgia State University, where I majored in Law and Society, with plans to enter law school this coming fall of 2023.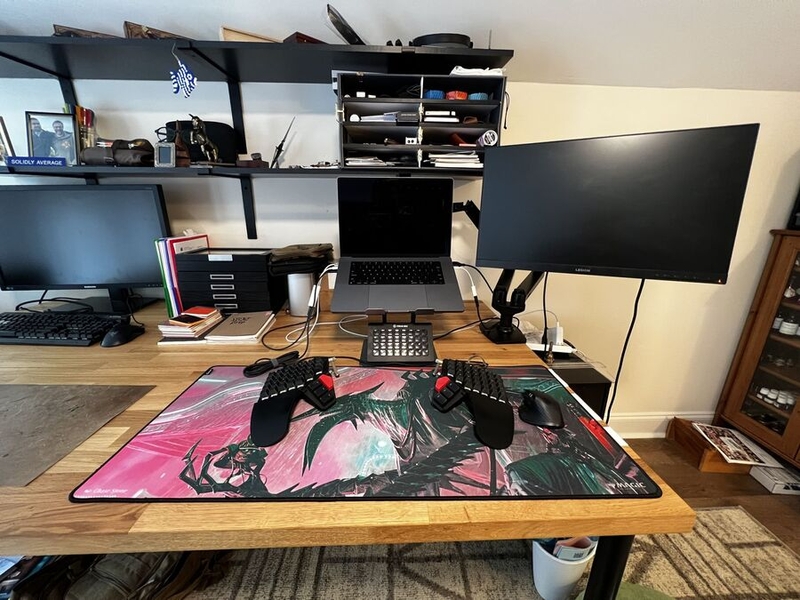 What hardware do you use?
First and foremost, I want to feature my desk. Being a calligrapher, one of the things I wanted out of a desk was an oversized writing/working surface. When my wife and I couldn't find what we really wanted, we created it. We purchased an IKEA wood countertop, and then purchased adjustable legs and screwed them into place. So, my workspace is actually a kitchen counter, converted into the most basic "dream" desk I could want.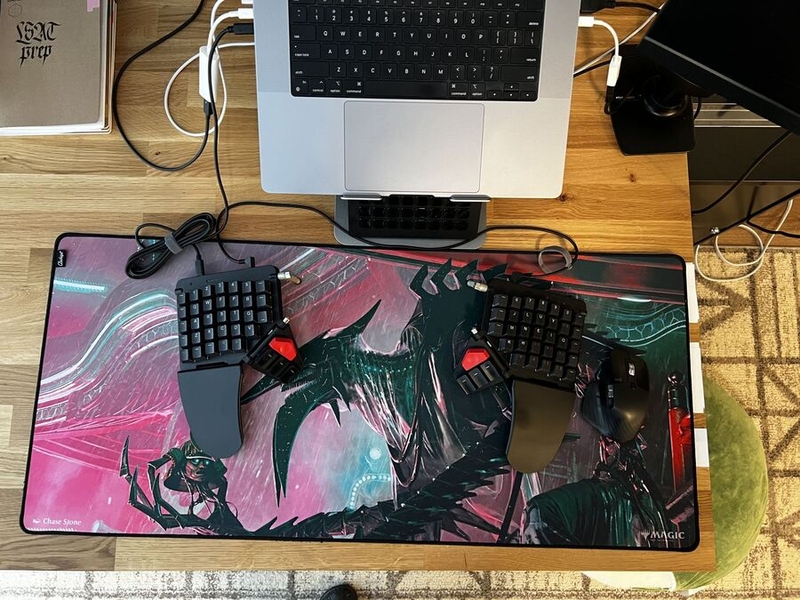 Currently I'm using a MacBook Pro. This version has the Apple M1 Max chip, 64GB of RAM, and 1TB of hard drive space, all connected to a 16" built-in Liquid Retina XDR display. I've added a Legion Y25 25" extra display, which is connected to an AmazonBasics dual arm mount. I'll be adding an additional display sometime in the future.
For fun and productivity purposes, I'm using an Elgato Stream Deck with 32 buttons and the all-black "Dark Matter" Moonlander Mark 1. I keep it fully tented at all times, and I've switched the main layout to Colemak-DHM.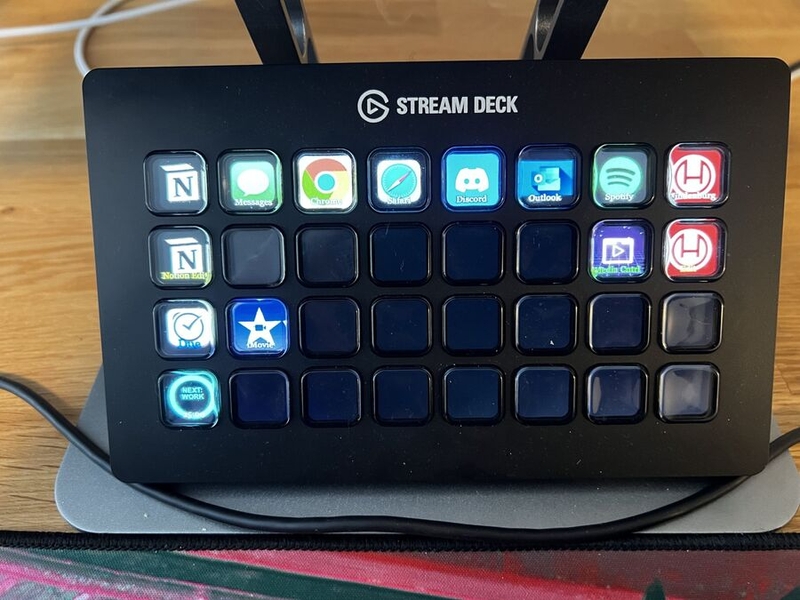 Lastly, for my mouse I'm using the Logitech MX Master 3, as well as the Logitech PRO Headset, which jumps between the gaming PC and my MacBook Pro.
Underneath my keyboard and mouse is a Clackeys desk mat.
And what software?
I don't really run anything too crazy for software. However, I do have a couple of favorites. First is Notion. I was introduced to Notion on YouTube, and I thought I would give it a try. It made taking and organizing notes during my time at university a dream. The ability to create project boards or new databases on a whim streamlined my ability to organize my time, homework, assignments and reading, along with some of the fun things I like to do.
Obsidian is another note-taking app I use, but I use it when I'm brainstorming and trying to put pieces together. I don't use it nearly as often as I use Notion, but the "map" feature they have is really fun to look at once you've linked a ton of notes together.
When it comes to getting online, I alternate between Chrome and Safari. Different situations in the past wouldn't let me use one browser over another, so I still jump between the two.
In the past, when I was doing more podcasting and recording with friends, I did all my own editing using the software Hindenburg. Since I purchased it, they've gone to a subscription-based service, while I retain my original purchase on my MacBook Pro.
Spotify is last (but not least) on my list. I use it at home to curate workout playlists and discover new music. I have playlists set for when I'm working on my calligraphy, as well as for just relaxing. However, I'm getting the most out of Spotify by listening to podcasts. They have a new feature where you can select how fast you want the playback to be, and that has been a game changer for me.
What's your keyboard setup like? Do you use a custom layout or custom keycaps?
Currently, I keep the Moonlander fully tented at all times. On my desk it rests at about the distance of my shoulders.
When it comes to Oryx, and how the keyboard is configured, Layer Zero is a traditional QWERTY setup. This way someone else can use it, whether that be my wife, a friend, or a colleague. Layer One is where I spend most of my time. This layer is set to Colemak-DHm. I remember looking into QWERTY and how other people had developed new layouts for their keyboards. Some people claimed they experienced relief from the fatigue of constant typing, and since I knew I was going into a field that spends a lot of time behind a keyboard, I wanted to get ahead of the curve. Whether it is true or not, I don't know, but I really enjoy the layout, and I enjoy the journey I took to get here.
Layer Two is labeled "Symbols." These are common symbols I use often. I set the "press and hold" feature for the large right red key to switch to this layer, much like a "shift" key. I also have the number pad on this layer with basic calculator functions, which has come in very handy as of late.
My Layer Three possesses the mouse on the left hand, and media controls on the right. In a few instances, that mouse feature on the left hand has saved me from mis-clicking on something when my cursor was in just the right spot.
What would be your dream setup?
What a hard question. I would be very happy with another monitor to flank my MacBook Pro. Other than that, I feel really happy with what I have. The additional monitor would help to keep certain things inline or organized, but I really don't know what else I would want…
I suppose I might find something along the way that catches my eye, but until then, all I really desire is another identical monitor.