The people who use our boards.

281 interviews

 

since 2018
Tegan McHutchison
Production Artist & Real Life Australian
Who are you, and what do you do? What do you like to do outside of work?
Hi there! My name is Tegan, and I'm an Australian production artist at a local print and fabrication company, where we manufacture everything from industrial labels to name badges and advertisement posters. My department has the joy of visually constructing what the final product will look like, so our customers can get an idea of what to expect. While not excessively creative like design is, being a production artist I still get to play around and make things appealing to the eye.
When I'm not recreating technical drawings or trying to decipher an engineering schematic at work, I'm a freelance illustrator, an avid collector of things, and sometimes I even think about calling myself a writer—though I have yet to have anything to show that proves that. While most of my time is spent in front of a computer, either working, enjoying my hobbies, or nerding out about a spreadsheet with my partner, when I'm not planted at my desk I'm either playing games (anything from Cyberpunk 2077 to Animal Crossing: New Horizons), reading a book, or adoring my cats, which is my other full-time job.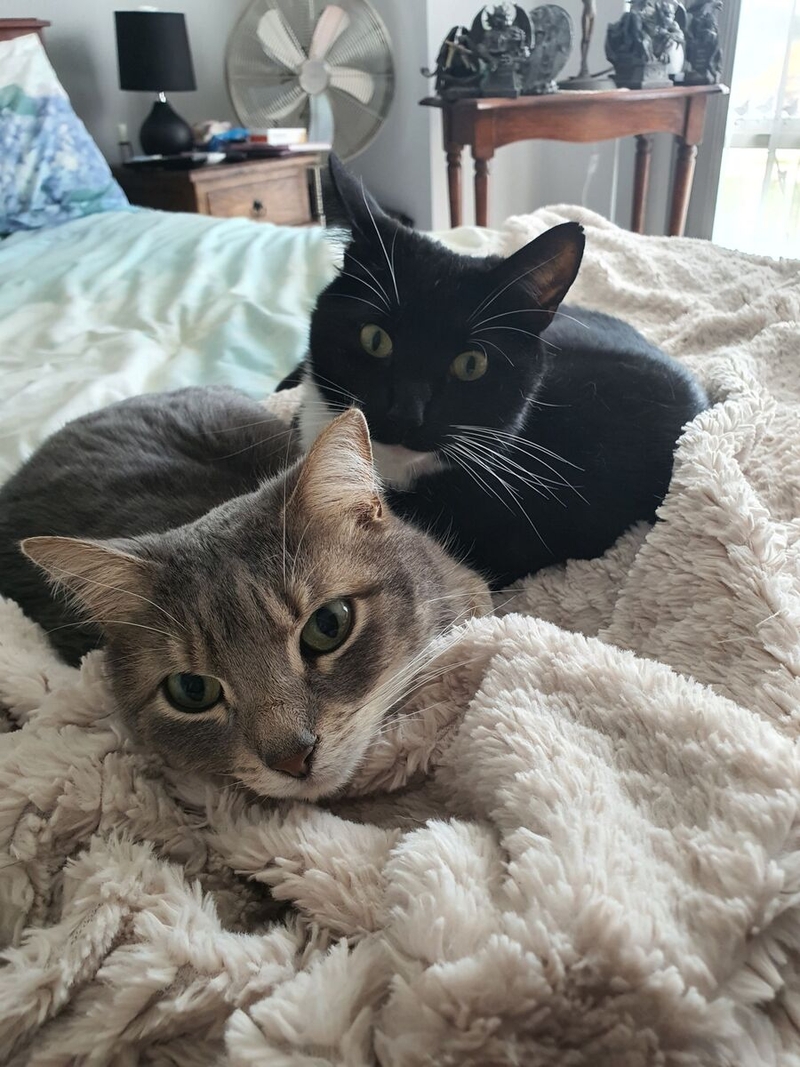 In my down-down time, I dabble in makeup, playing around with colours and styles whenever I get the opportunity, and every week or two I take the time to try my hand at painting my nails, aiming for that Perfect Swipe™ that every nail artist chases. I also browse the web and scour collectible stores for the next addition to my collection.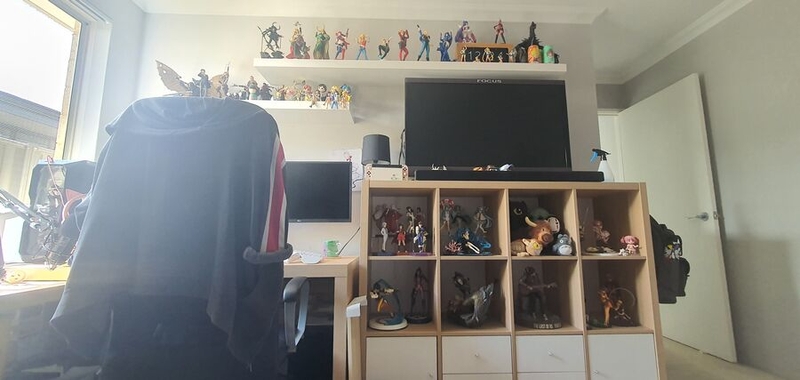 What hardware do you use?
While my work setup isn't all that interesting, a dusty old office in a factory, with the fanciest thing being my Moonlander—aside from the five industrial lasers, that is—my home setup is a little more impressive.
Starting simple, I have your basic IKEA Malm that matches in with the rest of my IKEA bedroom furniture (I'm only a little obsessed with our Swedish Overlords). It does what it says on the tin; it's a desk that holds things!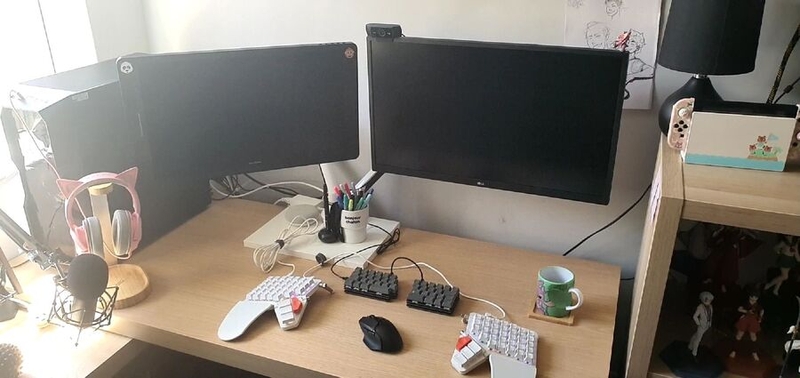 Moving onto more exciting pastures, my peripherals are the more attractive specimens. With an LG 4K UHD IPS as my monitor and a Huion Kamvas 20 Pro as a glorified second monitor, I can multitask to my heart's content—though I could use two or three more. They're held by the best unnecessary financial decision I've made for my setup, a white J.Burrows dual monitor arm, of which the clamp is of course supported by a fashionably white plank of wood so as not to crush the delicate honeycomb of IKEA's clearly superior furniture.
I have a Razer Basilisk X HyperSpeed mouse, the cutest Razer Kraken BT Kitty headphones, and of course the Moonlander MKII, the shining crown of my arsenal. In the middle is a Twoyo, a DIY keyboard that my partner built for me that I enjoy using when I leave the Moonlander on an extended stay at the office.
As for the backbone to this operation, it's not much to brag about. I have your typical mid-tower form factor with a Cooler Master MasterBox TD500 Crystal case, sporting an NVIDIA GeForce GTX 1660 Super GPU, an AMD Ryzen 5 3600 Processor, and a modest handful of 16GB in RAM. Your average build, but nothing to sneeze at.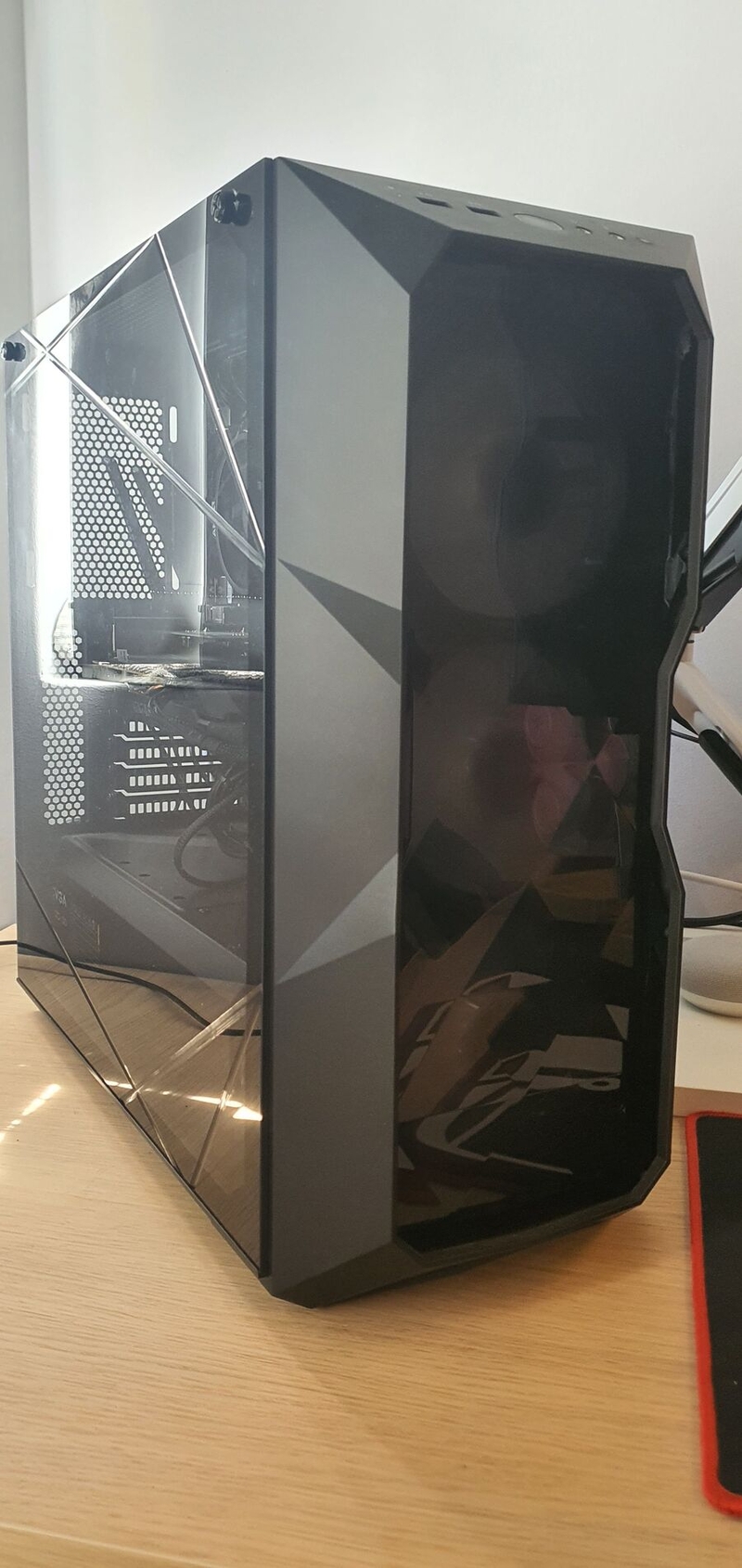 And what software?
My weapon of choice when it comes to programs depends entirely on what I'm doing. For work, I utilise both Illustrator and CorelDRAW to get the job done. When it comes to what I enjoy in my free time, doodling and sometimes even completing an art piece (as surprising as that is to even me), Clip Studio Paint is my go-to powerhouse. I've been a big fan since it was gifted to me by my sister oh-so-long-ago, and while the shift from PaintTool SAI was a big one, it was well worth the effort to learn a new program.
For everything else, that being writing and note taking, my love for Obsidian has recently been reignited, and I've become obsessed with creating the best setup that I can. The endless uses for notes, planning, writing, even journaling has me gobsmacked, and a little intimidated. But I'm persisting in an attempt to get more organised for the great year 2023 is going to be.
What's your keyboard setup like? Do you use a custom layout or custom keycaps?
My setup is pretty typical; as mentioned, I have the Moonlander MKII, harmonising with the smooth thick thunk of the Cherry MX Brown switches, and a home-built Twoyo that shows off the satisfying clicky clack of the Kailh Pro Light Green switches.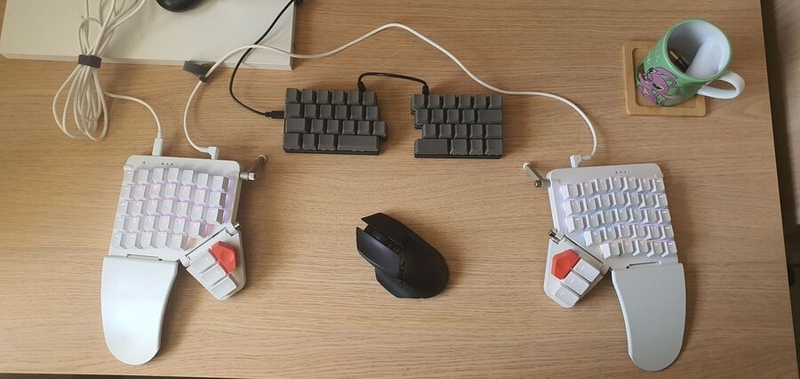 When it comes to layout, as much as I love how useful a typical QWERTY layout can be, I couldn't shy away from the sheer customisation power I held in my hands the moment I unboxed the Moonlander. I've vamped and revamped my layout a few times over the last 18 months, often spending days tweaking, retweaking, colouring and recolouring the same keys over and over. I would spend upwards of two weeks figuring out if a layout worked, adding keys, realising I'd forgotten important shortcuts and going back. The Oryx layout customiser is the best thing since sliced bread, if you ask me. It's so easy to configure the keyboard to be exactly how you imagine.
My Work Layout (Allmark) is pretty simple; a basic QWERTY key map with some minor adjustments, a few important shortcut keys, and a layer for the numpad and function keys. My Home Layout (Pastel Rainbow) is a little more exciting, with a base layer, a capslock layer (because I like being a little extra redundant), a CSP layer for all my drawing shortcuts and a gaming layer for literally no reason other than to look cool while gaming, and to move the thumb clusters around a tiny bit for ease of access.
As for keycaps, I would love to customise this bad boy to the brim! But there are so many cute keycaps, I can't settle on a theme or make a decision. I'm currently eyeing the Astrolokeys by sailorhg and cassidoo, and have been for about 18 months, but for now my indecisive self is sticking to the good ol' classic white caps the board came with.
What would be your dream setup?
Honestly, my dream setup would be a dual, shared nerd space with my partner. Stupidly over the top and unnecessary but so, so awesome. Top-of-the-line PCs, preferably built by us and styled to fit into whatever colour theme we had going in the room, probably wall-mounted, maybe even open-air just to be cool (haha). We'd both have sick display tablets of some kind, maybe Cintiqs if money is trivial in this dream setup, and a shared monitor on the wall for when we want to watch funny YouTube videos together while we multitask our own things on our individual computers simultaneously (it's the only way to be productive).
Ideally we'd both have Moonlanders, there'd be a wall of keyboards and keycaps on display just because, and a surround of monitors on each desk, at least three each and all on arms; sit-stand desks are a must, and the most amazingly efficient storage system you could ever think of for all of our (translated to my) junk. Also, additionally, display space for all our (translated to my) figures and statues that we (I) collect. Plants everywhere are a must, and a light and airy vibe without that cluttered feeling, but still being lived in. I know that contradicts the "junk" storage, but I'm sure with a big enough space you can have both! We're talking dreams here after all.