The people who use our boards.
Maria Sitkovets
Software Engineering Intern at Shopify
Who are you, and what do you do? What do you like to do outside of work?
I'm Maria, a third-year Computer Science student at York University and a software developer intern at Shopify within the Dev Degree program. At work, I'm on the App Auth team, where I help write Ruby on Rails and React code to enable secure and performant access to Shopify's first- and third-party apps. I previously worked as a web developer intern on the new learning platform Shopify Compass.
Outside of work and school, I love to read (mostly fantasy and romance books), watch anime, and try to bake. I've also recently started writing again and you can check out my blog on Medium, where I write about interesting topics in the realms of software engineering and personal finance.
What hardware do you use?
At home, I use my ErgoDox EZ keyboard with Cherry Brown switches (not sure if they're really my thing, so I might switch them out). I code on my 15" Macbook 2016 for work and my own personal 13" Macbook Pro 2017 that I place on my laptop stand from Amazon, as well as using a 27" 4K LG monitor.
I'm currently making do with a random wired HP mouse I found in my basement and a notebook as a mouse pad because I wasn't able to pick up my stuff from work before quarantine began (I live 1.5 hours of public transit away). I use a minimalistic IKEA table that I got for $25 and a chair of unknown origin.
At work, I have a Drop ALT keyboard with its beautiful rainbow lights and Halo True switches. I also use a blue Bluetooth Logitech MX Master 2S mouse, a squishy mousepad and wrist rest set from Amazon, a standing desk, and a Herman Miller Aeron chair.
And what software?
I do most of my work on VS Code and its built-in terminal or iTerm2, but after seeing how clean and customizable Vim is, I'm going to try and learn how to use that. Some of the main programs I use are Graphiql and Sequel Pro to run queries and view my databases.
The main browser I use is Chrome, but now that I'm working on the Auth team I've found that Brave is a really great option because of its clean aesthetic and the fact that it automatically blocks all third party cookies.
Some of my most-used Chrome plugins are uBlock Origin, Honey, Keywords Everywhere, and Grammarly. The website I use to create infographics and designs is Canva.
What's your keyboard setup like? Do you use a custom layout or custom keycaps?
My keyboard setup is not QWERTY anymore! I recently made the switch to Workman, and I am amazed at how little finger movement I have to do now. It's crazy how something so little can improve my day (and my hands).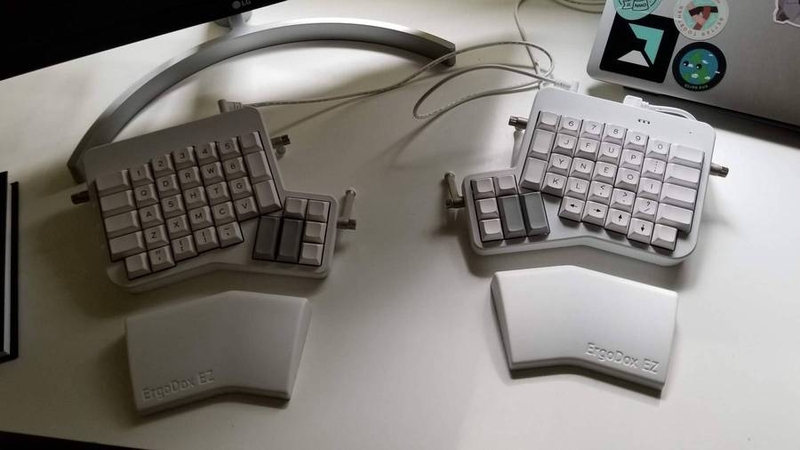 It was a really great feeling when I finally got my ErgoDox in the mail, because it meant that my fingers wouldn't be burnt to a crisp anymore from typing on my Macbook when I'm running up to five servers.
In terms of keycaps, I'd love to buy some custom pastel ones without any writing on them.
What would be your dream setup?
My setup right now is sadly far from optimal. My goal is to one day purchase a standing desk with a wooden top. I might also want a more raised laptop stand that reaches eye level and a better chair, because mine tends to squeak during meetings. For desk accessories, I love the products from Grovemade, and I hope to make my desk more aesthetic with their help.
I think that in terms of keyboards, my goal was always to get myself an ErgoDox because of its customizability and its ergonomic design. Even though I'm young, I've spent too much of my life typing— whether it's for school, work, or playing games. Now I'm realizing that my hands aren't meant to do that, and I need to make sure that I'm creating a good desk setup so that my body can stay healthy for a long time.