The people who use our boards.
Who are you, and what do you do? What do you like to do outside of work?
Hey, I'm Drew, a globe-trotter and story creator. And left-handed (but more on that later). I'm a video game writer currently working as a Lead Writer for Wooga in Berlin, Germany. It's probably no surprise that I like playing video games and board games (Pandemic Legacy was…poor timing on my part). I also like learning new songs on my ukuleles, especially around a campfire. I have lived and traveled all over North America and Australia and can't wait for clearance to see more of Europe! One day, my wife and I will enjoy traveling around in the 1973 Airstream we completely renovated back in our native Texas just before moving overseas.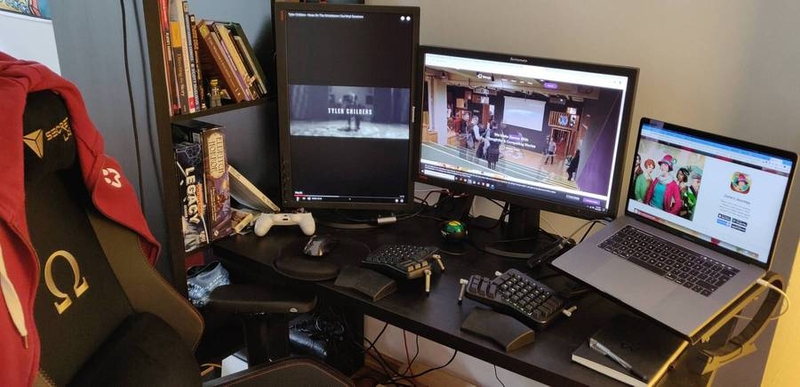 What hardware do you use?
I have three machines that I use for tasks and hobbies. My work computer is a 15" Macbook Pro hooked up to two 23" Lenovo monitors. My personal laptop is a first generation Microsoft Surface Book and it's been with me everywhere! It's the computer on which I wrote The Banner Saga 2 and a couple of other games, and I love the stylus and tablet. I just built my newest rig (true story: I wanted a new PC to go with my new ErgoDox EZ) and it's a mid-core gaming PC with a Ryzen 5 3600, 16GB DDR4 3200, RTX 2060 Super, 1TB SSD. It shares the monitors with my Macbook through a series of too many cables and switches and runs audio through a Scarlett 2i2 interface.
And what software?
Writers are pretty boring when it comes to software. I would say we're "low-maintenance," but honestly, we require your time, attention, and unending praise. I mainly use Google Docs for work and personal projects, but I have Scrivener for when I want to feel coffee-shop fancy. I'm currently learning more in Unity, and I occasionally jump into Blender to blunder through donut tutorials.
What's your keyboard setup like? Do you use a custom layout or custom keycaps?
My ErgoDox EZ Glow and I are still in the honeymoon phase of our relationship. I never even knew about this wonderful world of split/custom keyboards until a colleague posted a photo of his work-from-home setup a few months back. That said, I've lightly customized my layout and I'm loving the tilt/tent legs, the layers for controlling the mouse, sound, and brightness, and the glowing RGB, which usually pulses green to match the "breathing" green lights of my PC fans. There's so much more on the horizon though (Color Keycaps? Yes, please! Holding Space for Shift? Why not?!)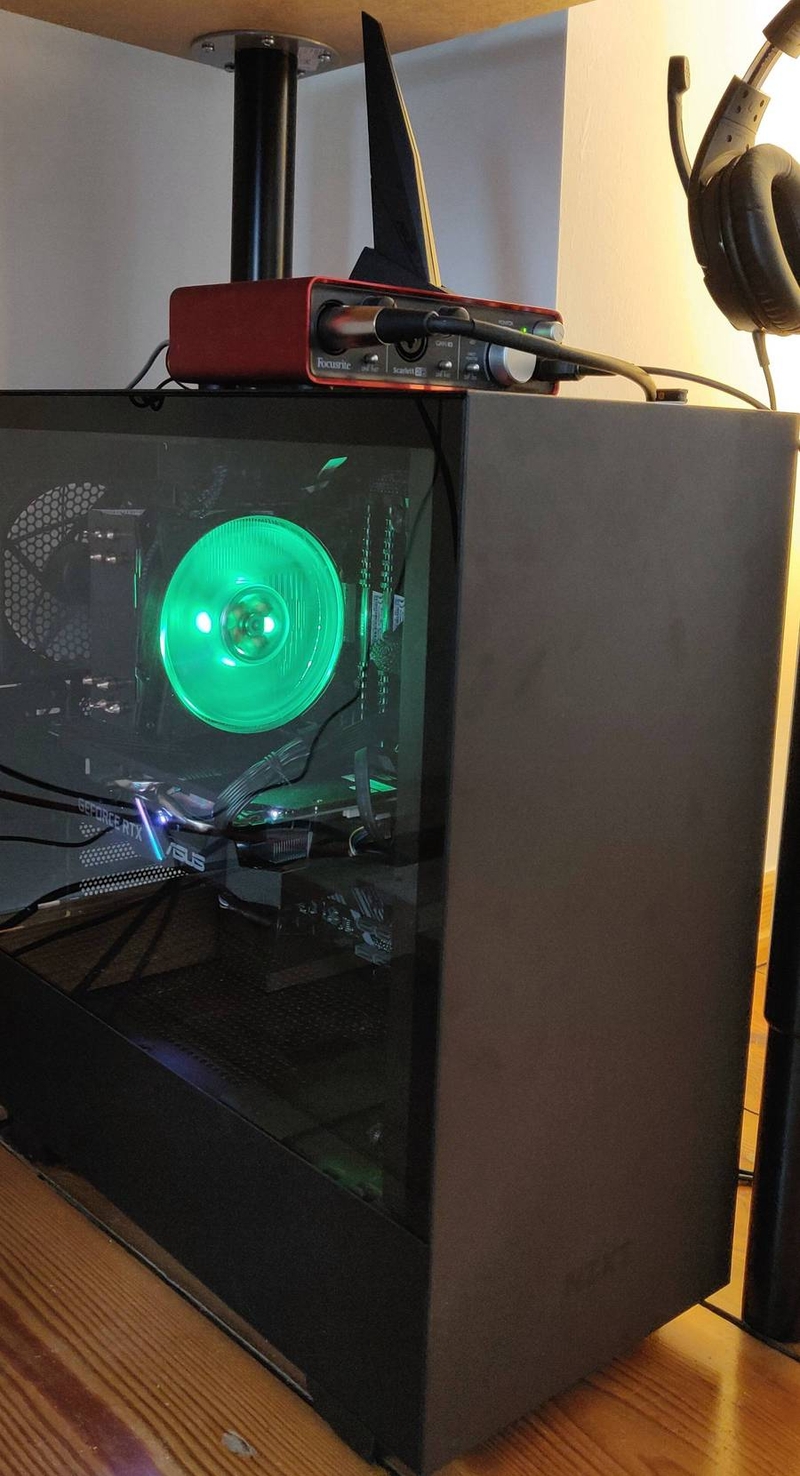 But the real draw for me is finally being able to easily customize my keys for left-handed gaming. You see, friends, I've grown up in a right-hander's world, where the mouse is on the right side and WASD is king. I used to slide my keyboard to the right in shame and try in vain to use the dominant keys all the other kids were using. But no more! I've broken the shackles of that tyranny and now move that entire side of the keyboard out of my sight when it's game time. So many thumb keys, so many options! ErgoDox EZ understands the value of freedom and grants it to all!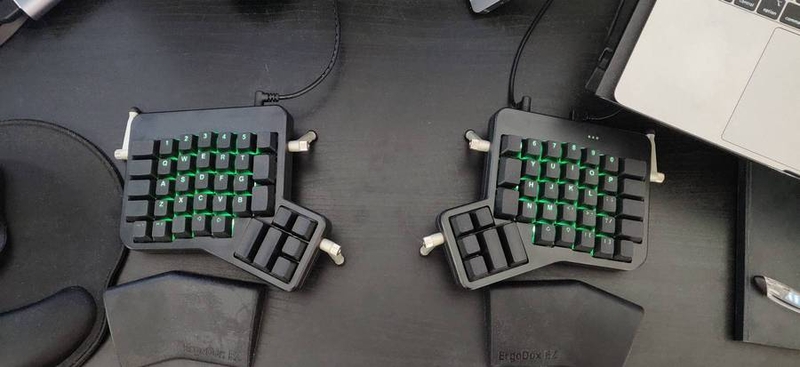 What would be your dream setup?
I'd love more screen real-estate, so maybe I should dream for a complete VR setup where "screens" could be everywhere I turn my head. Maybe. Ultimately, I'd want the highest-end gaming rig custom built into a van (or Airstream), powered by rooftop solar panels and lithium batteries. I'd need a super-strong Wi-Fi/satellite receiver/antenna too, because it's hard to get a signal when you go off grid. And if I'm still dreaming, this would all come with some land in the mountains with trails we could bike, near a river on which we could kayak, and there'd be campfires and ukulele jam sessions every night. Of course, I'd also need a Planck EZ to take with my laptop when I had to travel into more civilized parts. :)