The people who use our boards.

272 interviews

 

since 2018
Janet Chen
HCI & UX Researcher
Who are you, and what do you do? What do you like to do outside of work?
Hi! I'm Janet Chen. I'm currently a PhD student in information science at Cornell University and I research human-computer interaction. Some of my past work touches on helping users prepare their data in anticipation of death and researching trauma-informed computing. Most of my days are spent at home click-clacking away at my ErgoDox EZ in beautiful Ithaca, New York. On the days I trek up to campus (often through the Cascadilla Gorge trail), I attend seminars, grab a coffee with my advisor, and catch up on research tasks. This includes panic-writing, browsing academic Twitter, and making unrealistic to-do lists.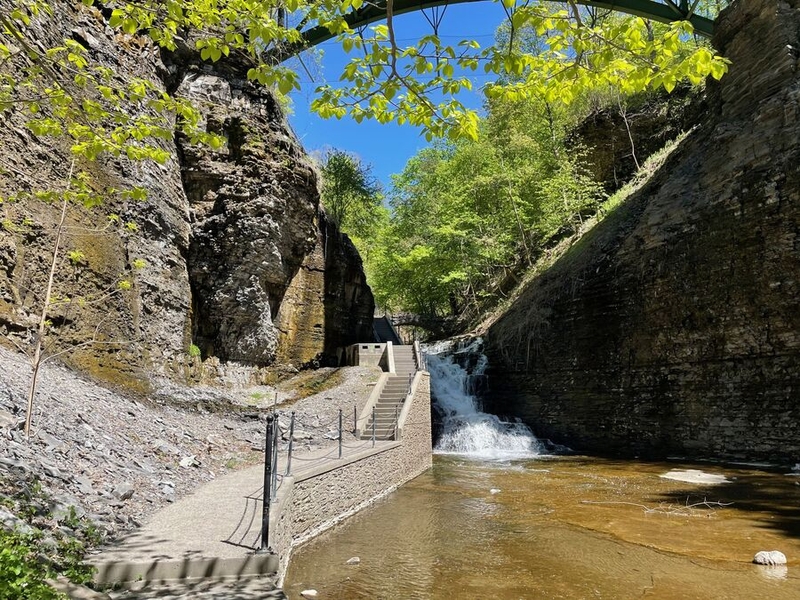 Before my PhD, I got my BA in computer science and economics at UBC in Vancouver. Although I miss the mountains of Vancouver, Ithaca is also gorgeous (or "gorges," as the locals say). During the summer, the Farmers Market is the place to be. I've recently made it a ritual to grab vegan cupcakes every Friday from the local GreenStar Co-op—I'm not even vegan, they're just so tasty! Prompted by WFH and the pandemic, I've begun taking long walks around the winding streets, sometimes detouring into the local cemetery. In general, I find satisfaction in engaging my body through rock climbing, yoga, and swimming. To fulfill the creative side of my brain, I cycle through my hobbies of creative writing, singing, and crocheting. I also travel back home to Toronto quite frequently to get some dim sum, hojicha lattes, and croissants.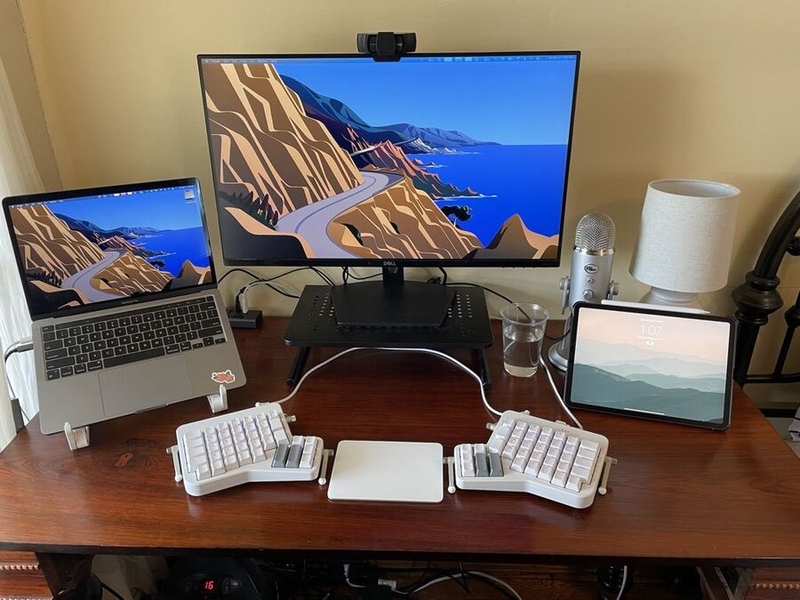 What hardware do you use?
I have a MacBook Pro (13-inch, 2020) with an M1 chip that doubles as my work and personal device. As a graduate student, an iPad Pro (2020) with an Apple Pencil helps me annotate papers, sketch prototypes, collaborate via Miro, and more. At home, I use a Dell 27" monitor, which is fine—I keep my other 28" 4K Phillips monitor in the office. I sit in a HON Ignition 2.0 chair and use the ErgoFoam footstool—both were Wirecutter picks.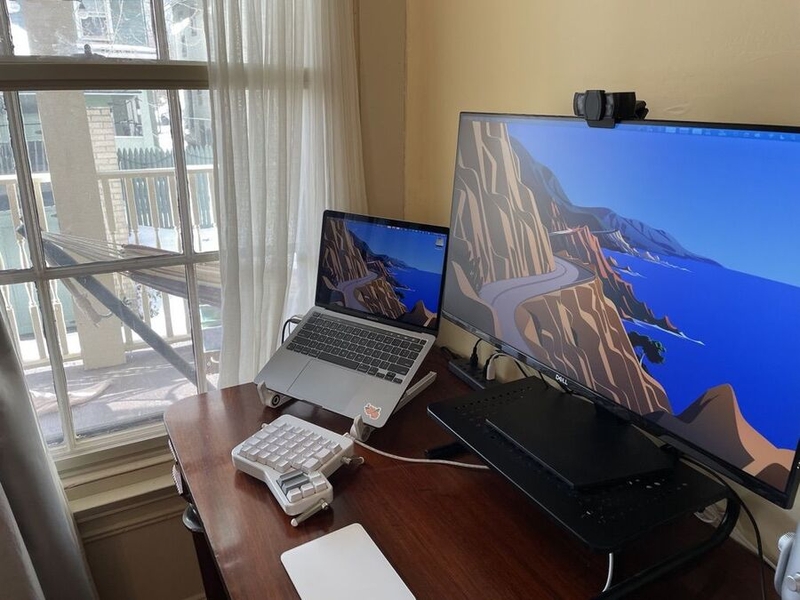 I use the ErgoDox EZ with MX Cherry Blues. This is my first mechanical keyboard, and I love it! The tactile response is so satisfying and after I got over the learning curve, programming the four thumb keys (I do Space, Command, Enter, and Backspace, from left to right) works so ridiculously well. Why don't all keyboards do this? I also use a Logitech C920s webcam, a Blue Yeti mic, and an Apple Magic Trackpad. A couple of small things make my workstation more comfortable: a monitor stand and a six-port USB charging hub. For sound, I usually just play from my laptop speakers, which audiophiles will likely find abhorrent. Otherwise, I alternate between my trusty Bose QuietComfort and noise-canceling Jabra Elite 75t.
And what software?
Google Calendar is vital to my daily functioning. Google Docs and Slides form the remaining part of my holy trio. When I'm writing papers, Overleaf is a lifesaver for collaborative LaTeX work—it's completely worth the premium subscription. For communication, I use Slack, Gmail, and of course, spend an unfortunate amount of time on Zoom. As a researcher, I heavily rely on Zotero for reference management. My favorite IDE is Visual Studio Code, and I traverse my file directory with iTerm2, customized with oh my zsh. I'd like to think that I'm privacy-conscious, so I use Firefox as my main browser. For blocking trackers, I use the Electronic Frontier Foundation's Privacy Badger and Ghostery.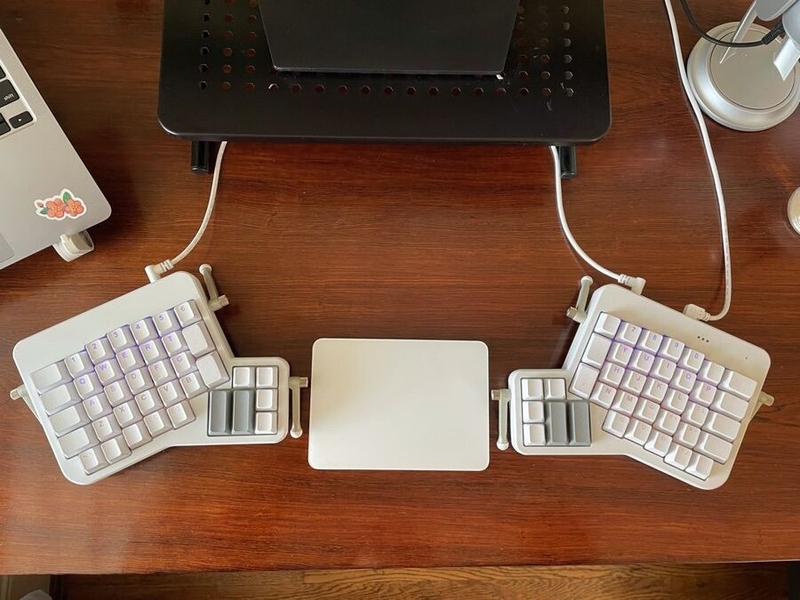 What's your keyboard setup like? Do you use a custom layout or custom keycaps?
I'm waiting for my ePBT Dreamscape keycaps to arrive! I use a custom layout that I change over time to match my current work needs. For example, I place the various braces and brackets in easier and easier to access places because I need them for LaTeX and coding. When I have time, I like to play with the LED lighting to see what's fun. Last, I changed the switches in a few key places just to get a different feel—taking a few from a sample pack of switches from GMMK.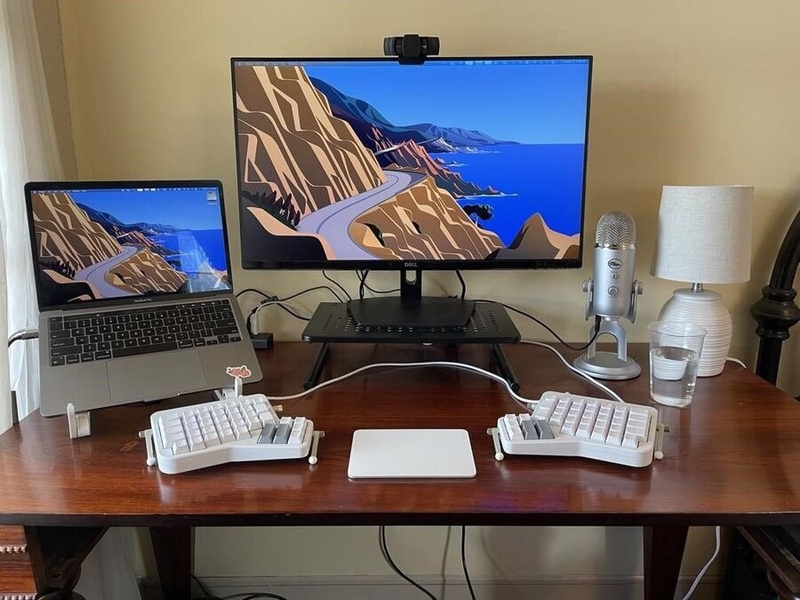 What would be your dream setup?
As a graduate student with a relatively tight budget, I've tried to optimize between affordable and high-quality products that will last a long time. All I'm really looking for now is an affordable standing desk and a better desk lamp. I'm pretty happy with everything else!