The people who use our boards.

272 interviews

 

since 2018
Who are you, and what do you do? What do you like to do outside of work?
I'm Bonnie and I'm a UX Engineer at Google. A UX Engineer (a.k.a. Design Engineer, Design Technologist) is a software engineer who focuses on the design and user experience, typically working on interactive prototyping or UI component development. At the moment, I work with designers to bring their designs to life via frontend prototyping. Ultimately I would love to sharpen my design skills and create UX designs myself too.
Outside of work, I have an infinitely growing number of hobbies and interests. I have dabbled in hip hop dancing, making art via 3D modeling, pole dancing, being a craft chocolate aficionado, crocheting, exploring the vegan scene in New York City, growing my luxury lingerie collection, traveling, rock climbing, partner dancing, and most recently, figurative life drawing. I'm at the beginning of my drawing/art journey starting with traditional media, but I would love to eventually import my art into something like Photoshop and explore all the possibilities of digital manipulation, or try digital drawing.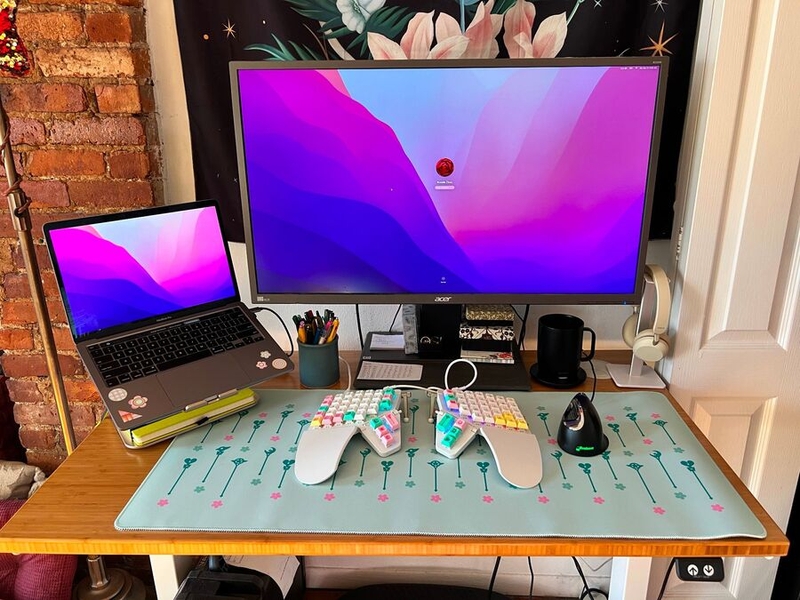 What hardware do you use?
I have a standing desk from Uplift, my Moonlander keyboard with Holy Panda switches (it lives up to the hype) and Magic Girl keycaps, an Evoluent vertical mouse—which has been a lifesaver for the RSI in my wrist, a 13" MacBook Pro from work, a 32" Acer monitor (though I actually prefer a 27" monitor), a laptop stand from Rain Design, and beige Jabra Elite headphones. I also have lots of pens and sticky notes, and a self-heating mug from Ember, which has become my favourite thing in the winter.
And what software?
For coding, I use VS Code with the Roseate theme, iTerm with colours that I manually fiddled with until it complimented the Roseate theme, and Chrome as my main browser.
I also read Figma files on the regular, and am always bouncing between all the different apps in Google Workspace (primarily Google Keep, Calendar, Docs, Sheets, Slides, and Gmail).
I used Cinema 4D heavily during my 3D modeling hobby phase along with Adobe After Effects for small animations. And like I mentioned before, I would love to start playing around with Photoshop.
What's your keyboard setup like? Do you use a custom layout or custom keycaps?
I use a mostly typical QWERTY layout, with the biggest differences being that the Enter key is at my left pinky (replacing Caps Lock) and the Backspace key at my right thumb. I didn't think these would be such significant changes, but it's enough that my friends won't use my keyboard because they get too disoriented! I don't have extravagant keyboard shortcuts like many other software developers I know, and I don't like using layers just because I find them too complicated. The only two macro shortcuts I added to my layout were for Screenshot and to open the Emoji keyboard. I initially tried a lot of different positions for the non-alpha keys, especially the arrow keys, until I finally settled on this one that feels the best!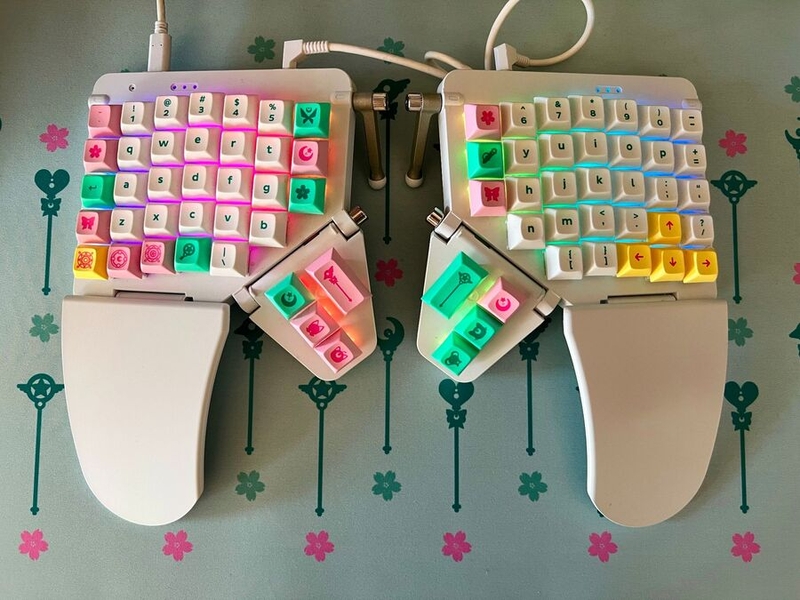 Beautiful keycaps were the whole reason I got into mechanical keyboards. Aesthetics make all the difference to me in terms of motivation and productivity, so it was really important that my setup looks nice. At home, I use my Moonlander with the Magic Girl keycaps with the matching deskmat as pictured above, and at work I use the exact same Moonlander keyboard + layout with Astrolokeys keycaps) and the Plant Arcana deskmat.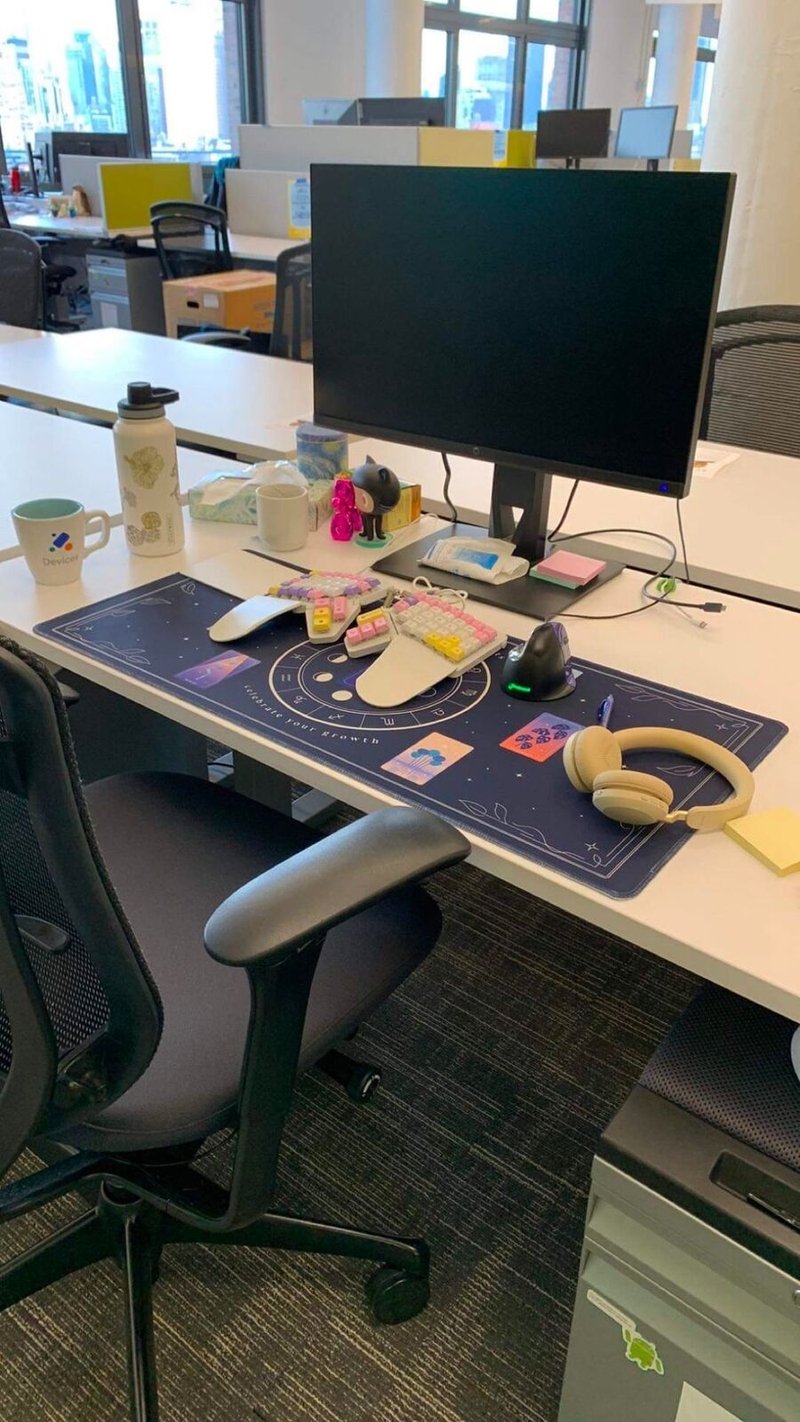 What would be your dream setup?
Pretty much what it is currently! I don't need to have a super complicated setup for the work and art that I do. I never really cared about my setup until the pandemic hit and I had to spend a lot more time at my computer. But after a few months of working from home, I started looking into mechanical keyboards, pretty keycaps, and generally making my workstation feel good to me. And it took me a full year before I finally gave in to buying a standing desk, but I love it now and only wish I had done it sooner! Once the office reopened, I knew I had to bring my office setup up to par with my home setup too.