The people who use our boards.
Who are you, and what do you do? What do you like to do outside of work?
My name is Bri Woods. I'm currently working as an IT Director at United Way in South Florida. My job consists of overseeing the day-to-day requests as well as a bit of admin work and future planning. Most of my communications are by email and interoffice chats, so I do quite a bit of typing throughout the day. When I'm not working, I have a plethora of hobbies, including knitting, crochet, spinning yarn, games on my Switch or PS4, sewing, and quilting.
What hardware do you use?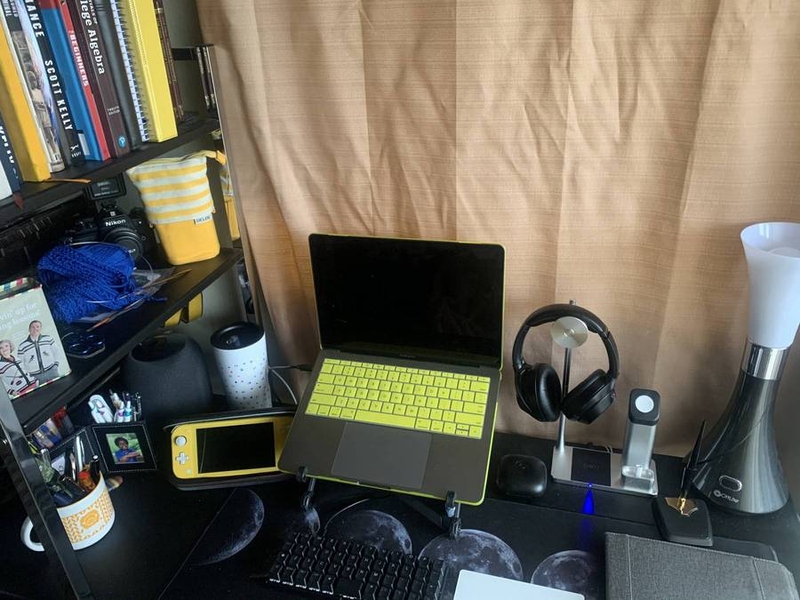 My desk is full of what makes me happy. This is my COVID setup, as our team has been working at home since March. After the first month, I made it a point to have what I needed to make working at home full time as smooth as possible. I have my MacBook Pro on a Roost riser for ergonomics. I use a Planck EZ keyboard, and I also have the Apple trackpad for ease of navigation. I put a Sylvania SMART+ lightbulb into my OttLite so I can set timers on my lighting or control it with Siri as needed. I keep a dock within arms' reach for charging my Apple Watch, my phone, and my Apple Pencil—and to store my headphones. My son is home with me during this time, so I'm glad to have invested in my Sony WH-1000XM3 noise-cancelling headphones on hand for times when I'm having trouble focusing. I also have my Apple HomePod close by so I can put on a podcast or listen to my music when I want to pass time while I tackle my task list.
And what software?
My software consists mostly of Microsoft Products: Outlook, Teams, Word, Excel. My team does a lot with the database that we use, so we're in and out of that throughout the day. A lot of my job is talking to vendors and other IT professionals. I've been doing a lot of meetings with GoToMeeting while everyone is at home. I think the best part of our hardware/software setup is our phone system. All staff is able to make and take phone calls with their office phone number because we have our phone service with Jive. Users can use an app on their phones or desktops. Some users took the physical phones home and were able to get right back to work. That makes me the happiest because the transition was the easiest.
What's your keyboard setup like? Do you use a custom layout or custom keycaps?
I'm currently using a Planck EZ with Kailh Box White switches. My keyboard is stock. I plan to make layout changes one day when I have time, but I've been having a hard time walking away from work when it's right there in my living room. This is my first mechanical keyboard. I spent a lot of time playing with sample switches and clicking them around my coworkers to see how annoying it might be for them, since we work in an open environment. When we all moved to working at home, I made the purchase. I've been back at the office a few times to take care of some things since then, and I couldn't go back to my Microsoft Ergonomic Keyboard 4000. Now I just take my Planck EZ with me when I leave my home desk. I'm sure I will get an ErgoDox EZ when it's time to go back to the office.
What would be your dream setup?
When we get back to work, I'm switching out my keyboard. I did leave my Yellow Ducky Shine 3 on my desk in the meantime. That has MX Brown switches. I have two 24" Dell monitors at my desk at work. I miss those. I think the keyboard has always been the center of my work experience. I've always collected ones that intrigued me. I've seen the yellow Think 6.5°s and I love the style of that, but I prefer ortholinear. I'm totally holding cash aside for an Orthochu group buy. They call me Brikachu at work and in my social groups. Plus that's already yellow. I'm eyeing custom cables for my keyboard, but it also has to be yellow.
So many computer parts are such manly colors. I really want my space to have those pops of color that make me happy. The only change to my current setup that I'm looking for is a set of yellow keycaps that still allow the LEDs to shine through. I prefer that the keys light up as I press them and slowly fade away. I should have gone with the darker shade of trackpad, but I was too cheap to spend another $30. That's the same price as a ball of yarn!