The people who use our boards.
Angela Raiford
Head of Support and Content Moderation
Who are you, and what do you do? What do you like to do outside of work?
I'm Angela Raiford. I grew up in Saint Louis, Missouri, and have lived in San Francisco for 13 years. While my educational background is in print journalism, I moved into the online world shortly after graduating.
My day-to-day work consists of running the Support and Content Moderation teams at Patreon, a membership platform built to help creatives get paid. I've been with the company for over five years, so I feel deeply connected to our mission and the people who drive it.
When I'm not at work, I have a lot of creative hobbies. Sewing is my main jam, but I also enjoy knitting, punch needling, soap-making, and weaving. My mom is an artist, and growing up she always stressed the importance of not buying what you can make, so I try.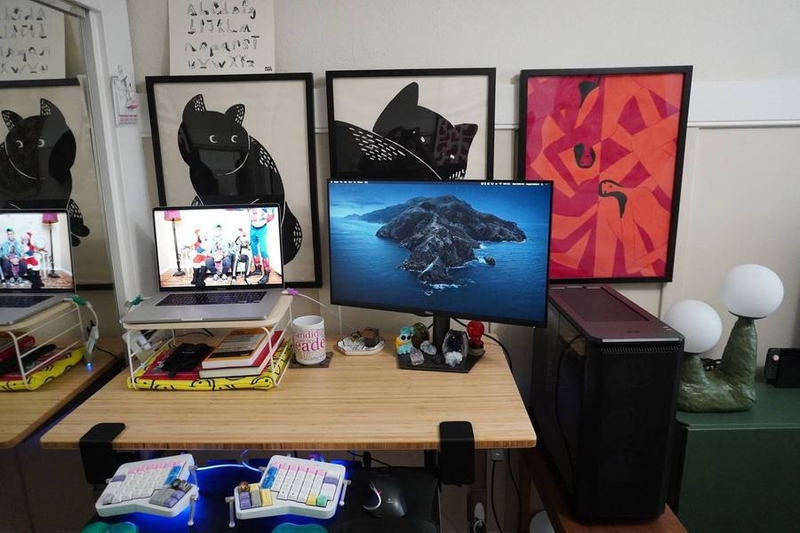 What hardware do you use?
Working from home during the pandemic has really leveled up my workspace. I didn't even own a desk before this.
My work machine is a 2019 MacBook Pro 16" that I connect to a Dell 27" S2721HSX monitor. The monitor base is adorned with a few nice things: crystals, treasured toys, and a glass paperweight I made during a company offsite at The Crucible in Oakland.
The laptop riser is actually a kitchen shelf thing from Open Spaces, and underneath I store some books I'm reading, a laptop sleeve, and my personal laptop (Yoga C940 15"). Peripherals are the MX Master mouse, and my white ErgoDox EZ Shine.
My desk is a Fully Jarvis with aluminum legs and a bamboo top. I use a Mount-It keyboard tray to free up more desk space. My chair is the HAG Capisco in Navy with a white foot ring base. I love how doesn't intrude on my living space. For a very short while, I used an Aeron chair but found it painful to look at. I live in a studio, and don't want to feel like it's a corporate space.
You'll notice a gaming PC in my space, which belongs to my partner. Because we are tight on space, he uses this desk to game when he's not at work (he's a recording engineer and musician by day).
The part of my desk area which gives me the most joy is wall art. Two of the prints are Overeesy, and the third is a limited-edition print from Laura Berger. The tiny one up top is a hairy alphabet print from Grace Ludmer…I should buy another frame!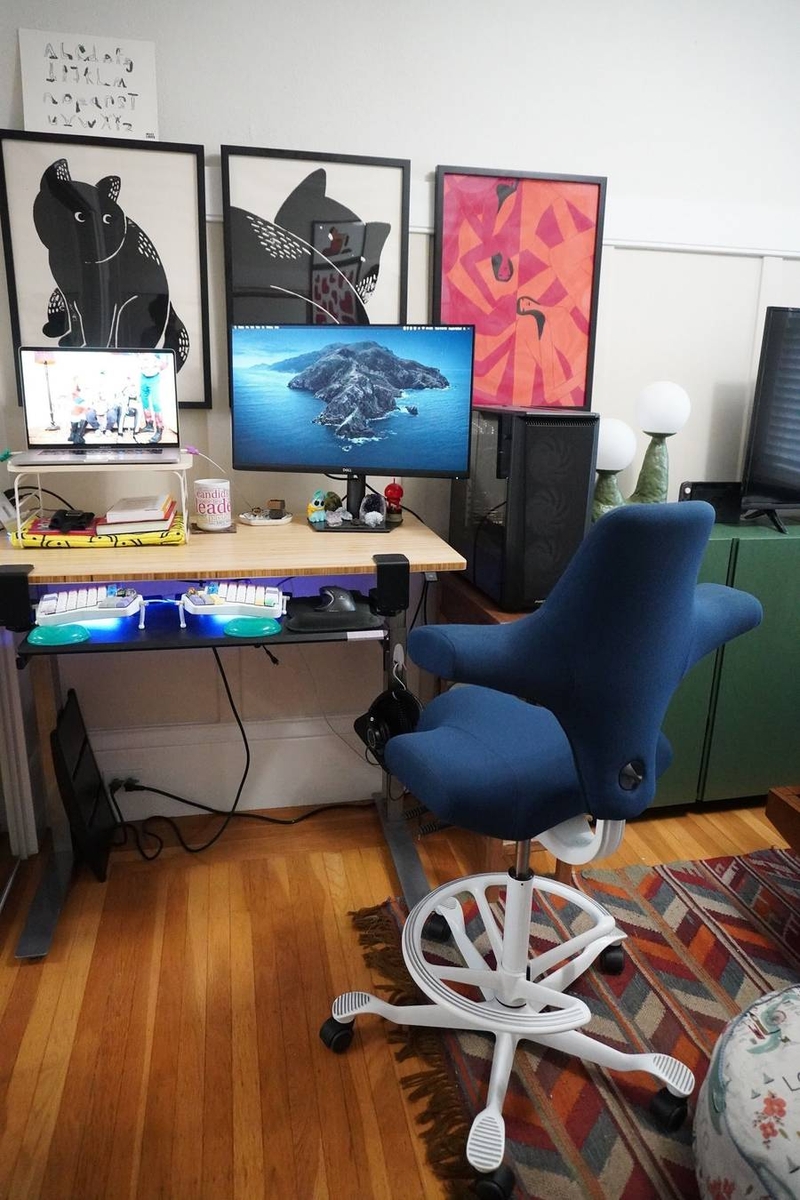 And what software?
My main mode of communication at work is Slack & Zoom, with Gmail used very rarely. While our team utilizes Zendesk as our CRM of choice, when I'm not using ZD Explore, I review data through Mode Analytics.
For documentation, I'm a bit all over the place. For the most part I flip between Google Suite or Paper for workshopping items, and Atlassian Jira & Confluence if it's a solidified process, bug, or workstream. In my personal life, I enjoy using Notion.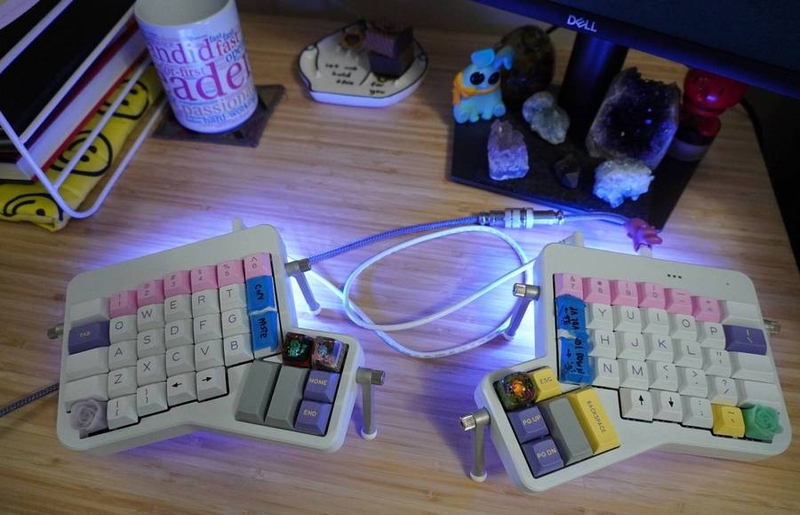 What's your keyboard setup like? Do you use a custom layout or custom keycaps?
My layout is "almost normal," with very few swaps from the original stock layout. I was a touch typer previous to getting my ErgoDox EZ Shine, and I'm honestly still trying to get back to that! My keyboard is outfitted with a few Astrolokey keycaps, two Dwarf Factory Terrarium novelties, two Rose keycaps from Capsmiths, and a Bulbasaur novelty from S-Craft.
What would be your dream setup?
It would start with a bigger desk! I use my desk space for work and my sewing hobby, so it'd be nice to be able to fit both work and play on one desk. A nice walnut slab with the adjustable aluminum legs from Fully would be perfect.
Other than that, it'd just be a few upgrades. In terms of keyboards, I'd swap between two, both with banana split switches: 1. an ErgoDox Moonlander with kerokerokeys from Amy Wibowo (group buy here) 2. a lavender CandyBar with Magic Girl keys (I have the keyboard but am waiting on keycap delivery). For mice, I'd upgrade my MX Master to an MX Ergo for extra comfort.