The people who use our boards.

272 interviews

 

since 2018
Sharrief Shabazz
Sys Admin
Who are you, and what do you do? What do you like to do outside of work?
My name is Sharrief. I previously worked as a program manager in Microsoft Dynamics (on an incredible team with awesome people!) before quitting to start a one-man business providing web dev & ops, system administration, security consulting, and some copy editing services to small businesses and organizations. To most people, I'm simply the tech guy. I'm eternally grateful that I get to do what I love for a living…and that I get to spend all that hard-earned money on gadgets!
Outside of work, I am a happy father, loving husband, grateful son, and an open-minded friend to all. I enjoy playing basketball and flag football, cycling (#pelotonfamily), and reading/studying technology, finance, and (purely as a hobby and philosophical exercise) quantum physics.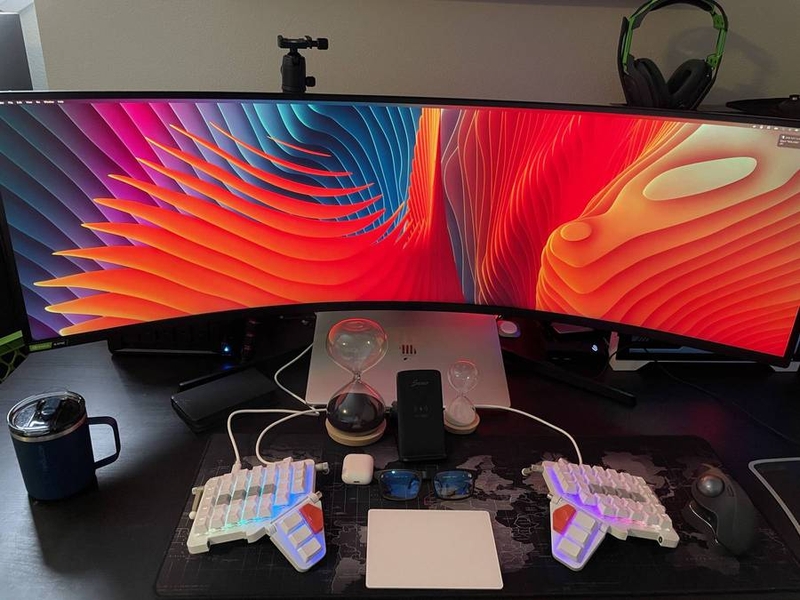 What hardware do you use?
Since I began experiencing some mild wrist pain when programming in early 2020, my excuse for buying way more tech than I need has been that ergonomics are essential in making sure that I have a long and injury-free career. I get work done at home using a max-spec 2018 MBP (the hot Core i9 one). It's connected to a Thunderbolt 3 dock with output to a Samsung Odyssey G9 and networked to a Synology DS1019 NAS. Input devices include the ErgoDox Moonlander, an Apple Magic Trackpad (for MacOS gestures), and Logitech MX Ergo trackball mouse. All of this sits on a simple five-foot-by-two-foot-five-inch desk handed down from my wife. I spend a lot of time convincing myself that an adjustable-height desk isn't worth the hassle of redoing my cable management.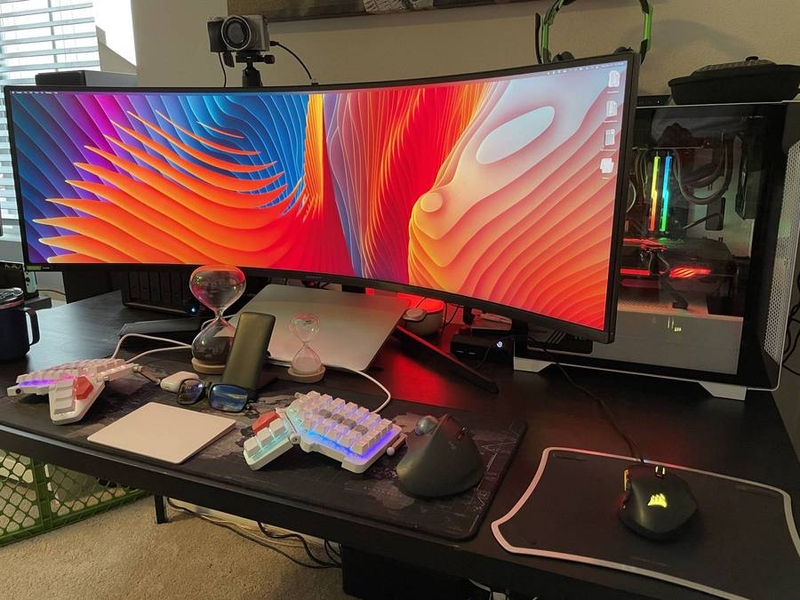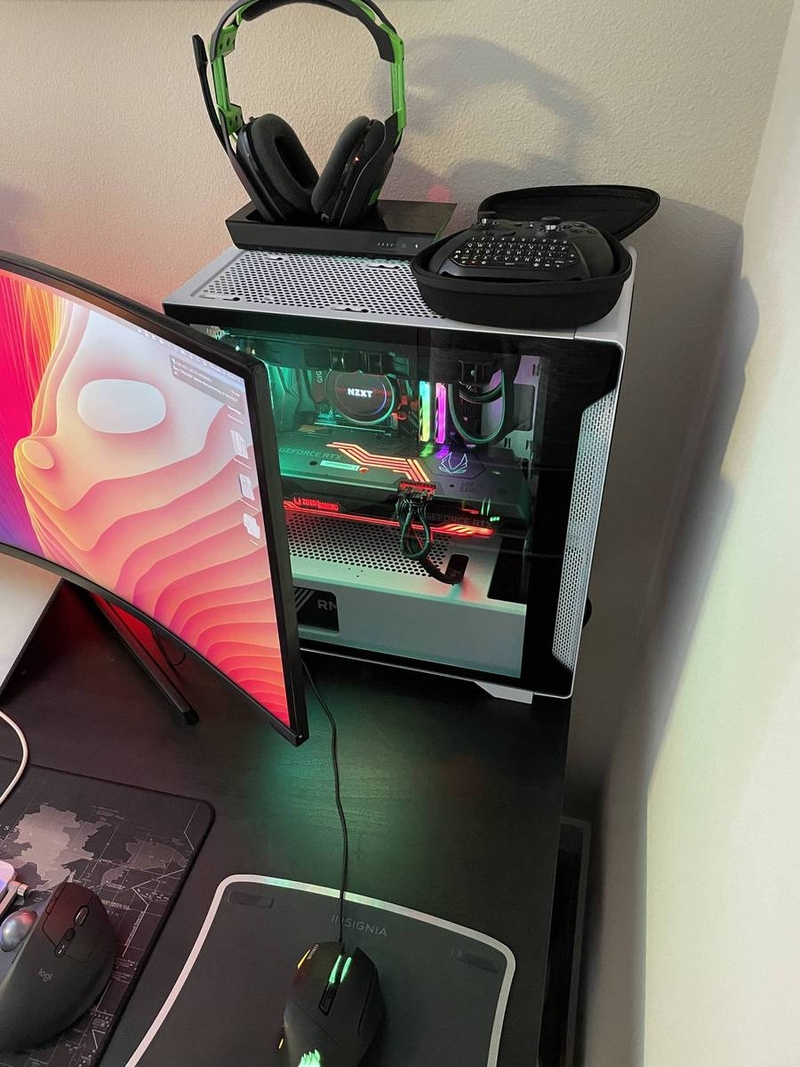 In the before-fore times (pre-pandemic and pre-fatherhood), I frequently worked in coffee shops. Now my mobile gear doesn't see so much action, but I eagerly await the opportunity to explore the world again. I use a JuJuBe Hatch backpack (turns out diaper bags have great compartmentalization!). Usually, I pack my MBP, AirPods, iPad Pro (as a second screen), Bose QC35s, whatever the latest iPhone is, a Hydro Flask, and the Logitech MX Master 3.
I couldn't fault you for assuming that I'm an Apple fanboy based on what I've shared so far. But before I realized how important maintaining my own digital security and privacy had become, I was installing custom kernels on Eclair and Froyo (shoutout to my Bugless Beast alum), and I used an Alienware M17x r2 before my MacBook Pro. I use whatever tech I deem appropriate for the task, and when that task is gaming, then I choose between my Nintendo Switch or XB1X on an LG C6 OLED TV, running through a Denon AVR-S730H to a 7.1 Elac Debut B6 surround sound system, or my RTX 3080-powered PC on the Samsung G9 with an Astro A50 headset. I use the Elite Controller S2 for the Xbox, Pro Controller for the Switch, and the Moonlander + Corsair Scimitar for PC. A pro tip for managing to nab an RTX 3080 at MSRP in late 2020: join a Discord server.
The list of tech goes on, but I think I've painted a pretty clear picture here.
And what software?
I use MS tools because that's where my experience comes from, so I run my services on Azure, run my business on O365, and develop in VSCode. I use Brave and Safari, ProtonMail and Proton VPN, 1Password, Grammarly, and Toggl. I run my in-development projects, Pi-Hole, HomeBridge, and HomeAssistant in Docker containers on my NAS. I also run Plex natively (for HW-accelerated decode).
And perhaps most important, I budget for all my tech purchases using Buckets, an offline envelope-budgeting desktop app built by another independent developer like me (I was considering building my own before stumbling across it). If you decide to use the app yourself and find that you like it, please remember to show your appreciation by purchasing a copy. The dev generously offers an unlimited free trial with no paywalled features and only humbly asks you to pay for it if you can afford and want to.
The internet is full of great software; some of it is "free" and "respects" your privacy while requiring that you hand over private information. Some of it is developed by passionate people who respect your privacy by not collecting your private information in the first place. Please support people and businesses who are honest, fair, and transparent in their practices.
I swear that was not an ad. I'm just very passionate about privacy. I want people to remember that their lives used to be private by default, and I would prefer if I didn't have to work so hard to keep mine that way. OK, stepping down from the soapbox…
What's your keyboard setup like? Do you use a custom layout or custom keycaps?
I like clicky switches. I can't really say whether it helps or harms my typing, but I prefer the feel and sound more than I notice any effect on my typing efficiency. I tried the Kailh Box Whites, and I loved the way they felt, but they sometimes click before they actuate, and for me, that means missed characters and broken code. It was irritating to deal with, so I've been using Gat Blues.
I started with a Corsair K95 (with MX Browns) some years ago, then picked up the Keychron K2, and then the ErgoDox EZ, and finally the Moonlander. A big reason for my move to the Moonlander was USB-C (I'm almost entirely rid of that pesky USB-B!) and having the mainboard in the left half (which I use for gaming). I do wish I could get the blank sculpted keycaps for the Moonlander. Currently, I've just transplanted as many as I could from my ErgoDox EZ.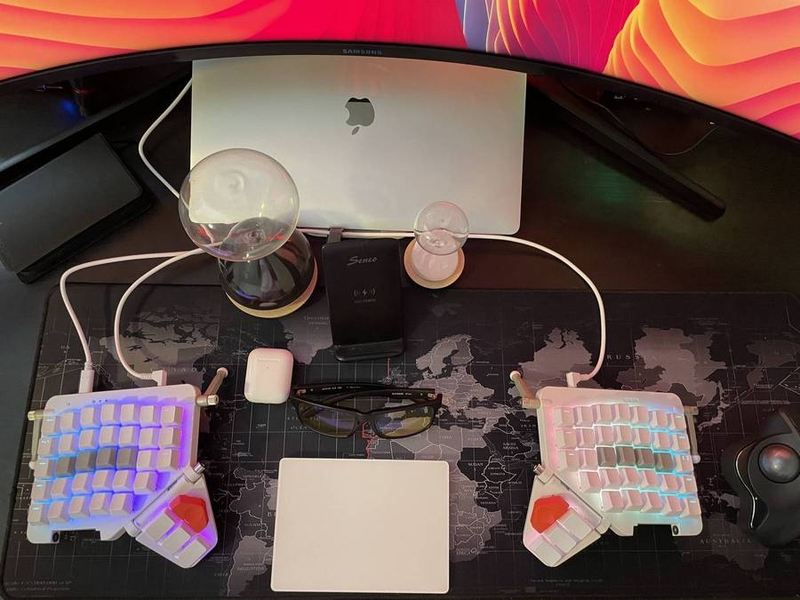 My layout is focused on coding efficiency. I use the Workman layout with some special characters promoted to non-shifted layer 1. Higher layers are used for numpad, arrow keys, and media controls, and a QWERTY layer for gaming (some games don't have enough keybinding flexibility for me to re-map Workman). I'm a touch typist, so the backlighting is more a mood setter than anything for me. I usually keep it on a solid color or very slow-scrolling unicorn puke.
What would be your dream setup?
My dream setup would include Acer's Predator Thronos. But considering how much my wife has already tolerated, I think I'm going to wait until I can buy it as "a gift for the kids." :)