The people who use our boards.
Beth Glenfield
Product Manager
Who are you, and what do you do? What do you like to do outside of work?
I'm Beth, a former software engineer turned product manager at Puppet, based in Belfast, Northern Ireland (changing careers mid-pandemic was definitely…interesting).
My life motto is to lead with curiosity, so I also moonlight as a director for Women Who Code Belfast, a scout for a VC fund, and a co-founder for a medtech startup. Outside of my side hustles, you will likely find me binging K-dramas or reading fantasy novels.
What hardware do you use?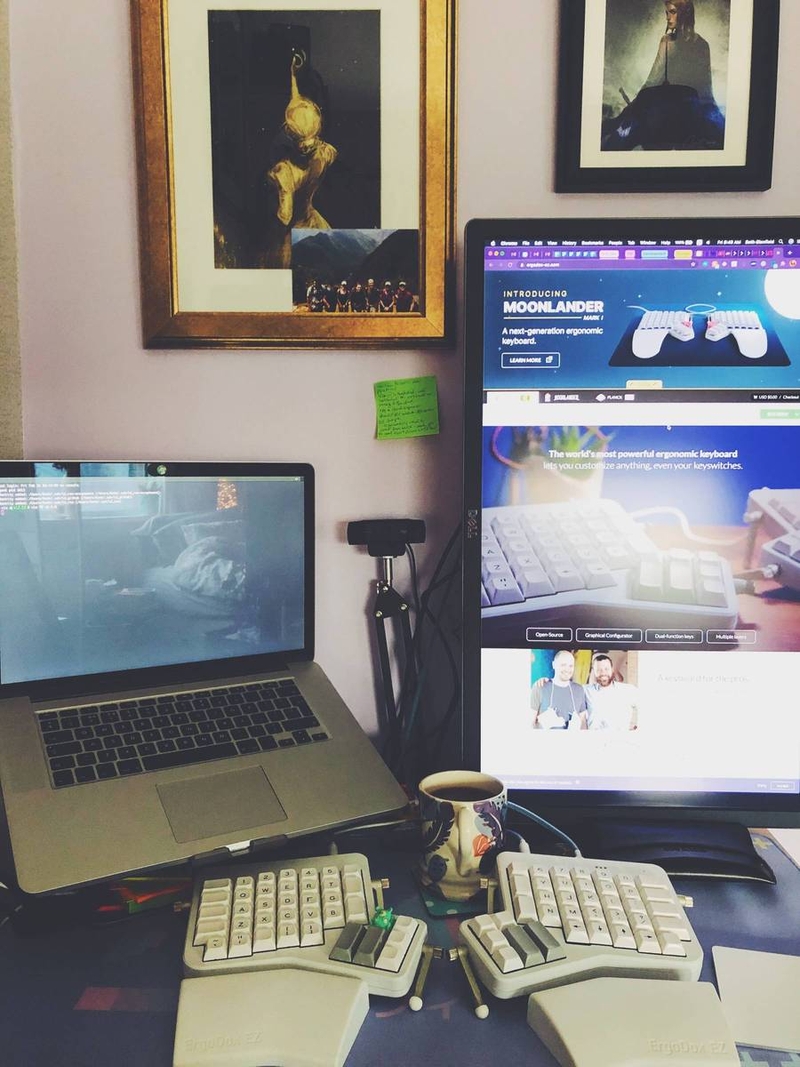 My 2015 15" MacBook Pro is still ticking along, which I dock with my 27" Dell UltraSharp U2715H monitor. I use a Logitech HD Pro C920 webcam for all my Zoom meetings, which I connected to a slightly wobbly IKEA dressing table disguised as a desk with a cheap but functional webcam stand. I use an Apple Magic Trackpad 2 to complete my hodgepodge hardware setup, as well as my ErgoDox of course.
And what software?
Ah, the good old days of software. I am a huge VSCode fan, but couldn't bring myself to use the built-in terminal, and instead use iTerm2 for all my zsh needs, loaded with Starship. Chrome is my browser of choice, and I use Reeder for any Google alerts and RSS feeds I like to keep up with on the daily. Slack and Discord are the tools I use to interact with the communities I'm part of, and Notion is my hopes and dreams for being productive (still TBC).
What's your keyboard setup like? Do you use a custom layout or custom keycaps?
I have the ErgoDox EZ with Cherry MX Brown switches and printed keycaps, patiently waiting for my Mintlodica DSA Dark Magic Girl custom keycaps to arrive. I will live with my super-adorable OctoBoi until then. I ordered custom cables from the team at Pexon in the UK, would highly recommend the team, as their custom service was incredible, and everything sits on my Finale desk mat designed by Cloods. I struggled for a long time to find a layout that worked for me, and ended up working with this custom layout in the QMK Firmware repository. Moving away from intense programming I'll probably continue to adapt it with Vim and iTerm shortcuts, but I'm happy with my setup so far.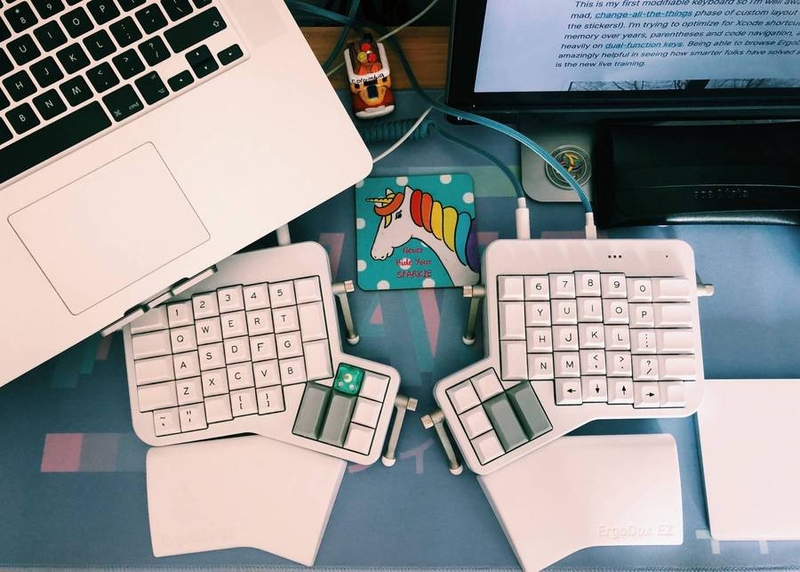 What would be your dream setup?
A bigger desk would be nice, with space for another monitor and a mic (all suggestions welcome); most of all a way to tidy cables, can cable masters please tell me your ways? A nice view of the countryside or sea would be dreamy though, I would stay with my snug setup forever if I could have that.