The people who use our boards.
Ally Palanzi
Lead Engineer @ Stitch Fix
Who are you, and what do you do?
I'm Ally! I love ice cream and I make web applications. During the day I work as a front-end engineer with a focus on accessibility, design, and developing great user experiences. Currently I'm a Lead Engineer at Stitch Fix. I'm also heavily involved in the tech community and am on the leadership team for DCFemTech, an organization in Washington, DC that focuses on amplifying under-represented folks in tech.
What hardware do you use?
I work on a new 15" MacBook Pro. It's docked to a 27" Dell monitor that is five years old, but still works great!
I navigate with a wireless Evoluent Vertical Mouse, which I've found helps a ton when it comes to wrist pain from sitting on a computer all day. I type on an ErgoDox EZ, of course. With Cherry MX Browns since I first got this keyboard when I worked in an open office and I'm nice.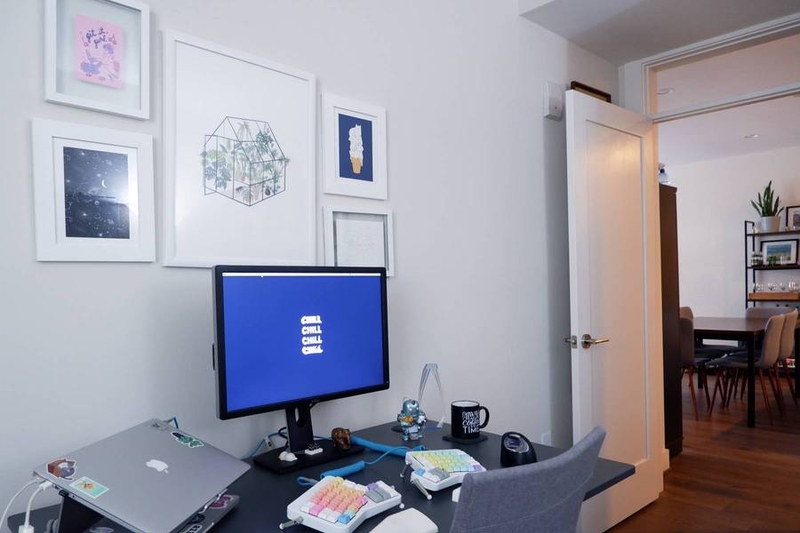 My desk is a 48"x30" Jarvis Powdercoated Standing Desk in graphite. I love how sturdy and large this desk is and that I can easily switch to standing. My chair is nothing special, in fact I really need a new one.
And what software?
I mostly work in the front-end of web applications. For my editor I use VS Code with the Dracula color scheme. I like iTerm2 and ohmyzsh for my terminal. Chrome is currently my default browser, though I'm trying to switch most of my personal browsing to Firefox for security purposes.
I love Wunderlist for tracking tasks. I rely heavily on 1Password to manage all of my accounts and passwords securely.
Occasionally I'll dive into various Adobe design programs, Illustrator, PhotoShop, or InDesign, for when I'm working on side-hustle and community work.
What's your keyboard setup like? Do you use a custom layout or custom keycaps?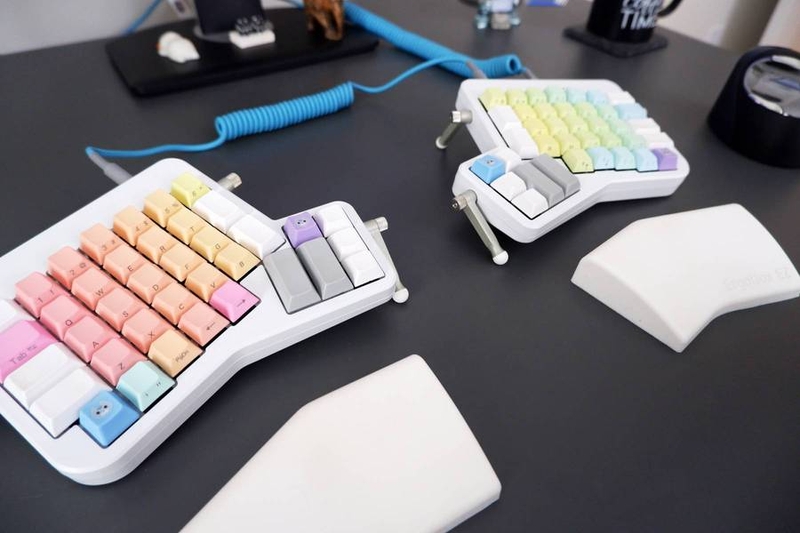 I got an ErgoDox EZ specifically so I could have a cute setup. When my wrists started hurting a few years ago, I knew I needed to make a change with my equipment and almost all ergonomic equipment is clunky and ugly. I've cycled through several different sets of keycaps but most recently I've been using a set of NPKC Rainbow Gradient Caps. I use teal custom cables from Clark Kable. My current layout is a combination of several setups I merged together and I've found it works quite well for my workflow.
What would be your dream setup?
My dream setup would be in a place slightly larger than my two-bedroom apartment with lots of windows so I could surround myself with more plants. It would have a porch or patio so that I could work outside on nice days. I'd use an ErgoDox EZ Glow in a pastel color.