The people who use our boards.
Arianne Donoghue
Strategy Director @ Epiphany Search
Who are you, and what do you do?
Hello! I'm Arianne Donoghue, an Aspergirl and paid media geek based in the UK. You can find me on most social media as ariannedonoghue. I'm currently Strategy Director at Epiphany Search in Leeds, a digital marketing agency that has its roots in SEO (Search Engine Optimisation) and Pay-Per-Click advertising (Google Ads, Facebook etc). In addition I'm involved in a few initiatives to get more diversity into the digital industry — both more women, but also anyone from an under-represented background — so I have a few side projects that I work on outside of what I do in the office.
I'm a little different from many of the other featured users as I don't code for my day job, although it's something I'm learning in my spare time. Tech has always fascinated me and I think it'll help me be better prepared for where our industry is going. At the moment I'm learning mostly front-end stuff, but I'm looking forward to seeing where the journey takes me!
While I don't code for work, as part of my job I do a lot of presentations, public speaking and writing, which does mean that I type a LOT. This led me on the hunt for perfect hardware!
What hardware do you use?
Since I was 16 I've struggled with tendonitis in both wrists, so finding ways to increase my comfort has always been important to me. Obviously I now use an ErgoDox — thanks to Reddit I fell down the mechanical keyboards rabbit hole, but the EZ is my first mech. I had another ergonomic mech I had bought to use at the office, but I didn't get on with it as well as the ErgoDox EZ, and I was struggling to switch between the layouts, so I bought a second EZ for the office.
At home I use a custom-built laptop, supplied by a local company called PC Specialist. I've got a new one on the way, with an Intel i7, 16GB RAM and a 500GB m.2 drive supported by 1TB storage. I can't wait! It'll be a Windows machine that I will probably dual-boot with Linux like my current laptop. One of my coding goals this year was to get to grips with Linux and the Command Line, and having both OSes in a single package is really handy for that.
Screen-wise, at home I use a Dell U2518D — a 25" HDR monitor I bought last year and I adore it! Whenever I'm working on a presentation, writing a post that references multiple sources or even coding, I'm really happy to have the space. It also looks beautiful — so I often watch content or play games on it over using our TV.
In terms of accessories, I'm still on the quest to find the perfect mouse. At the office I'm using a Logitech Vertical Mouse — like other users I find that a vertical mouse helps with my wrist pain, but it isn't as full featured as the MX Master 2S I use at home. I love how endlessly customisable it is, and despite not being vertical, it's full-sized and ergonomic enough that it doesn't cause any strain.
I can't live without my Bose QC35's which go everywhere with me. As an autistic, I can very easily suffer from sensory overload, so being able to have some control over one element of my surroundings is key. I winced at the price when I bought them, but would replace them at a moment's notice if I needed to. They help fuel my podcasts habit… I listen to far too many about murder!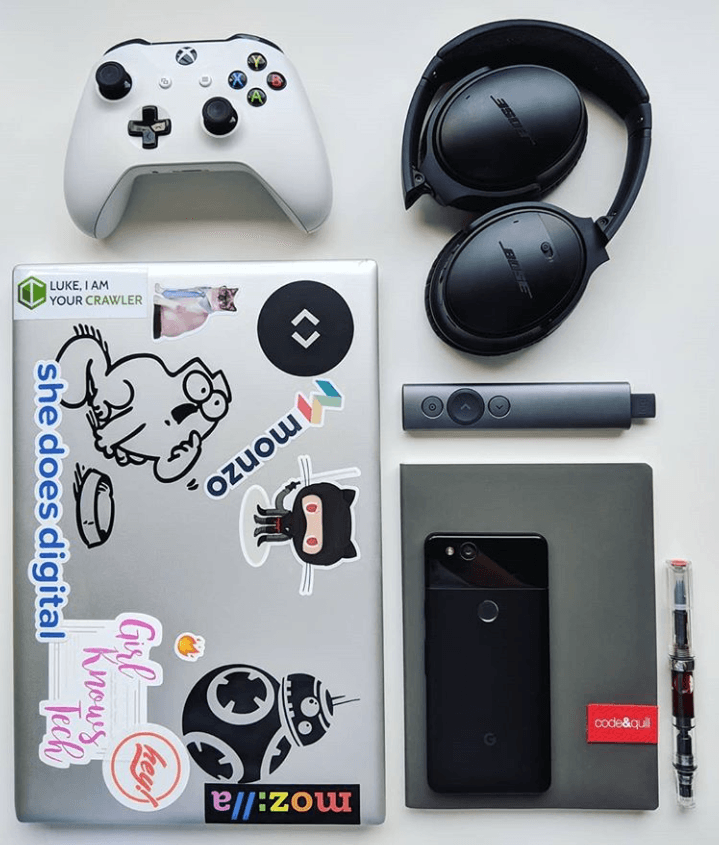 Because I do a lot of presenting and training, another favourite bit of hardware is my Logitech Spotlight clicker. It's the same as the ones they use for TED Talks and comes with some great software that lets you customise how you use it. It's been great for helping me improve my presentation style and comes in handy more often than you'd think. I've often been to events where the clicker has run out of battery, or where there isn't one available.
At work, I use a Dell Latitude laptop of some description — it's the standard issue machine for most of us, along with a regular Dell monitor. I do feel a little spoiled by my home equipment, so it's nice to have the EZ on my work desk for that touch of luxury!
At the moment you'll also find me tinkering with a Raspberry Pi of some description — I bought one at the end of last year and have acquired a few more for different projects. They're great for learning to code and just tons for fun.
Furniture is nothing special — at home it's all the same bits from IKEA that most people have, but it does the job! But I will give a special shout-out to my Nexstand laptop stand — great for keeping my laptop at an ergonomic level, I always take it with me when I travel.
I'll also take the liberty of assuming that stationery counts as hardware — I'm a huge stationery nerd and have very strong opinions about paper quality. I almost always use a fountain pen (usually of the Lamy Safari variety) and I count Rhodia and Code & Quill notebooks among my few trustworthy favourites. Whatever job I have, I always have a stationery desk setup that attracts comments from colleagues and Epiphany is no different!
And what software?
I've already mentioned that I'm a Windows user although I do understand why people love Linux so much. The distro I've been trying is Linux Mint and I like it a lot!
Day to day I'm a heavy user of MS Office - OneNote, PowerPoint and Excel are my daily staples. I use Trello and Asana for task management and when I'm coding, I tend to use VS Code.
I also value my privacy online — as a result you find me using Private Internet Access as my VPN and 1Password to manage my logins etc., with 2-factor authentication turned on whenever I can. Browser-wise, I've returned to Firefox after a decade-long dalliance with Chrome. I'm uncomfortable with how much of the web's infrastructure Google has ownership of, so I subvert that in small ways when I can! Combined with uBlock Origin, Privacy Badger and Decentraleyes, I am doing what I can to manage my data. Also essential to that are Multi-Account Containers — I use this to help segregate any Facebook activity from the rest of my browsing. I wrote about all this at length here a few weeks ago.
Other software I can't live without would be f.lux, ScreenToGif and PocketCasts — my podcast weapon of choice.
What's your keyboard setup like? Do you use a custom layout or custom keycaps?
Both my Ergodoxen are white Shines with the tilt/tent kit and wrist rests, with Kailh Copper switches. I love clicky switches (Kailh Box Navies and Pale Blues are particular favourites), but working in an open-plan office and living in a flat with paper-thin walls means quieter switches are a must.
Both EZs also use the regular blank, sculpted keycaps. I've looked at getting a different set, but my combination of keyboard layout and desire to stick with sculpted blanks make it tricky. Being able to set my Shine LEDs to whatever sort of gradient I'm in the mood for that day helps soften the blow though!
Layout wise I use a slightly-tweaked Colemak Mod-DH setup. While my typing speed on QWERTY was decent, I couldn't touch-type properly (I would use 3 fingers in some weird claw manner). So when I got the EZ, I taught myself touch-typing with Colemak and while I'm not yet at my old QWERTY speeds, I no longer suffer from wrist pain to the level I once did. I can still type on other keyboards without any issue — I just don't find them very comfortable anymore. We had an ergonomist come in to the office recently and he was very impressed with the EZ and customisable it was!
My current layout is here for anyone who fancies a look — I must have been through about 50 iterations at this point and I always try and use whatever new features get added to the configurator. Right now I'm loving the hold-to-shift feature and being able to use a different LED colour to indicate the layer I'm on.
My home EZ is also accessorised with some custom neon turquoise cables from Pexon PCs. So pretty and a nice way to further beautify my desk!
What would be your dream setup?
I'm not far off it really! I would love a sit/stand desk — I have arthritis in both my hips and so being able to change position frequently would help. I'd love one of the fancy ones with electronic controls and a monitor stand. Uplift don't sell desks in the UK, but there are companies who do. I may have to treat myself in the future.
I'd also love a bigger monitor — not massively larger, but maybe 28" or so — sometimes I find myself wishing for slightly more real estate, but I am so very happy with this one. I see a few people who use Hue lights or something similar to light up their surroundings — something like that would also be pretty cool!
The only other thing I'd love would be some sort of travel ErgoDox! When I travel I try to pack light, so I head off with a small Logitech K810… but would love a smaller Dox and/or a case to take on the road with me!