The people who use our boards.
Tristan Owen
Funeral Director
Who are you, and what do you do? What do you like to do outside of work?
My name is Tristan, but most call me Tris. I'm a funeral director and business owner of our family firm in beautiful North Wales. I recently moved back to the area after travelling the world for eight years with a larger company as a business systems manager and process improvement specialist. I love my job, which is a great combination of rewarding interactions with all sorts of people and behind-the-scenes organisation and coordination that are critical to support the families we help during a difficult time.
Outside of work, I've currently been making the most of the local countryside during lockdown, but also enjoy gaming (Path of Exile primarily), playing chess (online, mostly at lichess.org), and also getting involved in the local community and events.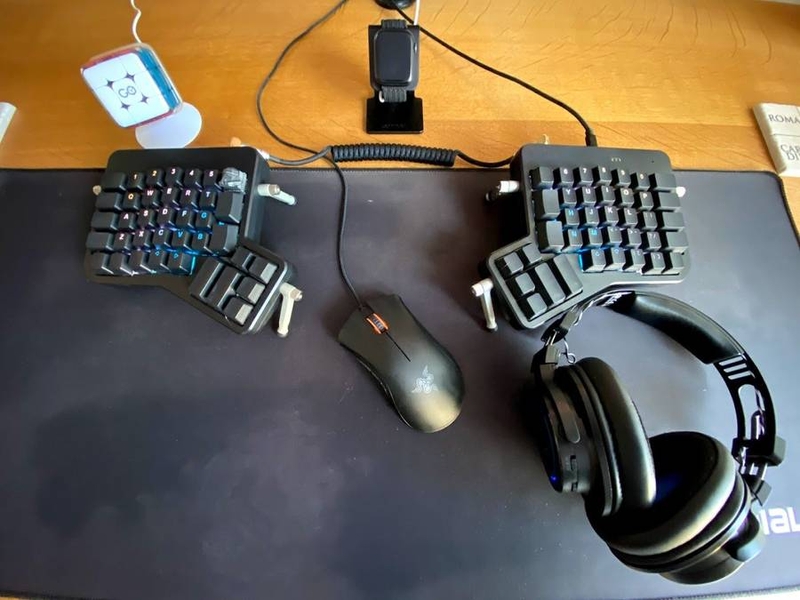 What hardware do you use?
I have two desktop builds, one at work and one at home. Both are dual-screen setups with a split keyboard, a big mousepad, and centred mouse.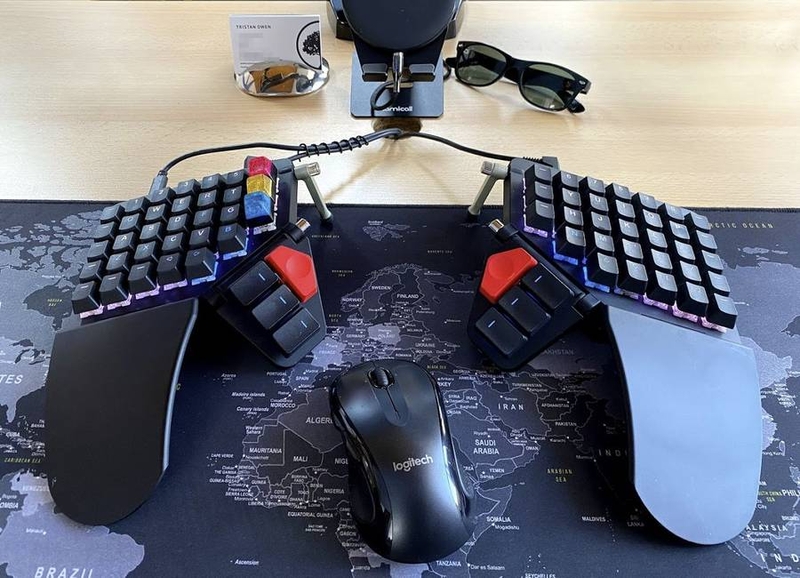 My work setup is still a work in progress, but is where I use my Moonlander alongside a pretty standard wireless mouse on a FlexiSpot height-adjustable desk with two old monitors side by side.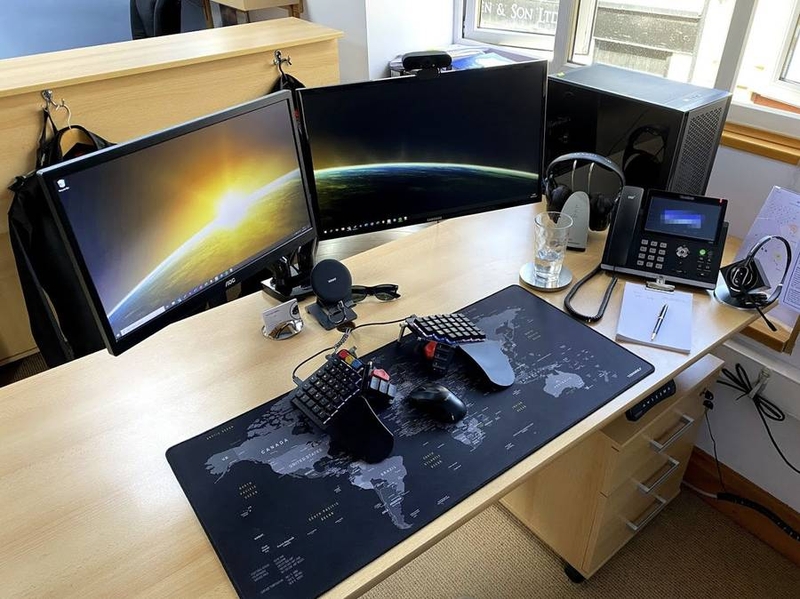 My home setup is where I have the EZ, alongside an aging gaming rig, Razer wired mouse, and Audio-Technica wireless headset below two 24" Dell monitors.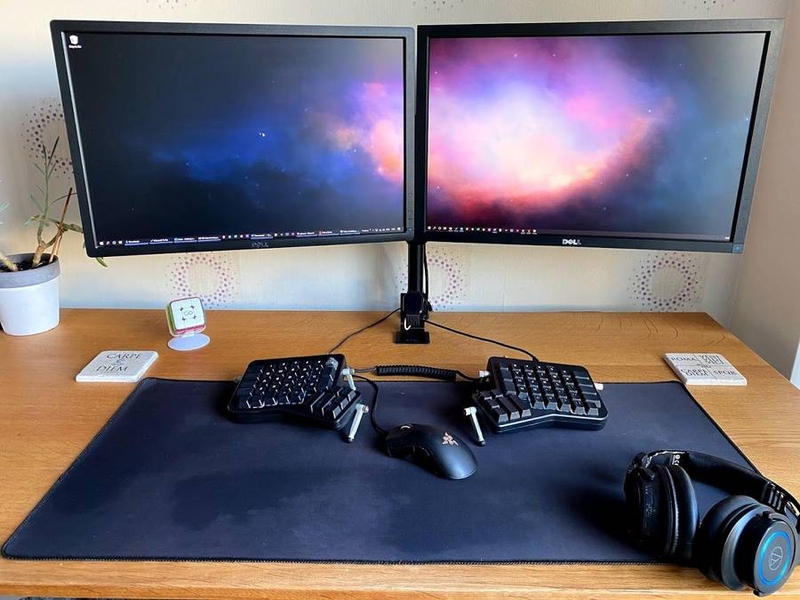 I use my mouse in between the two sides of the keyboards because I enjoy the symmetry, and the positioning is much more natural to me now that I'm over the initial learning curve.
And what software?
Nothing too fancy here. Both desktops are Windows 10. I dabble in Photoshop, and the funeral management software I use is something I've "developed" using SharePoint, Microsoft Flows, and Power Apps. For the occasional coding I do, I use notepad++.
What's your keyboard setup like? Do you use a custom layout or custom keycaps?
I have an ErgoDox EZ at home and a Moonlander at work.
On the Moonlander, I've recently swapped the Cherry MX Browns with some Gazzew Boba U4 silent tactile switches, which feel amazing and are a lot quieter, but still have a very satisfying noise. The quieter noise works well in the office, and I can honestly say that they feel great—strangely, I can also type faster on them than the Cherry MX Browns, but I couldn't tell you why!
I have a few artisan keycaps I liked the look of, and I am still keeping an eye out for a full set of keycaps that suit my style, but generally enjoy the default caps that come with both boards.
On the EZ, I'm still running regular MX Browns, although I plan to change that soon, with an awesome custom cable from Pexon PCs, and a Stormtrooper artisan, which reminds me of when I first started learning to type on the EZ and my accuracy was terrible!
Layout-wise, I keep the two very similar, with the obvious difference of the extra keys on the EZ. I've stuck with a modified QWERTY layout, making use of a few tap-dance keys, simple shortcuts, and a Symbols layer that is customised towards UK symbols. I like to be efficient when working, but don't have any specific requirements beyond that.
Some of the tasks I do are repeated a lot, for example filling out forms and other data entry. The flexibility that Oryx gives me, coupled with the ability to make changes pretty much on the fly, are a few of my favourite things about the keyboard.
What would be your dream setup?
I enjoy clean, uncluttered working environments that make it easy to do what I need to do, so a wireless Moonlander would be amazing. I don't know what switches yet. I'm keen to try some silent linears, as a good friend has recommended them. Beyond that, anything that makes communication and organisation easier suits me at work and mostly carries through to home and play as well, although I'd go for a big ultra-wide screen and higher performance on that front. To top it off, give me an epic view out of a nearby window, and I'm all set!