The people who use our boards.

281 interviews

 

since 2018
Susan Lin
Mintlodica, Artist and Designer
Who are you, and what do you do?
I'm Susan, better known by my studio handle Mintlodica. I make art in all mediums: code, paint, pixels, and whatever else seems interesting. I work as a designer for a living. What I do ranges from user experience to front-end development and design leadership.
What hardware do you use?
I spoke with @waferbaby on Uses This almost 3 years ago! Things have changed since then.
I dock my silver Macbook Pro 13" (no touch bar, please) to my Dell 4K P2715Q 27" Monitor. I prefer it for its ample ports and matte screen. I use the one monitor sitting on the Grovemade maple stand and work with my laptop shut.
For peripherals, I have two ErgoDox EZ, one for home and one for the work office. I prefer the blue switches for their productive noises, but keep the reds at the office as a gesture of mercy. To navigate, I use the small wired Evoluent ergonomic vertical mouse and a padded mouse pad still for extra support. It happens to be a spicier now that it features an anime character. My left hand may do the scrolling using a magic trackpad. Offsetting tasks to my left hand keeps my right hand's cubital tunnel in check.
My desk is now an UPLIFT standing desk featuring a beautiful slab of 80x33" ash wood on a white motorized frame. I still sit on the turquoise Mirra 2 chair and love it. My current home set-up has my desk flanked by MUJI stacking shelves in walnut. The shelves stock my library, finished art pieces, supplies, and treasured objects.
For watercolor commissions, I use professional quality Schminke paints. This ensures my clients receive the most vibrant and colorfast pieces. My preferred watercolors paper is Strathmore. I've been into Posca markers lately and draw with them on hot pressed watercolor paper. I own tools for every art medium, but these are the physical tools I've used the most lately. Worth mentioning: My Copic Markers are precious to me. They were the first things I bought with my first paycheck ever a decade ago.
I pour myself tea with a gaiwan while working. My favorite teacups are from Studio Arhoj and my favorite water kettle is MUJI's. I'm into highly oxidized white teas and 'milk' Chinese winter sprout oolong is my old reliable.
And what software?
I use the run of the mill to design: Sketch, InVision, Photoshop, and Illustrator. I don't have strong preferences about design software and will default to the team for easier collaboration. I use Pixen to do pixel art. The minimal interface keeps me focused on the task. I code in Atom with Fairyfloss. I still prefer iTerm2.
I use ExpressVPN to abstract my location. Please make sure your security practices are up to date. If you're seeking a crash course, I'm writing about this very topic for my newsletter. I make sure to set two factor authentication (2FA) on everything and use 1Password. I have uBlock Origin and Privacy Badger installed. I browse the web in Chrome with cookies disabled. I wish I could turn off Javascript, but it'd make it hard to do my job since it breaks almost everything on the web. I'm wary of start-ups folding, so my commonplace notes are in plaintext.
What's your keyboard setup like? Do you use a custom layout or custom keycaps?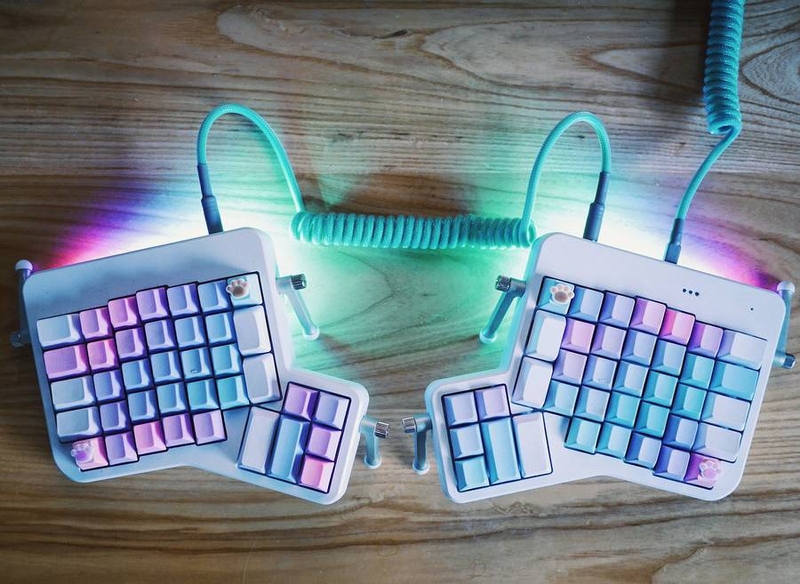 Yes! That's the fun of it. Before this, I typed on Kinesis boards. They were functional, but so ugly. I'm not interested in soldering my own boards yet, so the ErgoDox EZ is perfect.
My main board has NPKC Sunset Blue Gradient blank keycaps. I've always been able to touch type and switched to Dvorak. Thus, legends are meaningless and in the wrong places. I type with this lightly modified layout which maps on the software level. My board has two sets of paw keycaps. Finally, it also has two custom curled Clark Kables. My favorite LED configuration is the mint to magenta gradient.
What would be your dream setup?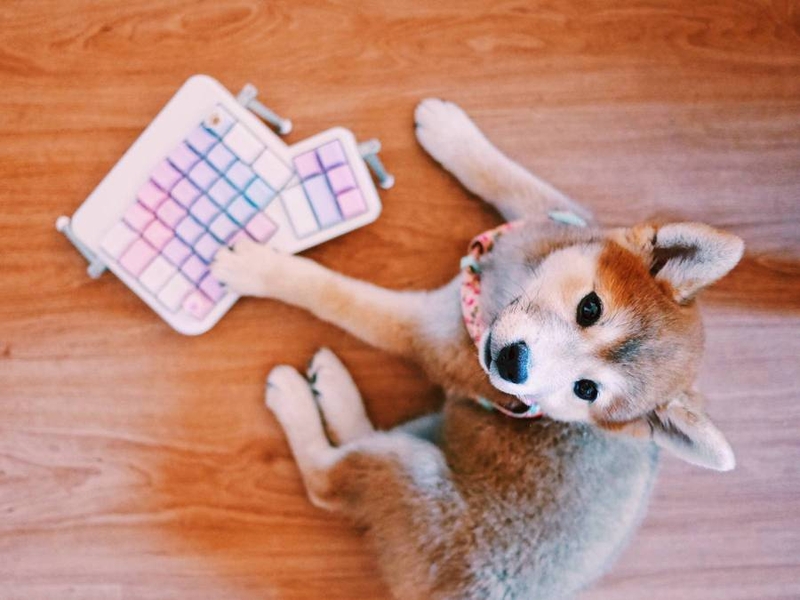 I'm still vying for that MUJI home. My final set-up desire would be to plastic mold inject pastel keyboard bases. How dreamy would those be? And ending on the best update: I have the dream dog now. She is a Mame Shiba Inu named Mango Roll.