The people who use our boards.

272 interviews

 

since 2018
Melissa Ong
Musician and Music Educator
Who are you, and what do you do? What do you like to do outside of work?
Hi everyone! I'm Melissa, a music performer and educator from Singapore. My full-time job at the moment involves working with a team of eight colleagues to support music educators across the nation in their professional development. That includes facilitating workshops, authoring articles, editing publications, filming and editing videos, arranging and producing music, organising events, mentoring teachers, administrative work, and performing.
At the same time, I'm also pursuing my doctorate in music education via distance learning, tutoring the national university symphony orchestra, and teaching private cello lessons. I occasionally take on other gigs as well, such as concerto adjudications, performances as a professional cellist, producing educational resources in partnership with the Singapore Symphony Orchestra, and speaking on panels, seminars, and podcasts.
In my spare time, I love tinkering with mechanical keyboards. Keyboards are very important to me because of how much time I spend on them! I also enjoy snapping photos with my Sony mirrorless camera (not too great at editing though), fiddling with fountain pens, and playing games on my Nintendo Switch with my partner.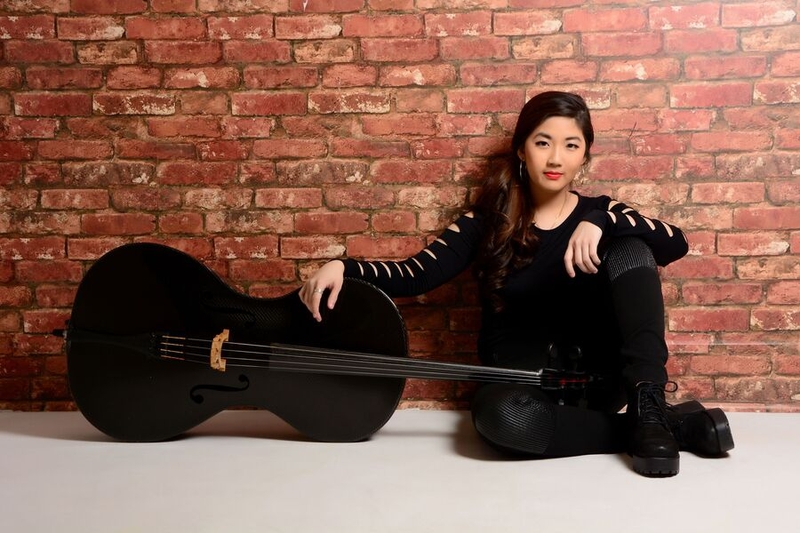 What hardware do you use?
I use an Omnidesk Ascent Wildwood standing desk with a Pheasantwood top, which has been a massive upgrade to my setup, as it comes with in-built trays that have vastly improved my cable management. The wood grain patterns are gorgeous, and the height customisability has also vastly improved my comfort and focus throughout the day.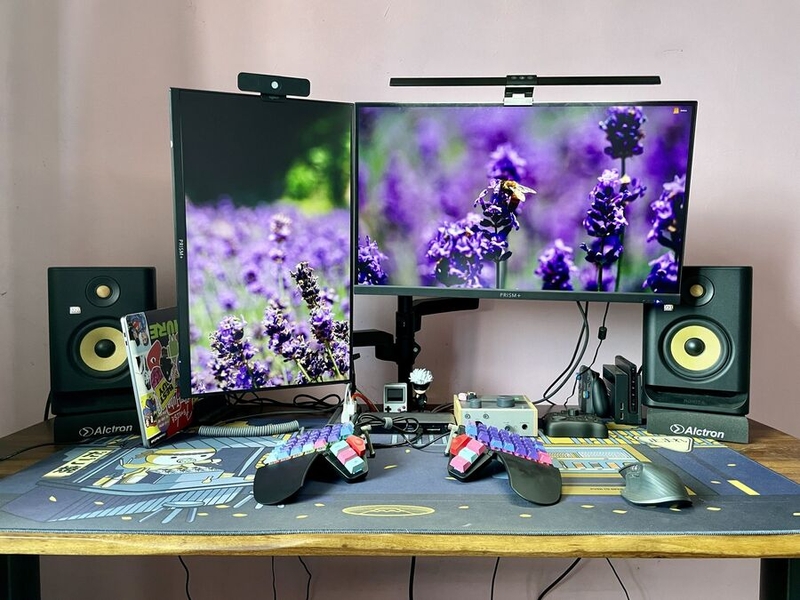 As a musician, audio is very important to me! I use a pair of KRK Rokit 5 speakers, which sit on Alctron speaker form isolators and are connected to my MacBook through a Volt 176 audio interface. I also have a Sennheiser HD598 hanging on the right of my desk, which is in rotation with other headphones like the AKG K702 and Sony MDR-7506, and Sony WH-1000MX5 when I want to listen to Sony 360 tracks. Not pictured here is an Arturia KeyLab 61 MkII and a Native Instruments Maschine Mikro Mk 3, which I also use fairly often.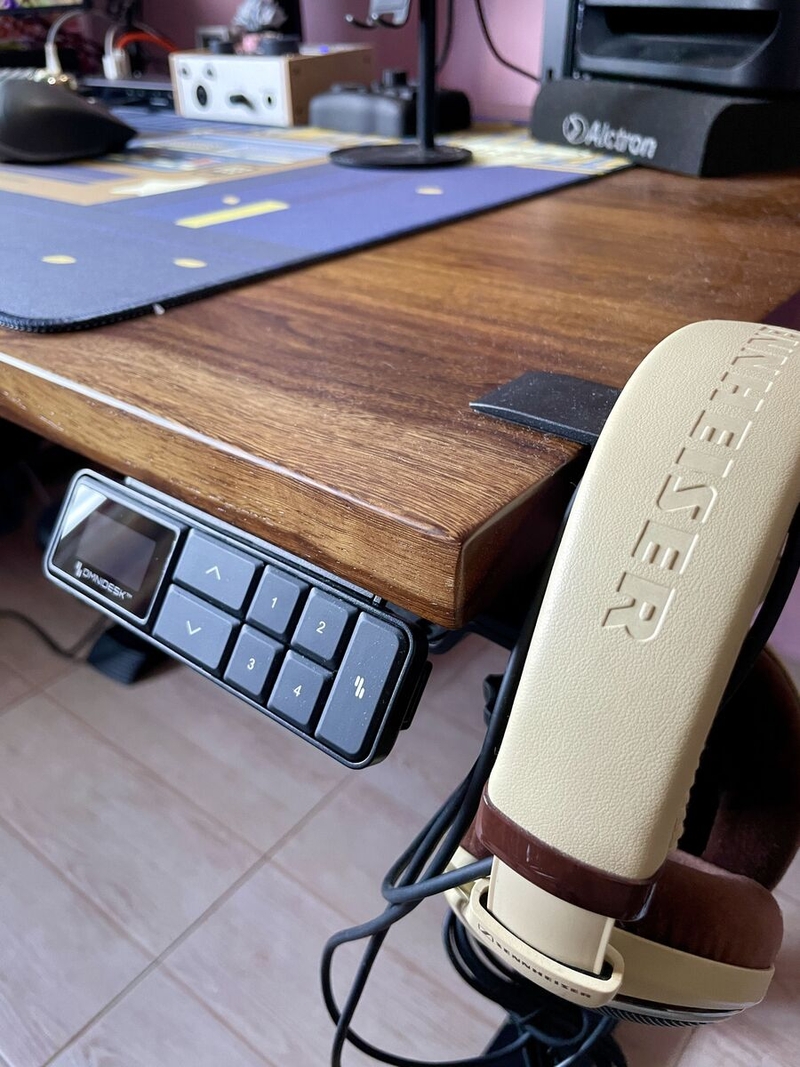 The TourBox Elite is also used fairly frequently—whenever I need to do any kind of audio or video editing—so it has a permanent place on my desk. My Nintendo Switch dock and controller are also situated near the right KRK speaker for easy access.
When videoconferencing, I use a Logitech C925e webcam and a Blue Yeti microphone sitting on a microphone arm on the left of my desk. Since I only use it for meetings and not for recording projects, I like having it out of the way but still easily accessible such that I can just easily pull it to the center of the table when I need it. The keyboard I'm using is the ZSA Moonlander, which was the first ergonomic keyboard I had ever gotten and which is still most effective in allowing me to type for long hours without fatigue.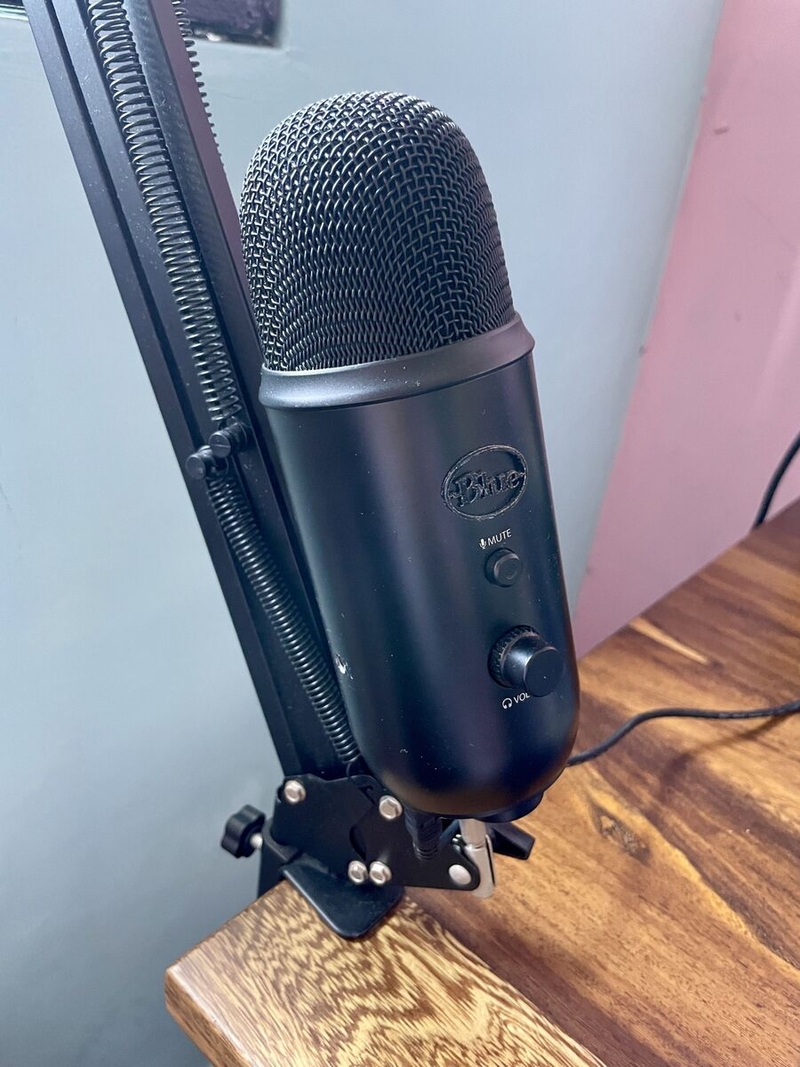 Central to the entire setup is the Belkin Thunderbolt 3 Dock Pro, which connects my 2018 MacBook Pro 15" to all other peripherals, including an Acasis 10-in-1 USB hub (which in turn connects to my Apple Watch charger, the Volt 176, KRKs, webcam, Blue Yeti, Logitech MX Master 3 mouse, Sandisk SSD, and Moonlander) and the PRISM+ W240 and W270 monitors. Since my work in research involves going through many documents, I have the W240 vertically oriented for easier reading. The W270 remains horizontal for other programmes such as slides, Final Cut, and Logic Pro. To help illuminate the screen and my desk, I also have an Omnidesk Lumence monitor light bar which is plugged directly into the USB port of the W270. Both monitors are attached to a HUANO dual monitor stand. The monitor stand helps me to position the monitors at eye-level, and I try to do so without blocking the KRKs as far as possible.
Finally, three aesthetic items: the Elago W5 Apple Watch Stand, which resembles an old-school Game Boy, a mini figurine of Gojo from the anime Jujutsu Kaisen, and a large keyboard-themed desk mat I got off AliExpress.
And what software?
The main apps I use are largely part of Microsoft's suite of products, including Word, Excel, OneNote, and PowerPoint. These are used to support my work in research, crafting lesson plans, writing resources, preparing shares and presentations, and computing budgets and schedules. I also use OBS and Loom when I need to record any video resources.
For music software, my preferred Digital Audio Workstation (DAW) is Logic Pro X, though I also use GarageBand, since some of the teachers I work with do not have Logic Pro. I am also slowly trying to familiarise myself with Ableton Live, and I use Audacity for quick editing. When connecting my guitar, bass, or electric cello to Logic through the Volt 176 interface, I like to run them through the effects on Tonebridge, as it makes it so convenient to quickly find, use, and adopt the sounds that were used on popular recordings.
The notation software I use are Sibelius and MuseScore; I'm much more familiar with the Sibelius interface, having used it since I was a student, but MuseScore is incredibly convenient due to its web-based capabilities. I also love that the newest version bridges notation software and DAWs!
For music listening, my preferred app is Tidal, but Spotify is still necessary, as many Asian songs aren't on Tidal yet. I also use eqMac, which allows me to customise the eq of all audio I play on my Mac, customising it to suit my personal listening preferences.
Finally, since I got Logic Pro and Final Cut Pro together as part of a bundle deal, I also use Final Cut for video editing.
What's your keyboard setup like? Do you use a custom layout or custom keycaps?
I use two custom keyboard layouts; one for Windows and the other for Mac. I don't think I've customised them too much from the original layout that came with the keyboard—I can't recall how much I've edited now, as I kept making small tweaks to the layout as I got to know the keyboard and my needs better. But I do really like having the Command/Control key operated by my left thumb, rather than in traditional keyboard layouts, where my left hand cramps up from doing so many Ctrl/Cmd + C/V/A/S combinations to do basic functions like copy, paste, select all, save, etc.
I also don't really use macros, because much of my editing work is supported by a TourBox Elite controller. So the Moonlander's function in my work is really more on ergonomics, as I've never felt any kind of strain or fatigue from using this for hours of typing on end.
I like to switch out between different keycaps, as I do get bored of having the same set on for any extended period of time. For the Moonlander, I tend to prefer lower-profile keycaps as compared to higher ones like SA, MT3 or DSA, as I find that those cause too much extension in my wrist to be comfortable. I'm currently using KeyTok Back In the Game keycaps, which I think pair well with the black of the keyboard.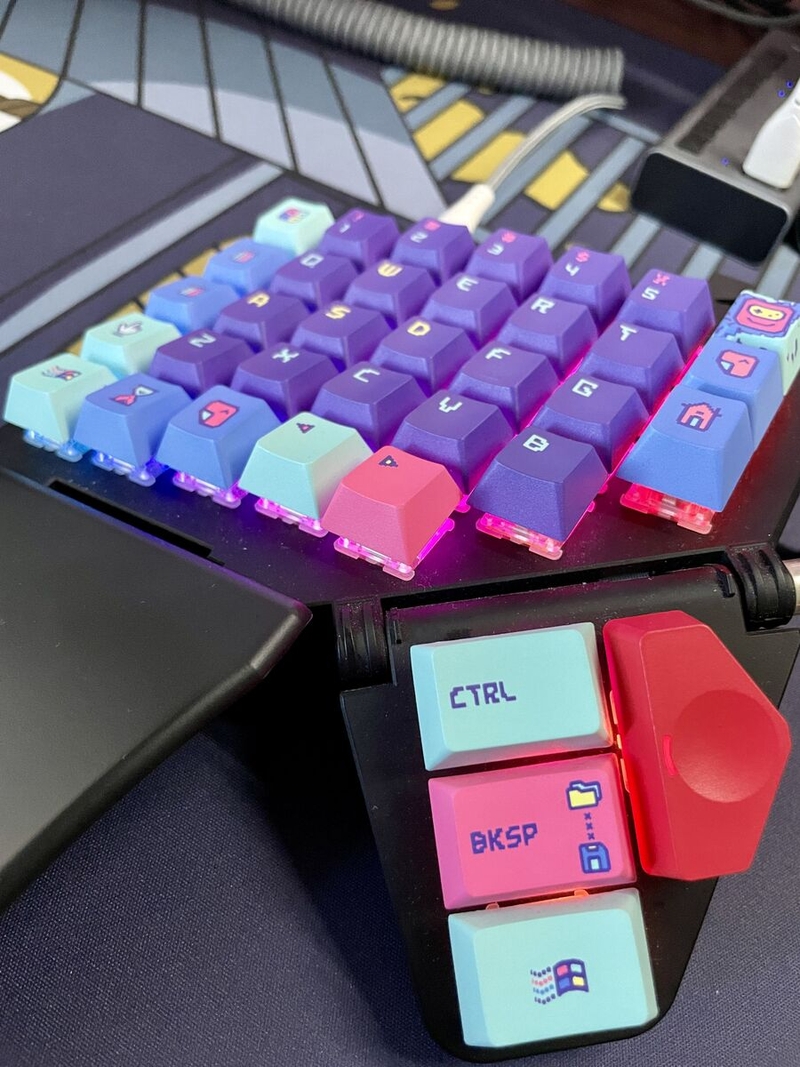 What would be your dream setup?
I think the main thing that is lacking at the moment is having shelves or a pegboard where I could display other keyboards and smaller items like figurines, memory cards, and Switch game cards.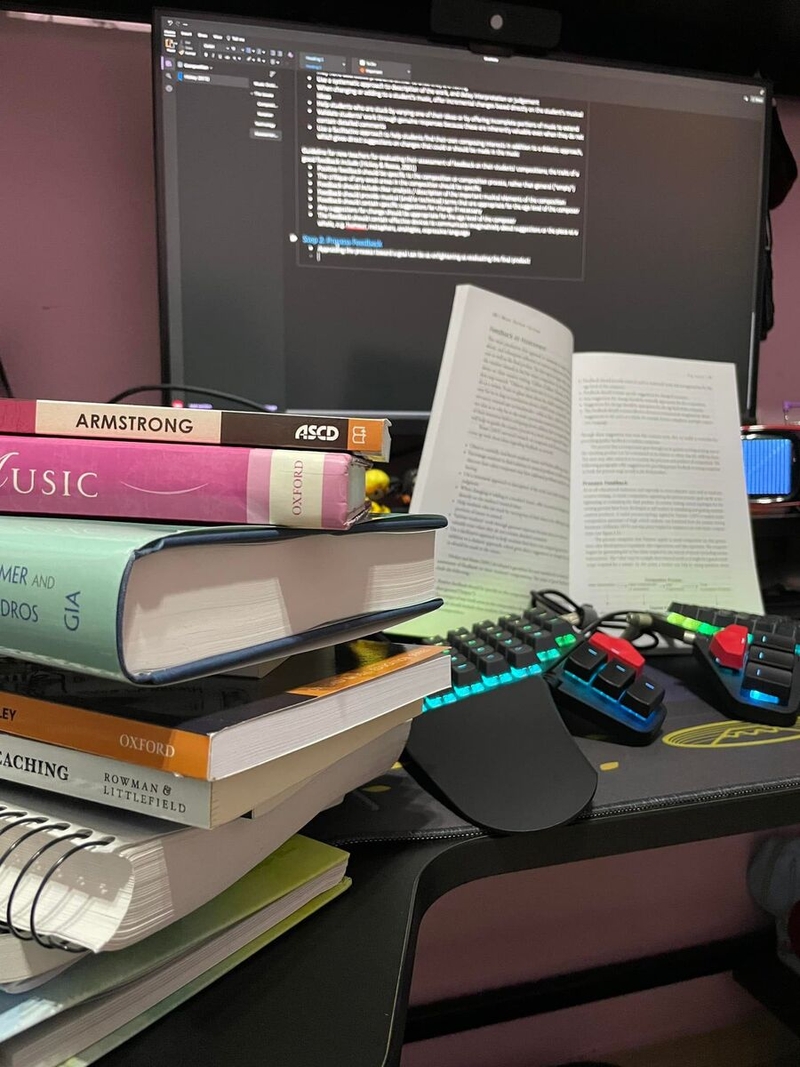 Ideally, I'd also like to switch out my MacBook for a Mac Studio, as I find it a hassle to always have to fiddle with the cable to connect the MacBook to the docking station. However, since I do not work exclusively at my desk, a MacBook is still what's needed at the moment to allow for mobility.