The people who use our boards.
Maas Lalani
Developer Intern @ Shopify
Who are you, and what do you do? What do you like to do outside of work?
I'm Maas, a 20-year-old developer intern at Shopify and a third-year computer science student. I'm a part of the Dev Degree program at Shopify, which allows me to work and go to school at the same time. At work, the program allows me to switch teams within Shopify every eight months. Currently, I'm a part of the Infrastructure Security team, and before that, I worked on the Augmented & Virtual Reality team.
Outside of work, I love to build side projects. So far, I've launched ten products on Product Hunt. They include Just Focus, a simple website blocker; Founder Rewind, a collection of old interviews from founders of successful companies; and Hawkeye, an eye-tracking application using only the TrueDepth camera on iPhones. I also love to build random tools and things that I put on my GitHub.
Other than that, I also enjoy playing board games, watching YouTube videos about technology, and going on walks around my neighbourhood.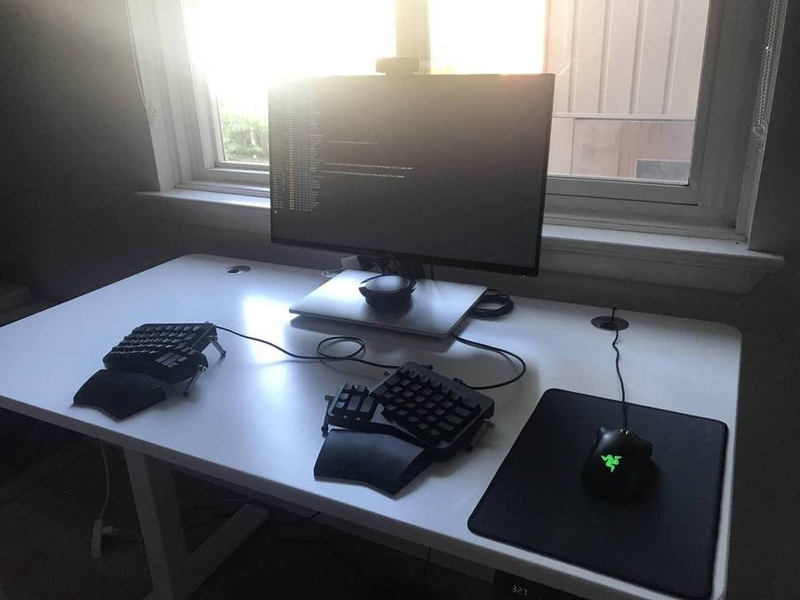 What hardware do you use?
I use a 15-inch Macbook Pro with 16 GB of RAM and a 2.6-GHz quad-core i7 processor connected to a Dell 27" monitor. Both of these sit on the Autonomous SmartDesk 2.
For videoconferencing, I use a Logitech C920 HD Pro 1080p webcam and a Jabra Speak 410 microphone/speaker.
My mouse is a Razer DeathAdder Essential, and of course, I use the ErgoDox EZ as my keyboard.
And what software?
I try to spend as much of my time inside of a terminal as possible. The terminal emulator I currently use is Alacritty. For terminal window management, I use tmux, and Zsh as my shell. For coding, I use Neovim as my text editor.
I spend an unreasonable amount of time configuring these tools to my liking.
I use Amethyst on MacOS as a tiling window manager. I also use Thor, which lets me set up hotkeys to launch Alacritty, Brave Browser, Slack, and any other program.
What's your keyboard setup like? Do you use a custom layout or custom keycaps?
My keyboard is the ErgoDox EZ that comes with black unprinted keycaps and Cherry MX Brown switches. I don't use any custom keycaps, since I really love the minimal style of the ones that come with the EZ. While I was waiting for my ErgoDox EZ to arrive, I decided to switch to the Colemak keyboard layout. It was a pain to learn the new layout at first, but it was definitely worth it.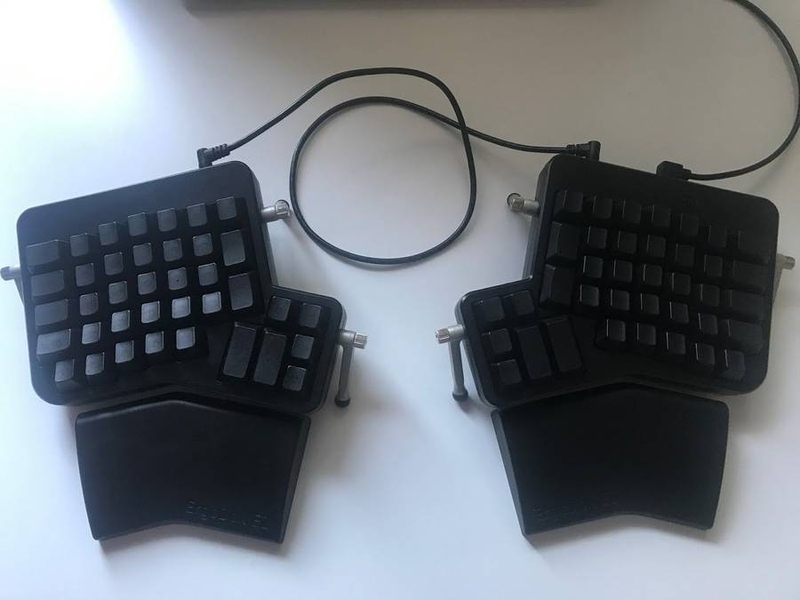 What would be your dream setup?
My dream setup would look a lot like the one I currently have except having no visible cables. I love the idea of everything being wireless and having a super-clean look. I still have a lot of work to do in terms of cable management, though.