The people who use our boards.
Farid Khan
Chief Plant Operator
Who are you, and what do you do? What do you like to do outside of work?
My name is Farid Khan. I am a water treatment supervisor at the Los Angeles Department of Water and Power. I have the privilege of working with a team of diverse professionals who take immense pride in making sure the water served to the residents of and visitors to the City of Los Angeles is safe to drink. While work consumes a great deal of my time and I enjoy the dynamic challenges it presents, there is nothing I enjoy doing more than spending time with my family. I like swimming, bike riding, camping, hiking, kayaking, watching commercial-free TV, and traveling whenever possible. I also enjoy reading and writing, but don't seem to have enough time for either lately. And I love anything and everything tech, which is part of the reason I became so interested in the mechanical keyboard world in general and the ErgoDox EZ in particular.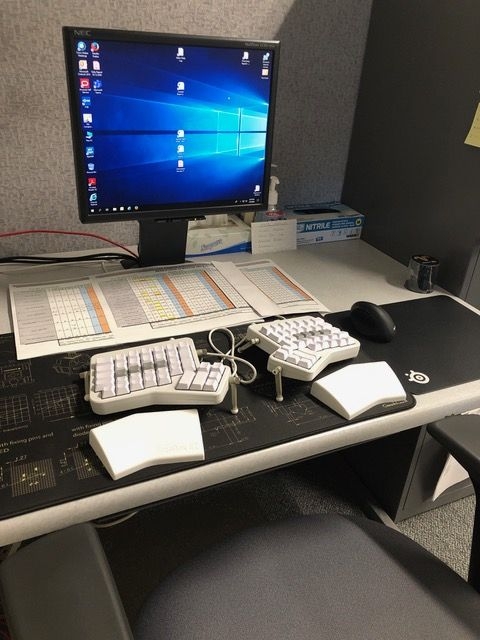 What hardware do you use?
At home, I use a MacBook Pro Retina 13" mid-2014, which in my opinion, was one of the best models of recent years. Unlike the newer models, it still has a MagSafe power connection, and the Apple logo lights up. Its performance is still as fast as the day I bought it! I feel that Android offers far more versatility and features than iPhone, and I owned a Pixel 2 XL for a while. I absolutely loved it, but I dug deep and discovered the degree to which Android does not respect user privacy. I felt the services provided did not balance out the privacy they asked the user to sacrifice. So I hesitantly reverted to using an iPhone 8 Plus. I am not interested in the new iPhones because I do not trust Face ID, and I abhor that unsightly notch; I intend to hold onto this phone for as long as I can. I have an Ergonomic Touchpad by ETPA but haven't figured out the best way to incorporate it into my workspace just yet. Once I do, I look forward to using scroll a lot less on my mouse, thereby preserving my wrist strength even more. In my home office, I have a Clatina Ergonomic High Swivel Executive Chair with adjustable-height 3D arm rest, lumbar support, mesh back, and headrest.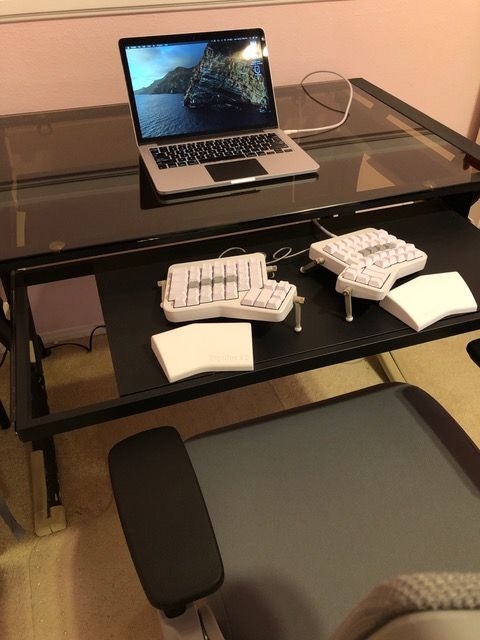 At work, I use a Windows 10 desktop with a Core i3 3.60 GHz processor and 8GB RAM; nothing too impressive, but it gets the job done. I am using a single NEC MultiSync LCD1770NX monitor and I will be adding a second (exact same) monitor to my setup soon. I currently use a Jelly Comb wireless vertical mouse, but I have an Evoluent Vertical Wireless Mouse D on order. I normally use black devices; I like the stealth look, which allows me to focus on the content instead of the device.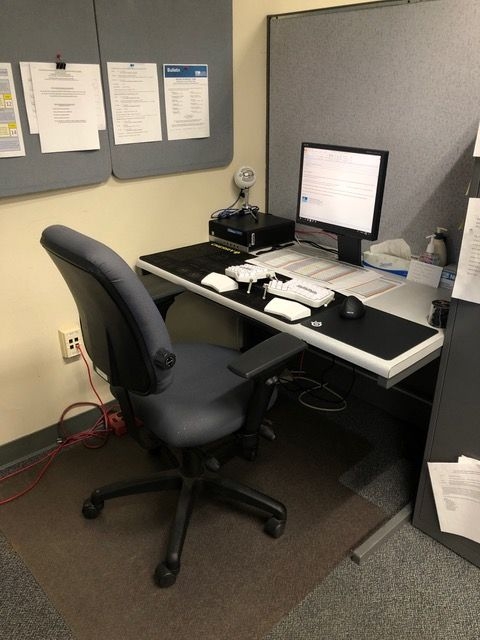 But I chose white for my ErgoDox EZ Glow because it looks elegant and I wanted it to be the centerpiece of my setup. I keep it on an MX Cherry-themed 90cm x 40cm desk pad in order to achieve the proper look as well as dampen the sound a little. Previously, I used the Microsoft Natural Ergonomic 4000 keyboard, which is not a bad keyboard overall. But it is too wide with the numerical pad built in and was causing my shoulder to hurt after a long day of using the mouse with poor ergonomics. While it served me well for many years, it was time for me to move on. I did a lot of research before getting the ErgoDox EZ. Truth be told, I hardly knew the depth of the mechanical keyboard cult, err, I mean community :-). All jokes aside, after considering ergonomics, quality, and customization, I chose the ErgoDox and I am sure glad I did! The ability to go home after a full day of heavy typing without pain is priceless! When using the ErgoDox at home, I hook it up via a Kraken aviator cable because of its quality, aesthetics, and versatility. So, yes, you guessed correctly: I am interested in making my own keyboard from scratch sometime in the future, just for the fun of it!
And what software?
I don't use any specialized software. Most of my time is spent in Microsoft Outlook, addressing an avalanche of emails. I also use Excel, Word, PowerPoint, Acrobat Reader DC. Due to COVID, I have been using Webex and Microsoft Teams a lot more. With the customized layout on my ErgoDox, I am able to enjoy a much more efficient workflow. It is so nice to be able to use single keystrokes to zoom in and out, rotate images and documents, make annoying menus disappear, and use Auto Shift to just keep typing without too many finger acrobatics.
What's your keyboard setup like? Do you use a custom layout or custom keycaps?
As I mentioned, I chose the white ErgoDox EZ Glow. I spent a lot of time thinking about the key switches and chose the Kailh Coppers for their quiet, tactile feel, and low actuation force. I went through at least 40 renditions before settling on my final layout, which I named "QWERTY Basic Windows." I added the blank sculpted keycaps, which feel amazing! I've never been a full-fledged touch typist, but I figured it was high time for me to learn. With practice and discipline, I became accustomed to it faster than I expected.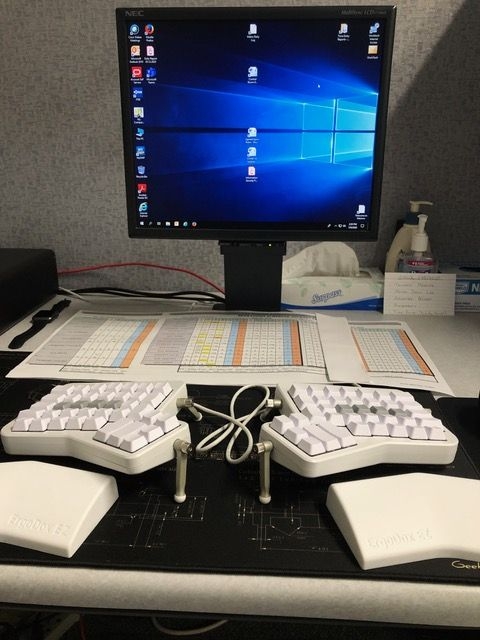 I had fears of accidentally spilling liquid on the keyboard and ripping off all the keycaps before shoving the hardware into a sack of rice, so I labelled the bottom of each blank keycap to match the chart provided by ZSA Technology Labs, just to be safe; I also made a dash to mark the orientation towards the back of the keyboard so the keycap will always be positioned correctly. I bought the white wrist rest wings and the tilt/tent kit, which were the finishing touches to the ergonomics of this product. I am now able to type at the optimal shoulder width and wrist angle as well as use the mouse without having to flare out my elbow or shoulder. I absolutely love how customizable this keyboard is both inside and out. While the majority of the keyboard is outfitted with Kailh Coppers (which are wonderful, by the way), I put a clicky Kailh Box White under the Caps Lock, a heavy Cherry MX White under the Oryx key, a resistant Kailh Box Black under the Escape key, and Cherry MX Clears under the center keys to avoid accidental presses. I looked for a few custom keycaps, but nothing interested me. I would love to add a Kailh logo keycap to the escape key, since it looks like something out of Star Trek, or an Oryx symbol on the Oryx key (I hope Erez puts one out there!), but I haven't seen anything like that in the wild.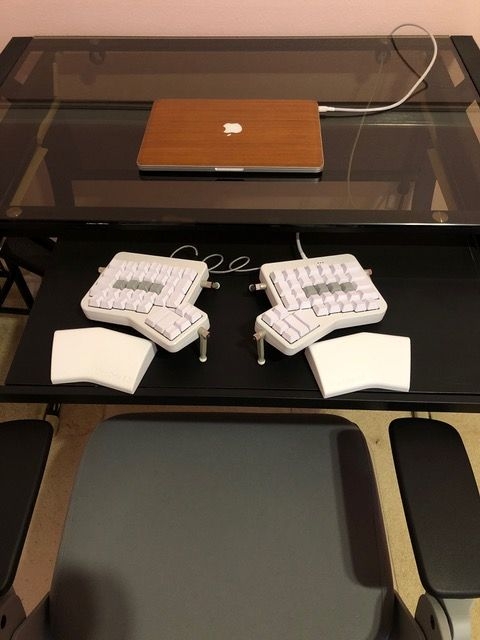 Lately, I have been exploring methods to lubricate key switches for an even more buttery-smooth operation, especially with the MX Cherry Clears, since they feel a little "crusty" when depressed from an angle. I know to be careful, of course, and will be experimenting on spare switches before doing anything crazy to the whole keyboard. I also intend to play around with O-rings under the keycaps to test their sound dampening effects whenever I am typing hard and bottoming out the keys. It's something I have been trying to avoid lately, but it still happens.
What would be your dream setup?
I have arranged for better lighting and a ledger-size document holder, for starters. I am interested in the WorkRite Leader6 keyboard tray system for future sit/stand ability and dual monitor adjustment arms for the same reason. My dream setup would include a motorized sit/stand desk, dual wide-screen curved monitors, and a laptop with a docking station. I know this will eventually come to fruition, but it will take a little time.