The people who use our boards.
Luis Ventura
Full Stack Developer @ Applaudo Studios
Who are you, and what do you do?
Hello! I'm Luis Ventura aka azimech49 and I'm a full-stack developer, with expertise in Android and Node.js. I live in El Salvador, working for one of the best software companies in the region. I also try to push my own company, creating mobile solutions for local businesses. It's a one-man army mostly, and I love to get involved personally with the projects, because I like to deliver a high level of quality, and such is only achieved when you treat every little detail as your own. I'm also an avid PC gamer since the 90's.
What hardware do you use?
I use an Acer Aspire R15 laptop from the company, which is more than enough to develop on a daily basis. For my personal projects, I have a trusty 2015 MacBook Pro beside me almost all the time. I always carry my ErgoDox EZ, paired with a Kensington Orbit Trackball and it's amazing how comfortable it feels, and productive… and have I mentioned how comfortable it is? Offloading some tasks to the left hand keeps me from getting tired. Sometimes we organize flash LAN parties, so I keep a Razer Orbweaver at work just in case.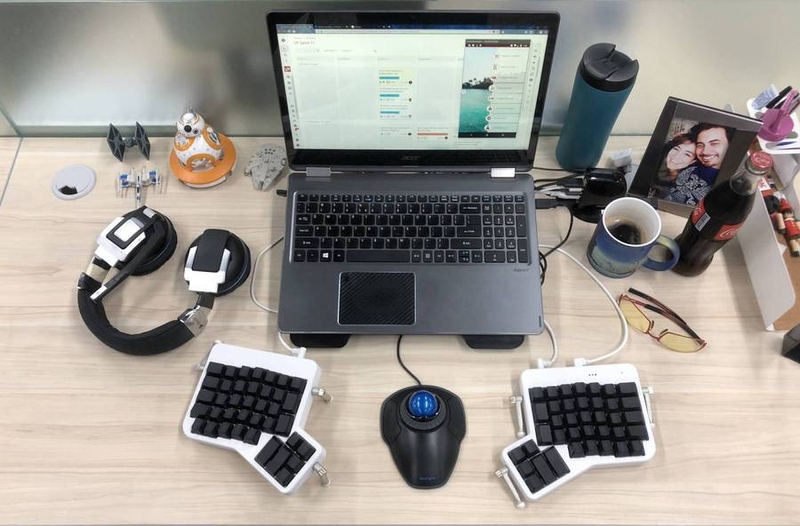 At home, my gaming PC is good enough to play the latest games at Ultra settings at 1080p. It's a Ryzen 5 1600 CPU with a Corsair H100i, 16GB DDR4 RAM, a hybrid GPU setup with 2x Crossfire MSI Armor RX 580 8GB and an old Gigabyte GeForce GTX 660 2GB for PhysX. All of that lies inside a CM Storm Scout II Advanced case, along with 3 meters of RGB led strip. My monitor is a glossy Dell S2440L 24" with a Woodenshark Lightpack as smart backlighting. Party mode on!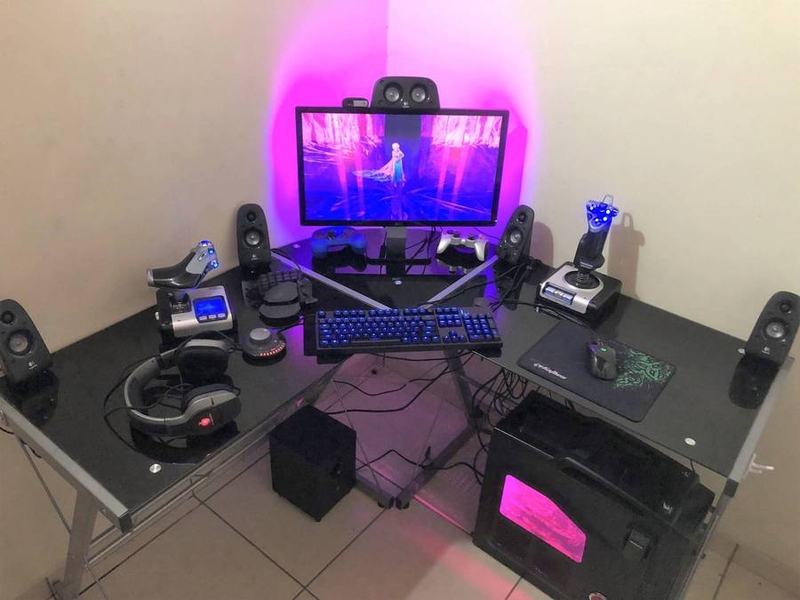 As for peripherals, I may be a little too excited about it. My main gun for years is a CM Storm Inferno, along with Noppoo Choc Pro with Cherry MX Red switches. For years I've used a Belkin Nostromo N52 SpeedPad for almost every game. My gamepad of choice is the Steam Controller, and a Logitech F710 for a more standard profile. I'm a fan of space simulators, so I also have a Saitek X52 Flight Control System to get as immersed as possible. As a headset, I use a pair of Fostex TR90-80 semi-open studio headphones, with an Antlion ModMic 4, and both go through an Astro MixAmp gaming DAC. Some older joysticks, gamepads and keyboards lay around in boxes, like a Logitech Xtreme 3D Pro, a MS Natural Keyboard 4000, two older MS Elite Keyboards, and an MS Ballpoint Serial mouse, and even some Guitar Hero guitars; the list keeps going. I need help.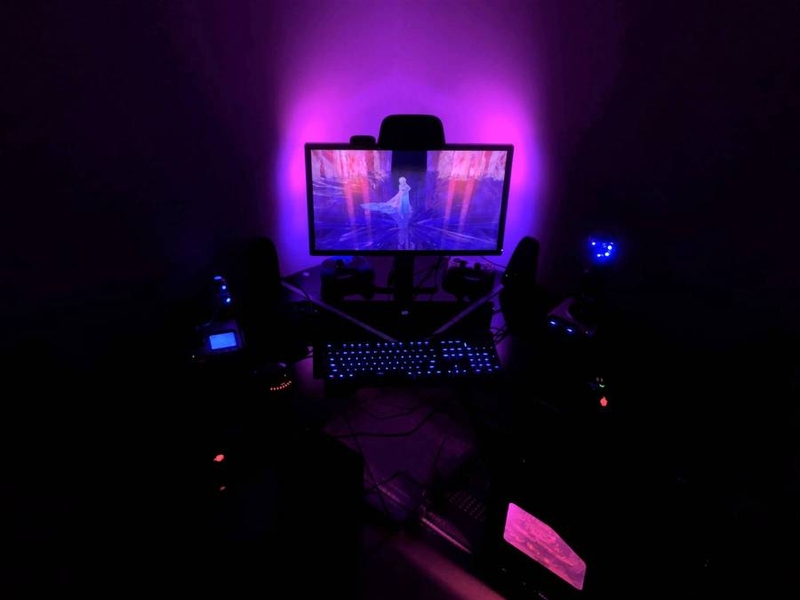 About a year ago, I was planning to make my own keyboard with the layout I wanted, using a Bluetooth controller, making my own molded keycaps and everything else, but after evaluating the cost and the effort, I decided to find a suitable keyboard for my needs. After a long research, I got two candidates, the ErgoDox EZ vs Keyboardio's Model 01, but the ErgoDox was the final choice after taking into account the large community and maturity of the firmware overall, and how customizable it is, because I like to express myself in the every part of my gear. It can be simple or flashy as you want, and that's great. It fits with different moods and lifestyles, and I totally love it.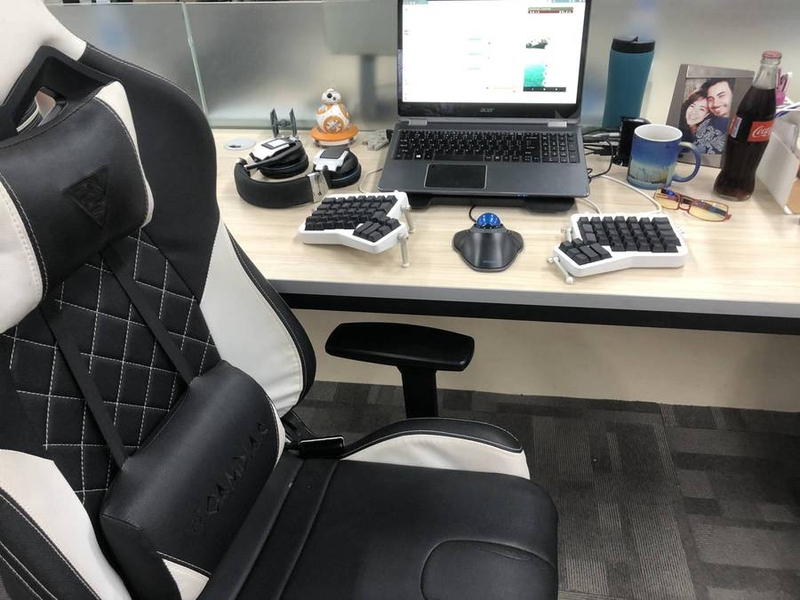 And what software?
My primary IDE is Android Studio, which is simply the best for Android development. The current Android emulator is enough to test almost everything, and it's great to showcase the laptop's touchscreen. For web development, Sublime Text 3 is the tool to go, customizable enough to any kind of developer and/or programming language. For creating and editing UI elements, I use Photoshop and Illustrator which were problematic to my custom layout because of the way they scan keycodes. Team communication is a must, so a stream of Slack workspaces is always open. Almost every piece of software has custom bindings, mainly to keep consistency between platforms, Command vs Ctrl.
What's your keyboard setup like? Do you use a custom layout or custom keycaps?
Here's where the ErgoDox EZ really shines. When I first switched to Dvorak around 8 years ago, it was shocking to realise that the shortcuts had also changed their locations. I didn't really want to re-learn the shortcuts, which are not really bindings, but automatic muscle memory. I found a workaround, which was Dvorak Cmd, present in Mac OS. Since I work in different environments, I needed a hardware solution, and QMK firmware was perfect for it.
My default layer has a Dvorak key layout, with some tweaks here and there, but when pressing the Ctrl or CMD modifier, the whole keyboard goes to a layer holding a QWERTY layout and sends the modifier as well, so the shortcuts remain unchanged! It's pretty neat! This is also set for for Win Key and Alt. There is another layer for multimedia and another for numpad, and also a default QWERTY when someone needs to type something in my computer. Since I've been a touch typist for nearly 15 years, I care little for what symbol is shown in the keycap, I had blank black keycaps, so it doesn't matter which layer I'm at. (I had typing lessons on an old Olympia Typewriter).
Here's my latest layout, but it must be edited by hand and replace the LT layer function with LM(layer, mod), and then compiled normally with QMK.
I plan to put some red keycaps in a checkerbox design to make the ErgoDox really stand out (as if it doesn't already). So far, I love the Brown switches, but I'll experiment with some Matias or Gateron Clear, since switches are so easily removed in my EZ.
What would be your dream setup?
I'm always trying to improve my desk in a productive way while keeping it minimalist enough, without cable clutter and such, it's a constant fight. Maybe a slightly larger monitor, a few test devices would be great and a VR headset which I'll get soon. I think I'm pretty happy with my setup. I can play, I can work, I can create and have fun. I need no more, as long as I keep my fiancée's picture for endless inspiration beside me.