The people who use our boards.

281 interviews

 

since 2018
Kain Dorris
Product Consultant @ Pilgrim Consulting
Who are you and what do you do?
My name is Kain Dorris. I'm a product consultant, hobbyist developer, blacksmith, and jack of all trades.
My day job involves acting as the interface between clients and development teams. I work to validate, communicate, and design software products for clients that have a problem to solve. I've worked across many different industries in this role including Logistics, Healthcare, IOT, and generally within the B2B ERP space.
I develop as a side hobby. I usually create websites for small businesses with some payment integration to help get them into the ecommerce space. I also make simple applications to help me with my various hobbies. This ranges from a cost-of-goods tracker for smithing to a hypergeometric probability calculator used to make decks of cards for Magic the Gathering.
I've been blacksmithing for several years and now work with a master smith in the north of Tennessee to learn and improve my architectural work. I typically help him create gates and fixtures for homes on a contract basis. We prefabricate a lot of the parts for a gate or handrail, and then do finishing work on site. At the shop, we've got a 25 ton hydraulic press, a couple of anvils, and a slew of handmade tools.
I also dabble in several different trades and skills. I've done everything from sewing, to camping, to 3D printing! I really enjoy creating, so all of my hobbies generally have some type of handmade element to them.
My motto is "Throw yourself at the wall until you stick." I've managed to land a wonderful career despite not having a formal education, and I continue to apply the same principles of grit and perseverance in anything I do.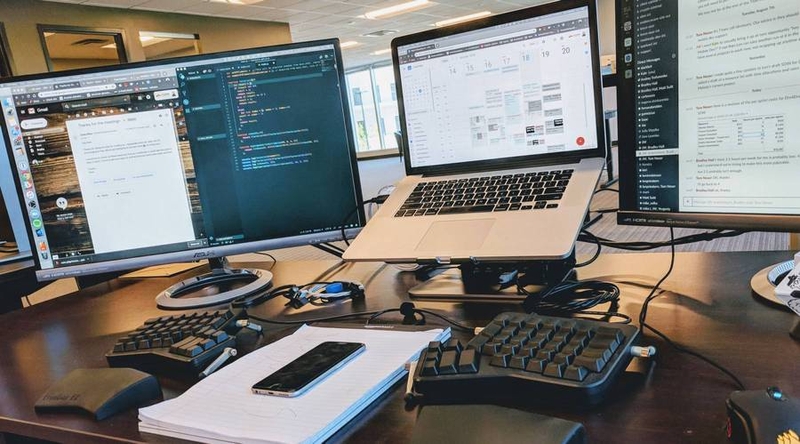 What hardware do you use?
For work, I have two main rigs that I use. I have a 15" Macbook Pro that I always have on my person from meeting to meeting and travel. It's got enough power and storage to tackle just about anything I have to do at any moment.
When not in meetings or traveling, I've got two 27" 1080p monitors, a USB dock that holds my Jaybird Wireless Earbud charging dongle, my ErgoDox EZ Shine, and a Corsair DPI toggle-able gaming mouse. This is all on top of a sit/stand desk. I track my time with product called Zei by Timeular. It's the most effective way I've found to accurately keep track of what I'm doing and allow me to bill that to my clients.
At home, I've got a custom built gaming PC from around 2015. Components of note are the 980TI and the Radeon FX-8350! For peripherals, I'm using a Logitech 18-button mouse, a Corsair K95 Platinum, and a 32", 4k, 60hz, 1ms response monitor. I'm working on getting another ErgoDox for home use! I generally don't use headphones at home, so I've got a Razer Leviathan soundbar and subwoofer that are serving me really well.
I also have now-custom 3D printer that was based on the Prusa I3 model. I've customized and tinkered with it so much that it's affectionately known as the "FrankenPrinter".
What software do you use?
For documentation, I mainly use the Google suite of products. Docs, Sheets, Forms, Slides, etc. We also use Atlassian Jira as our issue management system, Atlassian Confluence for project requirement storage, along with Hiptest for test case storage.
For visual creation, I'm using LightShot Screenshot util for markups, Balsamiq Mockups 3 for mockups, and Preview on Mac for quick crops of screenshots.
For programming, I'm using VS Code and Terminal to create anything I need to. I toy around with Vim but I'm nowhere near proficient enough to say I use it regularly.
Media is largely Spotify and Youtube.
For window management (on Mac), I found a great, lightweight application called "Spectacle" that gives me pseudo Windows like window management on Mac!
We use Slack and Gmail for communications in the office and with clients.
Zoom is our video conferencing software, but I've used Join.Me, Blue Jeans, and Cisco Webex before.
I've got a Discord server that I use to hang out with friends and chat about whatever game is going on that night!
I also use Timeular and Zei by Timeular for time tracking across all my projects!
At home, I use several different modeling softwares for planning fixtures and gates for smithing and for 3d Printing. I've used Blender mainly, but I'm dabbling with SketchUp.
I've tailored most of the software I use to work without a mouse. I really prefer to swap around through keyboard shortcuts and my ErgoDox EZ enables me to an almost arcane degree (if you were to ask anyone that's seen me use it).
What's your keyboard setup like? Do you use a custom layout or custom keycaps?
I've got the ErgoDox EZ Shine in black with the tilt/tent kit and matching wing rests. I have the blank keycaps because all of my configurations wouldn't be represented properly at any one time. I've got a modified QWERTY with Alt, Cmd/Win, and Option mirror-mapped across each thumb cluster. Space and backspace are on my right-hand thumb cluster with Enter and Tab on my left hand thumb cluster.
Balsamiq has its own layer where I've moved all the appropriate and most used keyboard shortcuts for it. Namely "/", CMD+Shift+Direction, CMD+Option+Direction for finding, and spacing + layout respectively. I've got some of the more obscure functions mapped to the innermost keys as well as around the outside. When I need to type, I swap back to my base layer and can quickly jump back as needed.
For Spotify, I've got Start, Stop, Skip, and Pause all mapped in a neat four button row that I've just memorized. This is all on its own layer so I don't accidentally mute my music while typing away.
Slack, Email, Discord all use the normal QWERTY base layer with modified thumb clusters.
For VS Code, I use the base layer and the original layer 1 from the factory build. It's got all of the special characters I need to get the job done. I kept the braces and curly braces on the right board under the QWERTY layout as they're most used in my case.
I've been tinkering with a Workman layer and trying to learn that, but I'm not entirely prepared for the drop in efficiency that taking on a new format brings before you're proficient in it. Not yet anyways!
What would be your dream setup?
I think the perfect rig for me would have to be:
Keyboard

ErgoDox EZ Shine
Machined aluminum Case
Steel Base Plate
Modified to accept USB C instead of Mini USb
Modified to have in key RGB lighting as well as the underlights
MX Brown Keycaps
Straight USB to USB-C in Light Neon Green with Grey heat shrink from Clark Kables
0.3 Durometer o-rings
Blank black keycaps
Curly TRRS in Light Neon Green with Grey heat shrink from Clark Kables
White wing wrests from ErgoDox

Computer

Nvidia 2XXX series graphics card
AMD Threadripper series CPU
Platinum rated PSU

Other

Sennheiser Open Back Headset
Herman Miller Embody desk chair
Corsair Dark Core RGB SE w/ Qi charging and Qi Mouse Mat
Bose Soundbar and subwoofer sound system
Razer Blade Laptop
Yeti Blue Stereo Microphone
Creality CR-10 3d Printer