The people who use our boards.
Austin Hannon
SaaS Applications Administrator
Who are you, and what do you do? What do you like to do outside of work?
My name is Austin, and I'm an applications administrator currently living in Austin, Texas. No, I wasn't raised in Austin (or in Texas), so the namesake is just coincidence! My job involves me managing a broad range of cloud-based applications, with tasks ranging from simple, high-tier support to more challenging implementations, such as development of new features and workflows and writing out complex formulas… lots and lots of formulas.
Outside of work, I'm an avid gamer, reader, lover of dogs, and all-around creative. I got my degree in film, where I specialized in editing, so I spend a lot of time re-cutting films and trying to improve on them in ways that I think are interesting. I make small YouTube videos about games and movies that I like, but it's more of a creative outlet that I use to keep myself entertained. I also paint, sketch, and design a lot of sprites for side-scroller games that I make in Unity, and I've even been writing my own text-based adventure at night when things are winding down, which is a lot of fun! I've also been learning to use Dvorak as an alternate layout for fun, which is a neat challenge.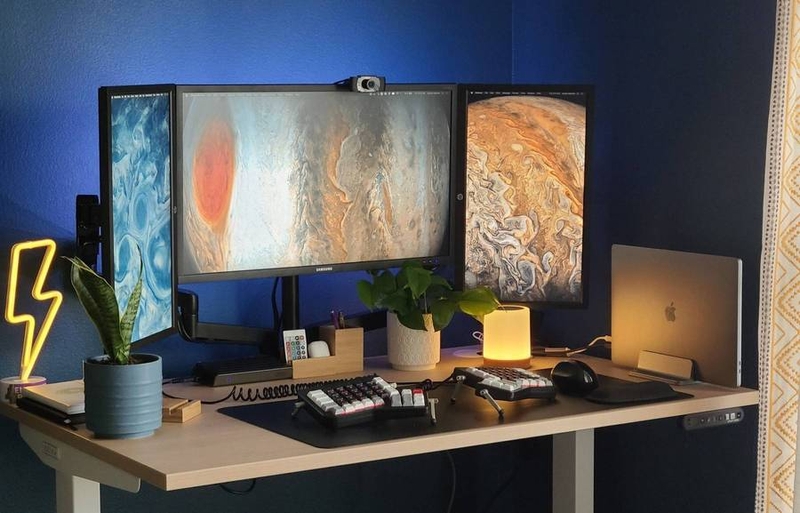 What hardware do you use?
I use a work-provided 2020 16" MacBook Pro, with my home office setup being a Samsung SH650 27" monitor flanked by two vertically mounted HP P204 19.5" monitors (using Slack and Visual Studio vertically will change your life). The monitors are held up by a MountUp adjustable desk mount attached to my Uplift V2 desk, alongside a boom arm-mounted Audio-Technica 2020 microphone and a Lumix G7 mirrorless camera acting as my webcam. All of this feeds into a single Targus dock that connects to my MacBook, which sits in an Omoton aluminum stand. The camera and microphone are a bit overkill for your everyday meeting, but it's a great icebreaker when I'm meeting with someone for the first time in this new work-from-home world.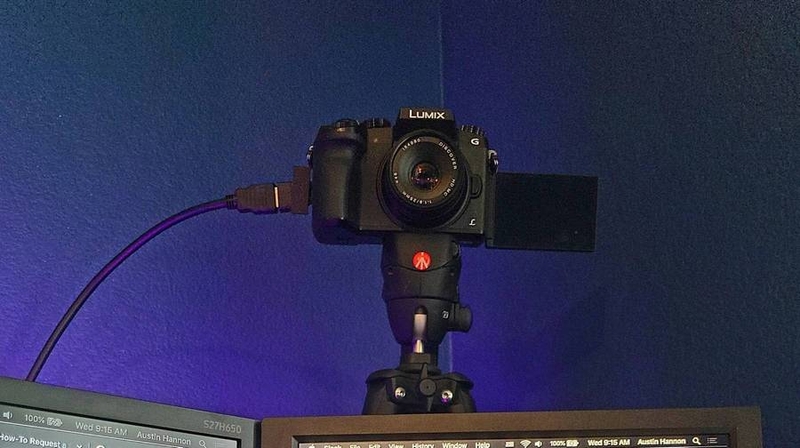 Game hardware is a bit of everything: Xbox, PlayStation, Switch, PC, all hooked up to a big TV and speaker system… between my wife and I, someone's playing something on one of those on our time off!
And what software?
All of my applications are managed through an online portal, so most of my professional work stays within those applications. However, when I do need to write up some expressions and test them out locally, I use Visual Studio. It's definitely my go-to software when I need to mock something up, both personally and professionally, and it's what I've been building my text-based adventure game in.
In my off time, I hop between Avid and DaVinci Resolve for video editing, depending on the project. Avid I use for my longer film projects that require a more professional touch, while Resolve is mainly for my own small videos and goofy edits. Resolve is also free, so it's great to try out if you're looking at getting into editing.
What's your keyboard setup like? Do you use a custom layout or custom keycaps?
Oh man… I have a pretty crazy custom layout that I'm constantly tweaking. I like to separate my layers between programs that each have an assigned layer color. The glow function acts as my visual representation of my layers, and helps me recognize which layer I'm on immediately without having to press a key and test it out.
My red/base layer is the standard, day-to-day QWERTY layout with some minor tweaks to the modifier placement. I love the thumb cluster, so I bring a lot of modifiers to that location. My yellow/second layer is used exclusively for formulas and coding, with all of my special characters being brought to the home row to minimize travel and improve my efficiency. My blue/third layer is exclusively used for Avid, as the best way to use Avid is without a mouse. My green/fourth layer is a bit of a mess currently, as I'm trying to fine-tune the media keys and some other Resolve-based shortcuts. It still needs a lot of work, but it'll get there eventually. I have an orange/fifth "hidden" layer that I use as a Dvorak layer to practice on. That way I don't need to toggle my computer's settings back and forth, I can just use a simple layer toggle.
I love the standard keycaps that come with the EZ, but I did swap the modifiers for blank white and gray keycaps. I knew I wanted a bit of a high-contrast layout, so I kept it simple, but you always have to add a little fun to your keycaps.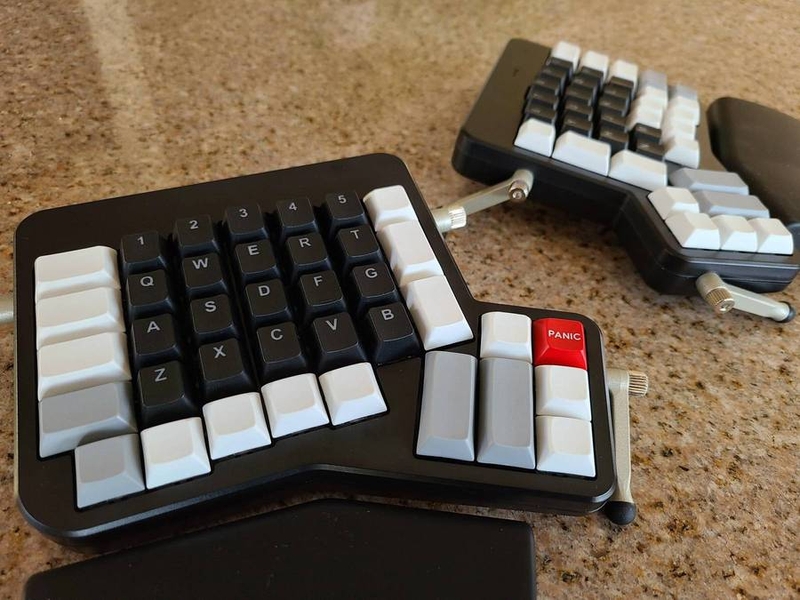 What would be your dream setup?
My absolute dream would be my current workstation, but with all of my gaming systems able to be hot swapped out so that I could capture my footage better. It's a total pain to have to constantly tear down my capture system when I want to get back to work, or set it all back up when I want to capture a bit of footage for a video. Also, a little dog bed mounted underneath my desk that my dog would actually use, so he doesn't try to weasel his way under my chair when I'm not looking.