The people who use our boards.
Amanda Bridge
Senior UX Content Strategist
Who are you, and what do you do? What do you like to do outside of work?
Heyo! My name is Amanda Bridge, and I'm a Senior UX Content Strategist. UX Content Strategy is a new and emerging role in many large companies, and I believe it to be a discipline which will be seen a lot more as UX is brought to the spotlight for tech companies. I should know, as I was not only the first UX Content Strategist at Procore, but I also created the role and built out the department! I was hired at Procore in 2014 as a Technical Writer, and — all history that brought me there aside — I could not be more surprised that my intended career path to teach high school English would bring me to a construction management software company as their first Technical Writer. Around year 3 of being in this role, UX and Product began to ask me for help with copy in the app. One day, I realized that I could make a bigger impact on our product if I did this full time, so I got to work. After 11 months of proofs of concept and meetings with UX leadership, the UX Content Strategy Department was born!
My full-time job now is to craft the conversation between your app and its users, from overall content strategy (What information should appear when, and where? How should we say it?) to micro copy (What should this button label be?). It's my responsibility to deeply know your users, and then combine that knowledge with my expertise in communication/writing to place carefully crafted copy at key points in an app so that users can easily navigate. I couldn't be happier!
I currently live in Austin, Texas, with my fluffy calico cat, Lily (no, it's not creepy if you follow her; she's adorable!). Outside of work, I enjoy kayaking, hiking, creative writing, backpacking, traveling, crafting, and my main hobby, vintage swing dancing. I've been dancing for over 10 years now, and I know most types of partner dances from ballroom to Latin to swing. Going to conventions around the country to compete and dance with dancers from around the world are some of the highlights of my year, mainly focusing on Lindy Hop, Balboa, and styles of Shag (vintage swing dances that were made popular from the 20s to 60s).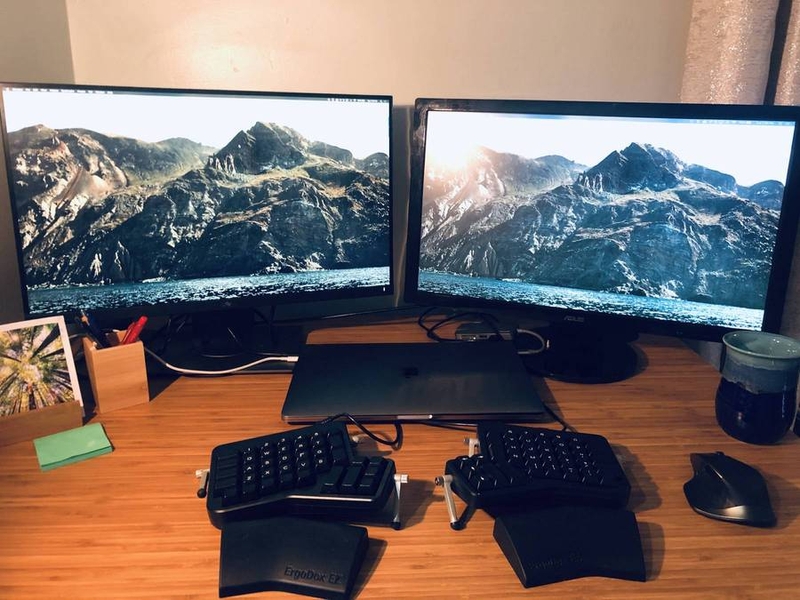 What hardware do you use?
I'm pretty simple compared to people who have epic battle stations. I've got a standup desk from Uplift (highly recommend this desk… even the setup was strangely satisfying), a 15-inch Macbook Pro (I'm one of the rare people who really loves the touchbar), two monitors, the MX Master ergonomic mouse from Logitech, and of course my ErgoDox! I'm also pretty old school and use a lot of sticky notes.
And what software?
I use your typical UX designer's suite: Figma, InVision, Illustrator.
However, I wear many hats, so I use a ton of other software depending on what I'm doing that day. I video edit in Premiere, and I code using Atom and iTerm. For collaborative workshops, I use Miro, and I use the full Google suite for everything from audits to drafting. Of course, life wouldn't be complete without Slack.
For screen recording and editing, I use and highly recommend Snagit. I use it daily…dare I say hourly? I pair it with the ColorZilla Chrome extension to grab hex codes from colors on a website and paste them into whatever I'm editing when needed.
For in-app messaging like banners and tooltips, as well as analytics, we use Pendo at my company. This is another app that I use every day!
Finally, I use the Momentum Chrome extension to give me a little bit of calm as I navigate all of my Chrome tabs.
What's your keyboard setup like? Do you use a custom layout or custom keycaps?
I'm not using custom keycaps yet, but man, I've been beginning to dream! I'm imagining fun colors for my regular keys and shapes on my custom keys.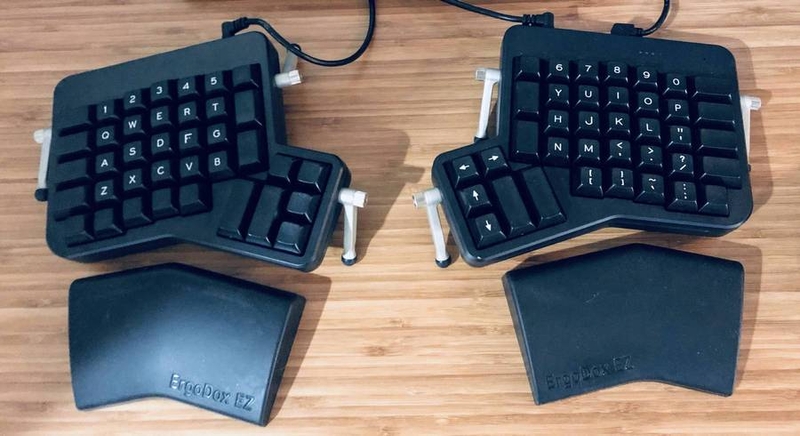 My layout is set up for easy text editing, because that's what I do all day! You wouldn't think that copying and pasting or hitting undo and redo would get tiring, but when you're doing it a million times a day, reducing one keypress really makes a difference. I work best when I can write a few versions of something in a Google doc before sending it to the designer in Figma, so a lot of my typing includes repetitive functions like CMD+C, CMD+SHIFT+V over and over and over again. So, I've set up simple actions like those in my custom keys. I also programmed Slack's CMD+K function into my keyboard since a lot of my day is switching between tons of conversations I have with collaborators.
What would be your dream setup?
It would definitely be some kind of office with minimalist-inspired decor with floor-to-ceiling windows overlooking a thick, unpopulated forest…ideally facing west so I could get epic sunset views. If I had that for an office and my ergonomic setup (gotta have happy wrists as well as happy eyes), I'd be one happy camper worker.