The people who use our boards.

272 interviews

 

since 2018
Alan Raveling
Operational Technology Cybersecurity Analyst
Who are you, and what do you do?
I am Alan Raveling and I help to lead a team of analysts who consult with and support industrial and manufacturing companies with cybersecurity risks related to their Operational Technology (OT).
What hardware do you use?
As I spend a fair amount of time on the road, my work laptop is a smaller (company issued) Dell Latitude 7480 with enough RAM (16GiB) to operate a few virtual machines that contain some auditing and security tools. I carry an ASUS 15.6" USB-powered monitor for some extra screen real estate for those nights in a hotel. When in the office I enjoy having multiple monitors to help me process data, drawings, documents, and notes while creating reports and presentations.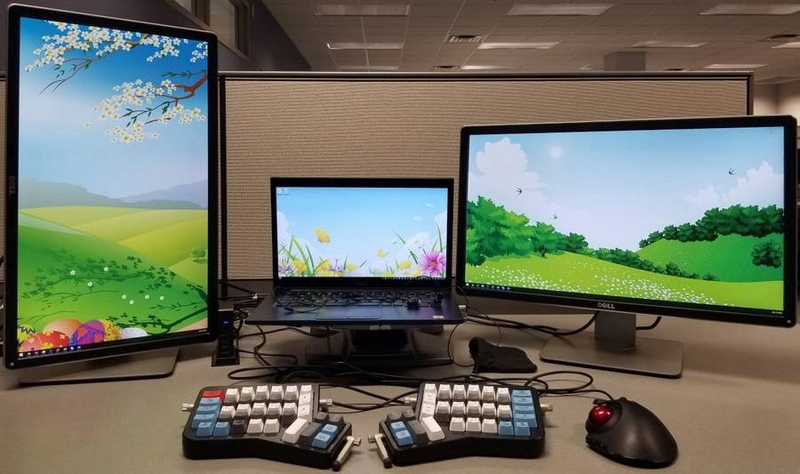 At home I have consolidated to a gaming laptop, Acer Predator Helios 500 with:
17.3" 144 Hz IPS display,
GTX 1070 8 GiB VRAM,
Intel i7-8750H,
64 GiB RAM
This setup allows me to have a bit of a test environment and then cut loose when I need a break to play Civilization VI. Recently I upgraded my trackball to an Elecom EX-G Pro which is very comfortable and programmable. When I need more 'oomph' than one laptop can provide, I spin things up on my Rackspace account.
And what software?
I use of the entire Microsoft Office Suite except Access (does anyone use Access anymore?).
Most of my Linux efforts can be accomplished with a suite of security auditing and analysis tools: NMAP, Wireshark, Metasploit, scripts, etc.
What's your keyboard setup like? Do you use a custom layout or custom keycaps?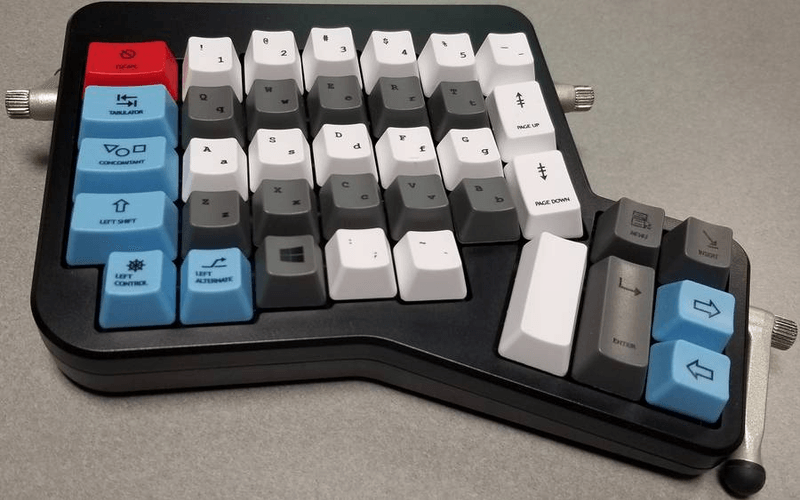 This is my current layout. When selecting what to present on Layer 0 I wanted to ensure I had access to all the normal punctuation marks (yes, even the tilde) and because I move around in documents a lot, being able to position Page Up/Down and Home/End to a more convenient location has been extremely helpful.
Rounding out Layer 1 are my function keys, number pad, and mouse controls 'just in case'. For keycaps, I created my own custom keycap set so that every key on 'Layer 0' would be appropriately labeled. I had the keycaps printed by MAXkeyboard and the turn-around time and quality were great. It was a lot of fun to think about the symbols to use for modifiers, letter choice and layout, and the color scheme.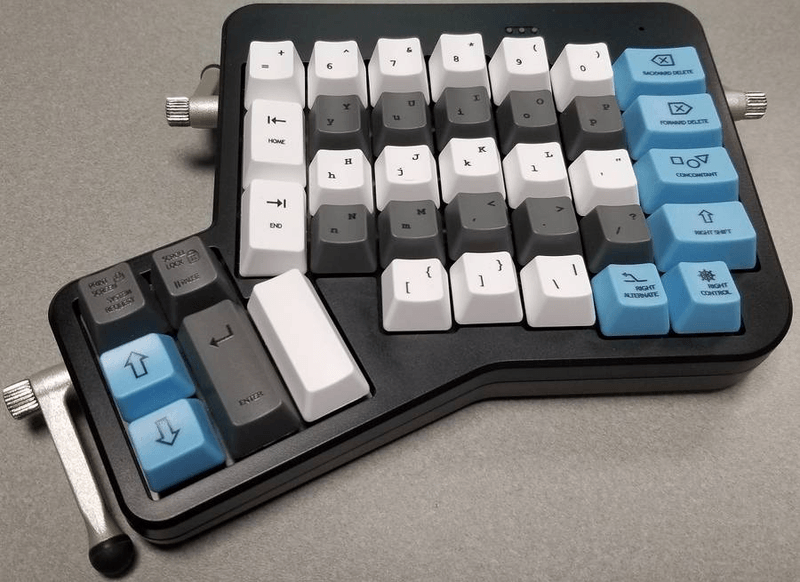 Since I had some unused keys available to print on, I have a few different 'fun' keys based on some thoughts I have for future layouts. Out of consideration for my coworkers, I chose Cherry Red Silent switches which are an excellent compromise between sound and feel.
What would be your dream setup?
I eagerly await the day when OLED displays are cheap enough that every key is its own screen which dynamically changes based on modifiers pressed and the current layer the keyboard is in. I am always drawn to the latest 17" gaming laptops. As long as the chair I am sitting in is breathable and the desk adjustable, I'm not terribly picky on who made them.