The people who use our boards.
Aaron Levinson
Support Engineer at Atlassian
Who are you, and what do you do?
My name is Aaron Levinson and I am a Development Tools Support Engineer for Atlassian and I work on the Bitbucket and Fisheye/Crucible.
What hardware do you use?
I use a MacBook Pro with 3 Dell 24" monitors and my new trusty ErgoDox EZ with sculpted keycaps and MX Cherry Clear switches.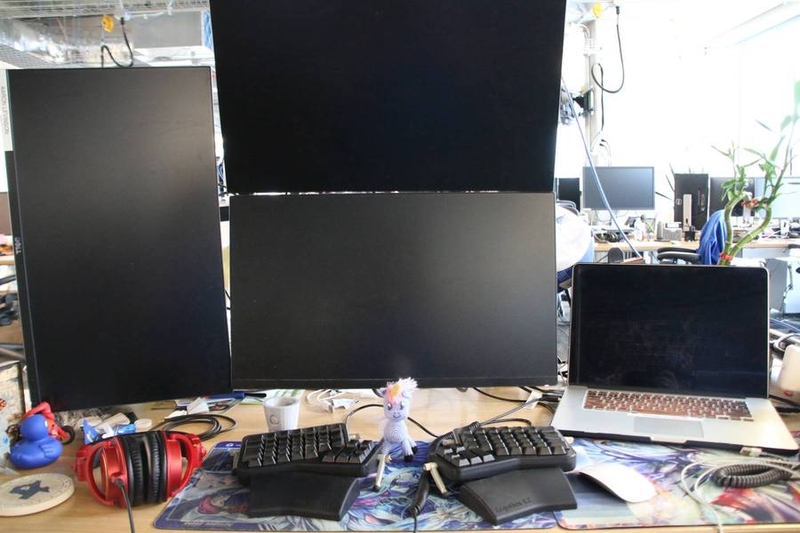 And what software?
Typically I'm using Jira, Bitbucket, Fisheye/Crucible, Sublime Text, and iTerm2.
What's your keyboard setup like? Do you use a custom layout or custom keycaps?
I have the tents up with the wrist rests and I have it configured to help maximize my workflow. I use a custom layout that I am constantly changing as I see gaps in my needs.
What would be your dream setup?
Ha, dream setup for work or for play? For work I'm pretty close to my dream right now. Maybe instead of three 24" 1080p monitors I'd like two 4K monitors instead. For play, I actually don't think I'd use an ErgoDox EZ yet. Not comfortable enough with it and it's a little awkward when you don't have both hands on the keyboard. Although I did try to use it as a type of keypad like the Razer Tartarus. It felt okay, but I think it was held back by my choice of keycaps (Clears are great for typing, not so much for gaming :P).
My dream setup for play though, would probably include a 4K monitor that could get 1ms response and 144hz+ refresh rate and the typical top of the line Intel processor and Nvidia graphics card, my Logitech Spectrum mouse and a gaming keyboard (maybe an ErgoDox with some Speed Silvers?) but I have, on occasion, hit my keyboard in rage so maybe a $350 keyboard would not be ideal in this situation.