The people who use our boards.
Viet Hoang
Software Engineer
Who are you, and what do you do?
I'm Viet.
I do full-stack development and some operations work over at Tofugu and WaniKani where I am a cofounder. I have been doing development in EdTech for the past eight years.
Prior to that, I worked in upstream oil and gas as a petroleum engineer for two years (my university education was in Chemical Engineering).
Outside of work, I do a lot of long-term traveling, camping, hiking, photography, and fitness goals (cycling, running, barbells, et cetera).
What hardware do you use?
I roll with a Space Gray 2016 MacBook Pro 15" Touchbar (MBP) for the bulk of the work I do. It is with me at the office and out of the office.
I do a lot of my work emails and customer support on my phone, which is whatever the latest iPhone is. Has to be unlocked due to the traveling I do.
I also use an Apple 12.9" iPad Pro for drawing sketches, taking notes, and shaping projects.
Office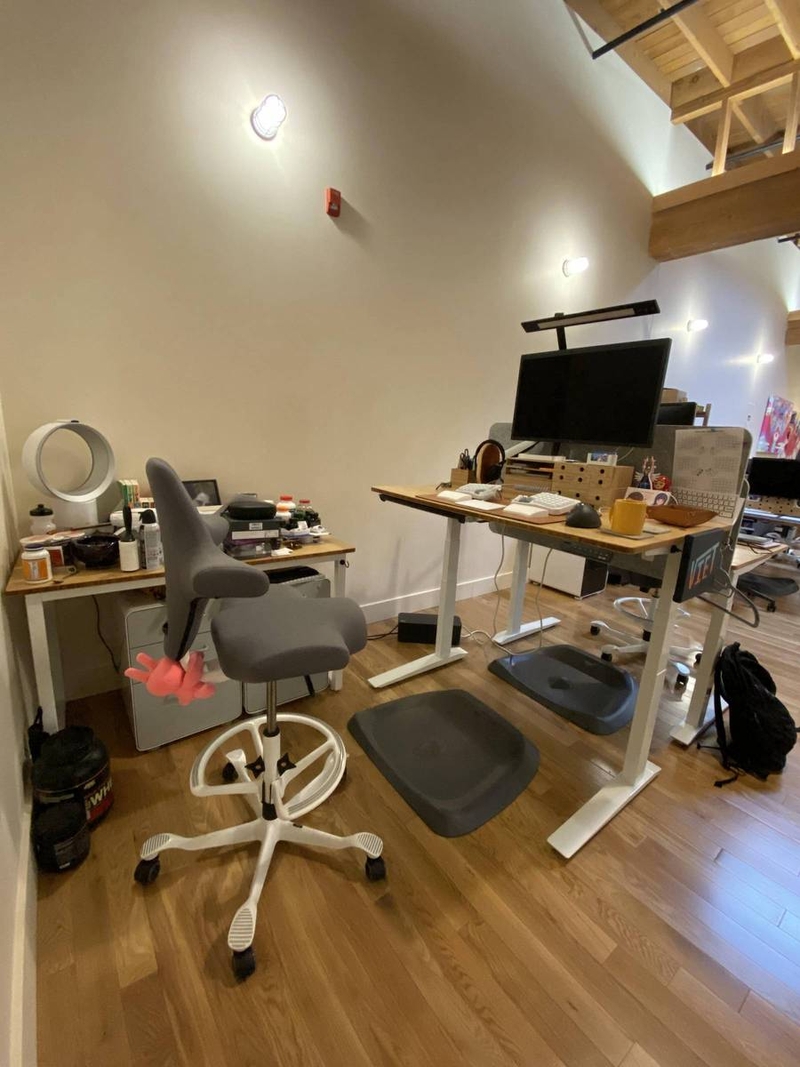 I have the MBP connected to an LG UltraFine 5K Display. The single cable for display output and charging is very nice.
My desk is a Fully Jarvis Adjustable Standing Desk. We are office neighbors with Fully (Portland), so we get most of our ergonomic furniture and accessories from them.
Some random equipment I have is a Capisco Chair by HÅG and Topo Anti-fatigue mat.
For keyboard, I just use the stock white ErgoDox EZ Glow. In between the keyboard halves is the silver Apple Magic Trackpad 2. Off to the right is the Logitech MX Ergo.
Coworking, telecommuting, and traveling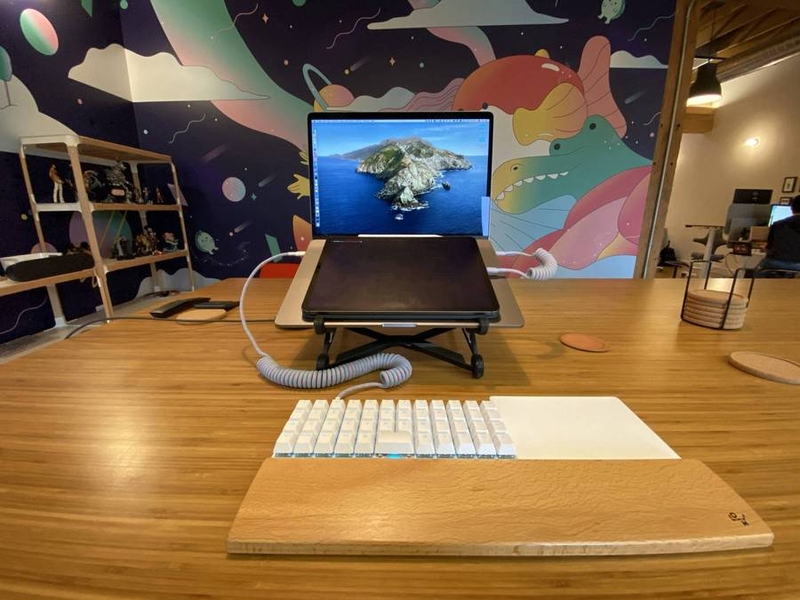 I use a Roost Laptop Stand to elevate the MBP. I connect the iPad Pro to the MBP and place it on top of its keyboard. Then, I activate MacOS Catalina's new feature, Sidecar, to use the iPad Pro as an external monitor. I have to say, the set-up is pretty sweet.
For accessories, I use a silver Apple Magic Trackpad 2 and either a stock white Planck EZ Glow or Apple Magic Keyboard. I use a wood wrist rest I got off of Etsy if I am using the Planck EZ.
And what software?
I feel like I use the standard software stack for someone in my position:
I try to use native applications when I can, so I use Apple's Safari, Mail, Reminders, and Notes apps. I have used third-party alternatives in the past, but switched over to the native applications recently. Got kind of tired having to worry about privacy issues, integration issues, or maintaining the software. The software gets the job done, and I have other things I'd rather invest my time in.
Outside the work software stack, I feel the only other software worth mentioning is You Need a Budget (YNAB). I take personal finances seriously and I think others should, too.
What's your keyboard setup like? Do you use a custom layout or custom keycaps?
I was recently introduced to ergonomic keyboards late last summer. I over-torqued my wrist while working out. My old set-up of Apple Magic Keyboard + Apple Magic Trackpad 2 was not agreeing with my injured wrist, so that led me to look into ergonomic options.
Office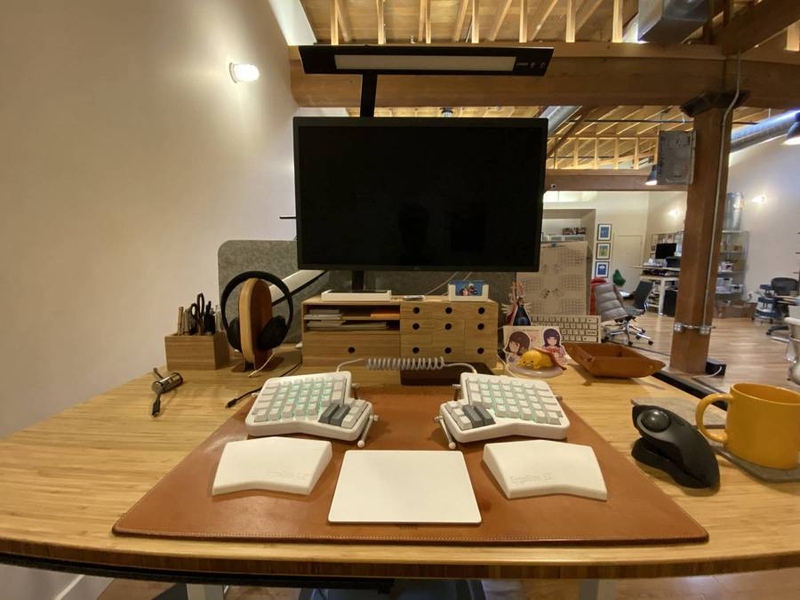 I just use the stock white ErgoDox EZ Glow using Kailh Copper switches with tilt/tent & wrist rest add-ons. I am just getting familiar with the set-up so I haven't had much time to customize it beyond the stock set-up. I have a print-out of the Oryx keyboard layout in front of me, which I keep referring to.
A custom cable made by Mechcables replaced the factory TRRS cable.
Coworking, telecommuting, and traveling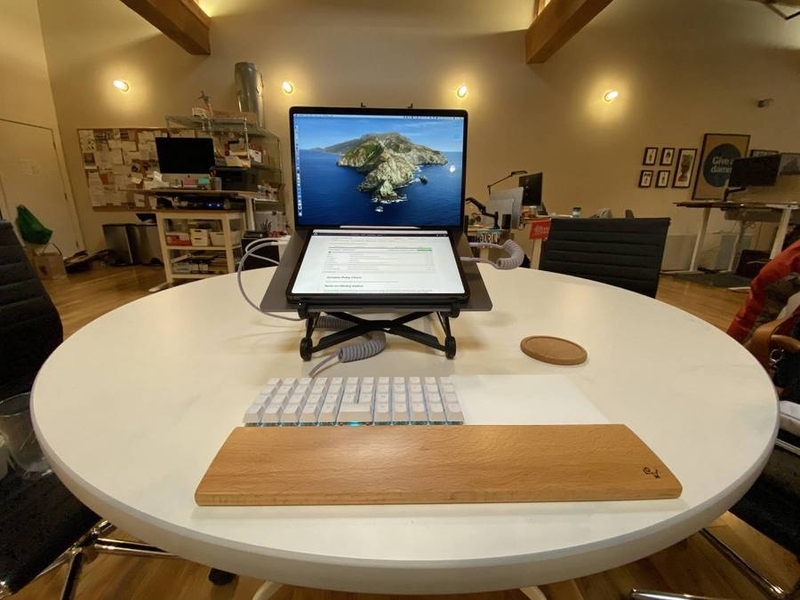 I just use the stock white Planck EZ Glow using Cherry MX Brown switches. Nothing special other than the wood wrist rest I got from Etsy and a custom Mechcable for the USB-C connection.
What would be your dream setup?
No longer having to type! Hoping one day there will be a device which can translate our thoughts/brain waves/whatever to text.