The people who use our boards.
Sarah Ravely
Freelance Transcriptionist for Audio Transcription Center
Who are you, and what do you do? What do you like to do outside of work?
My name is Sarah Ravely. I live in Minneapolis, Minnesota, just across the Mississippi River from downtown, in a twelfth-floor condo. My wife and I moved here from the suburbs almost exactly a year ago, and we love not having to worry about taking care of a yard or shoveling.
We went from this: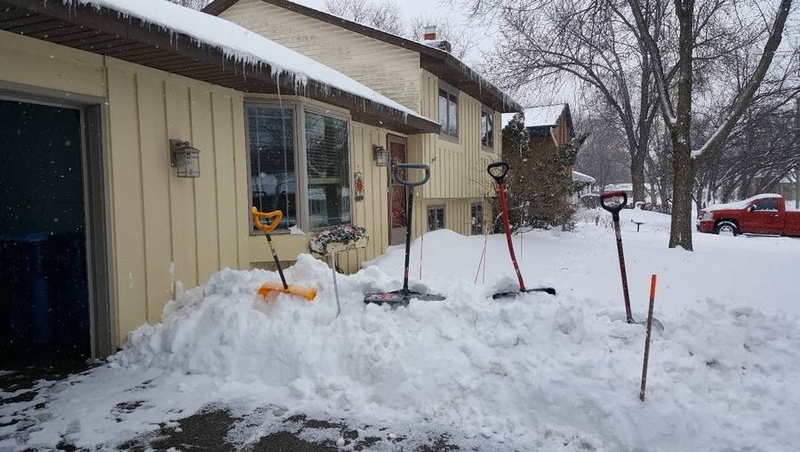 To this: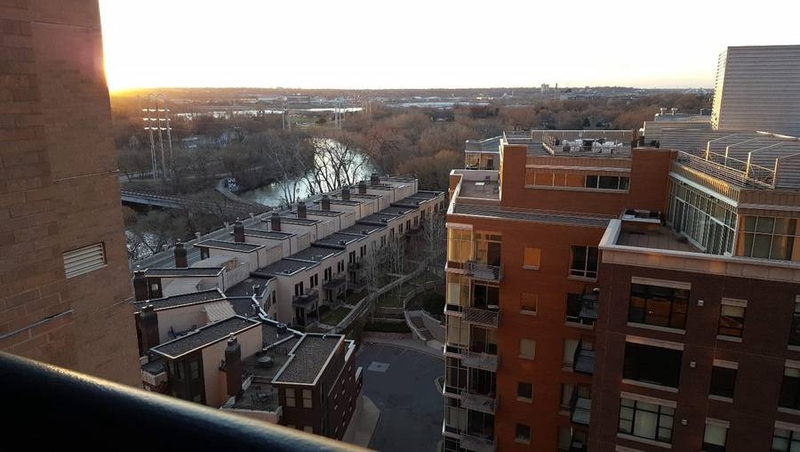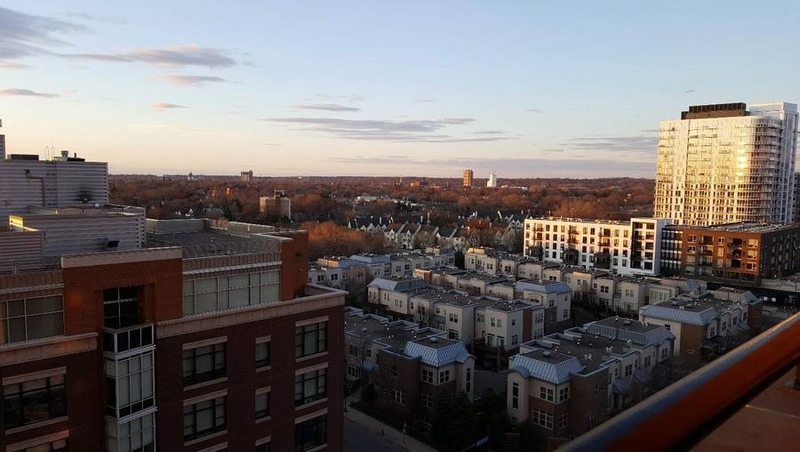 My wife and I collect geeky or unusual art, and a friend of ours with an eye for design helped us put it up on our living room wall in a sort of spiral that we can continue to add to until we run out of wall.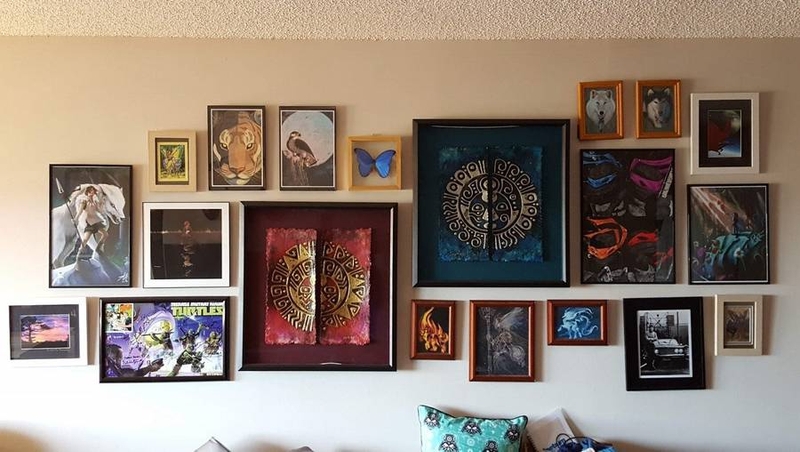 We live here with our two cats. Kiba is nearly eight years old, and we adopted him in 2015.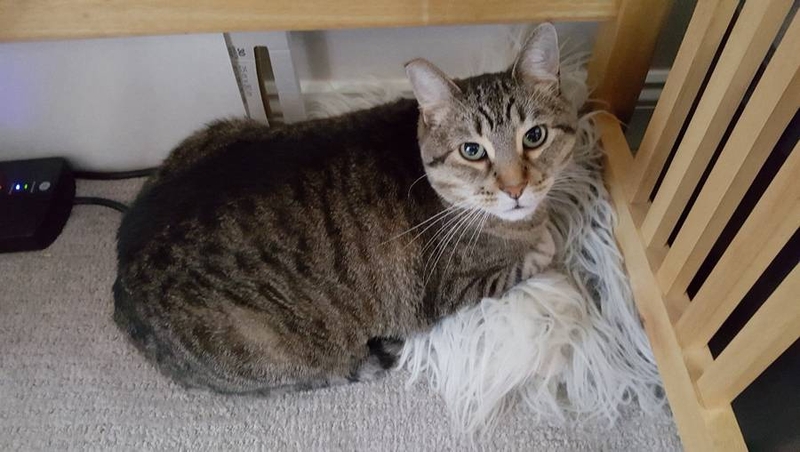 And Tadashi will be a year in May. We adopted him in December.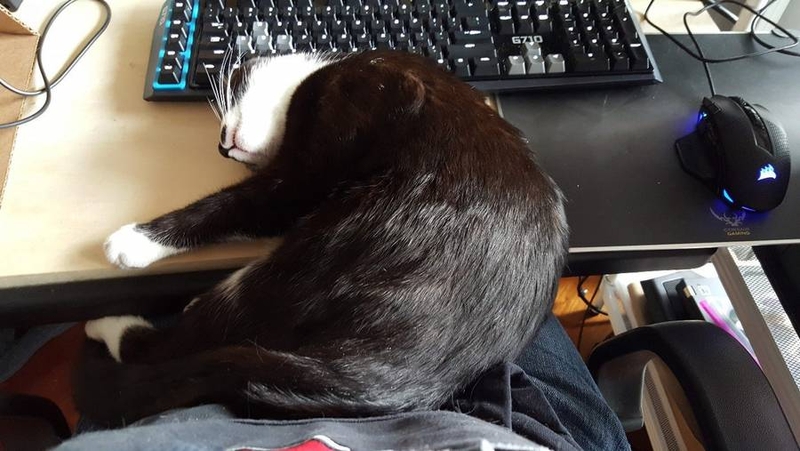 For the most part, they get along quite well!
For work, I am a freelance transcriptionist for the Audio Transcription Center in Boston. This means that I spend my days listening to interviews and meetings of all kinds, and typing up exactly what I hear. Definitely not everyone's jam, and not high paying (my wife is the primary income earner in our household), but I really enjoy it. It requires a streak of perfectionism, an ability to take interest in many different subjects, and impeccable Google-fu, especially for finding the proper spelling of names. I particularly like doing oral history interviews, since I was a history major in college and do as much amateur historian stuff as I can.
If you asked somebody what I was into, they'd probably tell you American football, music, and geeky things in general. Oh, and tea. I drink a lot of tea, especially for an American, and I like learning about different kinds and drinking a wide variety. I have a "tea station" in our kitchen, which is a counter covered in containers of loose leaf tea with a place for my electric kettle. And I don't know what I'd do without my mug heater on my desk to keep my tea hot all day.
In normal times, I watch a lot of sports, particularly American football, ice hockey, and baseball. And I'll watch the entirety of the Olympic Games if you let me. :) Not having that is probably the weirdest thing about the COVID-19 pandemic for me. I'm a passionate fan for my favorite teams and I love cheering them on, in person or on TV.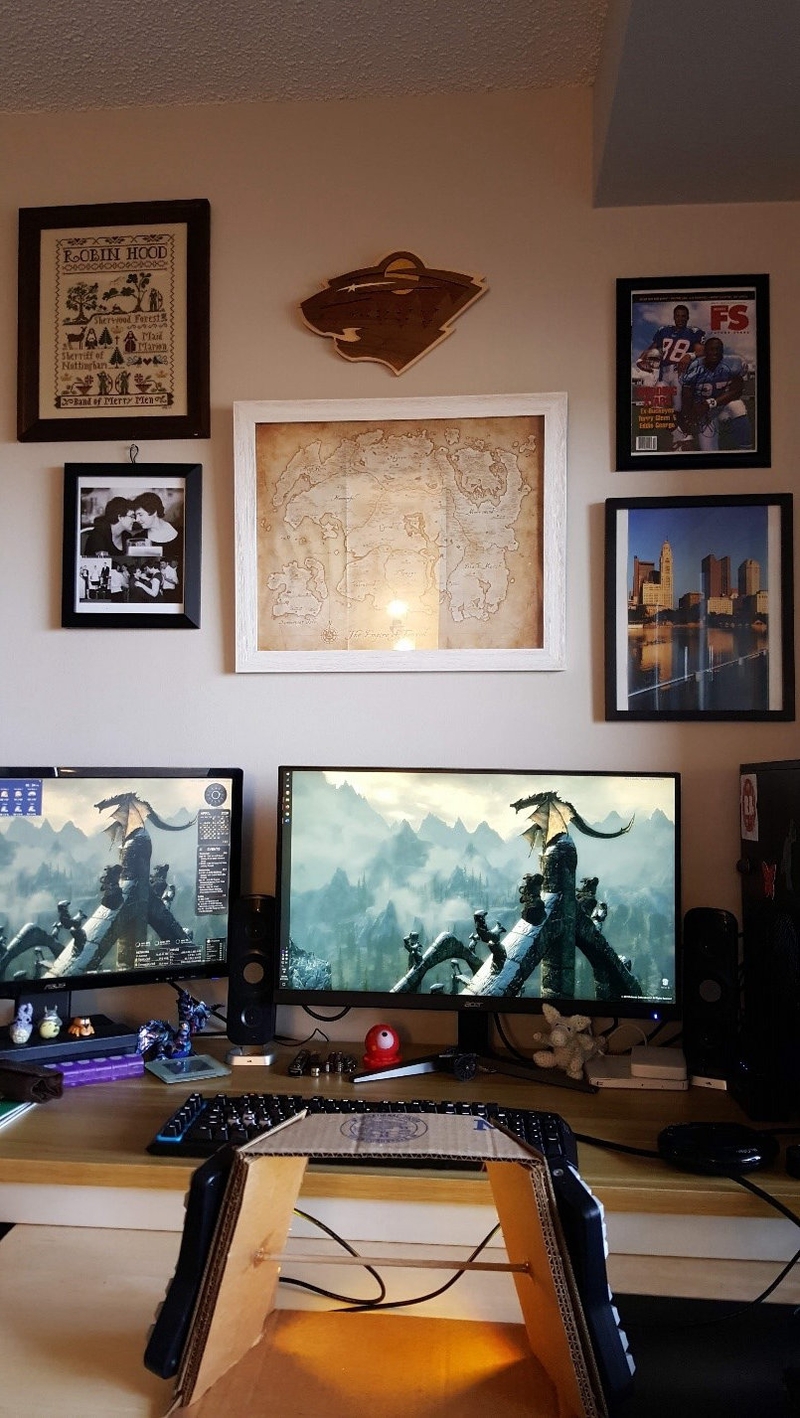 I am part of the leadership of the all-volunteer-run CONvergence science fiction and fantasy convention that occurs yearly in Minneapolis. It's a blast putting on what is basically a party for 6,000 assorted fans, nerds, and geeks of all stripes. This year we're scheduled for the end of August, so there's really no telling yet whether it will happen. I work with operations, developing training for volunteers in our department and training them at the convention. We do enough work in the off-season that it may as well be a second job. :) My wife is one of the heads of the same department, so we get to work together closely.
Music is a big thing for me. I own and play guitar, violin, recorder, and mountain dulcimer, and can play several other things that I don't actually have. I also sing in the Twin Cities Women's Choir, along with my wife; I sing the lowest alto and she sings the highest soprano. (We actually met in college choir, making faces across the room at each other during warmups.) The choir is rehearsing via Zoom, what our director calls "guided practices," where she picks what to rehearse, and we sing along to the practice track at home on mute, and then can ask questions. It works better than expected, honestly. The community of 150 women singing together every week, though, just can't be replicated, and I look forward to the eventual safe resumption of in-person rehearsals.
My wife and I also occasionally perform as a duo, doing some serious stuff and some geeky parody songs. You can find us on YouTube as Candles Enough, where we have some performance recordings and some things we did at home. Having gotten bored during the pandemic, we're doing some karaoke, the first of which has been posted there, as well.
When I'm not doing music or CONvergence activities, or watching sports, I enjoy playing computer games. I do a number of different crafts that I go back and forth between, including counted cross-stitch, knitting, calligraphy, bead weaving, and mandala painting. My wife and I watch a lot of cartoons, anime, and science shows together. When there's not a pandemic, I run an intermittently-scheduled tabletop roleplaying game with some friends that's based off historical WWI memoirs and official histories, with period maps and everything. I really enjoy the research of putting that together, and the realism of the home-brewed game system as well.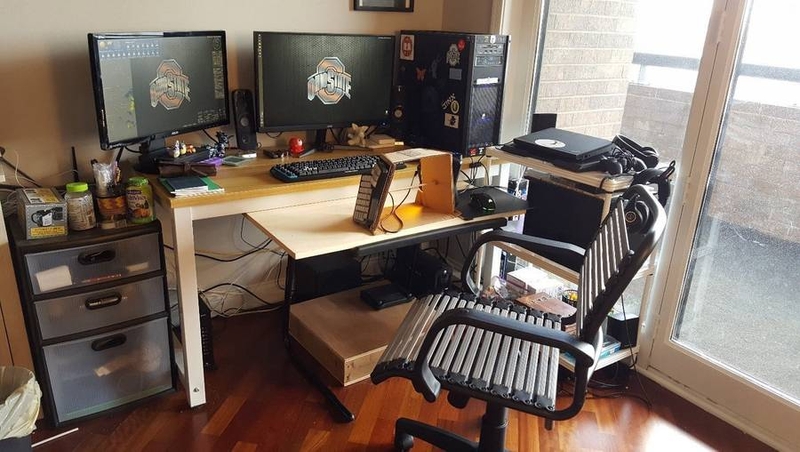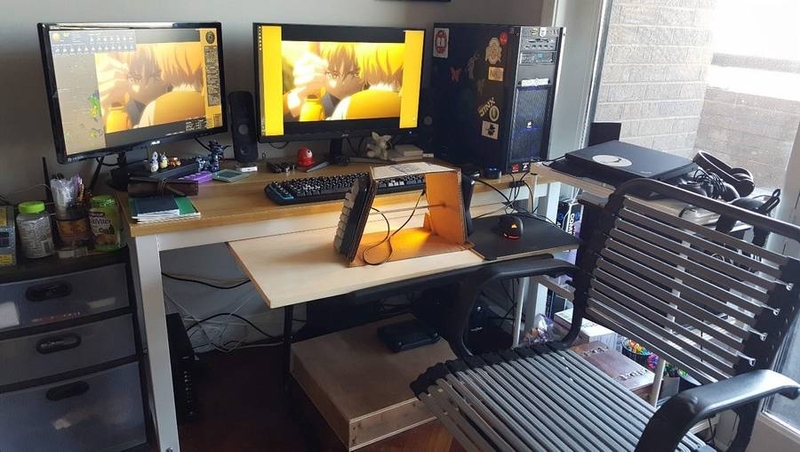 What hardware do you use?
I work in our living room, as my wife's office is in the den. The main wall of art and the couch are to my back. That's our TV to the left of my desk, to which my computer is connected. Our TV is rather old, as is our TiVo, so if it's not on YouTube or Netflix, we have to use my computer directly. I also sometimes throw video games up there so my wife can watch the action.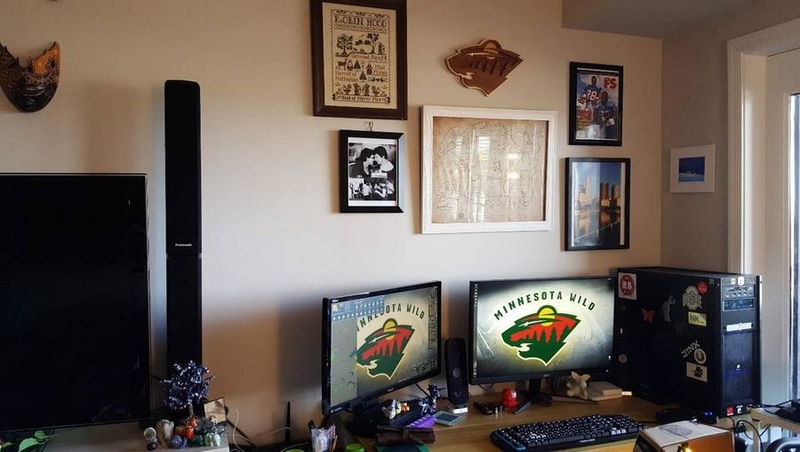 As far as hardware, let's start with the computers. Mostly I use the desktop, which I just rebuilt in January. Same Corsair 300R case I got in 2013, same cheap memory card reader/USB hub and NZXT fan hub, and same Crucial 750GB SSD main drive, Western Digital Green 1TB HDD for storage, and little WD 80GB HDD for work files only. New are the Ryzen 5 3600 six-core processor, 16GB G.Skill RAM, Asus Tuf Gaming X570-Plus motherboard, MSI Nvidia GTX 1660 graphics card, and EVGA 650W 80+ Gold power supply.
I have fans in all seven available slots, and keep the temperature pretty low, because I like to run my machines as long as possible. The previous motherboard and processor were from 2013 and they lasted until the power supply gave it up nearly seven years later. Five fans are hooked up to the controller at the front for manual control, the motherboard has power over the CPU exhaust fan at the back along with the internal CPU and GPU fans, and one of the fans is so old it connects via Molex connector and just runs at full speed all the time.
I also have an aging Lenovo X230 laptop with a third-gen I5 processor, 4GB memory, and 256GB SSD, which I got refurbished a few years ago. It still has plenty of life left, as long as all I need to do is work, internet stuff, or stream Steam games from my PC. It also has a fan lap desk it sits on, which is becoming more important as its own fans are weakening.
I have peripherals everywhere. Let's see. I have the ErgoDox for typing and a Logitech G710 with Cherry Blue switches for gaming or for letting my wife use my computer. I have a Corsair Nightsword mouse for my desk and a Logitech M570 trackball mouse (not pictured) that I use with either the PC or the laptop, especially if I'm on the couch. I have an old Logitech wired game controller that I use from time to time. And I have an older VEC audio foot pedal for work. Play, pause, rewind, and fast forward without hands is an absolute necessity for transcription.
I have Audio-Technica M40x headphones for work and gaming. I've had them for several years, and recently got a replacement headband cover and Brainwavz-brand memory foam earpads, which I really like. I also have a pair of JAM SilentPro active noise-cancelling Bluetooth headphones for around the house or out and about. I have Cyber Acoustics CA-3908 2.1 speakers, which I've had since about 2014 and absolutely love. I like having the control pod attached to the speakers where I can plug in my headphones, since the front connector panel on my case doesn't work.
I have a 24-inch Asus VG248 at 1920x1080 and a 27-inch Acer KG271U at 2650x1440. I've only had the 1440p monitor for a little while; prior to that I had two 1080p monitors. The increase in screen space is great!
I have an Inland USB 3.0 seven-port hub as my main hub on my desk, and a Kensington USB 2.0 seven-port hub that I've had since, I kid you not, 2006. (I really do keep electronics as long as possible!) I still use the Kensington because it's got a super-long cord and, plugged into a powered USB extension cord, it allows me to move my Logitech keyboard or game controller to the couch for gaming on our TV. When I'm not using it, it stays tucked under that little shelf to my right.
I've got an LG external CD/DVD drive, now that I don't have a drive in my case, and a number of various external hard drives for backups and alternate storage. And I have a CyberPower 1350AVR UPS for power backup. That should be all the electronics. Except, of course, for my small collection of past laptops that still work, going back as far as 1994. I like pulling those out from time to time just to mess around with or play very old games on.
Now, the problem with having a workstation at all is that I'm short. Quite short. Five feet, one and a half inches, to be precise (156 cm). So we used a little ingenuity to set this up.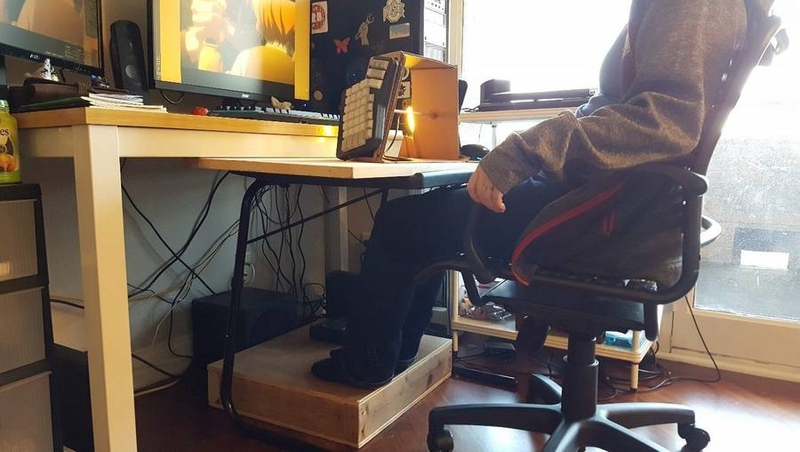 A friend built the plywood footstool, which raises my height about four inches (10 cm). The keyboard tray is a Table-Mate XL TV tray table with an oak board on top and a Corsair MM600 hard-surface mousepad. It tucks under the edge of the sturdy table-style desk, and my thighs come right up underneath to keep the whole contraption from bouncing too much, especially when I'm using the traditional keyboard. I used to have a chair that lowered much more, and we had the keyboard tray lower, as well, with my feet on the floor, but when that chair gave it up, and the new one didn't go down as far, this was the solution.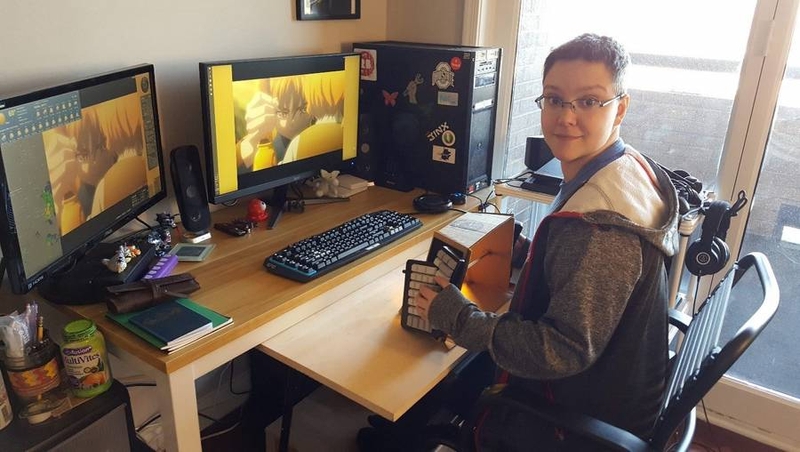 For analog tools, I intermittently journal, and I make lists to organize myself, so I have a pile of notebooks always at the ready, as well as my leather roll of fountain pens and extra fine-point rollerball pens. I have a small collection of under-$75 fountain pens. I have very small handwriting, so several of those are very fine-point Japanese fountain pens (Pilot Kakünos and Platinum Preppies), but my favorites are my TWSBI Eco and Mini. Not quite as fine a point, but they are so, so comfortable to use.
And what software?
My desktop and laptop both run Windows 10 Pro. I also have a backup installation of Linux Mint on the desktop for playing around with and for troubleshooting.
The basic programs I can't live without are f.lux, Rainmeter, and John's Background Switcher.
F.lux is a blue light filter that automatically adjusts for the time of day, with a ton of customization possible. You can turn it off for certain screens (I have it turned off for our TV, but on for my monitors), or off for full-screen, or temporarily for true color viewing, etc. It's an eye saver, for sure.
Rainmeter is a desktop customization tool, again with a ton of customization, especially if you're creative and dive into the programming. There's plenty of community-available skins, too, which is what I mostly use. I did set up my own plain radar skins using a tutorial, but I use a weather forecast skin, a combination of computer monitoring skins, and a clock skin, all from different creators. I also have Rainlendar as a calendar tool. It's a bit outdated now, but I've had it for years, and the (very inexpensive) paid version links flawlessly to Google Calendar.
John's Background Switcher is exactly what it says. It's much more customizable than the Windows slideshow backgrounds, and is constantly being updated. I only use pictures from my own collection, but you can link to several online sources and randomize from there instead. It's just a great little program.
For work, I use Transcribe!. It's not the most common program for voice transcription, but I like the ease of speed-up and slow-down functions, and I really like being able to see the waveform scroll past, giving me a constant idea of upcoming volume changes, or letting me visually identify long pauses that I can skip by. I use Breevy as a text replacer. I used to use AutoHotkey, which worked very well, but Breevy happened to come in a Humble Bundle I was buying anyway, and I've enjoyed the ease of use. I use Word for all my typing, as well as my invoicing template. I also frequently use Audacity to clean up audio files, increase volume, etc. This is also what I use for home recording purposes.
My browser of choice is Firefox, though I always keep Chrome as a backup. I use 7-Zip for all compression/decompression tasks.
I use a lot of freeware programs to improve upon the basic functions in Windows. I have MusicBee as my music player and manager, and VLC for video. I use Notepad++ as a notepad replacer. For backup utility, I use the free AOMEI Backupper to a local external hard drive. I use IrfanView as my picture viewer and GIMP for image manipulation.
For gaming, most of my games are in Steam or GOG, and I use those launchers to link to my few games in other places. At the moment, my games of choice are both in early access on Steam. The first is Cook, Serve, Delicious! 3?!. It's a typing, time-management cooking game and a postapocalyptic food truck simulator. I enjoyed the previous two games in the series immensely, and I think this is the best of the bunch already, in its unfinished state!
The second is Mount & Blade II: Bannerlord. This is another series I've been playing since the beginning, since the original was in beta (pioneering early access gaming, back in 2006). It's a solid game, with the same basic play as the previous games in the series, just improved. The map is bigger, the combat is more expansive and smoother, it looks better—just an all-around very enjoyable upgrade.
What's your keyboard setup like? Do you use a custom layout or custom keycaps?
Oh, so custom! About a year ago, I bought a black Shine without keycaps, knowing that I wanted to get a set of gray Cherry profile keycaps from the Chinese company YMMK through Amazon. They were delayed, so for the first few months, I used some scrounged keycaps from my first, now long dead, Razer mechanical keyboard with Cherry Blue, and my second, still living but in storage, Logitech G710+ with Cherry Brown.
I knew from those prior experiences that I liked Cherry Blue switches, so that's what I initially got the keyboard with, and then bought a bunch of single 10-packs of a bunch of different clicky switches to try out. It was quite a Franken-board for a while, as I swapped in one set of switches across the home row and another along the top letter row, with everything else still Cherry Blue, for comparison. Eventually, I came up with my initial setup: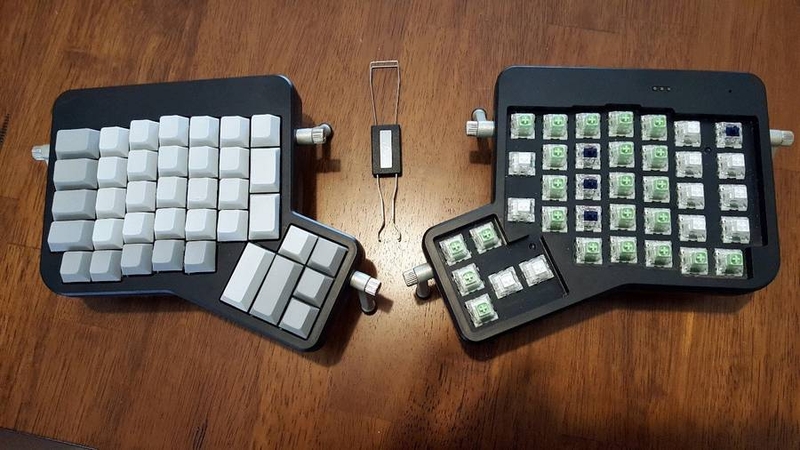 That was great while I was using the feet as intended. Eventually, I took off the outer feet and propped up the keyboard more or less vertically against a couple of boxes with the wrist rests stacked on top. The inner feet hooked over the top of this stack and the rubber of the wrist rests helped keep it all in place, along with a little Lego cushion underneath each half to keep it from sliding. Sadly, I never got a photo of that setup.
I liked having it upright, but I needed the halves to be a little farther apart than I could get with that setup, though, so with a dowel rod, a couple cardboard boxes, Velcro, and a lot of glue, I built this: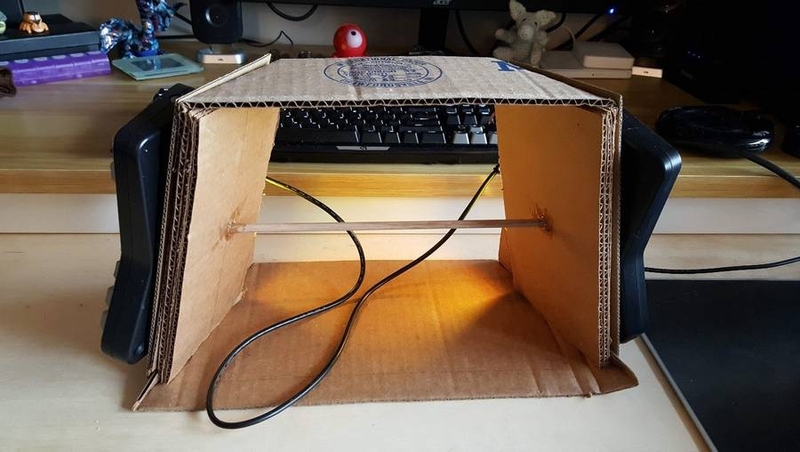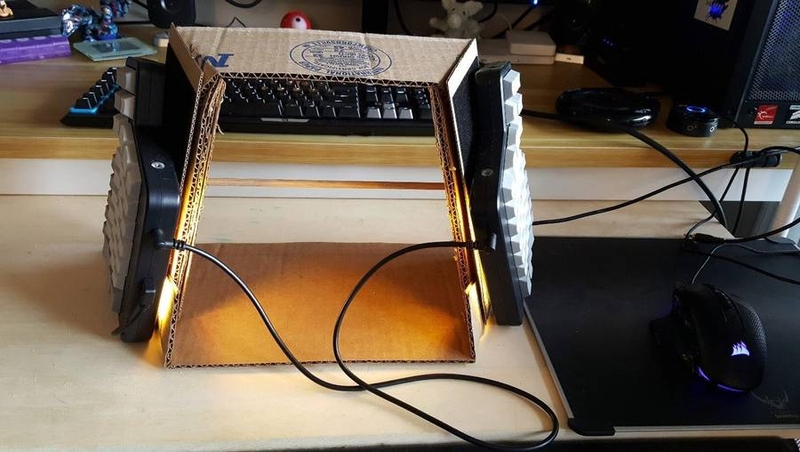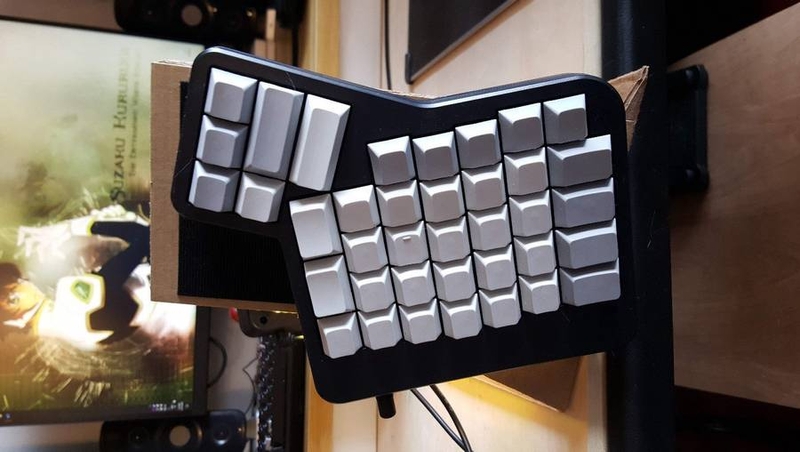 It's not quite there yet, but it's definitely an improvement! The nearly upright but slightly angled position is great on my wrists, and lets my tiny hands reach all the keys. I need to add another dowel rod along the top to keep the top cardboard from bending inwards. Eventually, I'd like to have a friend make me one out of wood that's just a little bit wider.
Unfortunately, the heaviness of the typing on the Box Jades was too much on this stand, and it wobbled quite a bit. Plus, my hands were starting to get tired with the heavier switches, and I was having some return problems with the light spring but heavy click bar of the Jades. So I ordered a bunch of Kailh Bronze (Thick Gold) switches from NovelKeys, and now I have this: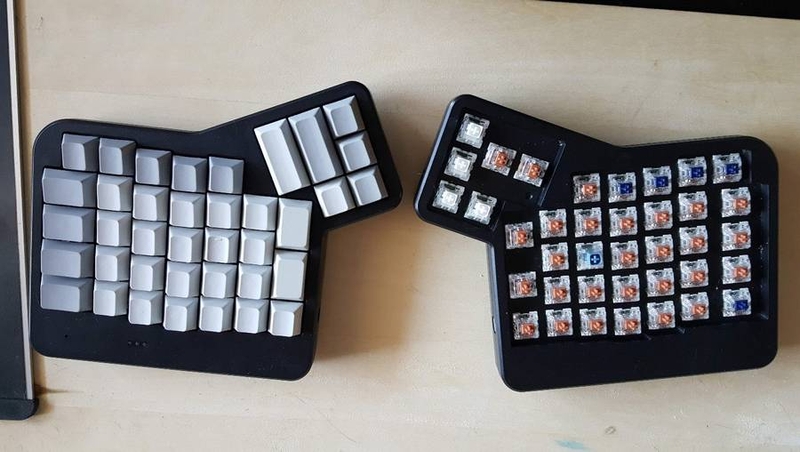 I put the Speed Navies around the outside on my lesser-used keys, to prevent accidental presses, and I have a Box Pale Blue under each homing key to make those feel just a little different than the rest. I kept the Box Whites on the thumb keys for stability. I am also going to change the inner vertical row keys to Box White for the same reason, but I haven't gotten around to it yet.
My non-macro, sharable layout is here. I have typed using Colemak for many years, to lessen strain on my pinkies, and so I kept that intact, meaning I only had to learn the ortho layout, which took me a surprisingly short amount of time. I've tweaked it quite a bit over the last year, mostly moving things around to make the strain on my pinkies as low as possible without actually abandoning Colemak. Since I made the vertical stand, I've gotten to put more things on the thumb cluster, specifically my primary space and enter keys on the right, since I'm not reaching weirdly anymore. I completely rely on the different colors underneath to tell me which layer I'm on, and I love having the Shine for that reason. It also looks nice shining through the stand.
The only difference between that and the private macro version is that on layer 4, I have a purple-lit layer with single keypresses for my Breevy shortcuts to accented vowels, umlaut vowels, ç and ñ, for the many times I need to type names in languages other than English. I have layers 5 and 6 set up with their own colors, so I could use them for game macros, but I've still been using the flat keyboard for gaming.
What would be your dream setup?
I'd like to get a Planck that I could slide vertically inside my stand to use for macros, gaming, or portably with my laptop. That will probably happen eventually.
If it were a dream setup, I'd love a giant curved extra-wide gaming monitor and a way to suspend my speakers above it. A step or two up in processor and GPU for gaming would be amazing. But honestly, I'm pretty happy with my current setup. It's such a big jump up from my six-year-old rig that I don't know that I'd really notice much more difference with something even more powerful.