The people who use our boards.
Sally Wiedenbeck
Instructional Designer
Who are you, and what do you do? What do you like to do outside of work?
I am Sally Wiedenbeck, a queer, chronically ill instructional designer and advocate for accessible learning design. At work, I teach people how to effectively use their computers and software, and to practice good data security. I also help other trainers develop eLearnings and evaluate their training or learning programs for accessibility.
Outside of work, I enjoy cross-stitching and casual video games like Stardew Valley and Slime Rancher. I have fun making things from the digital world physical. I am currently working on an early internet hampster dance-inspired cross-stitch.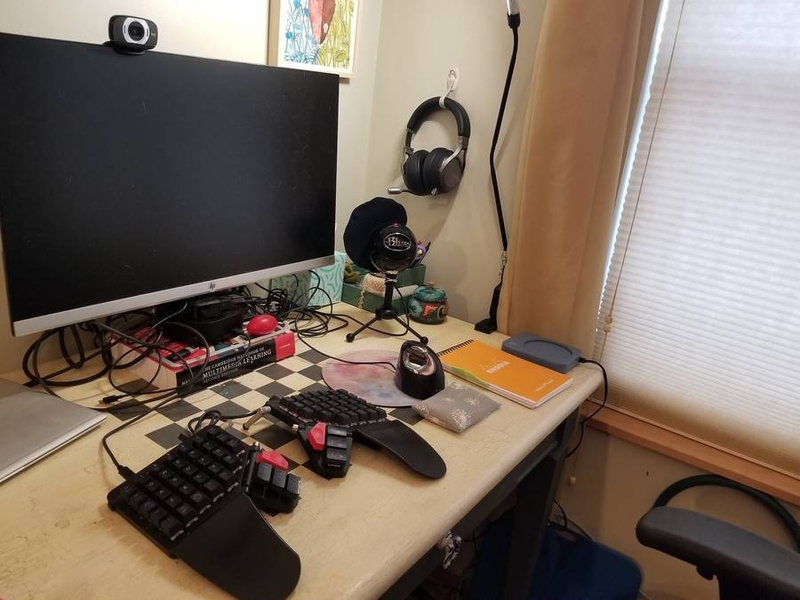 What hardware do you use?
I have an HP laptop provided by my work and a Lenovo Yoga for personal use. Both plug in to an HP USB-C dock so I can connect my monitor, Logitech webcam, Moonlander keyboard, and my vertical mouse.
I also use a Blue Snowball microphone for meetings and recording audio, and a drawing tablet for digital art.
I recently purchased a desktop mug warmer to keep my coffee and tea warm. I have bad circulation, so being able to warm up my hands with a hot mug of something is great during cold Minnesota winters.
And what software?
On my team at work, we use Microsoft OneNote to capture everything from notes and brainstorms to scripts and storyboards, since it makes collaboration so easy. For actually creating eLearning resources, I use Snagit to capture my screen and create visuals, Audacity for audio editing, Camtasia to develop videos, and Articulate Storyline 360 to put together interactive eLearning programs. I also use NVDA and Windows Narrator to test for screen reader accessibility.
One of my passions is creating accessible learning content, so I do a lot of closed captioning for the videos my team creates. With my Moonlander, I have gotten so fast at captioning that I sometimes crash the program if I don't slow myself down. I call it speed captioning—I don't think I could get any faster at it without using a stenotype.
In my personal life, I use Affinity Photo and WinStitch to design my own cross-stitch patterns. I also use Camtasia for video editing for personal projects.
What's your keyboard setup like? Do you use a custom layout or custom keycaps?
I created a custom layout first thing when my keyboard came. Initially, I planned on using a three-layer setup—one for basic needs and typing, one for media editing, and one for gaming and a number pad. However, with all the keys available, I ended up being able to combine the basic and media editing layers into one that works well for my work, so now I am down to two layers.
I didn't want to disrupt my natural typing speed (then I wouldn't be able to speed caption anymore), so I created a layout with two space keys—one for each thumb, since that's how I'm used to typing. My layout includes keys for shortcuts I use all the time when developing eLearnings or technical documentations: cut, copy, paste, undo, redo, and one to open my screencap software. I also have a couple of random keys for other things I do frequently—such as lock my screen or use Shift+Tab to navigate with and test tabbing orders on websites.
I used the out-of-the-box keycaps for my Moonlander, but I did use Posca paint pens to personalize my keys and help me get used to my new layouts.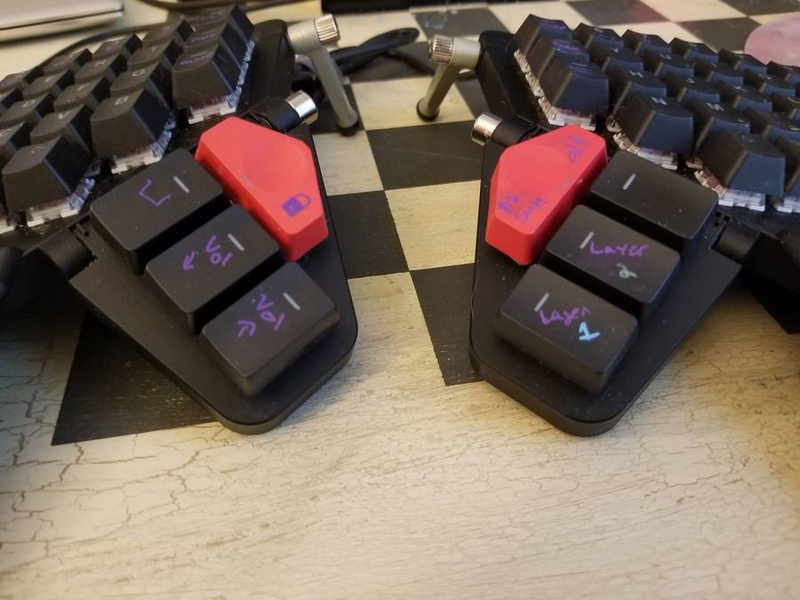 What would be your dream setup?
I am close to my ideal setup already, but I would love to have a powered sit/stand desk, a higher-res monitor, and a ball chair. I always thought ball chairs were a little weird, but after recently using one when working while visiting family, I found it fantastic for my ADHD wiggles.
I am also always a little envious of people who have beautiful RGB LED lights incorporated into their setups, so that's something that may be in my future.