The people who use our boards.
Rachel Vancleave
Software Engineer
Who are you, and what do you do? What do you like to do outside of work?
My name is Rachel Vancleave! I'm a part-time student, part-time software engineer, and hobbyist musician! I'm currently in between work right now, but what I love to do outside of work and school is make video games, play video games, and obsessively make my life and setup more and more ergonomic and optimized for myself. As well as doing electronics stuff with things like an Arduino! I also really enjoy repairing old hardware, from cleaning it to attempting to repair and mod things like iPods and Gameboys. I also love music, and I occasionally play piano, play the guitar, and sing too as a hobby. I really love music, and recently I've been getting into the world of listening to high-quality lossless music! As well as all of that, I love spending time with my husband playing games, watching movies and anime, reading manga, watching YouTube, and playing with my two pet bunnies! A white Blanc de Hotot named Cecily, who's sassy and a total brat with permanent eyeliner, making her look like she's always in her goth phase. But she's supremely affectionate and loves people and to give you little bunny kisses! And the other bunny, Bobby! He's a Lionhead/Harlequin mix. Half of his face is black and the other half is brown, with black stripes all across his back! And he has his fluffy lion mane across his neck. He's just such a sweetie who loves watching you seeing what you're doing. Sometimes he'll just follow you around just to see what you're up to!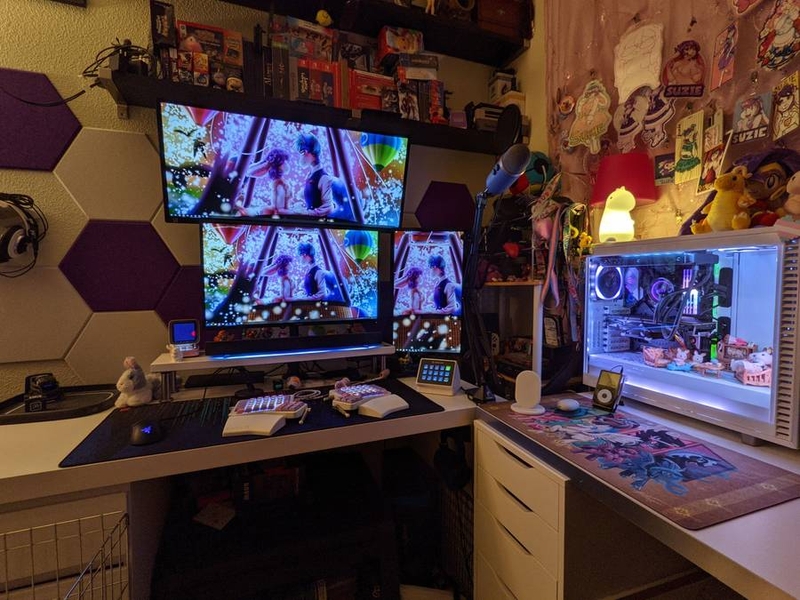 What hardware do you use?
I use the ErgoDox EZ as my main keyboard of choice. Mouse is the Razer Viper in a lefty configuration! I run that at 800 DPI on top of my giant mouse pad, the LTT Northern Lights Desk Mat. I use three monitors: a 34-inch 1440p LG 34UC87C UltraWide above as my secondary monitor; below that, a 1440p 27-inch ASUS TUF monitor with HDR and a refresh rate of 165hz that I use for gaming; and an old 1080p monitor I use vertically that I've had for just about ten years at this point. It's a good monitor for chat windows and Discord.
On my desk as well, I have an Elgato Stream Deck I use for quick hotkeys for games and system-related stuff. I 3D-printed a good stand for it, as the default one was pretty awful. For sound, I use a Sound BlasterX Katana soundbar, and I use the Mayflower Electronics Arc amp/dac combo for my Massdrop X Sennheiser HD 6XX headphones. And my microphone is a Blue Yeti that sits atop a microphone arm that I can just position in place. The chair I use is the Mavix M5, an ergonomics-first gaming chair. It's a really comfortable, ergonomic chair that helps with my back! Also it's wide enough that allows for me to sit cross legged, or squatted on it! It's pretty comfortable, doesn't lean back too much, but it's still relaxing and I can nap in the chair!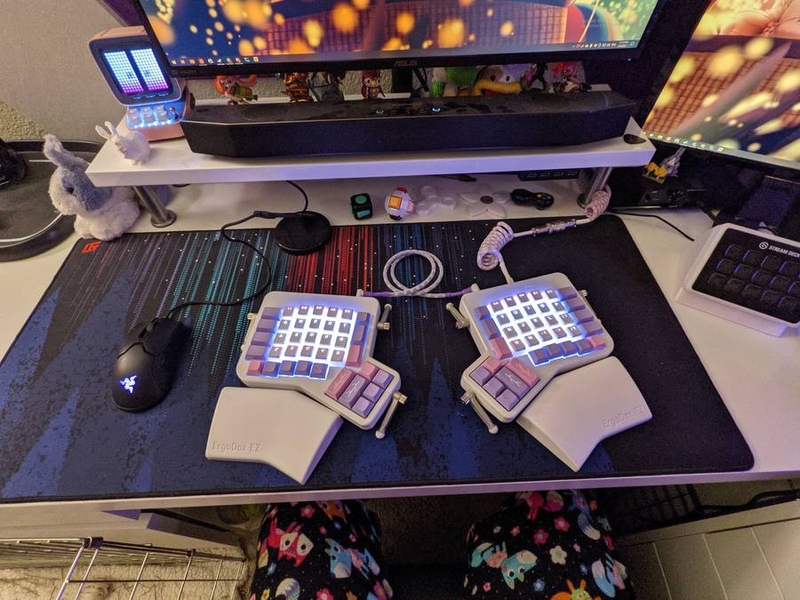 On my desk I have a small decorative Bluetooth 16x16 pixel art display called the Ditoo that sits there just cycling through pixel art! Also works as a really good-sounding Bluetooth speaker when I connect my phone to it. Also an Anki Vector sits on my desk as a little desk companion, making cute noises and playing with its cube!
My desk isn't too special, but it's a good Ikea desk that I picked up, and a small shelf that sits atop it as my speaker shelf for holding my speakers and the figures I have on here! The desk to the right is actually just a large wooden Ikea countertop that sits on top of some drawers that store cables, as well as other odds and ends. The shelf to the right of my desk I use for cable management and for storing power supplies, and other computing stuff I might need.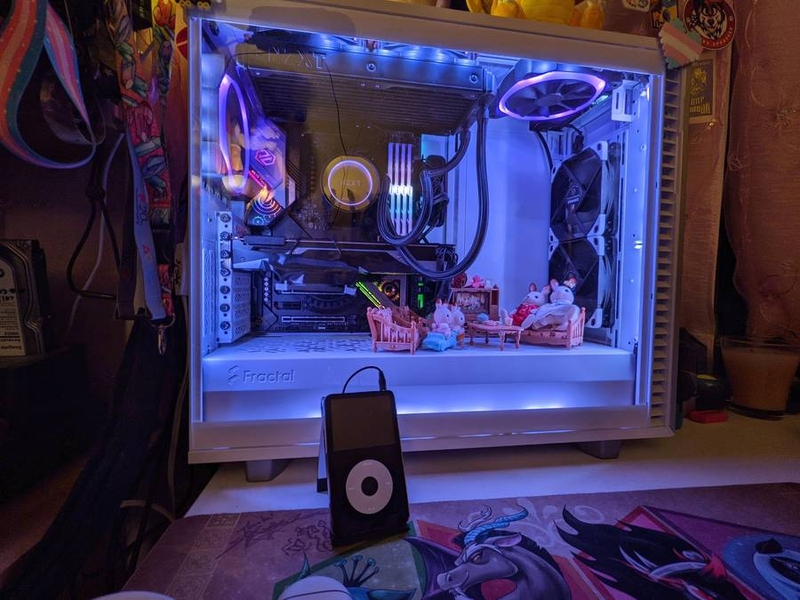 My desktop has a Ryzen 5950x, an ASRock X570 Taichi motherboard, 32GB of G.SKILL RGB RAM, with a GTX 1080 Founders Edition (that I modded with a small Noctua Chromax 80mm fan pointing to the fins to help give the GPU with better cooling performance). All nicely inside a Fractal Design Define 7 decorated with Calico Critters figures! It's so pretty to look at, knowing that I have a small bunny family inside the case just having fun, while I have fun!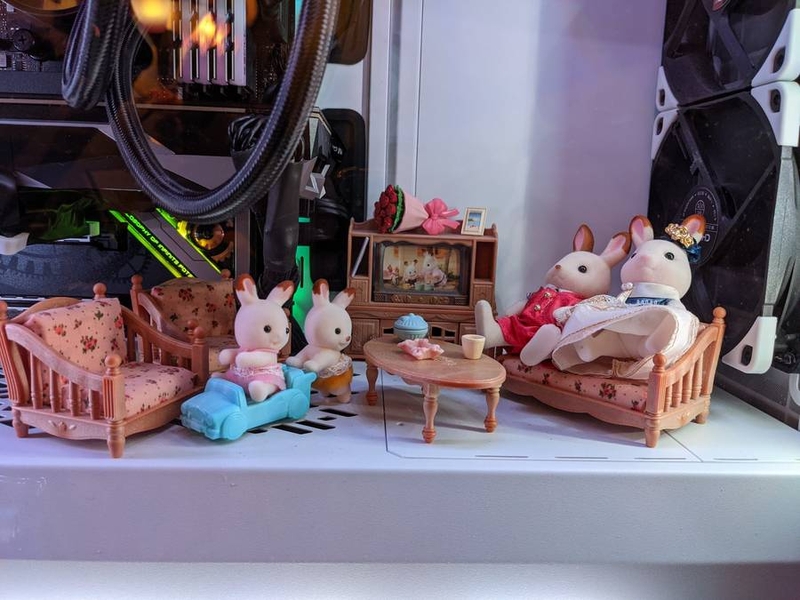 And what software?
I use Windows 10 as my primary OS. Software I use for development includes Visual Studio Code, Unity, and Windows Terminal with WSL 2 for any Linux-related things I need. I use a piece of software called Everything to index all my files in windows, then I use Wox (which ties in with Everything) to get a MacOS Spotlight-like search for Windows, bound to a dedicated key on my keyboard. Vivaldi is my browser of choice, Firefox being my second choice. VLC for video playback, Paint.NET for quick photo editing. MusicBee and Plexamp are my music players of choice. I use Steam exclusively for PC gaming. I use Open-Shell and replace the start menu with the classic Windows 7 styles menu too.
Some other software I use includes Microsoft PowerToys for things such as system-wide color picker and a good window tiling solution, X-Mouse Button Control for binding keyboard keys to my mouse, f.lux for software blue-light filtering. And I started using Voicemeeter Banana as my virtual sound mixer. When I do gaming, I use the Xbox game bar and use it to record thirty-second clips of my games I play that I want to remember and share!
What's your keyboard setup like? Do you use a custom layout or custom keycaps?
The ErgoDox EZ has been a keyboard that's been so good to me, especially as a student for my Computer Science classes and typing papers. Doing software engineering when I'm building my programs I want to build, like the games I make or maybe some random idea that I had floating in my mind. And it's also been amazing gaming. Being able to move the left hand side of the keyboard off to the side so I have more mouse space for my low-DPI settings, it's been an absolute dream. It takes time to get used to for games with lots of key bindings, but once you start using the layers and what they can be used for, it's pretty and cozy, not needing to make excessive movements around the keyboard, keeping my hand in the same space all the time.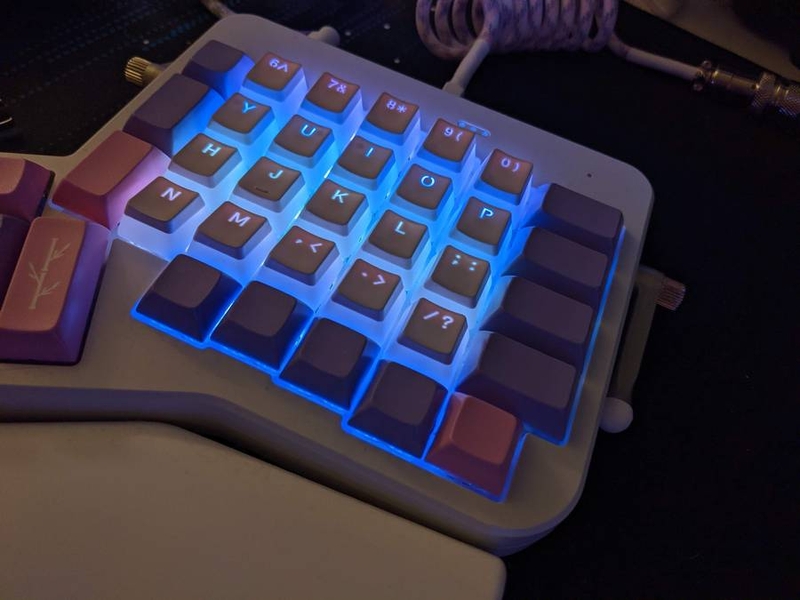 I use white ErgoDox EZ with RGB key backlights, and I use custom keycaps and keyswitches too! I have a set of Glorious pudding keycaps in white for the legend, the Pimp My Keyboard Hana ErgoDox keycaps for the surrounding keys and the thumb cluster. With the RGB backlight, I use a very pastel color scheme for each row. It looks so wonderful and like super-sweet candy!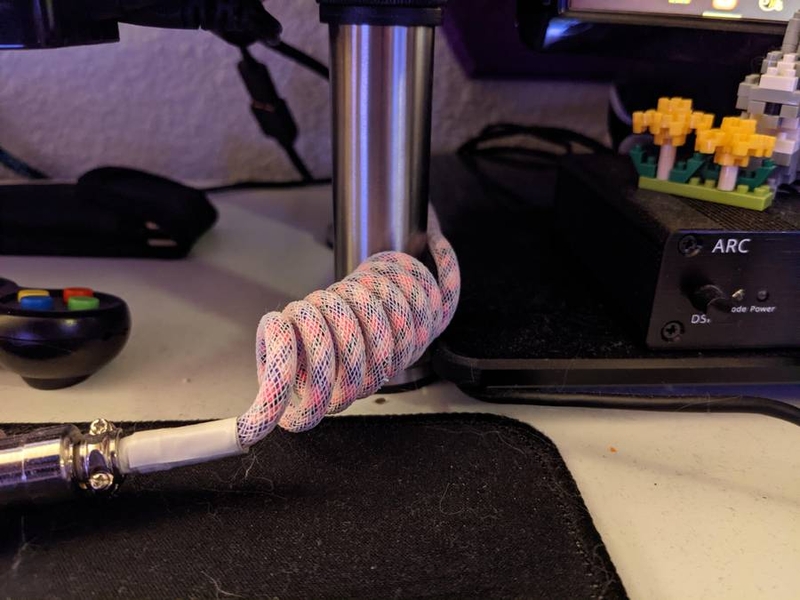 I also sleeved my own USB cable and modified the included TRRS cable (I am awful at soldering my own TRRS cable) and sleeved that one too with pink and purple paracord and white Techflex to create a beautiful pastel look! It really ties the keyboard together and makes it such a joy to use. Every time I look down at it, I smile knowing that this is my keyboard.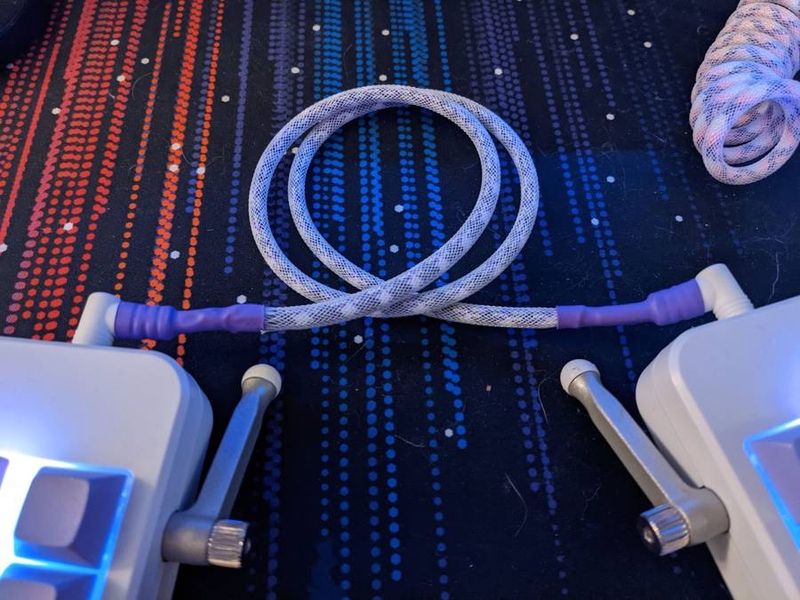 The keyswitches are a funky one. The legend and a couple other highly used keys are using Cherry MX Brown switches. But the side layer keys, Windows key, Escape, right-hand Backspace, and a couple of keys on the thumb cluster are the NK x Kailh Box Thick Clicks switches in Navy. They're heavy keys, which helps with the misclicks I used to have while typing on this keyboard. Much heavier, and requires plenty of force to actuate. They especially help when I accidentally swap to a layer and I didn't mean to do that.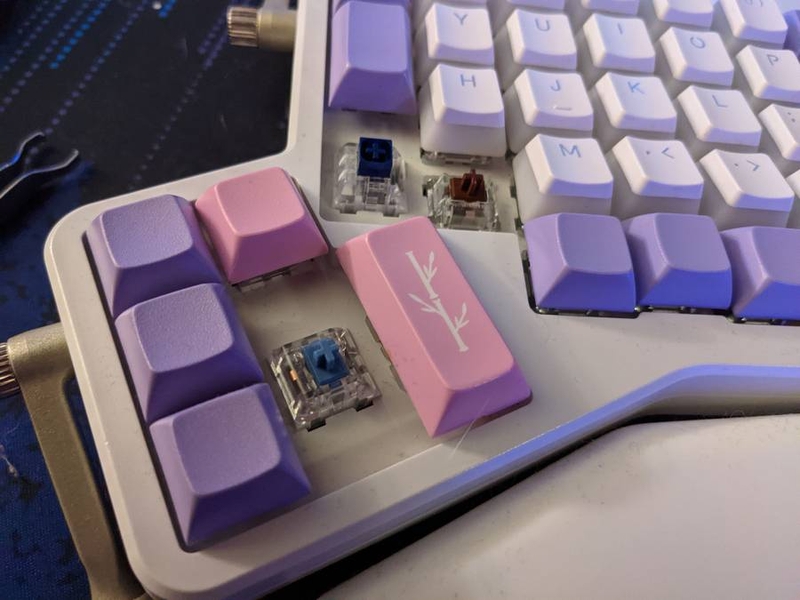 Another switch I use primarily for keys that I don't hit as often but don't want to misclick are the NK x Kailh Speed Heavies in Pale Blue for the left- and right-thumb Delete keys.
I smile every time I use my keyboard. It's just so much fun to type on, and of course to look at. It matches my setup so nicely and it feels like it's my own. It's an investment in ergonomics, and of course, style that matches what I want to achieve in my setup.
What would be your dream setup?
Getting the dream setup would be hard for me, It's a mixture of getting the right ergonomic setup with a standing desk and comfortable ergonomic chair. But the hardest one is getting more hardware that's lefty friendly to help me for gaming. I found my endgame keyboard; it's the Ergodox EZ. It's pretty much perfect for me! Just need to find my "endgame" key switch to use. The mouse, on the other hand, has been a pain for my whole life. This will be the hardest thing to get my dream setup, getting that perfect lefty mouse that rivals the right-handed ones that exist. Knowing that, I'm the minority of a minority of mice users. Generally, the majority of users are right-handed with righty mice. No problems. If you're lefty, a good portion of them just learn to use the mouse on the right hand. No problem. But I fall into the minority of the minority, the lefty gamer who uses a mouse on the left hand. Finding the right lefty-friendly mouse has been a pain, especially considering what I need: very light, comfortable for a claw grip, great sensor, comfy shape. I might need to build it myself.