The people who use our boards.
Leena Lallmon
Software Engineer
Who are you, and what do you do? What do you like to do outside of work?
I'm Leena Lallmon, a software engineer from Montreal, Canada. At heart, solving problems and learning is what I enjoy. I spend a lot of time in front of the computer, and the ErgoDox has been a game changer. No more wrist or shoulder pain, and a much more enjoyable typing experience.
When I'm not working, you can find me reading a book, watching a documentary, or taking a stroll in a nearby park. My current side project is redecorating my Montreal apartment. I love tea (green, white, herbal), stationery, plant-based food, and when I have time, I love to cook recipes from Oh She Glows.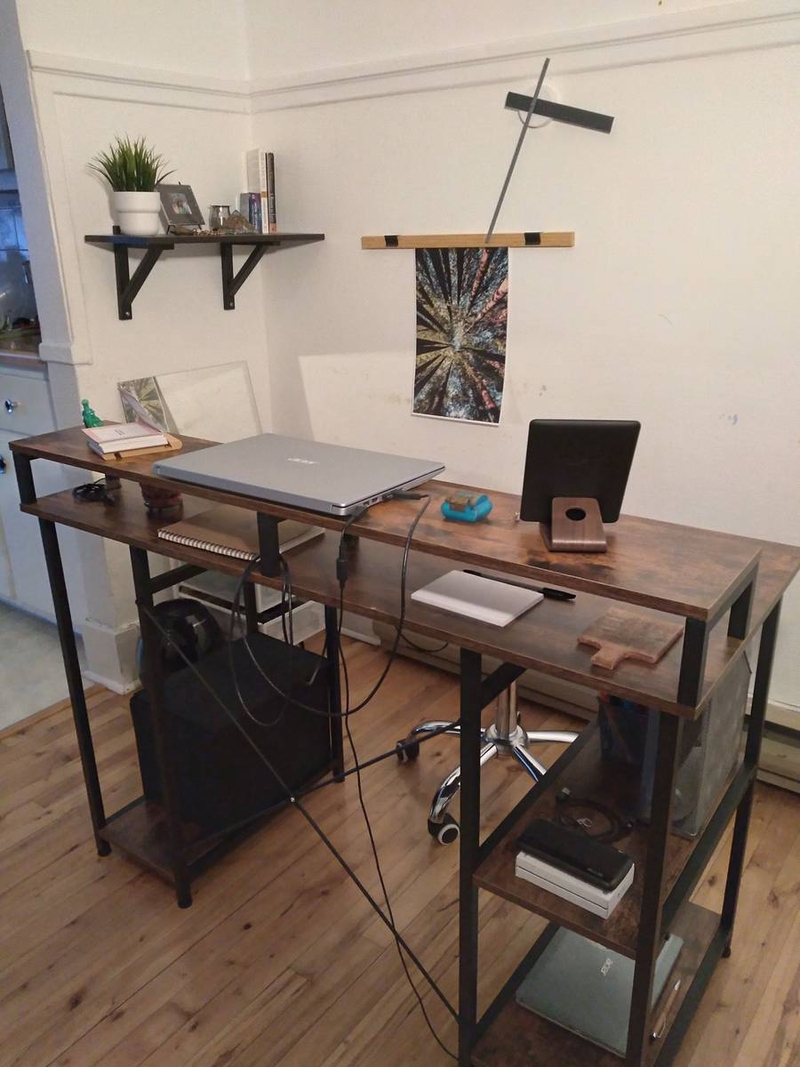 What hardware do you use?
I currently use an Acer Aspire 5 (A515-54-708W) with Intel Core i7-10510U, 1.80GHz CPU, 500GB of SSD, and a 4K HD screen. I also use a wireless vertical mouse that feels great when I use it and lasts about a month between charges. I'm not too picky with the hardware. As long as it gets the job done and won't break within a few years, I'm happy.
I use a black ErgoDox EZ with Cherry MX Brown switches, tilt kit, and wings. This stays out of sight on the desk tray. I practice touch typing to fully appreciate the ErgoDox. I learned through the TypingClub. For a few months, I would do a couple of lessons per day to build up muscle memory.
My desk offers amazing surface area for me to spread my papers when brainstorming or taking notes. The upper level, where I rest my laptop, makes it easy to hide the cables from my view. Right below, I love how I can have my quick access items (draft paper for notes, earphones, notebook) out of sight, but easily accessible.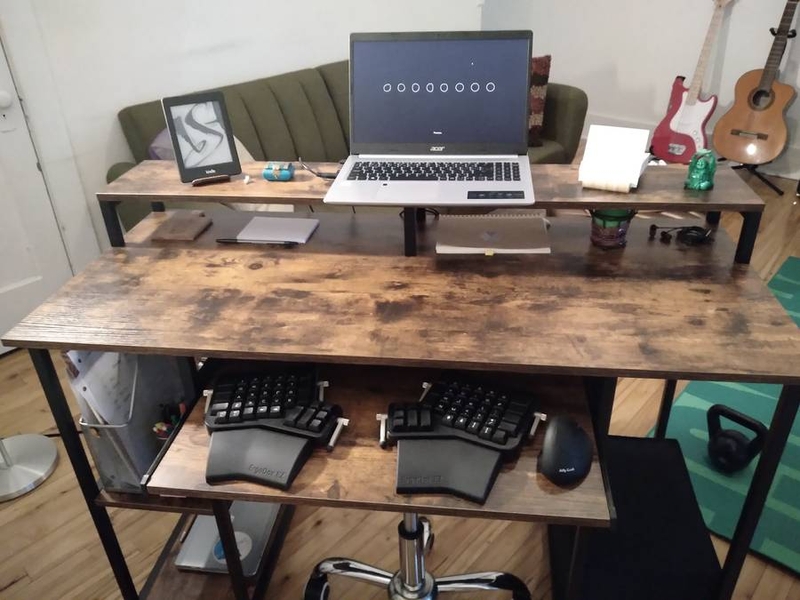 For reading, I use my 2015 Kindle Paperwhite. I love the convenience of having all the books or papers I'm currently reading in one place, with highlights, notes, and bookmarks. I sometimes opt for a paper version if I know I'll come back to it over and over, but still prefer digital versions in an attempt to be greener.
I use a saddle chair since it helps me keep good posture and actually want to move around every half hour. Small ergonomic changes like these have helped rethink my relationship to my workspace since work from home became the norm.
A yoga mat, kettlebell, and Lacrosse ball are near to ensure I move, stretch, and tackle pain points when needed. Becoming a Supple Leopard inspired these mobility changes.
And what software?
My current favorite apps are
What's your keyboard setup like? Do you use a custom layout or custom keycaps?
I've adapted my layout to work with my Windows operating system, browser, and text editor. When I notice some repetitive tasks, I love the ease of updating the ErgoDox program. I love the double-tap key actions.
What would be your dream setup?
At the moment, my office is part of the living room. It is sufficient, but I'd love to expand to have more space. When my partner and I move, if I am working from home, then a room to really call my office would be the first thing! Something like this table that is also a computer would be amazing with a curved monitor. Simple and minimal, without cables everywhere. I'd also opt to have a Linux OS instead of Windows.