The people who use our boards.

281 interviews

 

since 2018
Drew Cordell
Science Fiction Author
Who are you, and what do you do?
My name is Drew Cordell, and I'm an Amazon Bestselling Author who writes science fiction, LitRPG, and Fantasy novels. My novels are immersive and character-driven. I write the books I always wanted to read. When a reader picks up one of my stories, they're in for a fun ride!
I started writing on a freelance basis during my first years of college, writing articles for several Bitcoin-related websites before I decided to start writing for myself and publish my first novel. That first novel, Absolute Knowledge, was financed through Kickstarter.
Since then, I have published four complete novels, and was awarded Amazon Bestselling status in three book categories for my LitRPG novel, Stratus Online: Awakening. I am expecting to publish two more novels by September this year: Stratus Online book two, and the first book in a new scifi IP I'm launching.
As a recent college graduate, I'm working on scaling up my publishing so I can write full-time. I also publish my current projects on a chapter-by-chapter basis for my readers on Royal Roads Legends and Patreon, letting them read early before I go through the editing process with my editor and proofreader.
What hardware do you use?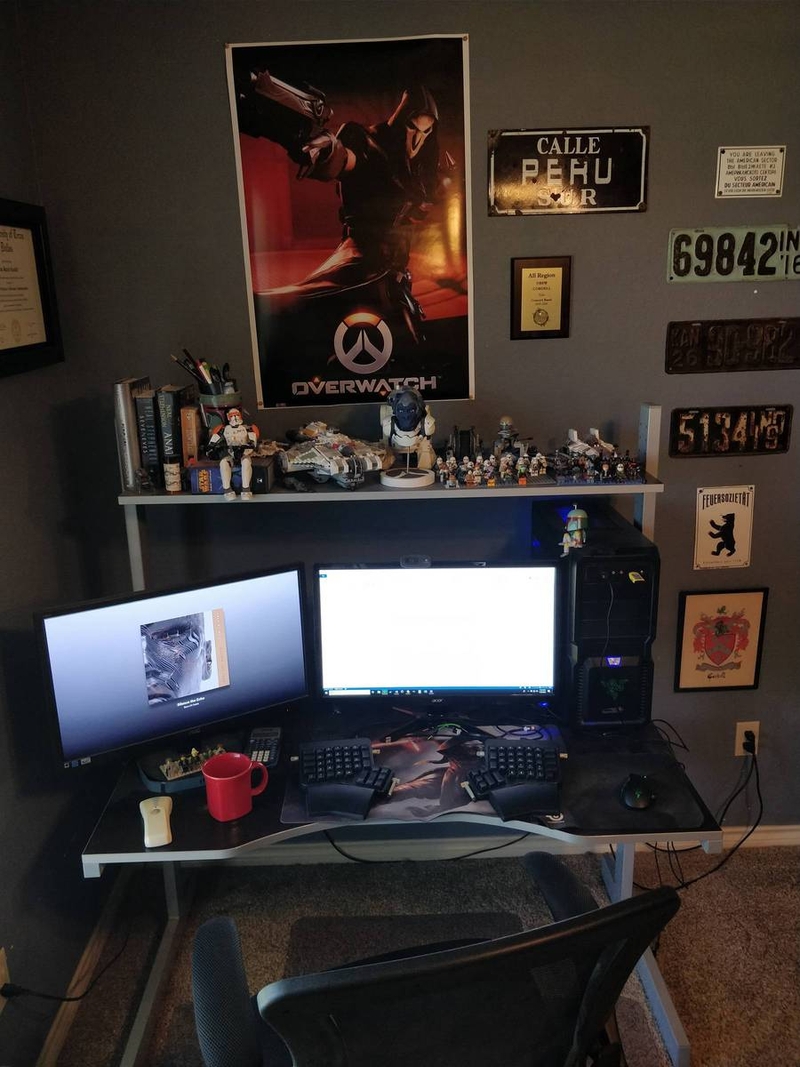 I built my PC myself, and it doubles as my gaming center when I'm not writing. As you can imagine, there are certain distractions associated with gaming and working on the same PC. I typically won't game until I have accomplished or exceeded my writing goals for the day.
I have two 24-inch 144Hz monitors to complete my setup, and I type on an ErgoDox EZ with Cherry White switches. I'm a really heavy typist and love the muted clicks and greater force requirements for the actuation of these switches. The ErgoDox is comfortable to use for long writing sessions, and the feel of my keyswitches never gets old as I slam words in my manuscripts.
My desk isn't complete without a fresh cup of coffee and my Star Wars and Overwatch collectibles proudly on display.
And what software?
For software, I use Windows 10, writing my manuscripts in Word. I also use the Google Drive desktop app to automatically back up my documents to the cloud every time they are saved. Once I've worked with my editor, I'll take the completed manuscript and run it through Kindle Create or Calibre to format my files for digital publication through Kindle. Print formatting is a little trickier and requires me to lay out print files using Gimp or Photoshop, extracting the book content as a PDF.
I have to listen to music when I write, and aside from coffee, Spotify Premium is my only other crippling vice. I mostly listen to metalcore.
I run a newly-created Discord server and use it to post regular updates and hang out with my fans. It's a great way for me to interact with readers on a very personal level which is part of my brand.
What's your keyboard setup like? Do you use a custom layout or custom keycaps?
I use a fairly standard QWERTY layout to type, but I did get creative with the use of my unmarked special function keys. When writing, I use a lot of 2+ key combinations on a regular basis. For the most common (Ctrl+C, E, V, Z, ", — ) and other formatting commands within Word, I use a single key press. This saves time and increases my writing speed so I can get the grammar and mechanics correct as I draft.
Since I play a lot of games on the same PC I write on, I have to remap default keybinds in a lot of games to make it feasible to play on only the left-half of my ErgoDox.
What would be your dream setup?
I'll admit it. I'm helplessly addicted to my ErgoDox EZ now. There was a learning curve as I transitioned from a normal keyboard—a lot of my bad, nasty writing habits that I didn't even know I had started to show.
Once I relearned how to type, the ErgoDox has been a dream to write with on a daily basis.
My dream setup would be an even better gaming computer (I built mine in 2015 and it's due for some upgrades soon), my ErgoDox EZ, and even more nerdy artifacts to adorn my surroundings as I write.