The people who use our boards.

256 interviews

 

since 2018
Alan Curtis
Software Engineer / Technical Artist
Who are you, and what do you do?
I am Alan Curtis: engineer, artist, animator. I create things. I worked for​ ​EA​ ​as a 3D / technical artist making video games, then​ ​The Void​ ​developing virtual reality experiences. Currently, I am a software engineer making web applications. After work, I spend time with my wonderful family, paint pictures, come up with video game and web app ideas, then prototype them out. I love what I do.
What hardware do you use?
I have a Dell Precision 5530 laptop, a Dell 27 inch UltraSharp monitor, a Wacom Intuos Pro Large Tablet, a Logitech M705 Marathon Wireless Mouse, with an ErgoDox EZ Glow Keyboard. This all sits atop my ApexDesk Vortex Series 60" 6-Button Electric Height Adjustable Sit to Stand Desk. When standing, I use a Topo Comfort Mat by Ergodriven. Eventually, I get lazy, then sit in my RESPAWN-100 Racing Style Gaming Chair.
And what software?
Coding:
Art:
UX Design: Adobe XD
Game Development:
What's your keyboard setup like? Do you use a custom layout or custom keycaps?
I took all the hardware from above and made my own mobile studio, or as I call it, "My Briefcase".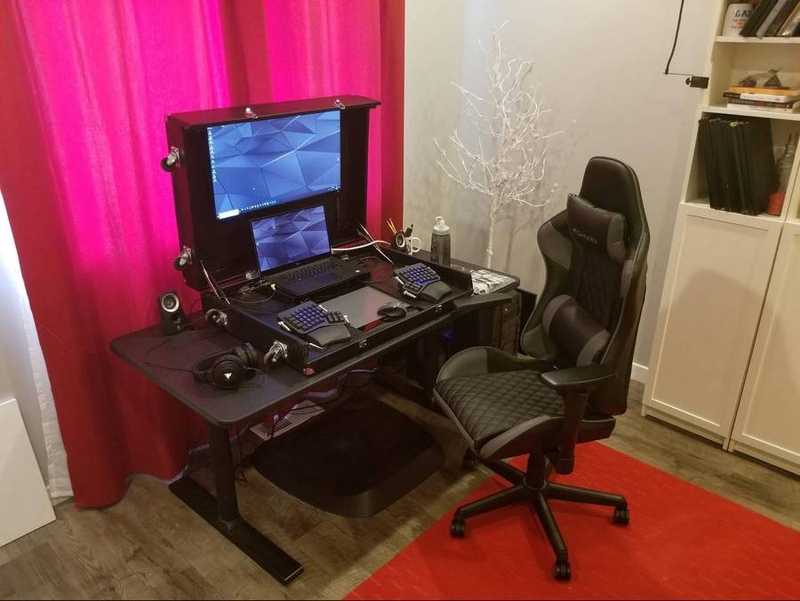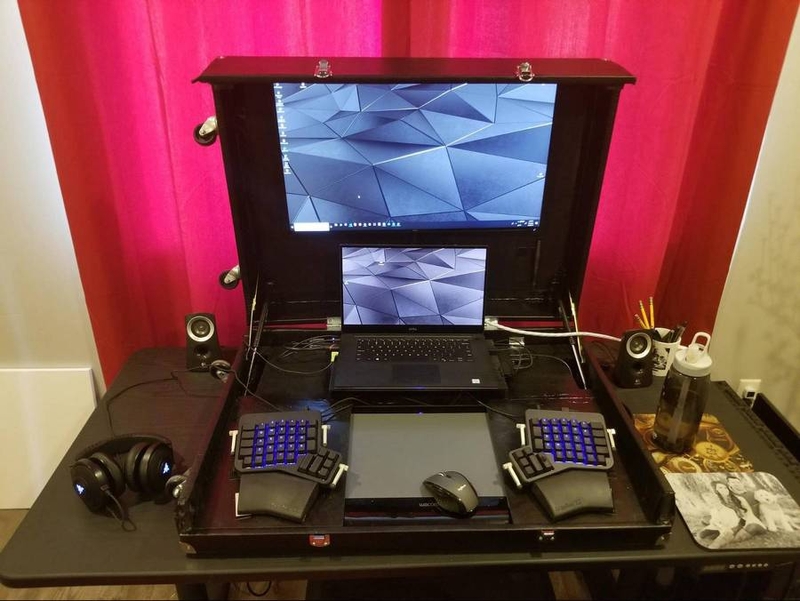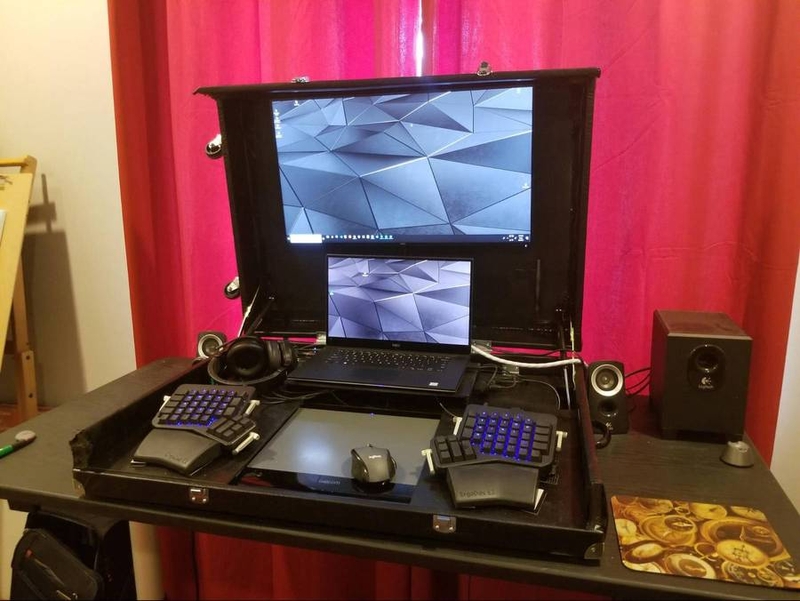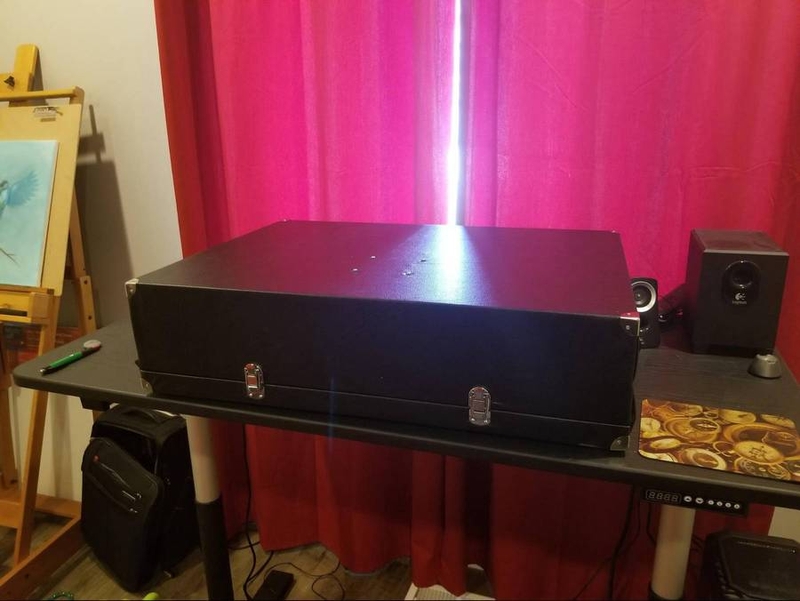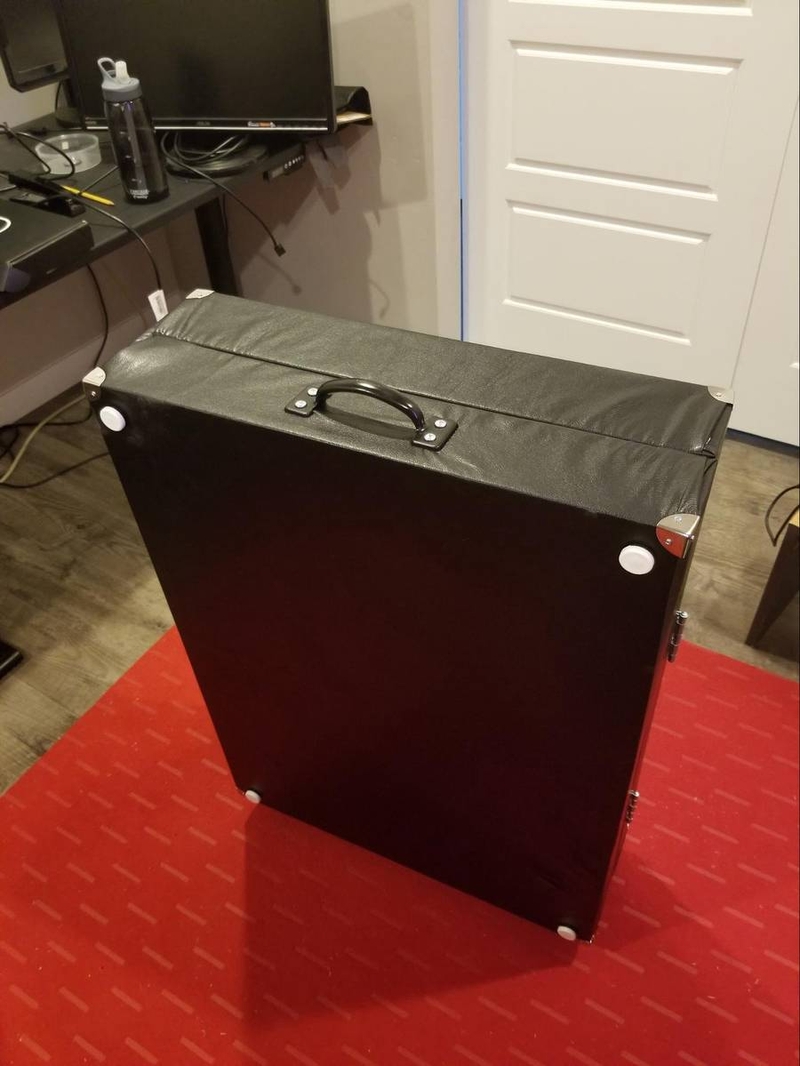 I made a 3D model to make sure everything would fit. I exported out the measurements, got cutting, put wheels on it, and BOOM! Portable desk.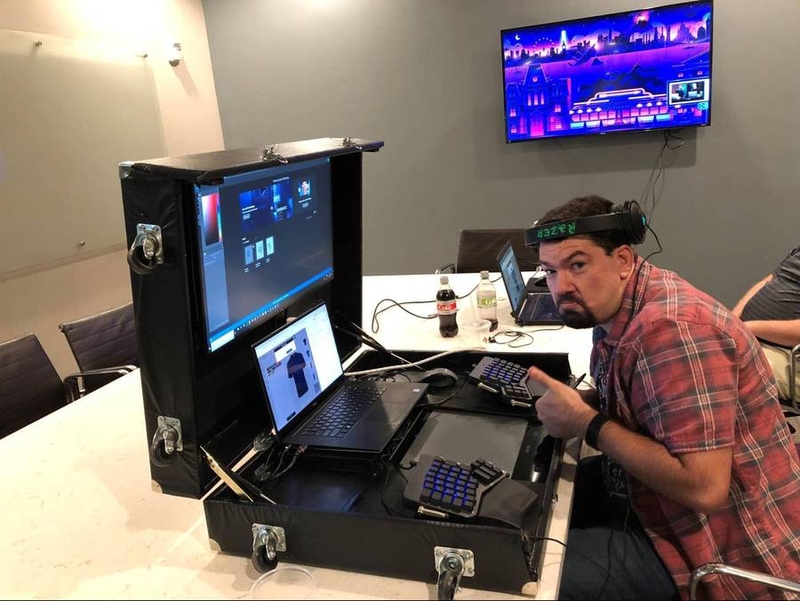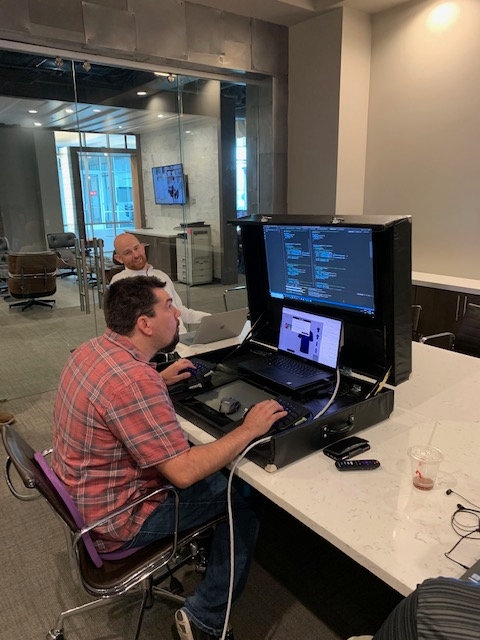 This way I have everything I need wherever I am.
My caps are the Cherry MX Browns. I haven't explored past those.
Layout: I use 4 layers.
Layer 1: Base, which is the classic with just a few tweaks.
Layer 2: Numbers and characters.
Layer 3: Mouse movement and page navigation.
Layer 4: Photoshop and 3D modeling. Here, I made F a dual-function key so my hand rarely moves when modeling or painting because "Alt" is a super common hotkey. Then, I set up all my hotkeys in the programs all on the left half of the board; that way, I only have to put my Wacom Pen down when typing.
What would be your dream setup?
I have my mobile dream — maybe I'll put in a cupholder!? But for a home setup, 2 monitors, 24-27 inch ​cintiq​, and a super awesome PC something like this:
Tons of processing power for 3D rendering and game development, 3 ergo arms to hold the monitors and cintiq… and last, a really nice ​chair​.